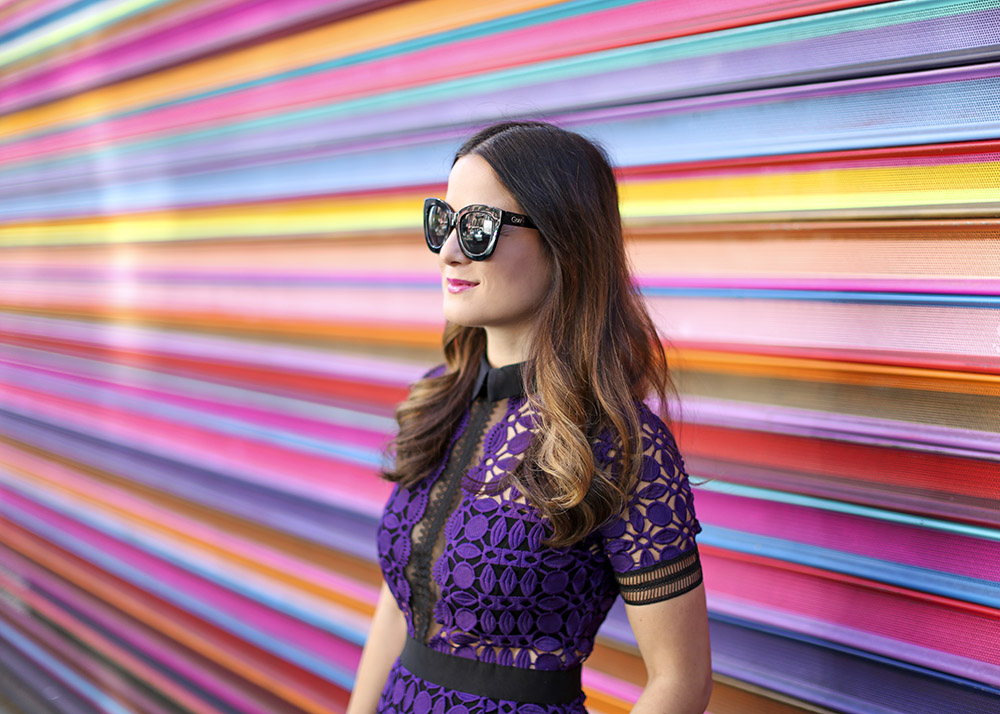 Hi! My name is Jenn Lake, and I'm the founder of the Chicago blog, Style Charade. Since March 2015, Style Charade has been delivering colorful and finely curated content for readers around the globe. As a reader, you'll find fashion, street art guides, luxury travel, home and interiors, and beauty content.
FASHION
Personal style is the core of Style Charade. For quick guide to all of my outfits, click the Archives tab under the "About" section. Or, another option is to shop by "Hues" (think pink, blue, metallics and beyond).
In addition, I regularly update the Shop with top product picks for dresses, skirts, handbags, jewelry, accessories and more. As always, I try to include a mix of products at an attainable price point with more designer splurge items.
TRAVEL CHARADES
If you're a stylish jet-setter, the Travel section has everything from luxury hotel and resort guides to airline features. Do you prefer more visual content? Check out my YouTube page which includes video tours of some of my favorite hotel and resort properties from around the world.
WALL CHARADES
Style Charade is all about the celebration of the intersection of fashion and street art. In fact, some of my most popular posts are from called Wall Charades, a series of street art guides in Chicago, Miami, Los Angeles and New York.
The majority of my content for the blog revolves around murals, colorful walls, and beautiful destinations. Therefore, these guides are designed to be resources for you to help locate the street art in an easy and efficient way!
Above all, it's a celebration and commemoration of the artists who help create these amazing works of public art.
HOME + INTERIOR DESIGN
After purchasing our new home, we've been documenting the complete redesign of our spaces. Follow along via the hashtag #ChateauCharade. We've also been doing some more food and cooking content via the hashtag #CookingCharades.
BEAUTY
I love beauty and skincare! I'm sharing more details about the items I'm loving, the makeup I can't get enough of, and how I'm keeping my hair in good shape.
IN THE PRESS
I've been so thankful to be featured in a variety of magazine, newspaper and blog features, including People StyleWatch, PopSugar, Brit + Co, LaurenConrad.com, and Refinery 29.
ACCOLADES
PureWow and A Beautiful Mess named my Instagram account (@JenniferLake) "one of the best Instagram accounts to follow."
Nylon included me as one of their favorite Chicago bloggers and SPLASH Chicago named me one of the "Best Dressed in Chicago." 
Michigan Avenue magazine named me "one of the five most influential Instagrammers in Chicago."
FREQUENTLY ASKED QUESTIONS (FAQ)
I often get asked a lot of questions from readers and social media fans/followers. Here are the most frequently asked questions and answers!
QUESTION #1: Are you a full-time blogger?
No, I have a full-time job. I currently work as the Senior Vice President of Zapwater Communications. We are an award-winning boutique public relations firm with offices in Chicago and Los Angeles. My career spans 15+ years with over 75+ major industry awards.
For the past 8+ years, my role has been to lead our agency's top lifestyle and luxury accounts, and also drive all new business development. Prior to Zapwater, I was the Vice President of Skirt PR for 6 years.
While Style Charade is a passion project, public relations, Zapwater and my clients are my main focus and top priority. Please note that all opinions, images and content on this blog my own, and are in no way a reflection of the opinions of Zapwater Communications, Inc., the agency leadership, past and/or current clients, and partners.
QUESTION #2: Who takes your photos?
All of the photographs on this blog are taken by my husband, Robert Zigmund (unless otherwise noted). He's a self-trained photographer and has never taken a course in photography in his life. He exclusively takes photos for Style Charade, but is available for hire for brand campaigns by emailing us via the contact page here.
QUESTION #3: What type of camera equipment do you use?
I'm working on a guide to our camera gear since one of the biggest questions we get is what type of camera we use. Stay tuned!
QUESTION #4: Who and how do you edit your photos?
I personally edit all of the photos on the blog. In fact, I have edited every single photo shoot since the very beginning of Style Charade. My favorite resource is Adobe Lightroom, and I love using various pre-sets to expedite the editing process.
My favorite two Lightroom pre-sets? A Color Story and VSCO. They're very helpful and a total game changer!
QUESTION #5: Is this your first blog?
Prior to launching Style Charade, I had two other blogs. The first was a launched right after college to highlight fashion news and general style. And my second blog, Third Coast Bride, was focused on weddings and bridal trends.
QUESTION #6: Wait, aren't you an Instagrammer? I didn't know you had a blog!
Some of you may go, "Wait, she has a blog?" A big portion of my blog readership originally found me thanks to Instagram and my account @JenniferLake. Thank you again for following me there! Style Charade was launched in early 2015 after many of my friends and fellow bloggers convinced me to create my own blog. It has been such a joy to share even more images and insights on this platform ever since! While my full name is Jennifer, everyone who knows me calls me Jenn. Please feel free to call me that as well.
Like many blogs, Style Charade occasionally receives compensation or gifted products in exchange for a feature. This will always be noted (c/o} on the post and explained either in the text of the feature or as a footnote. Sponsored posts and brand collaborations help make Style Charade possible.