One of the biggest questions I get? "What do you pack when you travel?" While my outfits are always changing, there are several staple items I always have with me. Without further ado, here are my fifteen essential travel items!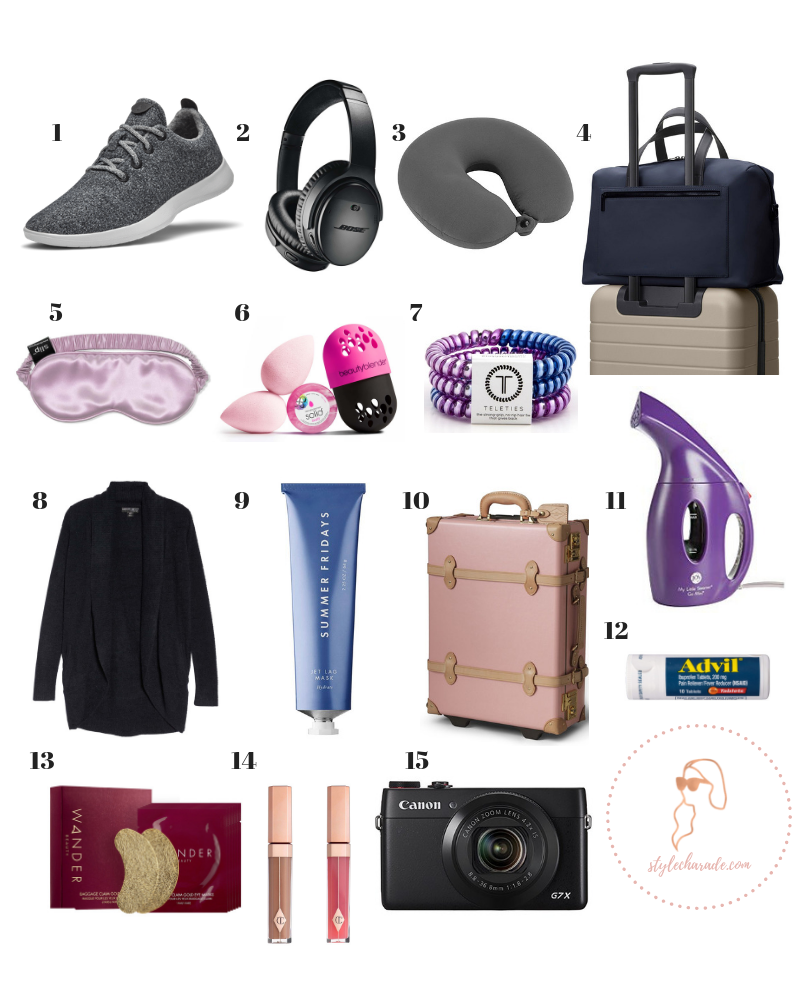 one // two // three // four // five // six // seven // eight // nine
ten // eleven // twelve // thirteen // fourteen // fifteen
My 15 Essential Travel Items
1. Allbirds Sneakers
My go-to shoe for flights are Allbirds wool runner sneakers. Where have they been all my life? I was introduced to the brand thanks to their Pop-In at Nordstrom, and I've worn them on nearly all my flights ever since. They are easily the most comfortable shoes I own.
2. Noise Cancellation Headphones
I never leave home without these headphones! MY FAVE TRAVEL ITEM. Brands have sent me countless headphone options over the years, but I am loyal to this brand and this brand alone. If you're looking to invest in a pair, this particular set is the best. I've traveled to the Maldives, Dubai and Europe with them, and I've never had an issue. Extra tip: always keep a hair tie, extra set of ear plugs, and also a sleep mask in the case (trust me, they'll all fit). You never know when you'll need them!
3. Travel Pillow
I've tried numerous travel pillows over the years, but this version is my fave (in gray). Beyond being comfy, the snap closure makes it so much easier to secure on your luggage. After all, you want the pillow to be easy to walk with through the airport.
4. AWAY Luggage
This navy carry-on and duffel bag are my go-to luggage styles for travel. For years, I used this version of AWAY, but recently upgraded to this style with a front pocket. Life changing. As someone who travels with two laptops on every trip (one personal, one for work), I need as much storage space possible. The duffel bag is also the perfect compliment to the carry-on, especially thanks to the sleeve that slips over your luggage for a secure ride. Genius! We also invested in these interior organizers (a great investment)!
5. Silk Sleep Mask
A sleep mask is one of those things you don't realize you need until you really need it. I can't begin to count how many times I've ben in a hotel room with shades that don't close all the way. Plus, if you're caught next to a chatty Cathy on a plan, nothing says you need some quiet time like a colorful sleep mask!
6. Beautyblender
I use a Beautyblender every morning to apply my foundation. In the past, I never knew how to pack and store the blender in my luggage. Thankfully, the brand just came out with this set. The carry case is so helpful, and I never have to worry about the sponge.
7. Sturdy No-Rip Hair Ties
These colorful hair ties by Teleties are my absolute favorite. They're waterproof, gentle on your hair, and (best of all) they work as a stackable bracelets when you're not using them. Plus, they don't leave any kinks or dents in your hair – genius!
8. Cuddl Duds Tops + Wraps
It is rare, if not impossible, to find me on a flight not wearing one of their pieces. I adore all things Cuddl Duds. They're so comfy, versatile and also a great price. I've been thankful to work with them on the blog for several years, and we're currently dreaming up our next collab. Stay tuned! My personal favorites are this top and this wrap. I swear by them on long-haul flights!
9. Summer Fridays Face Mask
Airplanes dry out your skin and make your face look dehydrated. Recently, I started using Summer Friday's Jet Lag Mask, and I love the consistency and immediate hydration that the product provides. It's a hefty price tag ($42), but it's totally worth it. I'm also planning to try their new Overtime Mask. For my hands, I swear by BeautyCounter's Baby Balm.
10. Steamline Luggage
If I'm feeling a bit "extra" on a vacation or trip, I travel with one of my sets of Steamline Luggage. These vintage-inspired bags are BEAUTIFUL, and I also love using them for photo shoots for the blog. That said, I don't always love bringing them on trips for fear they'll get ruined. However, I think every woman should own at least one set from them!
11. My Go-To Travel Steamer
As a fashion blogger, steamers are EVERYTHING. They make clothes look perfect for photo shoots, meetings and everything in between. I've used this version for the past three years and LOVE it. The travel size is amazing, but I also own the big version at home.
12. Advil
Yep, good ol' Advil. I carry Advil with me wherever I go, but especially my duffel bag and toiletries case. Due to constant headaches and migraines, I'm always terrified of having issues! Advil has been my go-to for years, and I love they have the travel size option.
13. Wander Beauty Baggage Claim Gold Eye Masks
After long flights, I love using these gold eye masks to hydrate. Beyond being metallic and pretty, these masks really work! They feel amazing too.
14. Lip Gloss
There's nothing worse than coming off a plane with dry lips. I love Aquaphor Lip Repair, but for some added color I love Charlotte Tilbury's Lip Lustre Lip Gloss.
15. My Go-To Travel Camera
If I'm planning to capture photos and videos (especially if Bob isn't with me), my go-to camera is Canon G7X. I've recommended it to a bunch of people, and I really can't say enough great things! The quality of the videos is amazing, and it's especially fantastic in low light situations.
What are some of your favorite essential travel items?