Do you ever feel SO overwhelmed with all of the Black Friday Sales and Shopping Guides out there? If you're like me, it feels like way too much, right? Therefore, I decided to streamline my guide to focus on the best Black Friday sales to shop. I've also included the Best Black Friday Sales to Shop – Things that Make You Warm, Merry + Bright.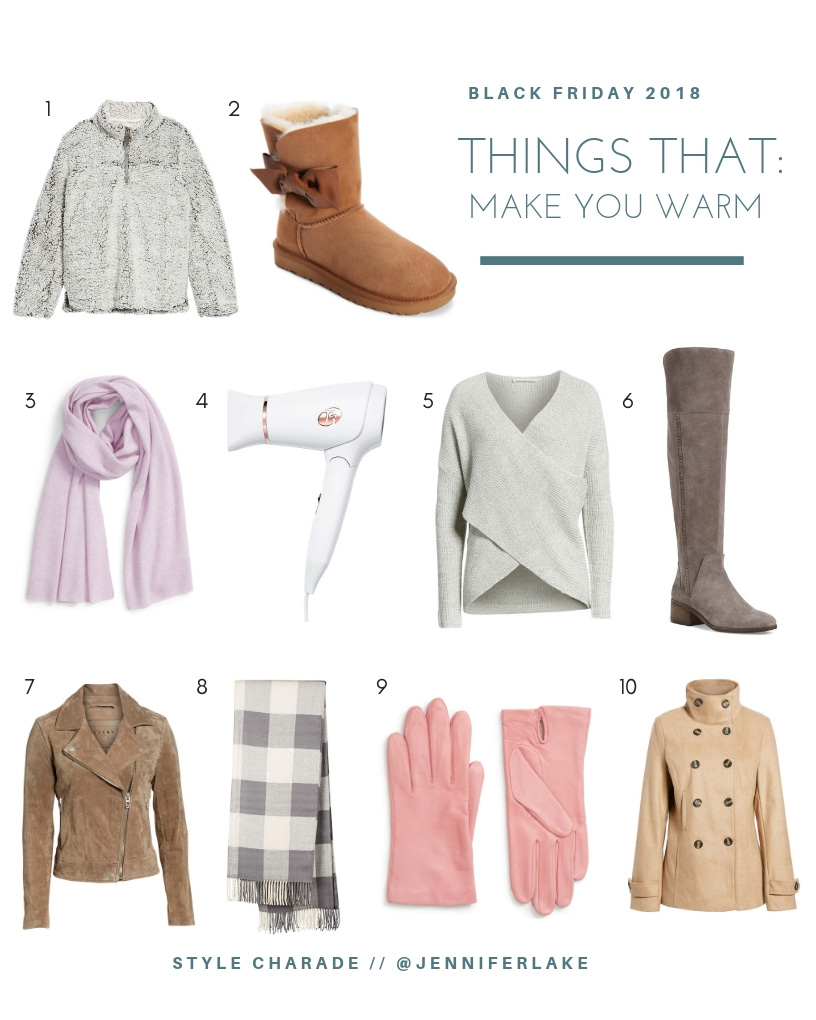 one  //  two  //  three  //  four  //  five  //
six  //  seven  //  eight  //  nine  //  ten 
The Best Black Friday Sales to Shop – For Her
Nordstrom: Get up to 60% off through this Monday!
Pro Tip: My #1 go-to online destination for holiday shopping? Easy – Nordstrom! With impeccable customer service, solid return policy and vast offerings, Nordstrom never lets me down. LOVE them.

Pro Tip: My main shopping advice for Ann Taylor is to stock up on sweaters, scarves and cute stocking stuffers. They always have an easy piece of jewelry or fun gift idea to add as a second box to your main gift.

ASOS: 20% off everything with the code EPIC25.
Pro Tip: It's no secret I'm a huge fan of all things ASOS. They rarely reduce prices on the entire site. My go-to's are pleated skirts, statement coats and jackets, and party dresses (like Needle & Thread)!

Pro Tip: Everyone likes a dose of sparkle! BaubleBar has long been my go-to company for statement earrings and accessories. This particular holiday style is next level!

Pro Tip: Let me just say – J.Crew has BROUGHT. IT. this holiday season! From plaid to plush velvets, they have a phenomenal assortment this season. Best of all – they're often a one-stop shop for women, men and kids, and even home.

Pro Tip: My family typically buys we something from ksny every year. I love their statement jewelry, heels, coats, dresses and everything in between!

LOFT: 50% off everything with code THANKS.
Pro Tip: Similar to Ann Taylor, LOFT is the ultimate holiday destination for LAYERS – think coats, jackets, blazers, sweaters and beyond.

Pro Tip: I look forward to the NET-A-PORTER holiday sale every season! This year, there are countless fabulous designer deals! Have you been wanting a Chloé bag? Catch these deals!

Pro Tip: Their holiday catalog is always a highlight of the year! Spend time combing through Neiman Marcus' "Crazy Good Gifts" category on their website. I found their gift ideas to be the most refreshing and unique of any online retailer out there.

Shopbop: Up to 25% off your purchase with the code MORE18. 
Pro Tip: If you plan to shop the sale, I highly recommend making this one of your one-stop shops. The "save more, buy more" concept is brilliant – but it's exactly that – you have to purchase more items for it to make sense. Just good to know!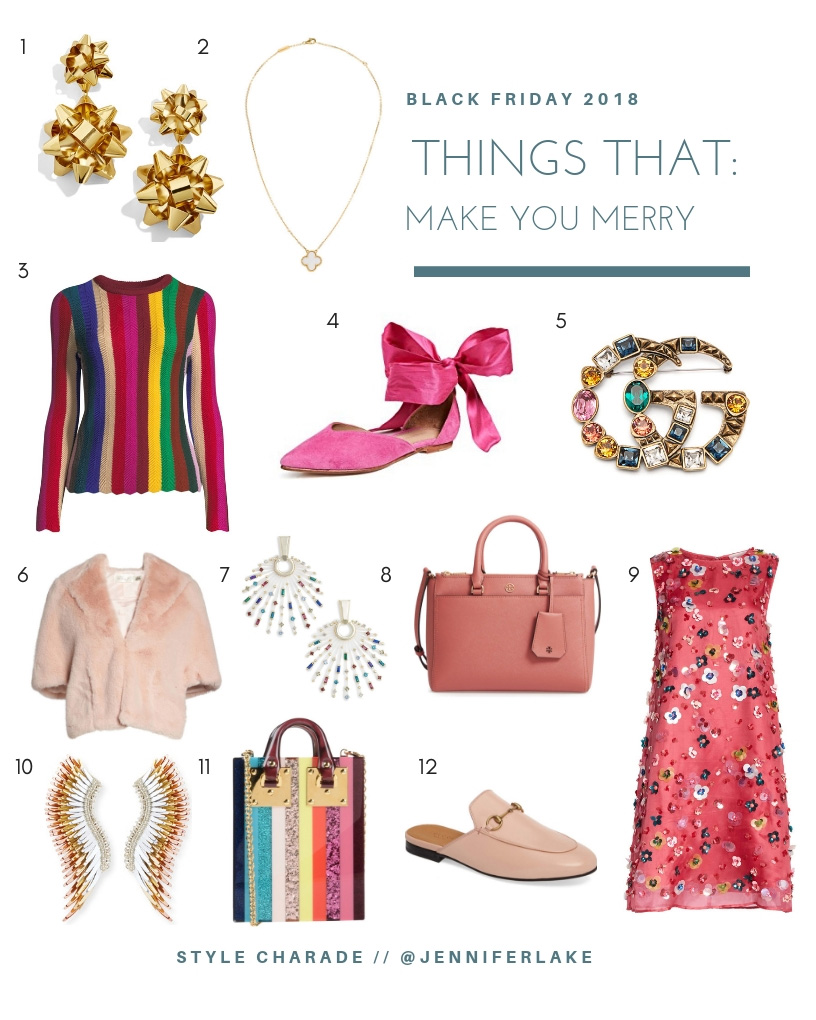 one  //  two  //  three  //  four  //  five  //  six  //
seven  //  eight  //  nine  //  ten  //  eleven  //  twelve  //
The Best Black Friday Sales to Shop – For the Home
Etsy: Cyber Sales throughout the weekend.
Pro Tip: From local artisans to small businesses, Etsy is full of phenomenal options for the home. 

Pro Tip: While most people aren't buying a couch on Black Friday, Pottery Barn has more holiday gift ideas than you think, like cozy robes, tech sets and even a luxe jukebox.

West Elm: Up to 30% off plus free shipping.
Pro Tip: I've always found West Elm to have affordable gift ideas (especially compared to most home retainers. This year, I love their vintage LP albums.

Other Home Destination Options:
The Best Black Friday Sales to Shop – Kids Edition

Pro Tip: As I mentioned above, J.Crew is just a fantastic one-stop shop for the entire family. What I love about crewcuts is they also offer gifts beyond apparel/accessories like toys and crafts.
Pro Tip: My niece absolutely loves, and basically on wears, Janie + Jack. Their styles are TOO cute for words!

Pro Tip: Adorable gift ideas, from posh nursery rockers, regal dollhouses, comfy chairs and beyond.

Target: Doorbuster deals throughout the weekend.
Pro Tip: Stock on toys, games, electronics and beyond. They always have easy gift options for kids!

The Best Black Friday Sales to Shop – Jenn's Final Picks
Since I can't include every retailer, I wanted to share my final picks of places I love to shop for the holidays, Black Friday, Cyber Monday and Small Business Saturday.
Camilyn Beth: Save up to 30% off her beautiful dresses.
Hampden Clothing: 10% off your entire purchase through Monday.
KEP Design: Get 15% off when you sign up for the email list.
Lindroth Designs: I love all of her accessories + bags.
Mollie Moorkamp: The perfectly ladylike dresses.
Packed Party: Spend $100 and get free shipping.
Soraya Hennessy: 30% off everything with code BLACKFRIDAY18.
Suite: Ladylike dresses and escape coats. So cute and clever!
White Elephant Designs: Free shipping on orders over $100.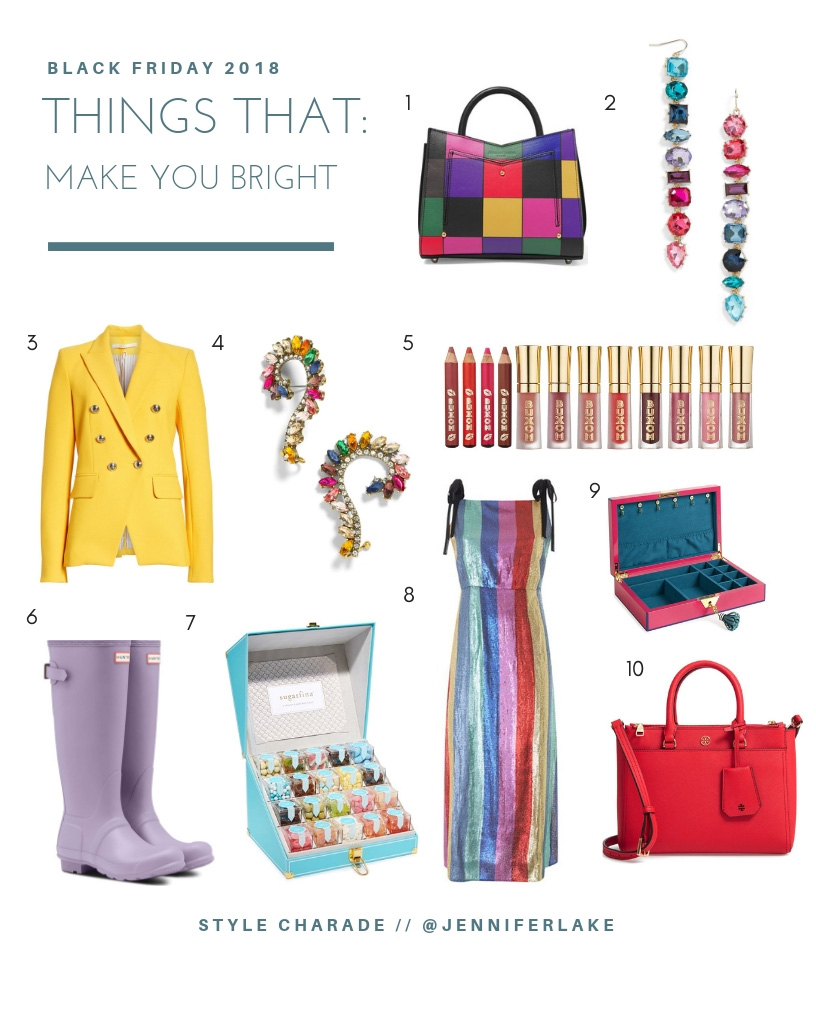 one  //  two  //  three  //  four  //  five  //
six  //  seven  //  eight  //  nine  //  ten
Follow Style Charade on Bloglovin'!