Since I was little, Crate and Barrel furniture and accessories have always been in my home. As a Chicago-based company, they became a part of my interior design lexicon at a very young age. In fact, pretty much everyone I knew owned Crate and Barrel. To this day, that fact still rings true.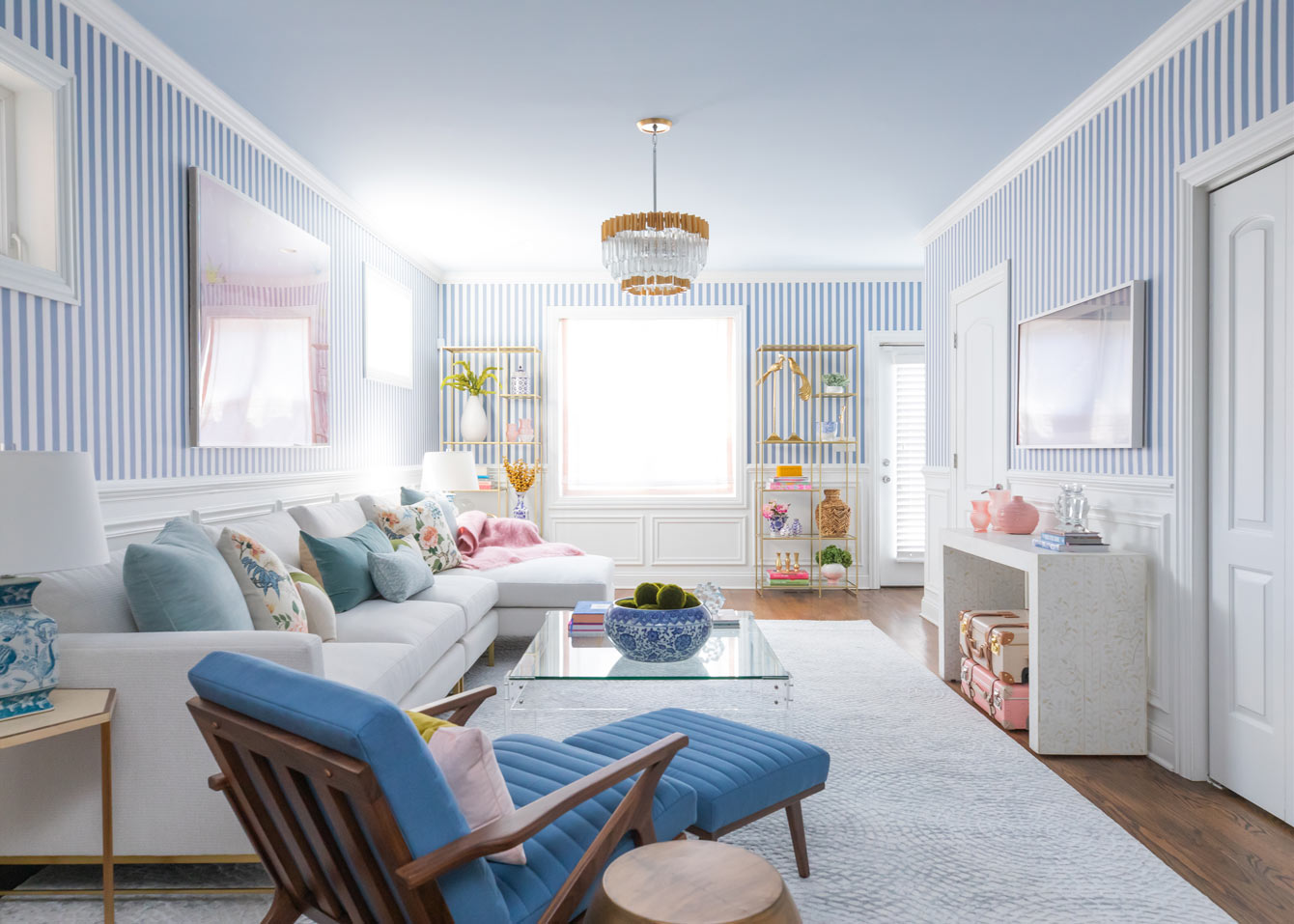 Imagine my surprise (and sheer delight) when I received an email from the Crate and Barrel team about a collaboration for our new home. Turns out, they saw our big announcement on Instagram and the blog, and wanted to see if we'd be interested in partnering. Additionally, Crate and Barrel was the first home brand to reach out to us after we shared about the new place. Talk about a dream come true!
There's a reason why the company has been and continues to be so popular and well-respected. Beyond the quality of the pieces and caliber of customer service, Crate and Barrel's collection is diverse and can be customized to meet your design style. From modern to contemporary, feminine, traditional and industrial—they have it all!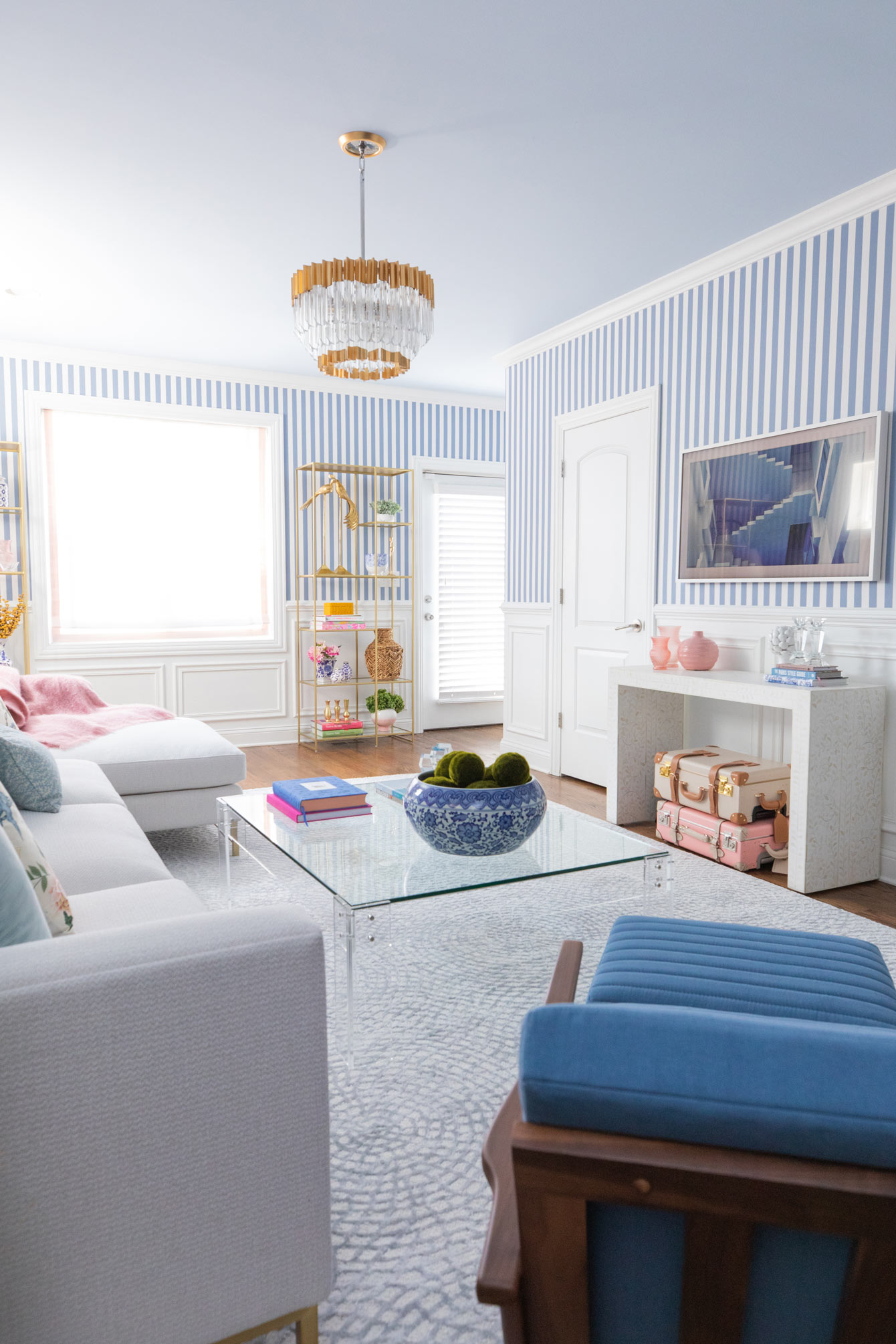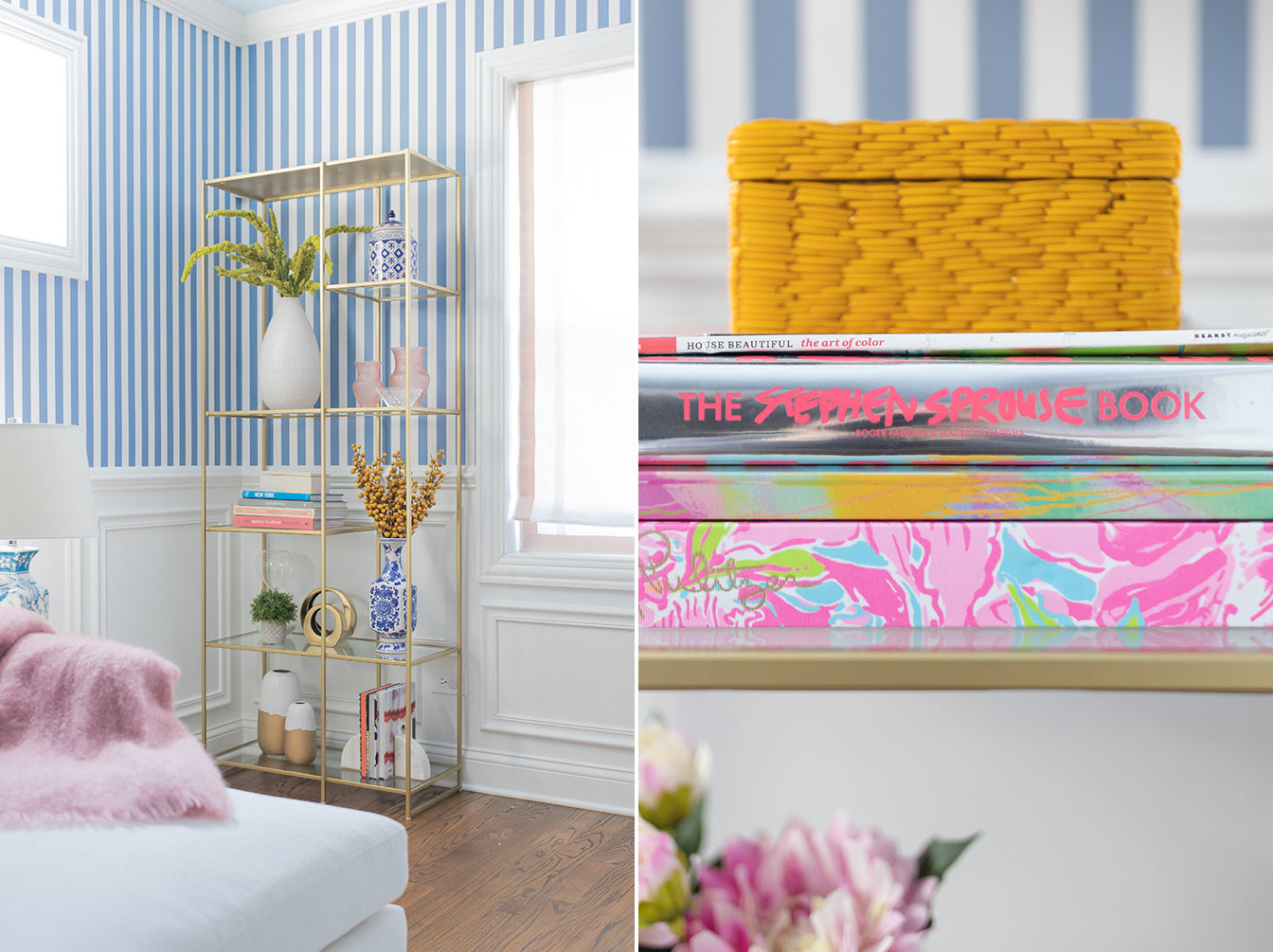 Initial Design Process
After buying our new place, Bob and I agreed no home design decisions would occur without a professional. After 10 years of living together, our struggles with analysis paralysis and poor interior design decisions were widely documented in our old condo. It's no secret I have somewhat eclectic taste – preppy yet feminine, colorful yet classic, romantic yet modern. In our old place, I'd fall in love with everything – a turquoise couch, vintage desk, equestrian prints – the list of mismatched design decisions goes on and on.
Therefore, after closing on our new house, we immediately sought out an interior designer to help. Enter Amelia Canham Eaton. A blogger and influencer herself, she understood the nuances of us trying to refine those styles into our space. Best of all, she and I have been friends for more than a decade. There's nothing better than working with someone you trust and adore! After sharing the news about Crate and Barrel with Amelia, she immediately went over several ideas and concepts – all of which we loved!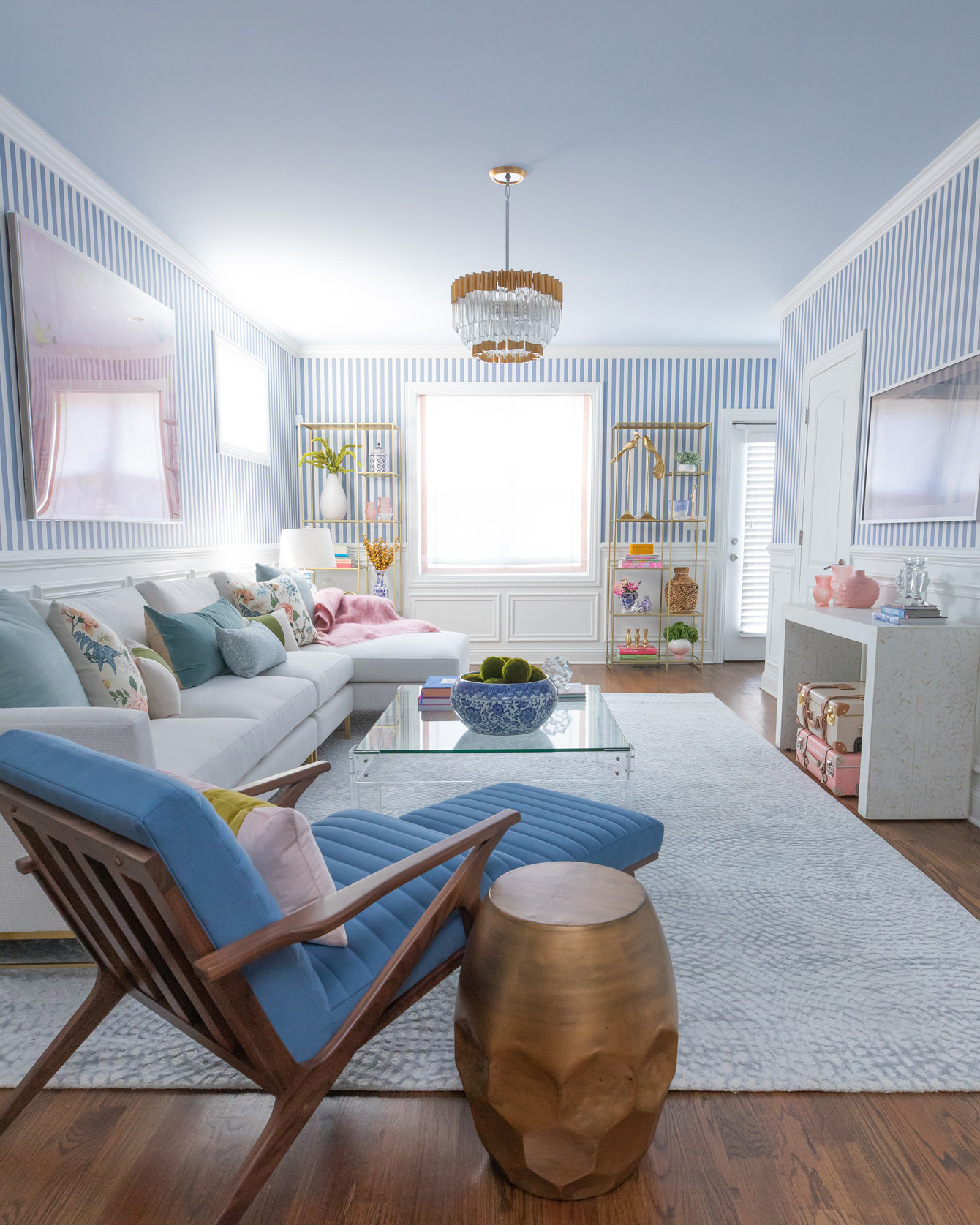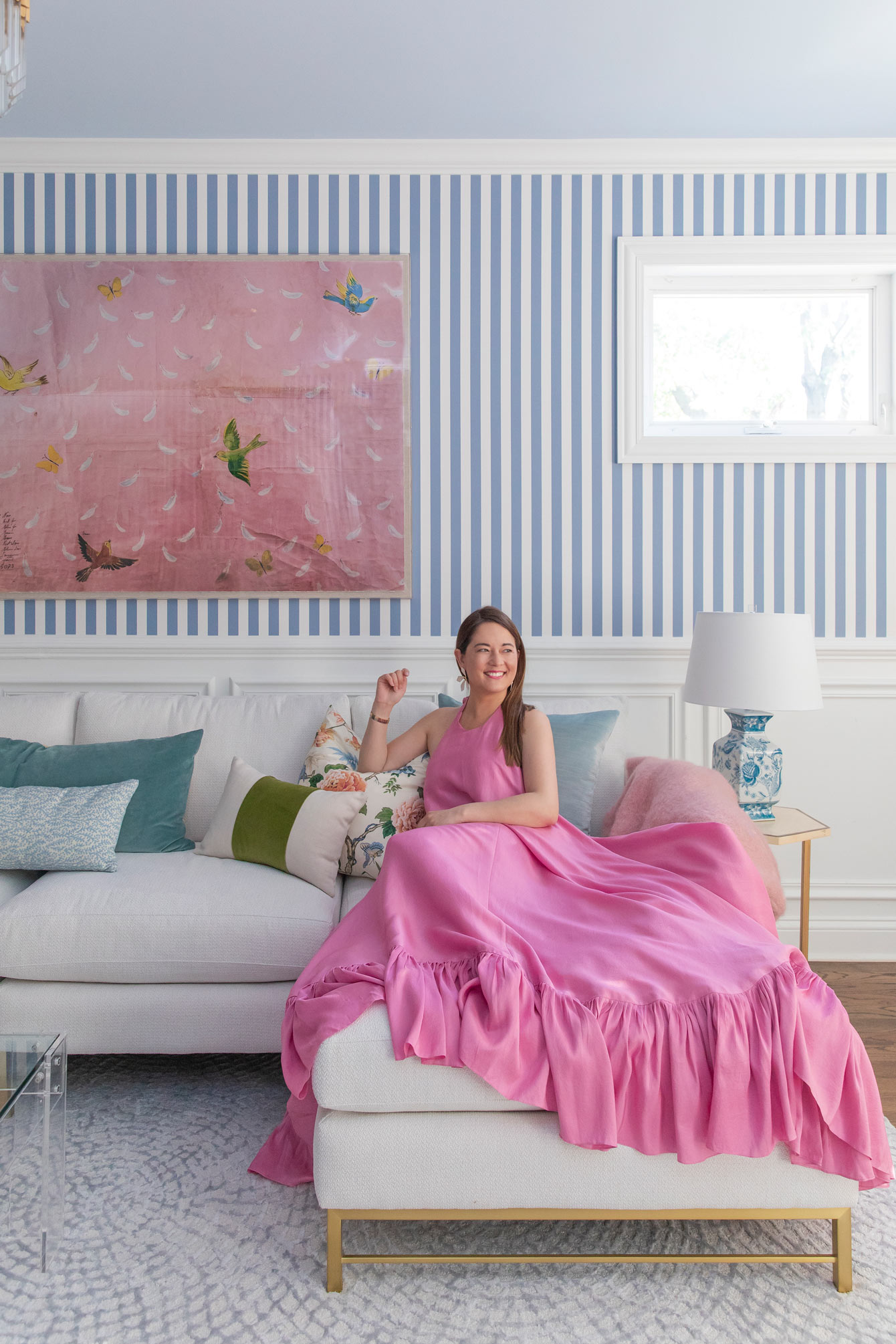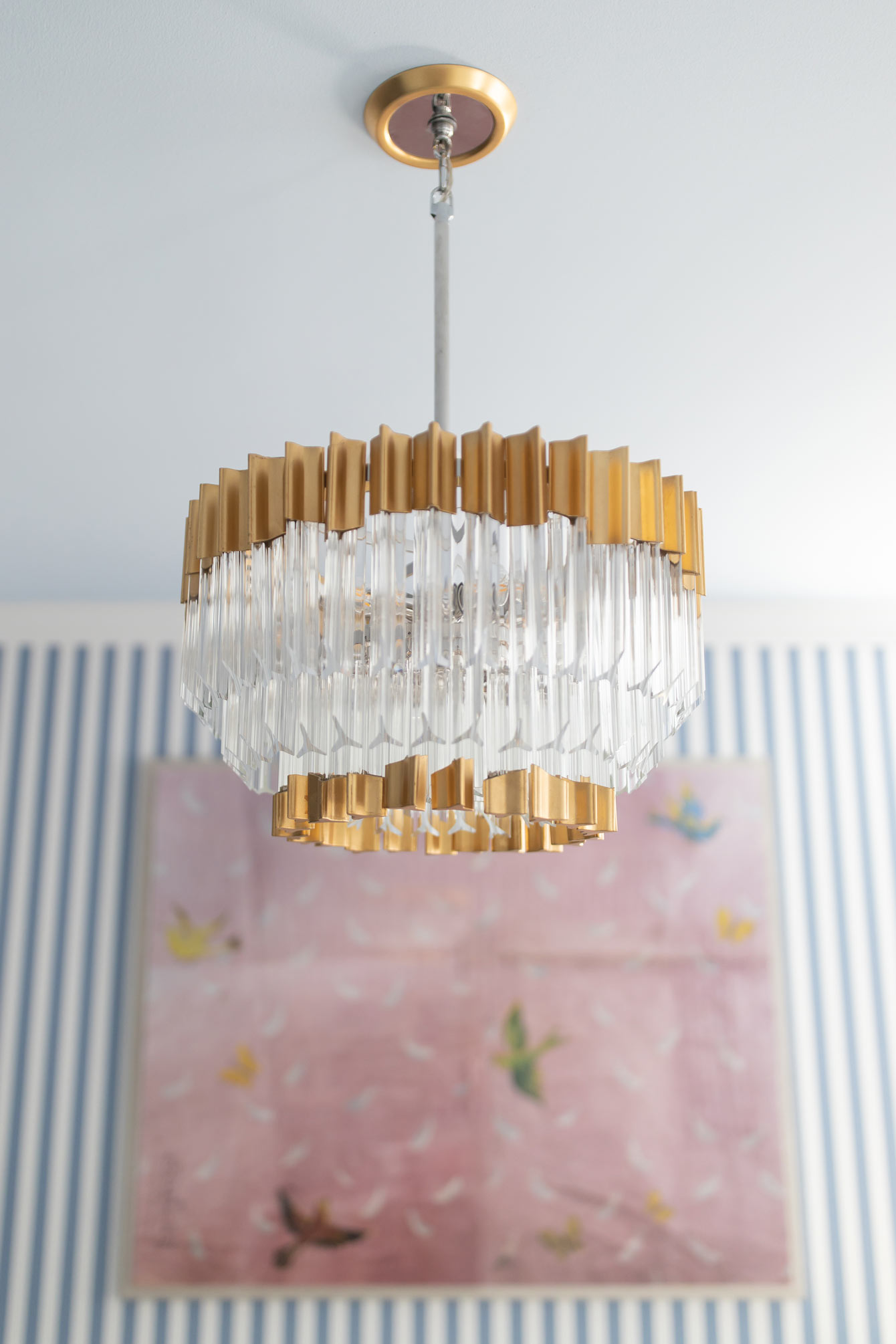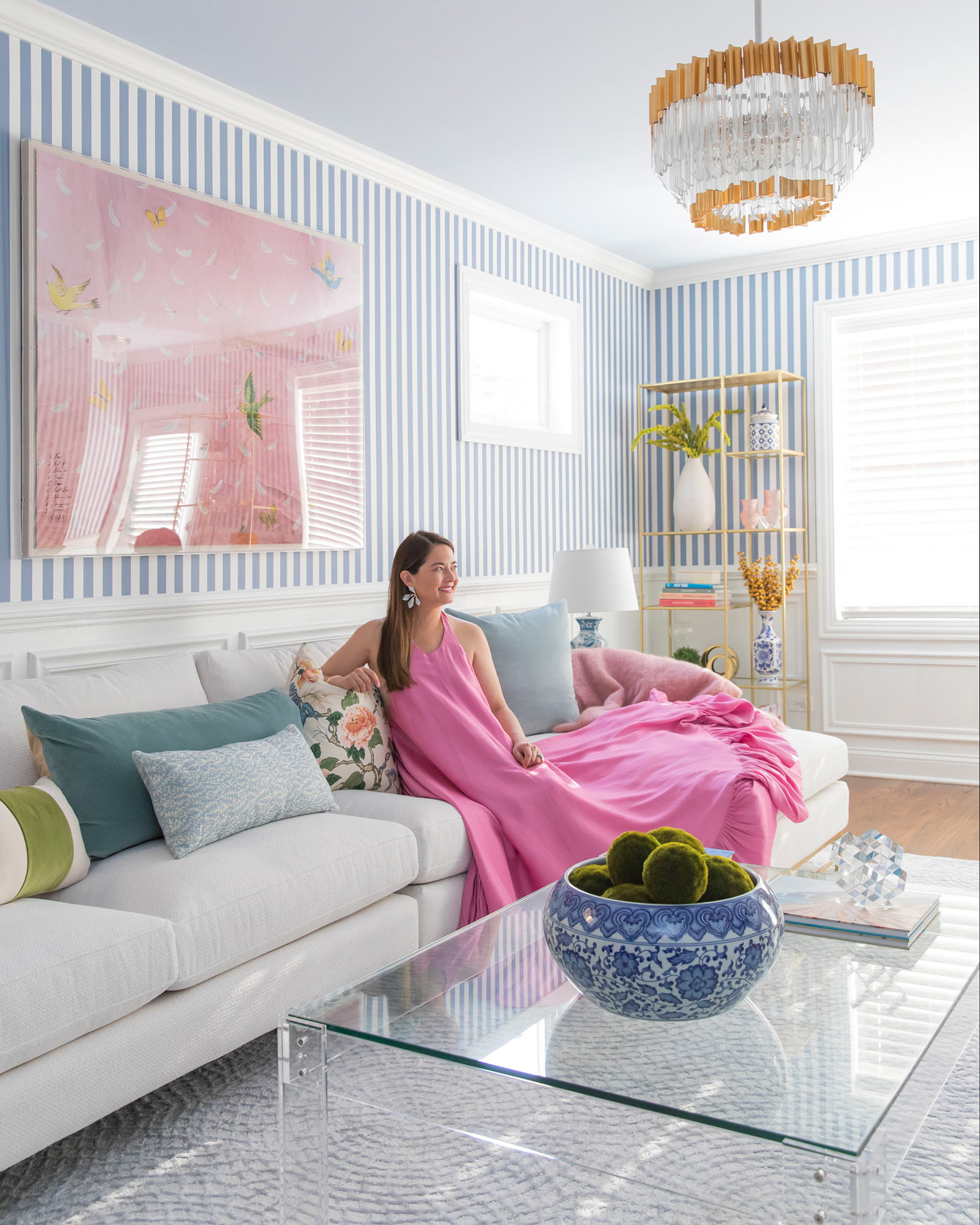 Crate and Barrel Custom Upholstery
During the initial house hunt, we knew that once we moved in, the interior design would start from scratch. We had a few of pieces of furniture we planned to bring along, but none of it would be used on the main floor of the house. After considering the living room at the front of the house and the family room in the back, we decided that this Crate and Barrel collaboration would be perfect for the family room. The space is very open and flows right into the kitchen, so we knew it would end up being the "hub" of the home. Perfect for all of the timeless options Crate and Barrel has to offer!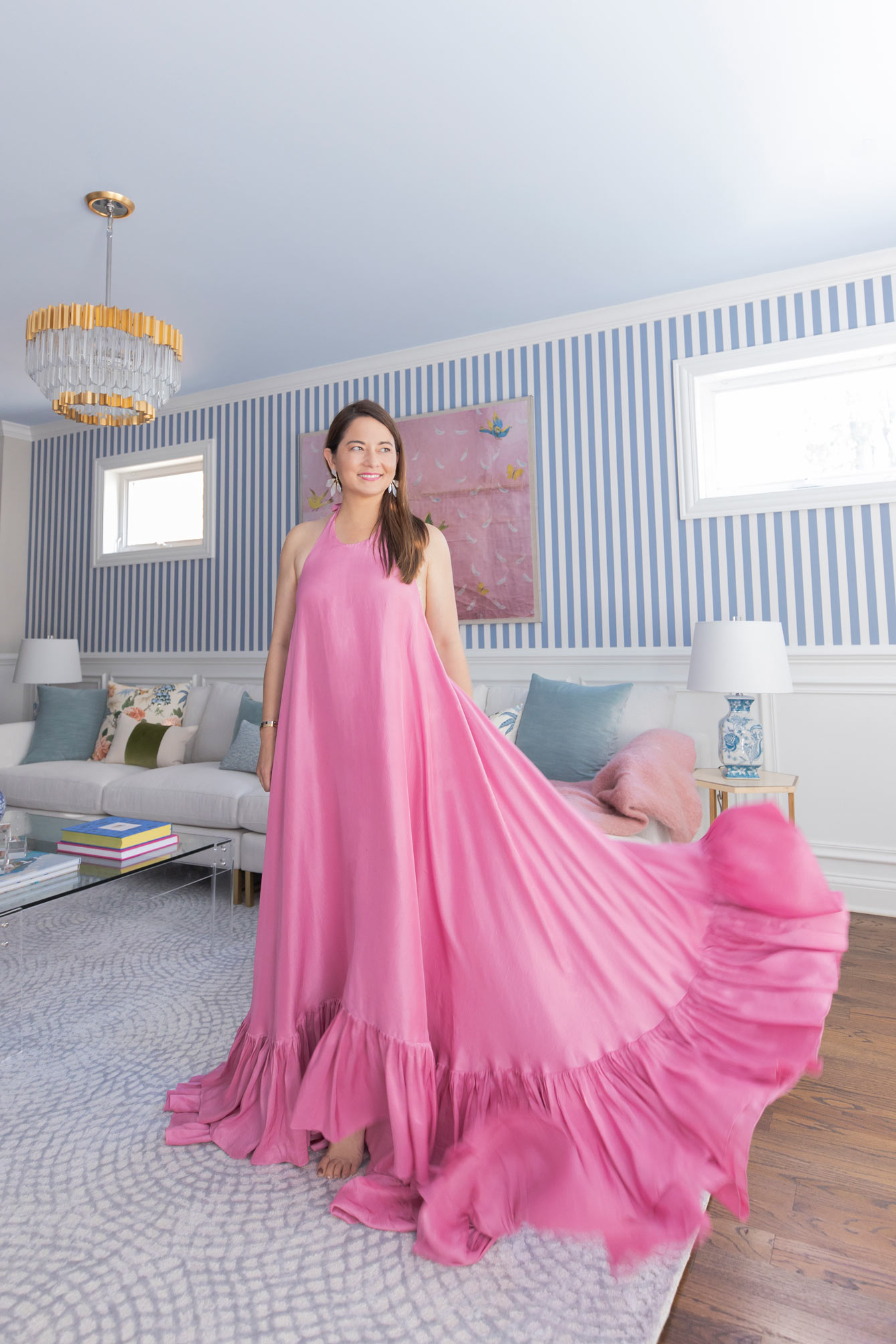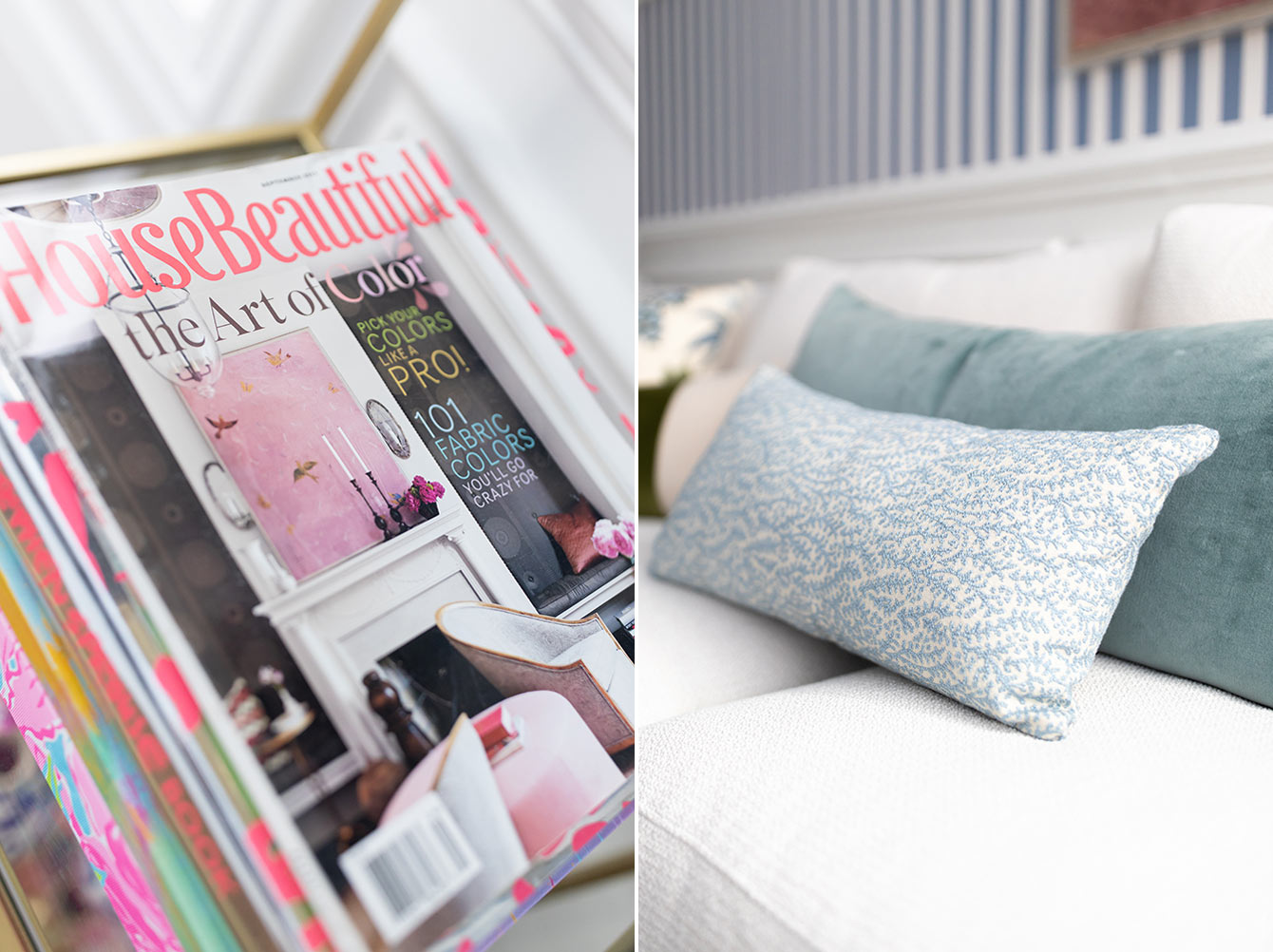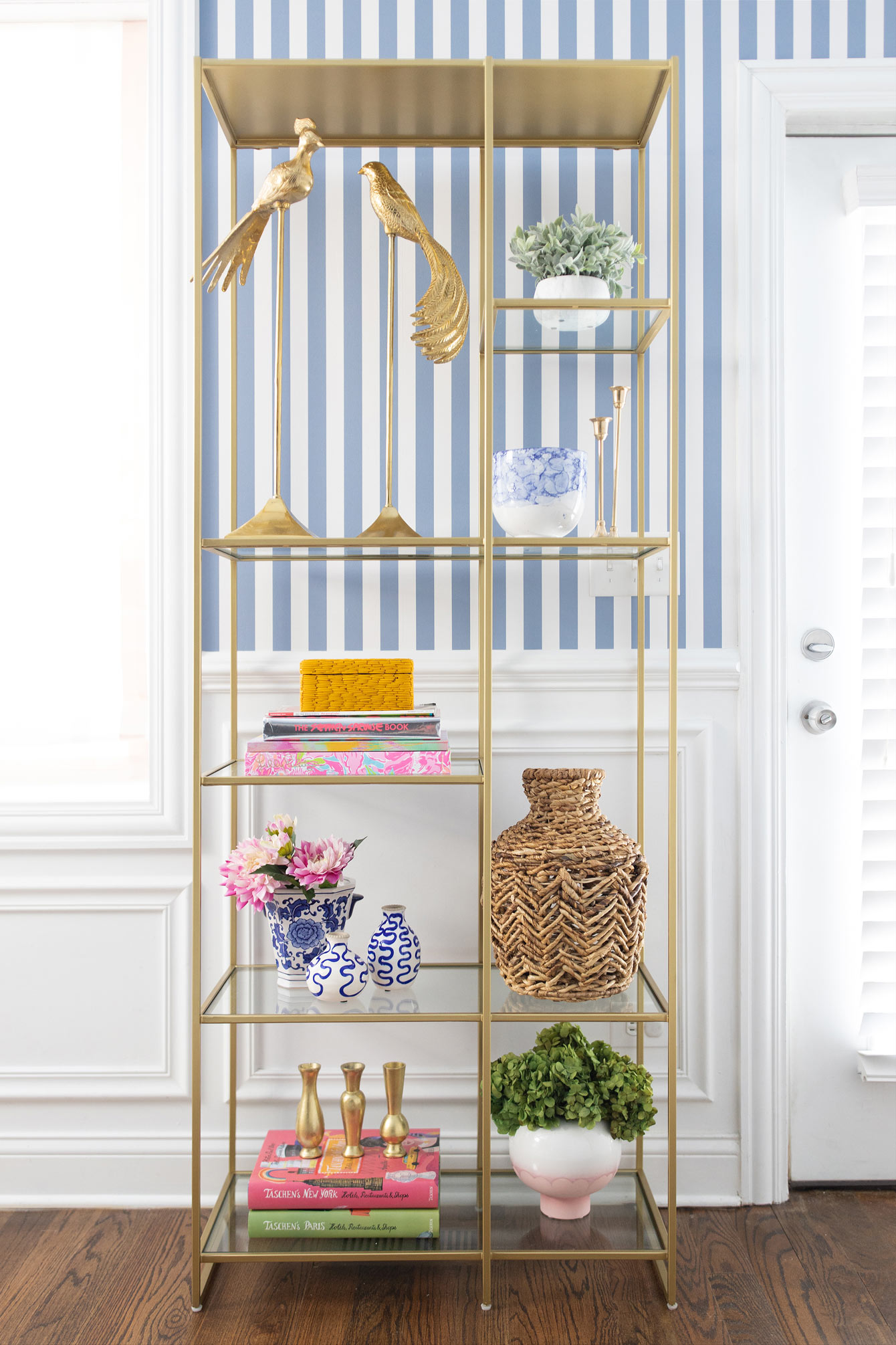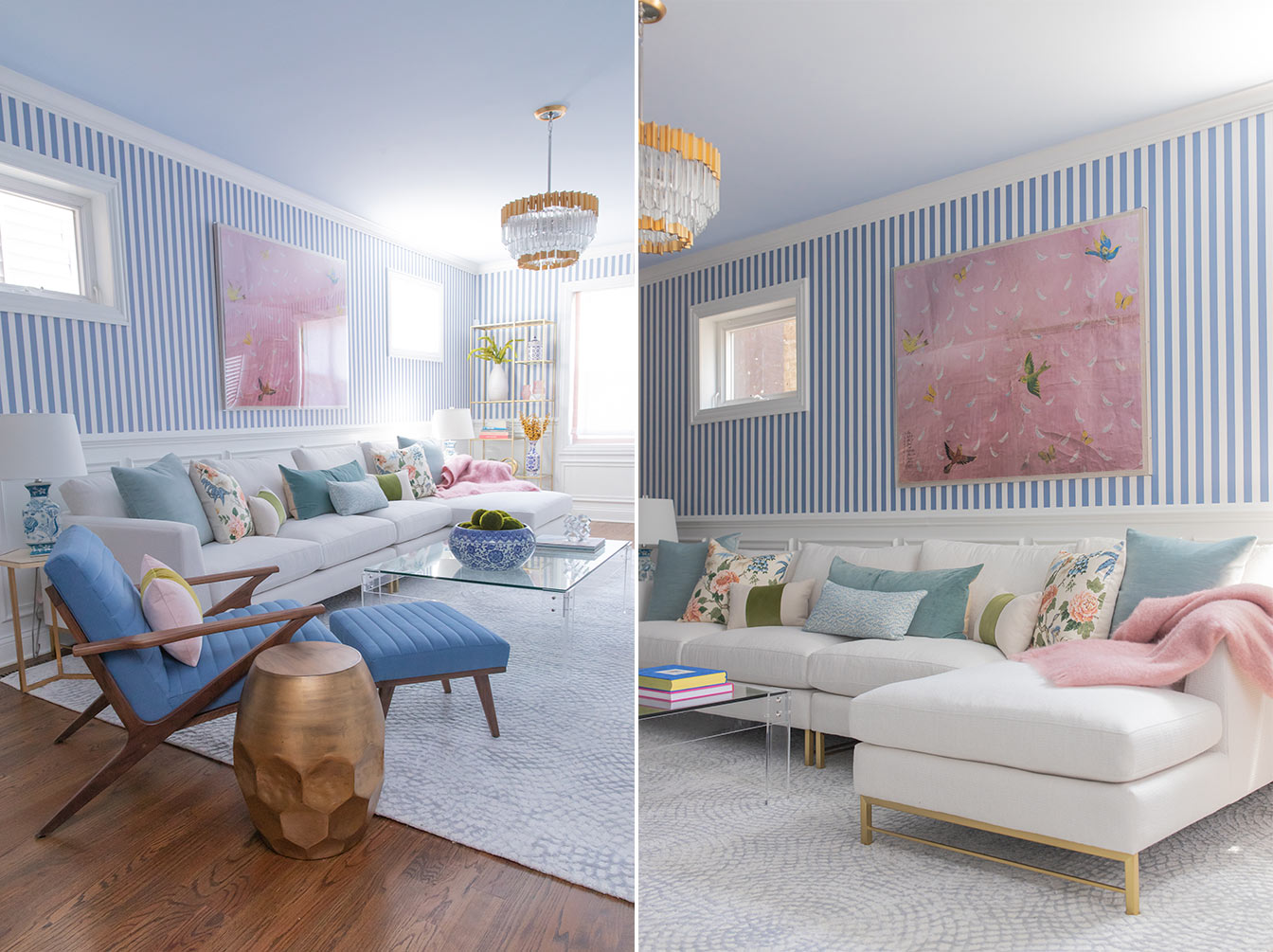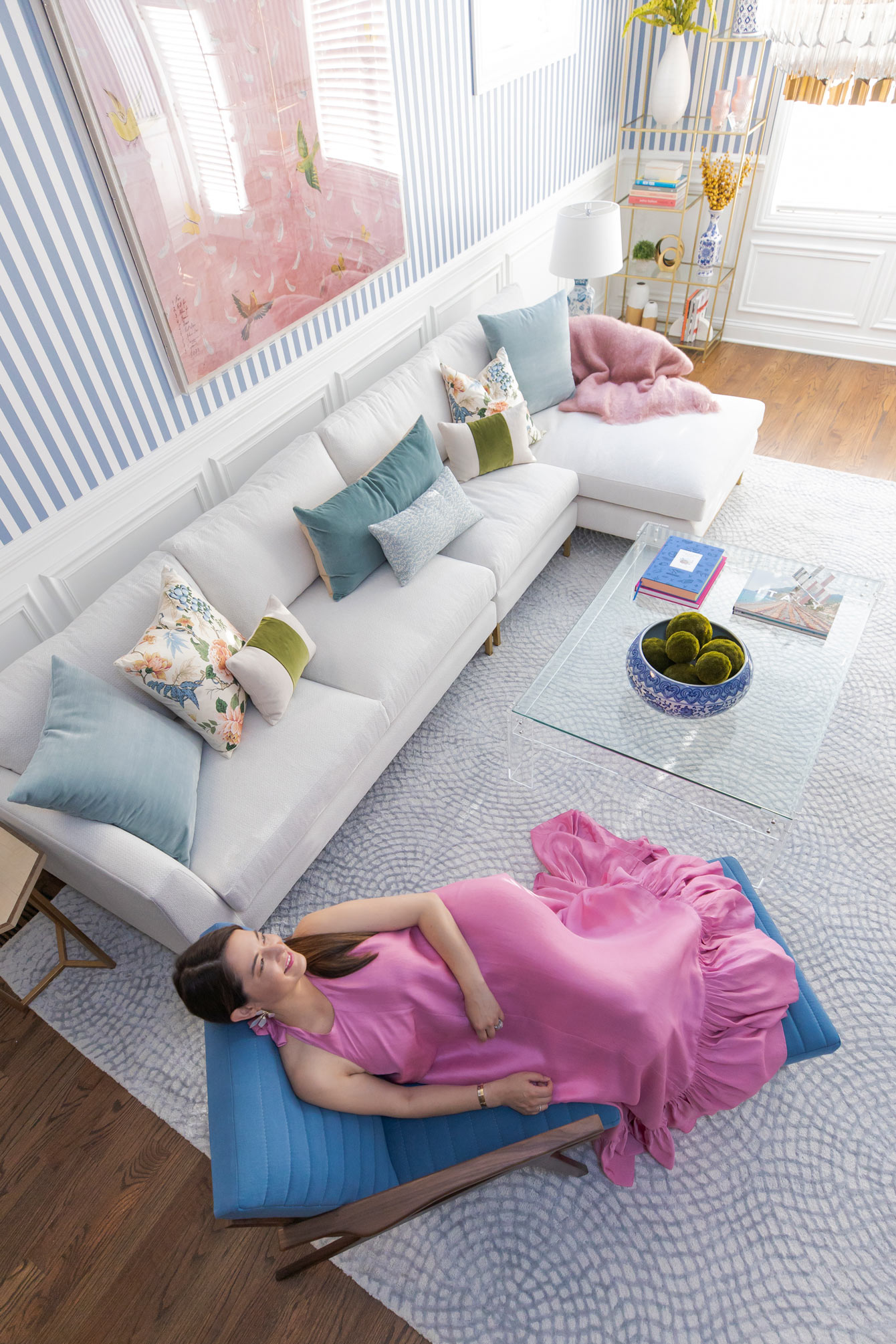 As you would probably agree, a great couch is the cornerstone of any family room. For our space, there's one small catch: it's very rectangular. At 21×16, any average couch would be dwarfed by the length of the space. Thankfully, after reviewing Crate and Barrel's website and shopping in-store, Bob and I quickly gravitated towards the Tyson sectional. Through navigating their sectional planner, we decided on a four-piece in the vail fabric, snow color, and brass legs. The dimensions were PERFECT for the room (our custom sectional is 141″ long), and it has quickly become the star of the entire space!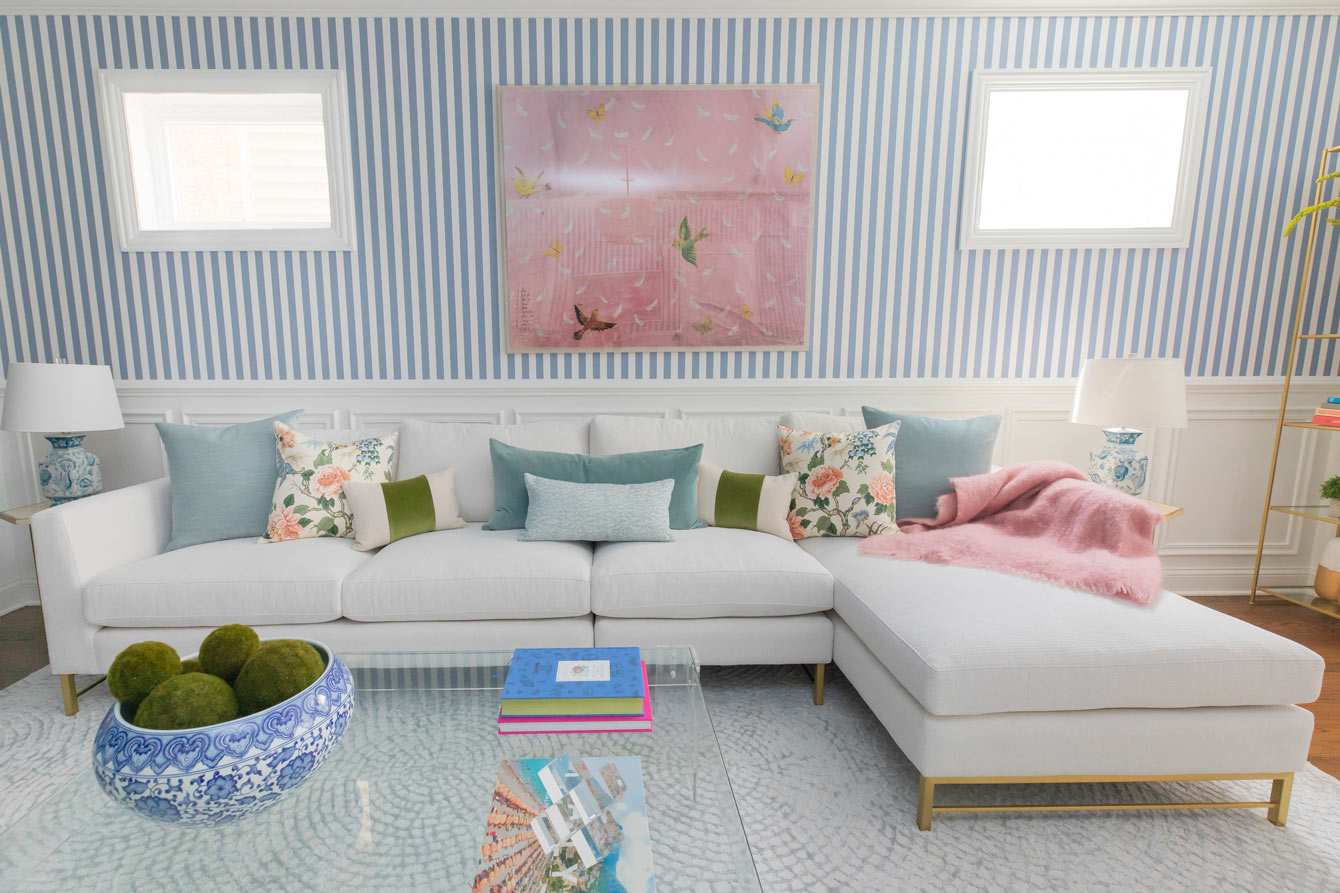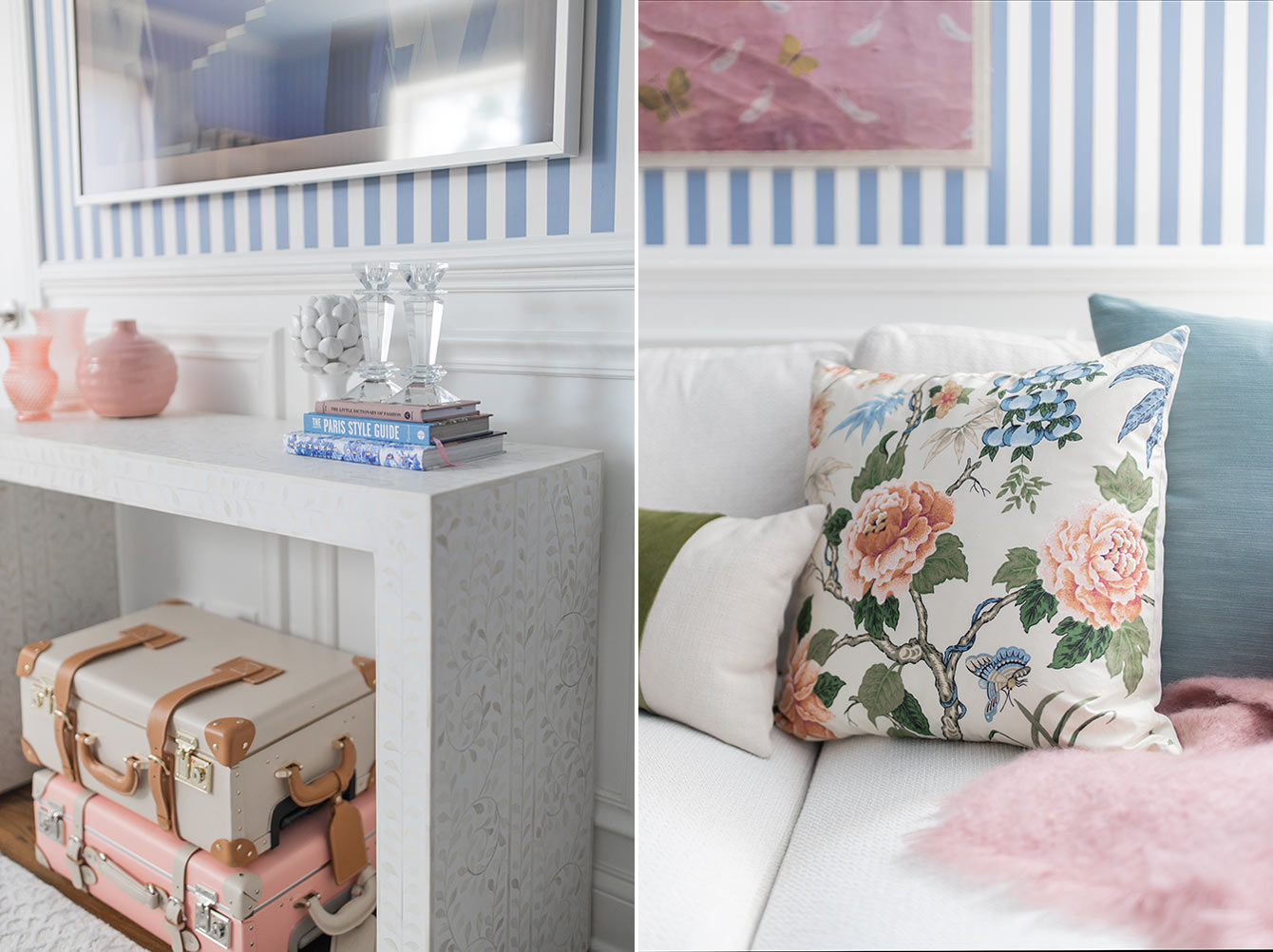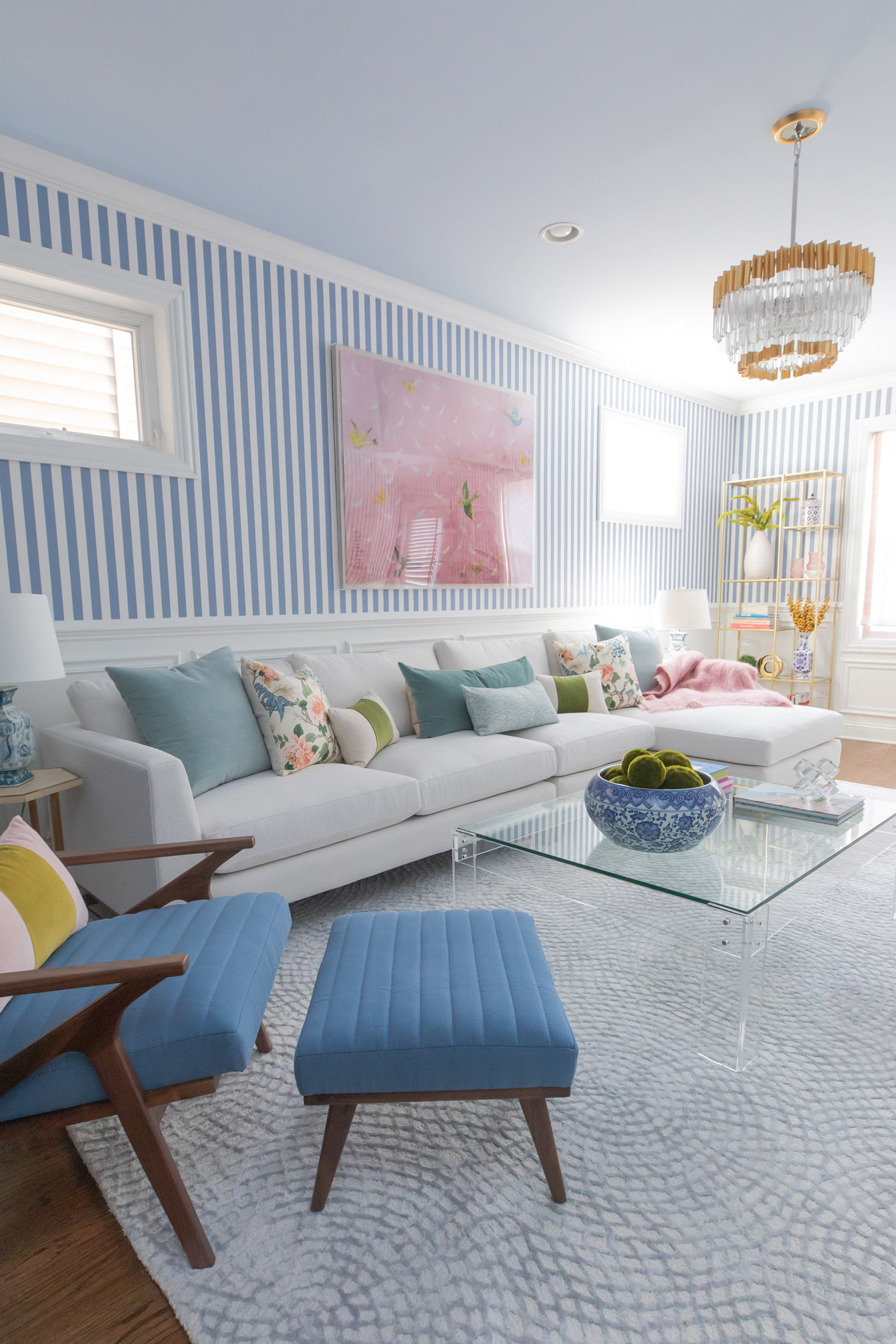 Basically, Tyson's sleek silhouette and clean angles, comfy pillows and cushions had us at "hello." Plus, the custom upholstery was a huge selling point. We chose the custom upholstery called Vail, Snow since it's super versatile, and I love it's a stain-resistant fabric (for unexpected spills or accidents). That said, there were SO many great neutral and bold options to pick from. See them all here!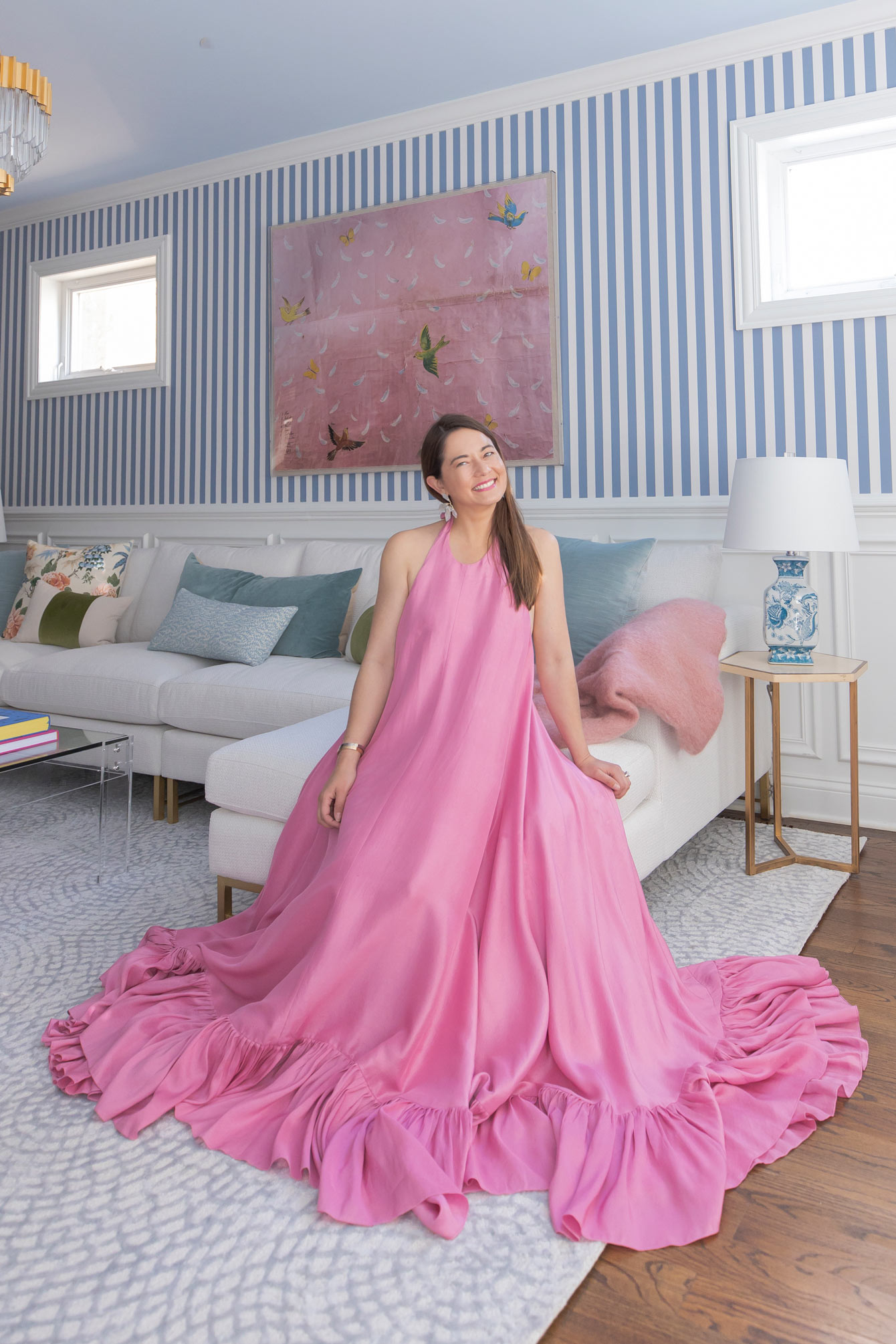 Dress c/o Azeeza
If you're thinking about investing in new furniture, now is the perfect !time, because Crate and Barrel is having their Upholstery Event from now until September 4th! There's something so fantastic about a custom, tailored feel to a room – and it always starts with a sofa or sectional.
Armchair Expert
After working with Amelia on the floor plan of the room, it quickly became clear that we needed something extra for the space. Beyond the custom Tyson sectional, we also decided on a pair of the Estelle shelves to flank the picture window. Even with those in place, I can't really explain why, but it just felt like the layout was still missing something. In fact, it took a couple weeks for us to come to a decision on the best possible solution.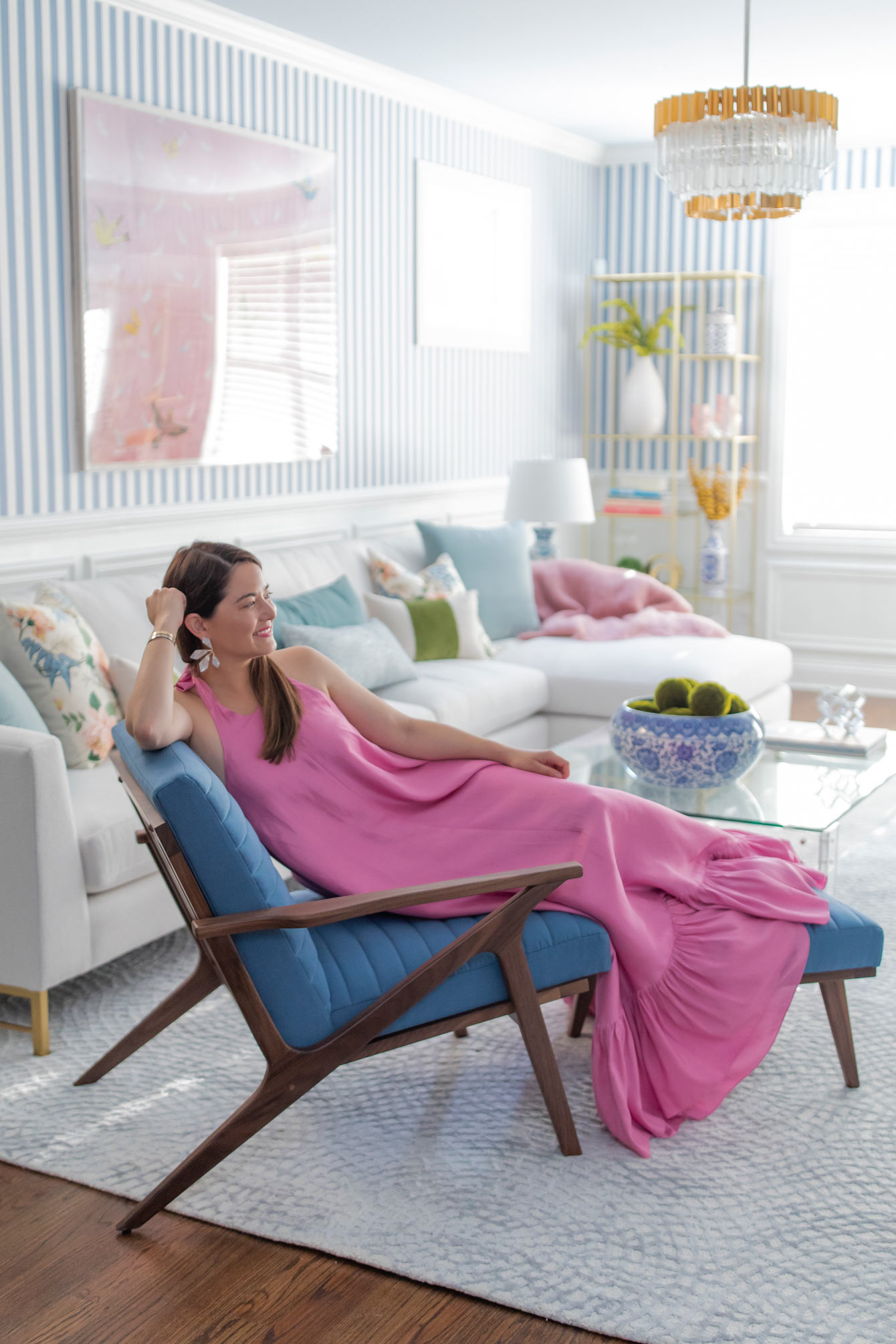 Our solution? The Cavett channel chair and matching ottoman. The mid-century modern vibe was the perfect contrast to the contemporary design of the family room. Plus, the color we chose is named "Lake!" Completely unintentional and totally meant to be! This armchair has quickly become Bob's favorite; granted, it's impossible to keep him from a comfy chair and ottoman, lol! Another reason the chair ended up being the perfect choice is because the color ultimately led us to decide on blue stripe wallpaper for the room. All along, we knew that wallcoverings would be an integral part of the new house, so Amelia's suggestion of bold stripes was perfectly on target!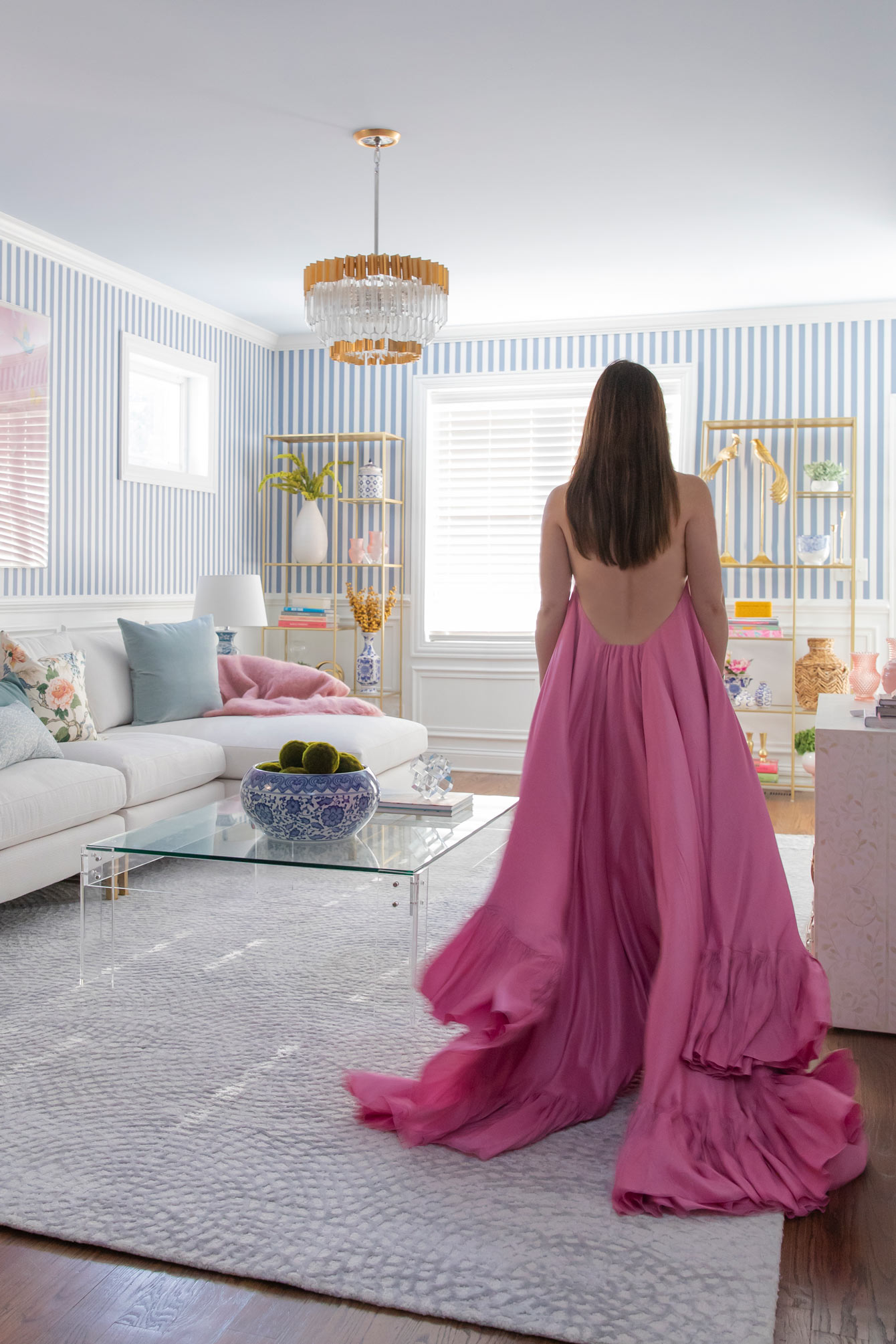 Other Crate and Barrel Custom Upholstery Picks
Anyone who knows us can attest that both Bob and I are the type to explore every option before landing on a conclusion. This is especially true for big decisions like home design (sorry Amelia)! As such, there were so many other pieces from Crate and Barrel that nearly made the cut for our family room. I thought it would be fun to include some of them below!

This post was sponsored by Crate and Barrel. All opinions are my own. Partnerships like these make Style Charade possible!
See all the details about the design of our family room along with before and after pics of the space HERE. Excited to share even more about our home design in the months to come!