This past weekend, I was invited to Oakbrook (in the western suburbs of Chicago) to try the new Beauty Haven at Nordstrom. This self-care destination offers innovative beauty and wellness services such as Base Coat, Anastasia Beverly Hills Brow Studio, Moon Juice, and Skin Laundry. I had the opportunity to try both the Base Coat manicure and a Skin Laundry facial. Given the hectic pace of the holiday season and the full list of to-do's for work, this partnership came at the perfect time!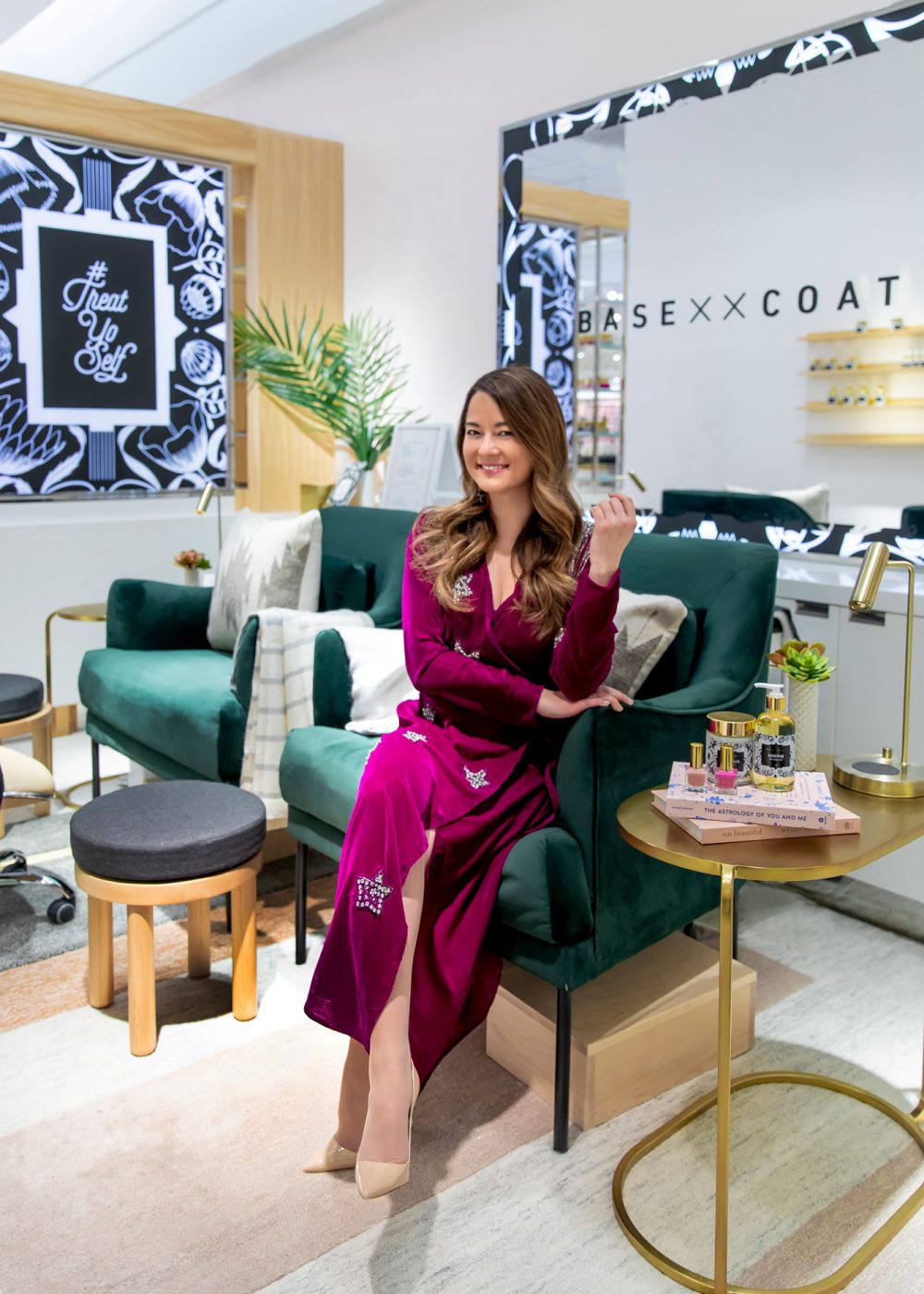 Nordstrom Beauty Haven: Skin Laundry
Prior to the weekend, I had not been familiar with Skin Laundry. Of course, the clever name immediately caught my attention. When the certified skincare professional explained how the process works, I was completely sold. If you've never had one, a traditional facial treatment can last up to an hour. This is one of the main reasons I don't often get them – the time commitment! The Skin Laundry facial takes less than fifteen minutes with zero downtime. I don't know about you, but that's less time than it takes me to decide on a new pair of denim!
Skin Laundry offers three services, each at a different intensity. The laser & light facial is the starting point and the mildest level facial. This two-step process is perfect for skin rejuvenation is an amazing deep cleanse. Their carbon facial peel is a more moderate intensity, and it's best for acne-prone skin. Their carbon lotion binds to the impurities in your pores, and the laser treatment helps create a clearer complexion. Finally, the ultra fractional facial is their advanced treatment. This anti-aging option evens skin tone by reducing unwanted pigmentation, reduces fine lines by stimulating collagen, and gently resurfaces skin-texture with minimal downtime.

I loved the ease of the experience and the fact that your first treatment is always free! Currently, Skin Laundry is available at Nordstrom Oakbrook and Nordstrom at The Grove in Los Angeles. Chicagoans can book an appointment here, and Angelenos can try the service here. I can't wait to head back and try all three treatments and incorporate their products into my daily routine!

Nordstrom Beauty Haven: Base Coat
Base Coat at Nordstrom Oakbrook was another new-to-me beauty service. At first, I assumed it was a regular manicure option, but quickly discovered how I was wrong! First of all, Base Coat prides itself on the fact that they only create non-toxic products. To be honest, I had never given much thought to polish ingredients – I cared more about the color and if it had a clever name, lol! Seeing that I am so attentive to my skincare and makeup routine, why wouldn't I give more thought to my nails? The Base Coat manicurist shared with me that they don't use any nail-damaging acrylics, hard gels, skin-aging UV lights or harsh, skin-drying nail polish remover. Moreover, the products are made in the United States, and they are vegan, and gluten- and cruelty-free.


For the manicure, I chose a holiday-ready color which was coincidentally named after one of the founders of the company. The hue is named "Tran," and it's the perfect neutral metallic. My favorite part of the experience was all the aromatherapy hand soak, and hydrating crème hand massage. These were much needed now that the Chicago weather is so dry and cold!
Shop some of my favorite polish hues and nail care products below! Beyond Nordstrom Oakbrook Center, Base Coat is also available at Nordstrom at The Grove. Book your Oakbrook service here and your LA service here!
Outfit Details:
Dress: Topshop Velvet Star Embellished Dress // Shoes: Manolo Blahnik BB Pumps
Jewelry: Stella + Ruby Star Statement Earrings
Special thanks to Nordstrom for partnering on this post. All views and opinions are my own. It's collaborations like these that make Style Charade possible.