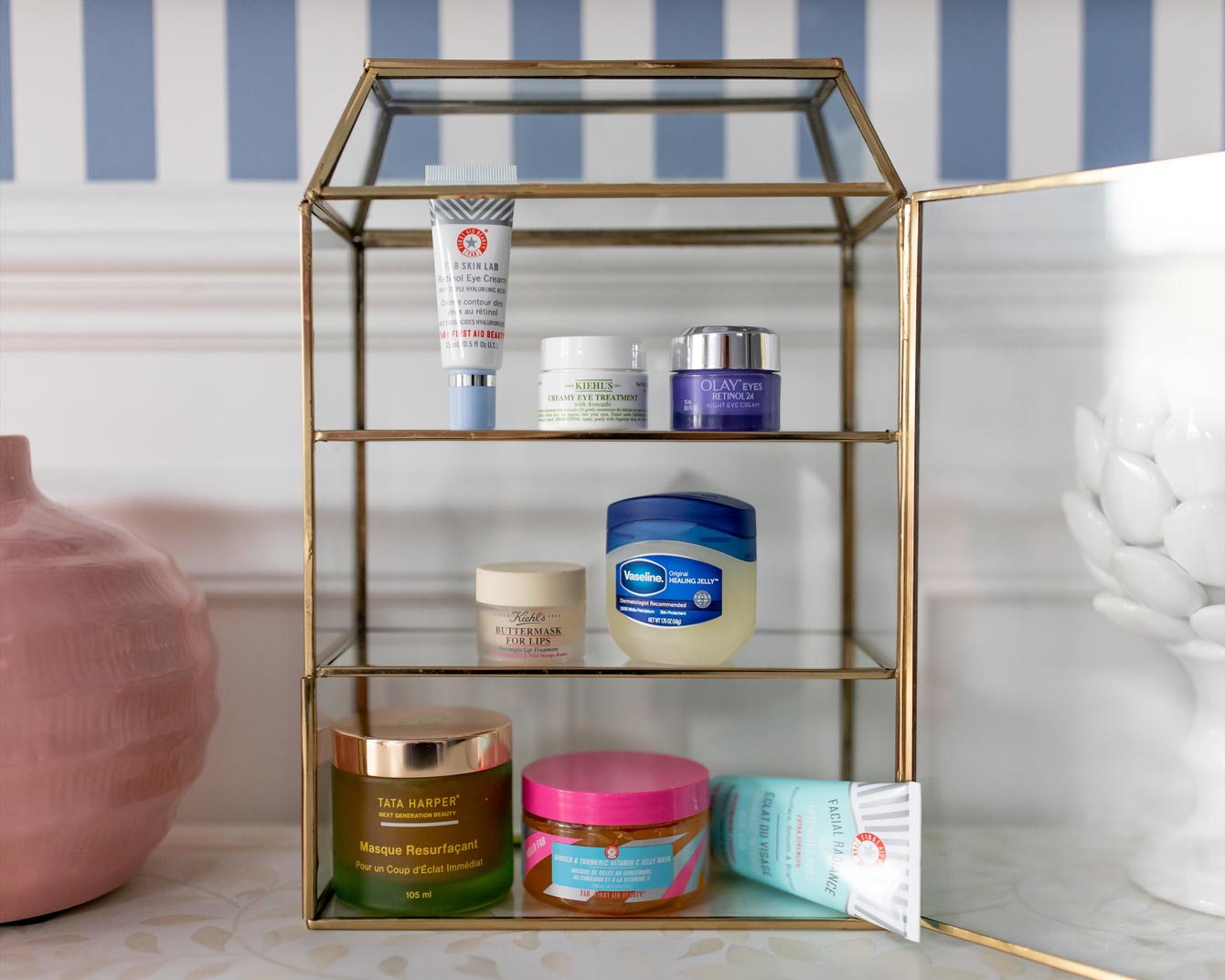 After getting some wonderful feedback from last week's skincare routine for daytime post, I wanted to share a more in-depth guide to the my nighttime skincare routine.
Why have separate steps and products for the evening you ask? Well, sleep is the best natural opportunity for the body and skin to "recover" from the day. Think about it: it's six to eight hours for our muscles to relax, to rest, and for the cellular level of our bodies to go into overdrive. As such, a deliberate nighttime skincare gives your face a major head-start prior to an evening's sleep.
My Nighttime Skincare Routine
Yes, I have outlined a lot of steps below, but I truly believe in each one. Moreover, I change up the items depending on how my skin is feeling that evening and based on which masks I use after cleansing. My evening regimen include similar steps as my skincare routine for daytime, but I tend to use slightly heavier formulas and products. Moreover, if you're looking to learn from the bloggers whom I trust implicitly when it comes to skincare, scroll to the bottom of this post to see all of my faves! It would be remiss of me to not say several of these selections came via word-of-mouth from beauty experts like these phenomenal women.
MAKEUP WIPES
First things first: I take off the day via one or two makeup wipes. Keep in mind, I wear full-coverage foundation, so it takes a lot for it to be fully removed! My go-to is this affordable set. For less than $7, you get 90 makeup wipes in four smaller packages. I love the 15-count pack for travel and always keep an extra one in my beauty case.
PRE-CLEANSE
Who knew double cleansing would be one of my fave parts of my nighttime routine? This additional step ensures that every last trace of dirt, makeup, and the rest are all gone before heading to the next steps. After using my makeup wipes, I pre-cleanse my face and neck with Dermalogica's PreCleanse Cleansing Oil. It's meant to be applied on dry skin and has an oil-like consistency. Once it's massaged into skin, I add water and allow the it to foam before rinsing away. I am OBSESSED with this product!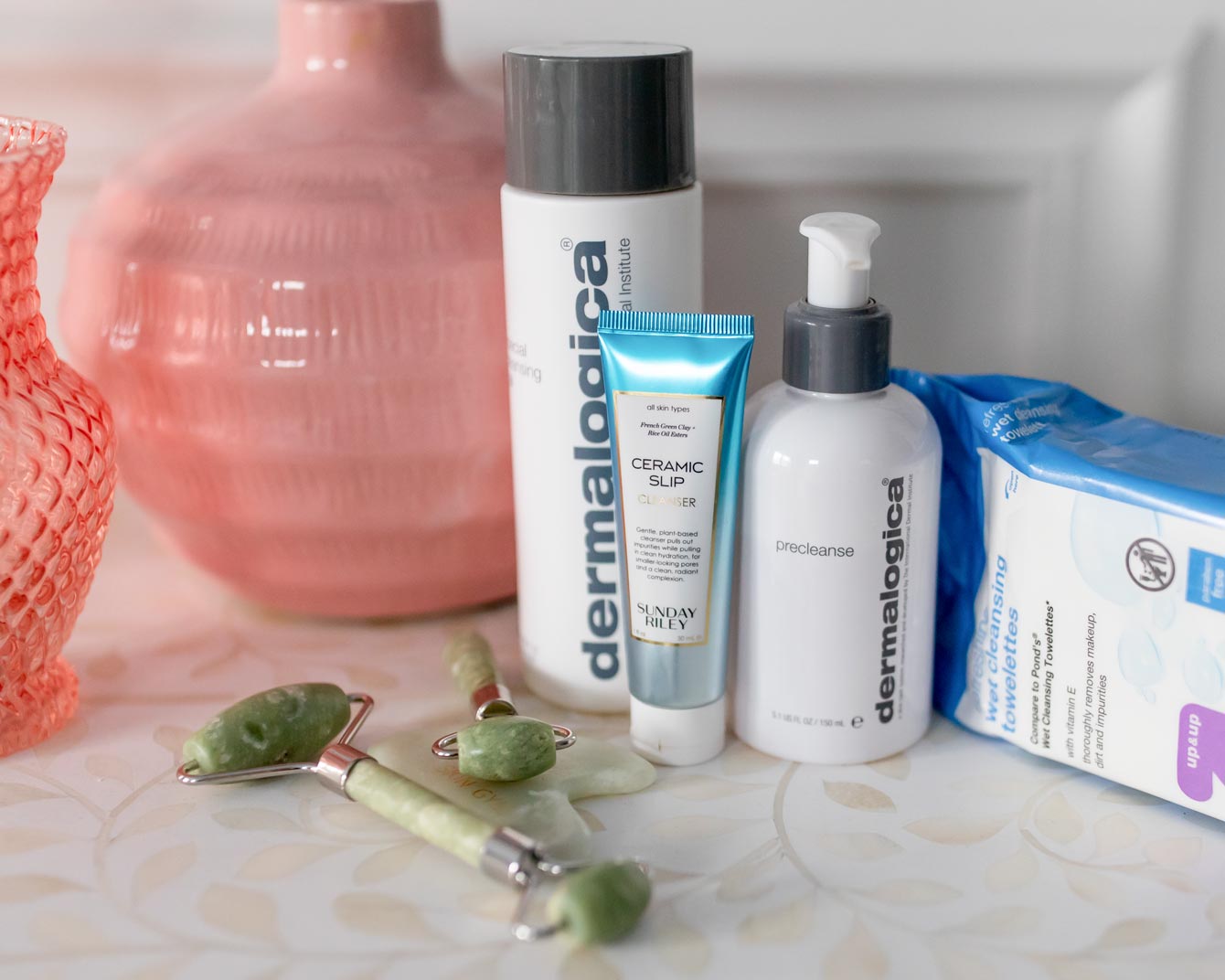 Jade Facial Trio // Dermalogica Cleansing Gel // Sunday Riley Ceramic Slip
Dermalogica Precleanse Cleansing Oil // Makeup Cleansing Towlettes
CLEANSER
For night (and after the precleanse), I use either Sunday Riley's Ceramic Slip Cleanser or Dermalogica's Special Gel Cleanser. Both products leave my skin feeling so fresh and clean! For a more affordable option, I love Cetaphil's Skin Cleanser and the Bliss cleaner I mentioned in my daytime routine. Both are under $10, and the Cetaphil has been recommended to me by multiple aestheticians and dermatologists.
JADE ROLLER
While I don't believe that jade rollers have any magical powers, I do love this step. After my skin is clean, I gently use my jade roller over my face and neck for a few minutes. The stone has a cooling sensation as it lightly massages the skin. Plus, I like being deliberate about taking time to relax and calm my mind prior to sleep. On occasion, I'll use the roller during the serum step below. One quick note, it's essential to keep your jade roller clean and sanitized.
TONER
I spoke extensively about my go-to toners in my daytime skincare post. In short, I love the Pixi Glow Tonic Toner as well as the Biologique Recherche P50 and use them interchangeably. The Pixi is much more affordable and gentle on the skin, whereas the P50 is often referred to as "a facial in a bottle." This is another step where I just listen to my skin and how it's feeling that evening. Occasionally, after the toner, I will use the Mario Badescu lavender mist. I find the scent to be wonderfully calming before heading to bed.
ESSENCE
I've been using essence in the morning and evening for the past few months. I originally received a sample of SK-II's Essence in a packet from Nordstrom, and immediately fell in love. In fact, I'd go as far to say it's my favorite step in the skincare routine (well, after Augustinus Bader as outlined below). Essence prepares your skin to take on serums, moisturizers, and oils. SK-II's Essence is a holy grail product for me. Fair warning, the price tag is lavish, but I truly love it.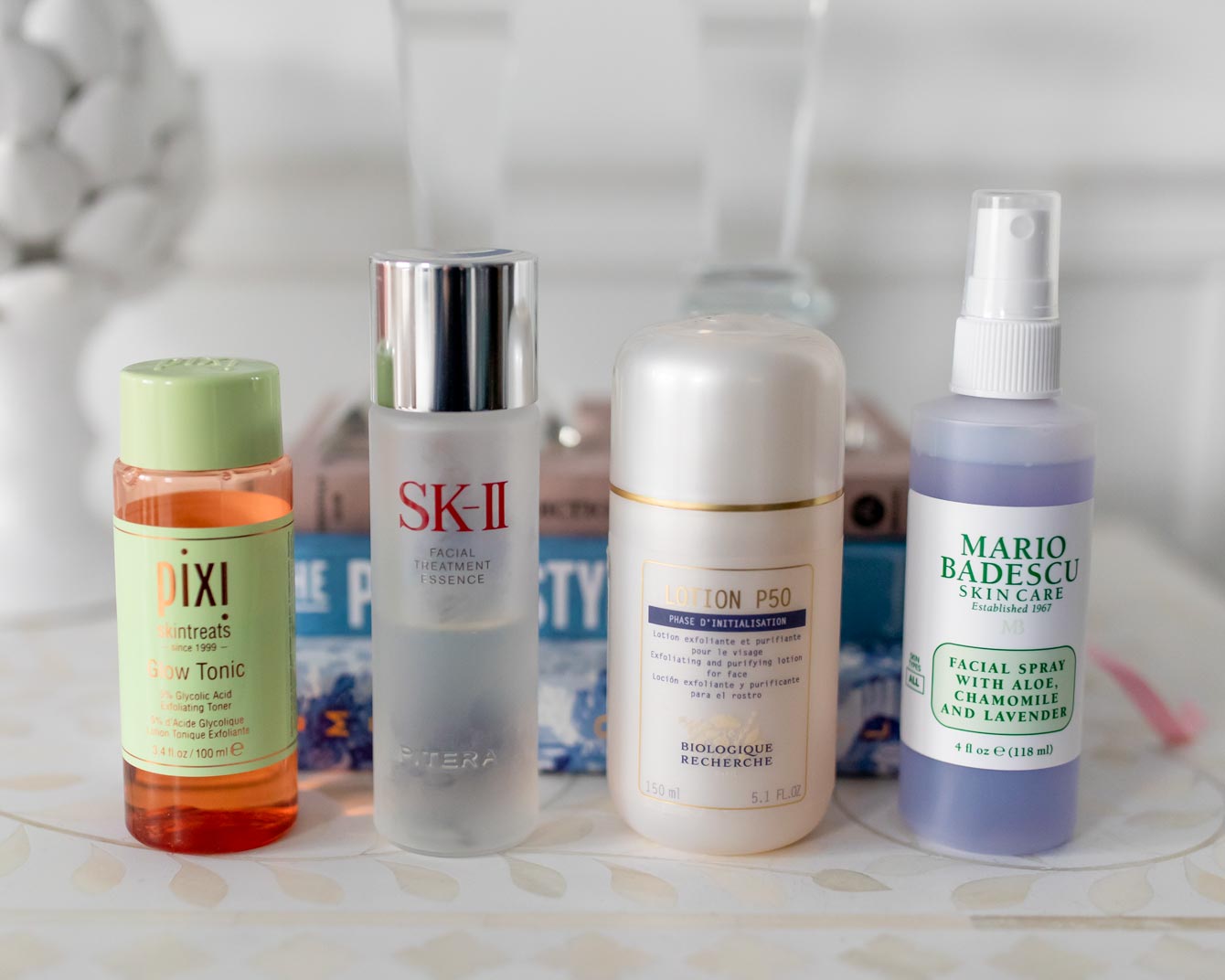 Pixi Glow Tonic Toner // SK-II Essence // Biologoique Recherche P50 // Mario Badescu Mist
SERUMS
Serums are meant to be applied after cleansing but before moisturizing, as they are created in a way that allows the ingredients to absorb deeper into the skin. Of all the ones I've tried, Vitner's Daughter has risen to the top of my list of serums. I first became familiar with it a few years ago via Into the Gloss. The deep botanical scent is intoxicating, and my skin looks and feels incredible after using it consistently. About three times a week, I'll switch out Vitner's Daughter for a retinol serum.
Ask pretty much anyone in the dermatology space, and they will tell you retinol is the one of the most important steps to include in your skincare routine (along with SPF). My go-to's are Sunday Riley's A+ Retinoid Serum and Olay's Regenerist Retinol24 Night Serum (see my comprehensive Olay post here). For some, retinols can be drying and cause slight peeling. I found this article on the myths of retinoids to be a great read!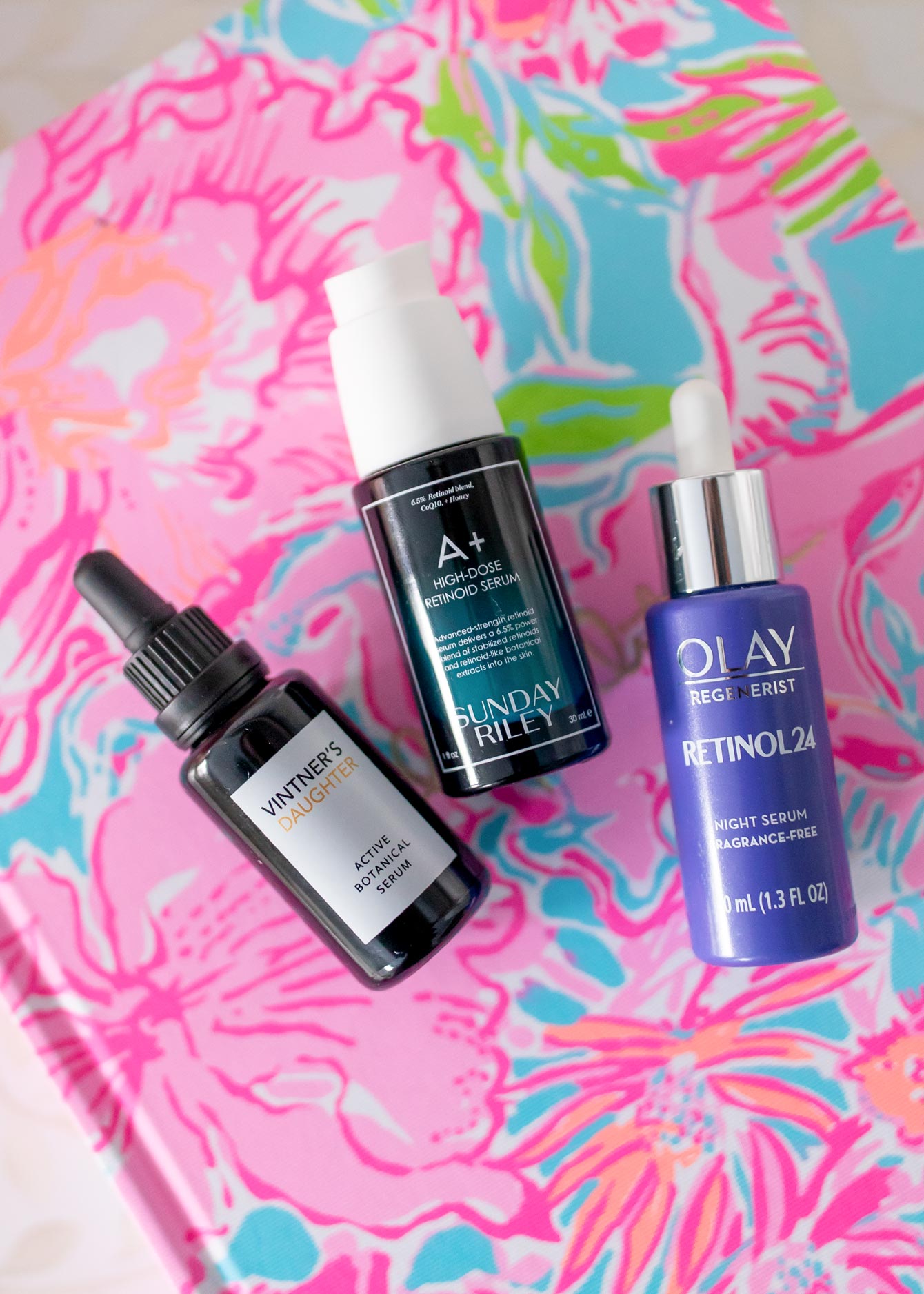 Vintner's Daughter Serum // Sunday Riley A+ Retinoid Serum // Olay Retinol24 Serum
EYE CREAM
After a serum and before a moisturizer, I am deliberte about applying a high-quality eye cream. My favorite evening option is Kiehl's Avocado Eye Cream. It feels amazing when it's applied, goes on so smoothly. Plus, it's incredibly hydrating and leaves my eyes perfectly dewy. Two to three times per week, I'll switch it out for the Olay Retinol24 Night Eye Cream or First Aid Beauty's Retinol Eye Cream.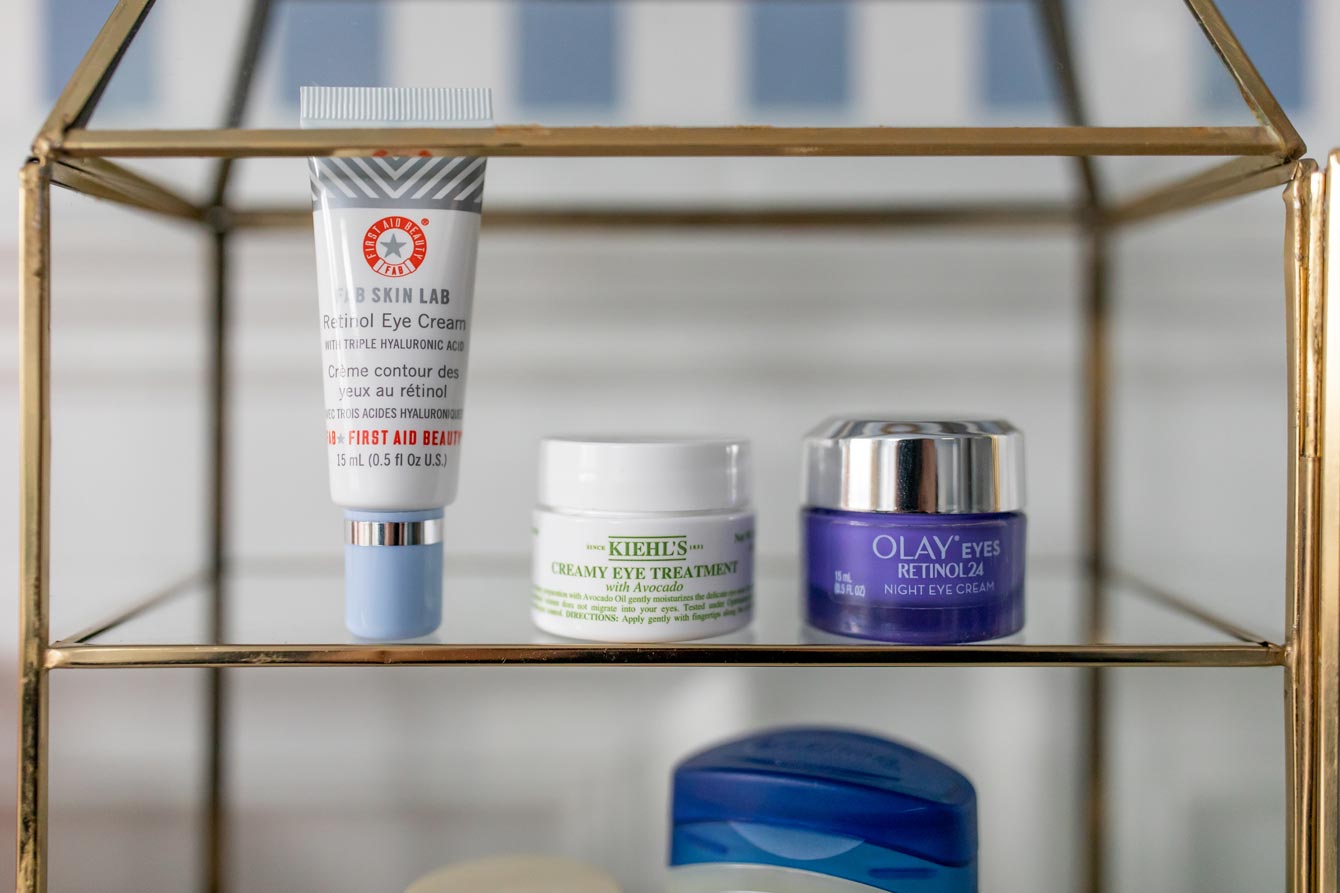 First Aid Beauty Retinol Eye Cream // Kiehl's Creamy Eye Treatment // Olay Retinol24 Eye Cream
MOISTURIZER
Over the last year or so, I've gotten rid of almost all of my skincare products with the exception of three or so. The La Mer Moisturizing Soft Cream is one of them. Is it expensive? Yes. Does it last a long time? Absolutely! A little goes a long way. I truly, truly wish I didn't love it so much, as it comes at a cost, lol. I've recently begun rotating in the Sunday Riley CEO Cream, First Aid Beauty's Ultra Repair Cream, and Weleda Skin Food. All three have a similar consistency I love about the La Mer (the Weleda is definitely the thickest of the four). A couple times per week, I'll use Olay's Retinol24 Regenerist Night Moisturizer.
On the evenings where I want to be super efficient, I use the Augustinus Bader Rich Cream and nothing else. The science behind this moisturizer is incredible (read more about it here), and it's meant to be used on clean skin. In other words, after cleansing and toning, I apply the Augustinus Bader Rick Cream and call it a day (no other serums, oils, nothing). This stuff is seriously incredible which is why it's on regular rotation both in the morning and evening.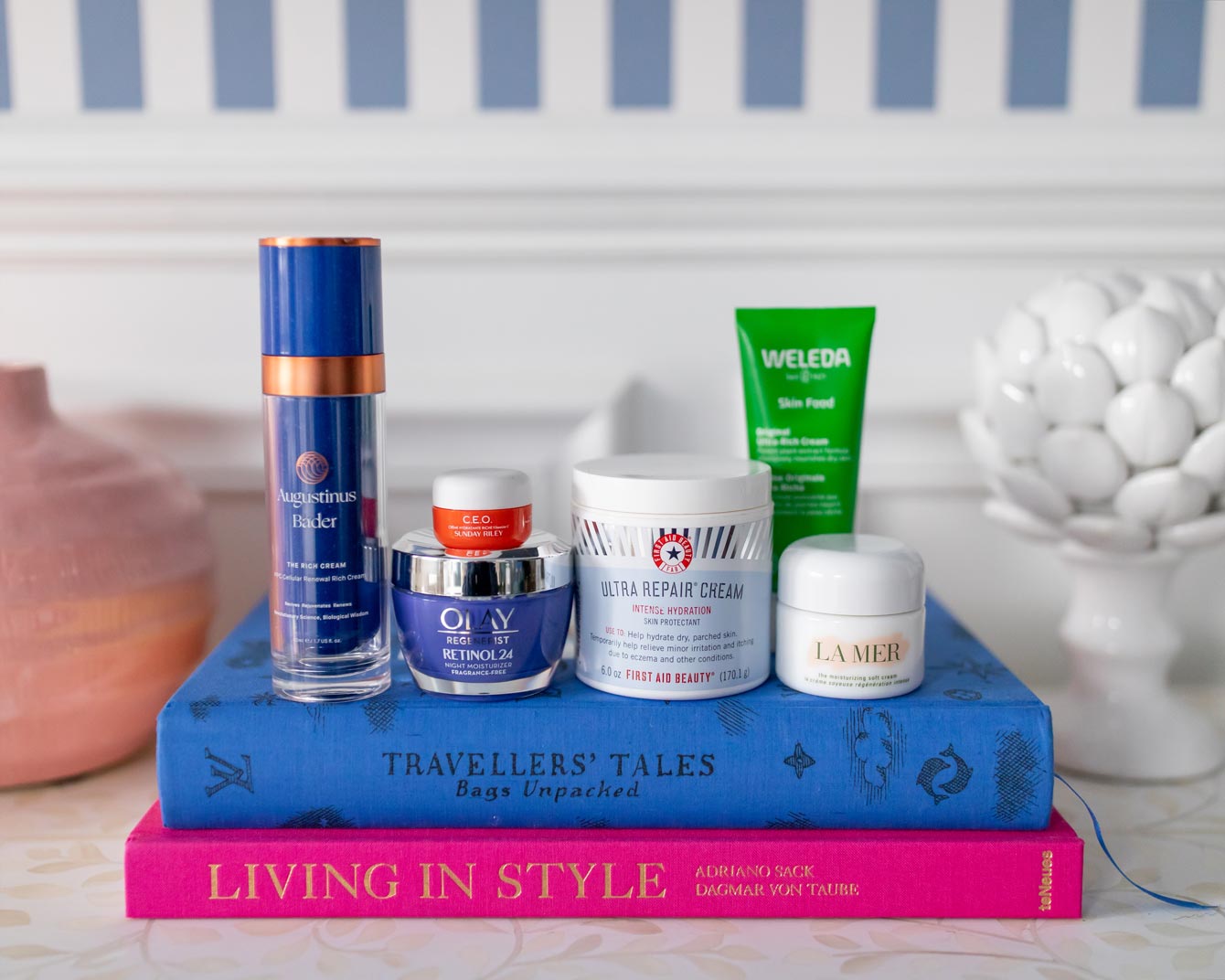 Augustinus Bader Rich Cream // Sunday Riley CEO Cream // Olay Retinol24 Night Moisturizer
First Aid Beauty Ultra Repair Cream // Weleda Skin Food
La Mer Moisturizing Soft Cream (read more in my La Mer post here)
FACE OIL
Face oils are designed to seal everything in and is an essential step for thorough skincare. As someone who has always been acne prone, I was very hesitant to deliberately add oil to my face. Seems counter intuitive, right? Once I started properly adding serums and oils, I found my acne greatly diminished. It was as if my skin knew to produce less of the natural oils that lead to breakouts, since I was being so good about hydration. My tried and true fave is the Kiehl's Midnight Recovery Oil. I've used this product for years, and (for the price) I have yet to find anything that can live up to it! If I'm feeling uber fancy, I use La Mer's Renewal Oil. My bottle is almost empty, and my skin has been savoring each drop, lol!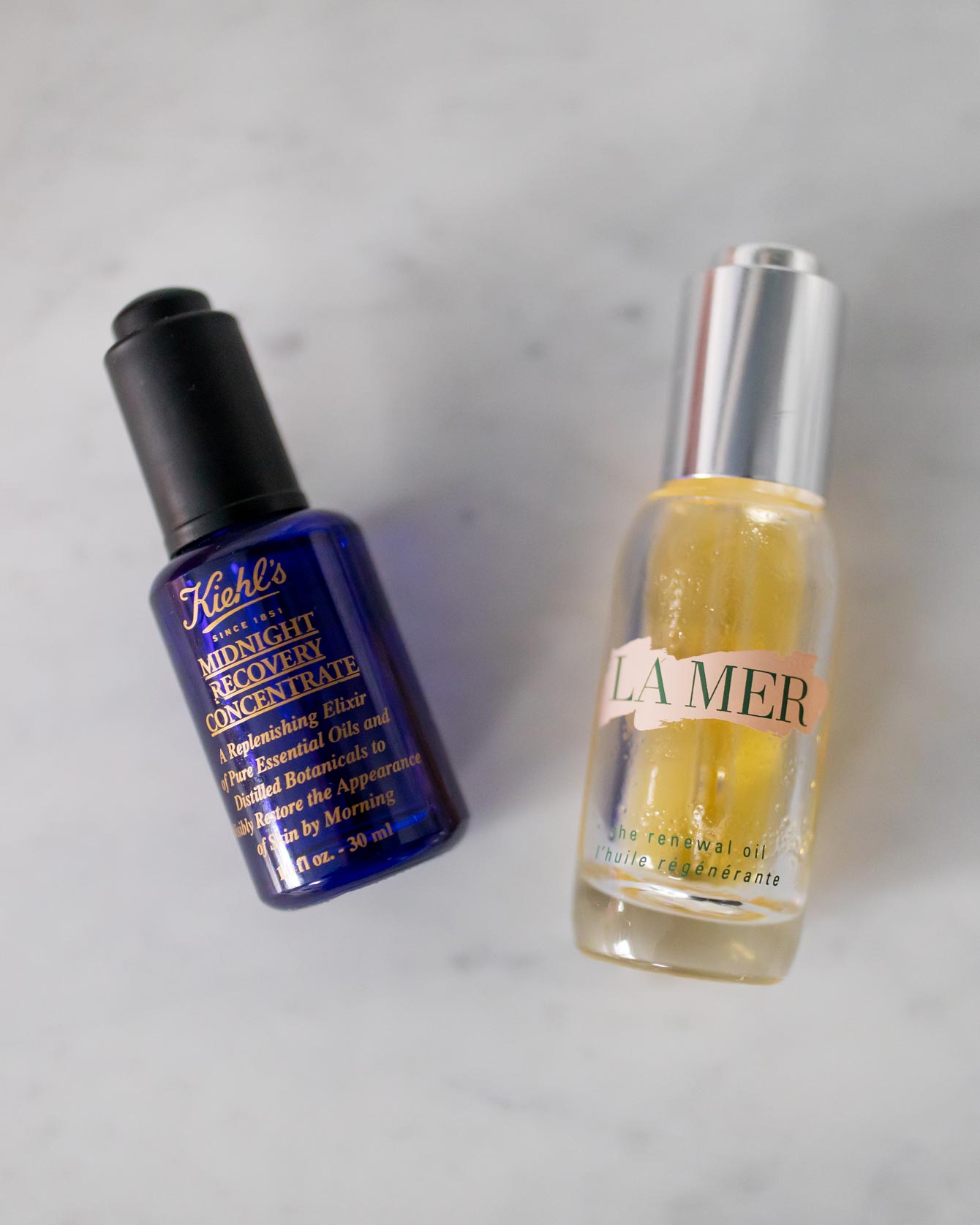 Kiehl's Midnight Recovery Concentrate Oil // La Mer The Renewal Oil
LIP CARE
Last, but not least, lips need their own protection. The glands in lips naturally create hydration, so I tend to reach for good ol' Vaseline more than anything else. I like how it creates a protective barrier for lips which helps them to retain their own moisture. The other lip care product I frequently use (and love) is Kiehl's Buttermask for Lips.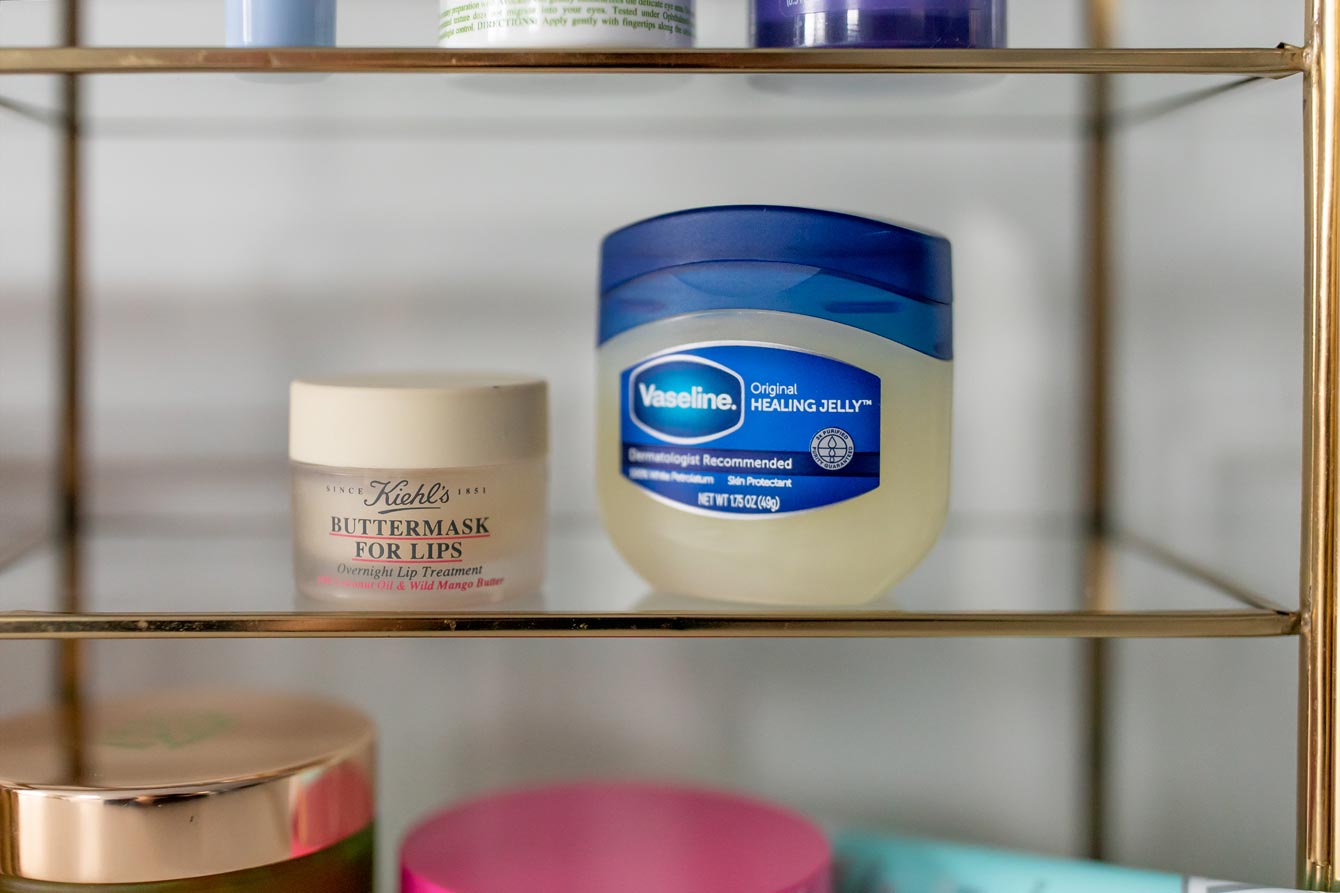 Kiehl's Buttermask for Lips // Vaseline Healing Jelly
Shop All Style Charade Nighttime Skincare Products
Want to shop all of the products from my nightime skincare routine? To simplify things, I created a shoppable scroll below:

ADDITIONAL SKINCARE REGIMENS (MASKS):
You thought the post was over? Not so fast, lol! Each week, I use about two or three masks into my routine (i.e. every couple days) In no particular order, here are a few personal faves:
Tata Harper Resurfacing Mask: By far my favorite mask. Beyond being a cleaner option, my face GLOWS after using it. I see a noticeable difference on the nights when I do and don't use it!
Bliss Holographic Eye Masks: To be transparent, Bliss products have only recently become a part of my skincare routine. For years, I would I test them while traveling since their soaps and lotions are at W Hotels. Seeing the affordable price for the full-sized product, I decided to try more of their line, including the eye masks. These are crazy good and feel so amazing. I swear by them now!
Tatcha Luminous Dewy Sheet Mask: A $12 little luxury that's worth every cent! Beyond being a cleaner option, I love the mask is inspired by classical Japanese beauty treatments (as are all of Tatcha's products). It's packed with vitamin E, botanical oils and extracts.
First Aid Beauty Ginger & Tumeric Vitamin Jelly Mask and Facial Radiance AHA Intensive Peel: The brand sent me these masks in the mail to try, and they have been on regular rotation ever since.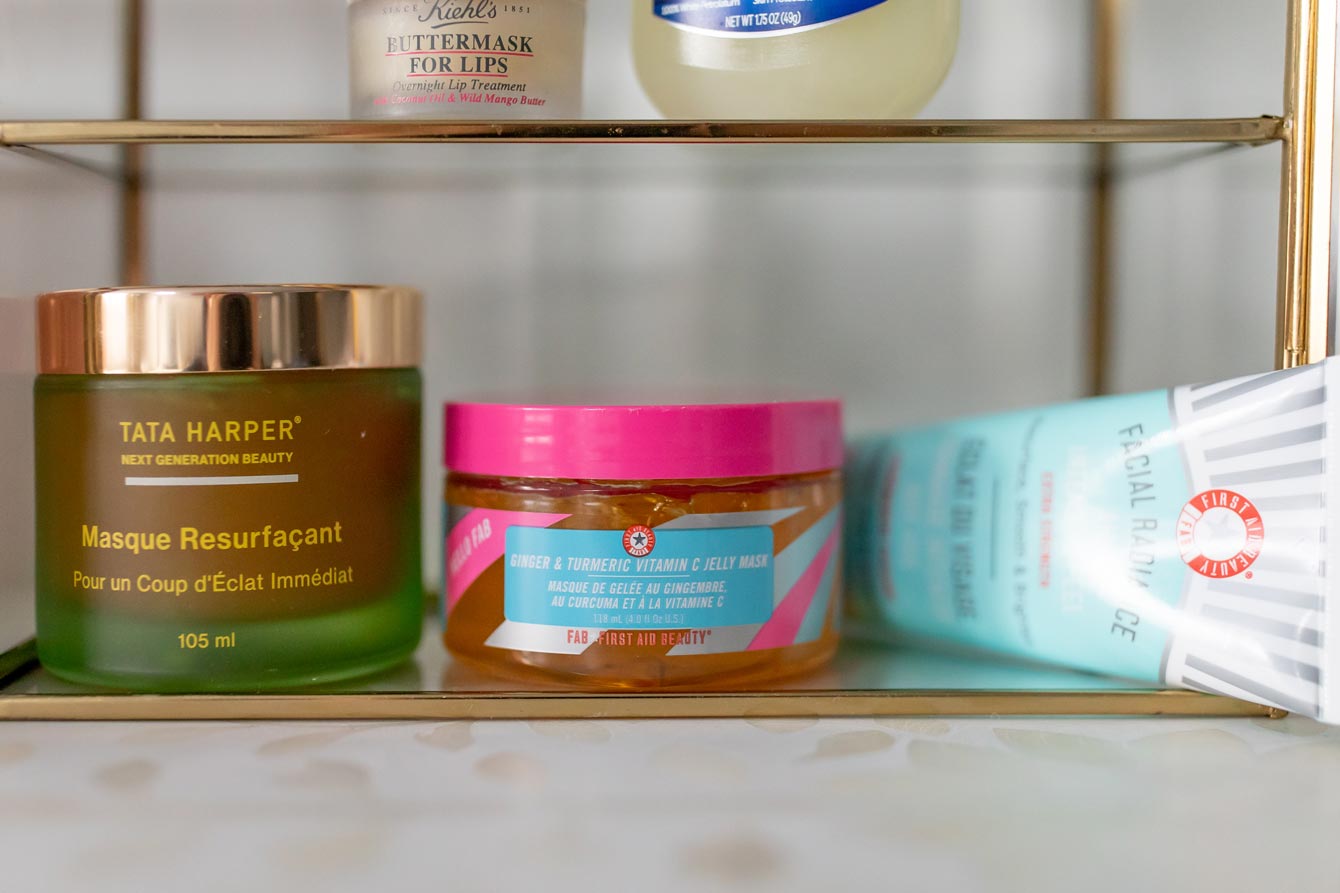 Tata Harper Resurfacing Mask // First Aid Beauty Ginger & Tumeric Vitamin C Jelly Mask
First Aid Beauty Facial Radiance AHA Intensive Peel

Final Thoughts…
Phew! You made it through the list! Since changing up my skincare routine, my skin feels much healthier, shinier and smoother in texture. In fact, you may notice there's not a single acne-specific products on either list. Thanks to investing in new skincare products, along with a thoughtful regimen thanks to Innovative Med Spa, my acne has stayed at bay. I have a bottle of Differin on hand in the rare case I have a pimple. However, my breakouts have stopped thankfully!
While this list is very comprehensive, I still have plenty of skincare brands and products that I want to try – Ole Henriksen Balancing Force Oil Control Toner, Drunken Elephant, and Biossance come to mind. In 2020 and beyond, expect to see a lot more beauty and skincare content coming your way!
What products are you using and loving this year?
Looking for more amazing beauty content? Here are a few incredible bloggers whom I trust implicitly when it comes to skincare:
Grace Atwood: read her beauty posts here.
Helena Glazer: see all of her beauty content here.
Mackenzie Horan: check out her beauty posts via this link.
Jess Ann Kirby: find her beauty content here.
Follow Style Charade on Bloglovin'!