For the fifth year in a row, Amazon is hosting Amazon Prime Day featuring the best deals and discounts on an array of items ranging for tech, beauty, home, entertainment, and of course – fashion. Amazon Prime Day 2019 starts tomorrow (Monday, July 15) at 3 AM Eastern / 1 AM Central, and lasts for only 48 hours.
For the fifth year in a row, Amazon is hosting Amazon Prime Day featuring the best deals and discounts on an array of items ranging for tech, beauty, home, entertainment, and of course – fashion. Amazon Prime Day 2019 starts tomorrow (Monday, July 15) at 3 AM Eastern / 1 AM Central, and lasts for only 48 hours.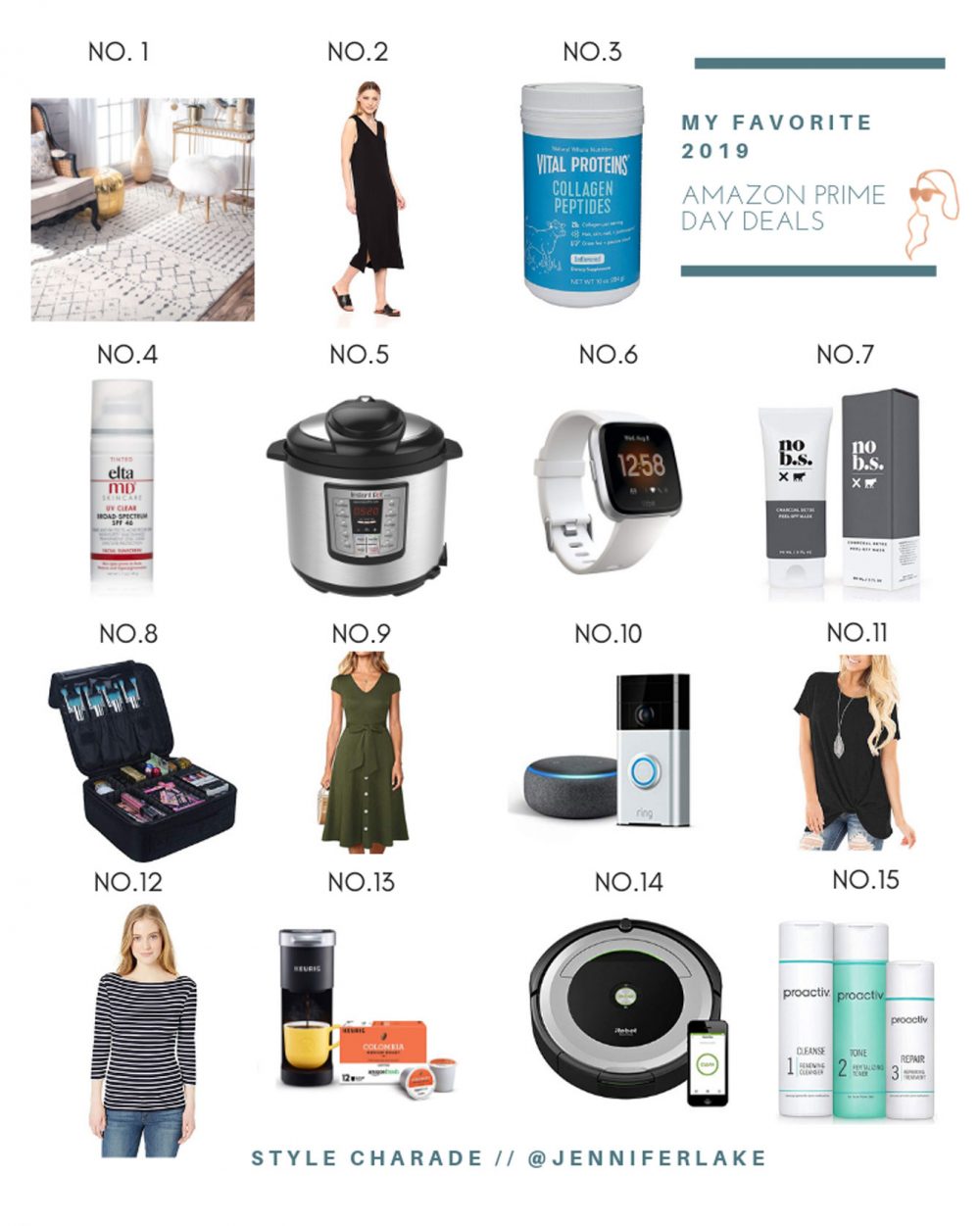 ONE // TWO // THREE // FOUR // FIVE
SIX // SEVEN // EIGHT // NINE // TEN //
ELEVEN // TWELVE // THIRTEEN // FOURTEEN // FIFTEEN
According to Amazon, there are more than a million deals during Amazon Prime Day. And, this year, 18 countries are able to shop the sale. Pretty epic, right? You can get everything from major deals on a new laptop to 25% off all Pepsi products (think Gatorade, Doritos, etc.).
Who May Shop Amazon Prime Day?
Prime Day is exclusive for Prime members ONLY. Therefore, all shoppers must be Amazon Prime subscribers to secure the deals. If interested, you may also in signing up for a 30 day free membership.
Amazon Prime Day officially launched in 2015, and it's been so successful that they've continued it to this date. At the same time, it's SUPER tricky to navigate all of the sales and information. This guide is designed to get you to the deals you want and the items you need.
Helpful Tips for Amazon Prime Day 2019
My best tip? Be sure to sign into your Amazon account BEFORE shopping the sale!
As with all Amazon purchases, you should always verify whether Amazon user reviews are real or fake. One site I've learned to trust are FakeSpot.com, which is a helpful resource to make sure you're buying is legit and that the customer product reviews are accurate.
Best Fashion Deals
Looking to stock on up on some cute dresses, midi skirts, and/or tops? Look no further than Amazon's signature brands, which are all 15% off today, including:
The Amazon Essentials are a great brand to checkout. I especially love the striped t-shirts (such a great deal compared to other options on the market).
Slip dresses aren't my thing, but I really love this version from Daily/Ritual, which is available in six color options (I like the grey and black).
Yathon Dresses are DARLING! I'm living for this polka dot find and also this little black dress (also comes in army green or navy). Most of their styles are very vintage-like, which I adore!
I'm always on the hunt for comfy shirts to wear around the home and on the weekends. This verison by Yida is under $17 and comes in a range of hues.
Hottest Tech Deals
Last year, the top selling item was the Instant Pot Duo 60 (on sale for $69.95 vs. $129.95). How is that even possible?! Well, it's a one-stop shop for an array of amazing meals – it's a pressure cooker, slow cooker, rice cooker, steamer, warmer, and also sautés and sears items.
Another popular tech deal? Fitness trackers. The Fitbit Versa Smart Watch is on sale for more than $100 off ($142 vs. $159.95). I love the version with the white strap – very chic (but there are plenty of other colors).
Lastly, a very popular product on sale are the Fire TV Sticks with Alexa Voice Remote (on sale for $24.99 vs. $49.99). Choose from 500,000 movies and TV episodes, and watch favorites from Netflix, YouTube, Prime Video, STARZ, SHOWTIME, CBS All Access, and others.
Must-Have Beauty Options
One of the first beauty product items I'm adding to my cart? The No BS Charcoal Detox Peel-Off Mask. Refinery 29's Beauty Editor RAVES about this Amazon exclusive beauty product. The mask draws out toxins and purifies your skin. Unlike other peel-off masks, this version supposedly doesn't hurt or sting when you take it off (which nearly always happens to me). Best of all, there are no parabens, no sulfates, no phthalates, no petrochemicals, and no artificial fragrances.
The majority of my colleagues and blogger friends all use Vital Proteins Collagen Peptides and Booster. Every morning, a few of my colleagues add a spoonful of powder into their drinks to help skin, nail, bone, skin, and joint health. Since my office has super fans, I've always brought in my samples for them to enjoy. This time – I'm buying some for me!
Another beauty blogger fave is this travel beauty organizer. It's only $14, and from what I understand – completely life changing. With adjustable compartments, this makeup bag has enough space to store your makeup and cosmetic accessories from lipstick, lip gloss, makeup brushes, eyeshadow, makeup palettes, hairbrushes, skin care products, nail polish, and beyond.
After a week in the sun on Nantucket, I'm stocking back up on sunscreen in my medicine cabinet starting with EldaMD Broad-Spectrum Clear Tinted Facial Sunscreen. The reason? It's oil-free and perfect for anyone with acne-prone skin (hello – me!).
Speaking of acne, if you watch my Instagram Stories on a regular basis, Proactive is a reoccuring character. I always packed their 3-step acne treatment in my luggage on work trips (and something I use every single morning and night. Before I start sounding like an infomercial, My skin has TERRIBLE acne (even in my 30's). Over the years, I've tried EVERYTHING. The only brand that consistently works? ProActive 3-step acne treatment.
Go-To Home Deals
We're currently on the hunt for new rugs for our home. This blogger-fave rug buy is definitely on our radar. I love the neutral hues and design!
After buying our new home, we immediately purchased a Ring for our front door. In fact, I featured it as one of my favorite home security systems. There's no reason not to have one – especially if you travel a lot or live alone.
Additionally, we are planning to get a new Roomba machine, which are all 33% during Amazon Prime Day! It's an easy solution to keep our floors clean. I recommend this version, which is a great price and gets the job done!
Last but not least, I always love my coffee in the morning! If you're short on space in the kitchen, I recommend the Keurig K-Mini Single Serve Coffee Maker, which is on sale for under $50 (typically $79.95).
Shop the entire Amazon Prime Day sales and deals, and keep me posted about what you buy! I'd love to hear what you got!