Disclaimer: This blog post and my trip were sponsored by Hilton Sandestin Beach Golf & Resort. All opinions are my own.
After months of freezing temps and snow in Chicago, a warm weather trip was just what the doctor ordered. Plus, between my full-time job and the blog, I haven't been able to spend a lot of time with my girlfriends lately. Therefore, I was thrilled when the team from Hilton Sandestin Beach Golf & Resort (Hilton Sandestin Beach) reached out to invite me for a complimentary stay. I take vacation time very seriously, especially since it means I have to take time off from my full-time job. Since my last real vacation was in December (details here), I was ready for a beach getaway with a good girlfriend. Hilton Sandestin was the perfect choice!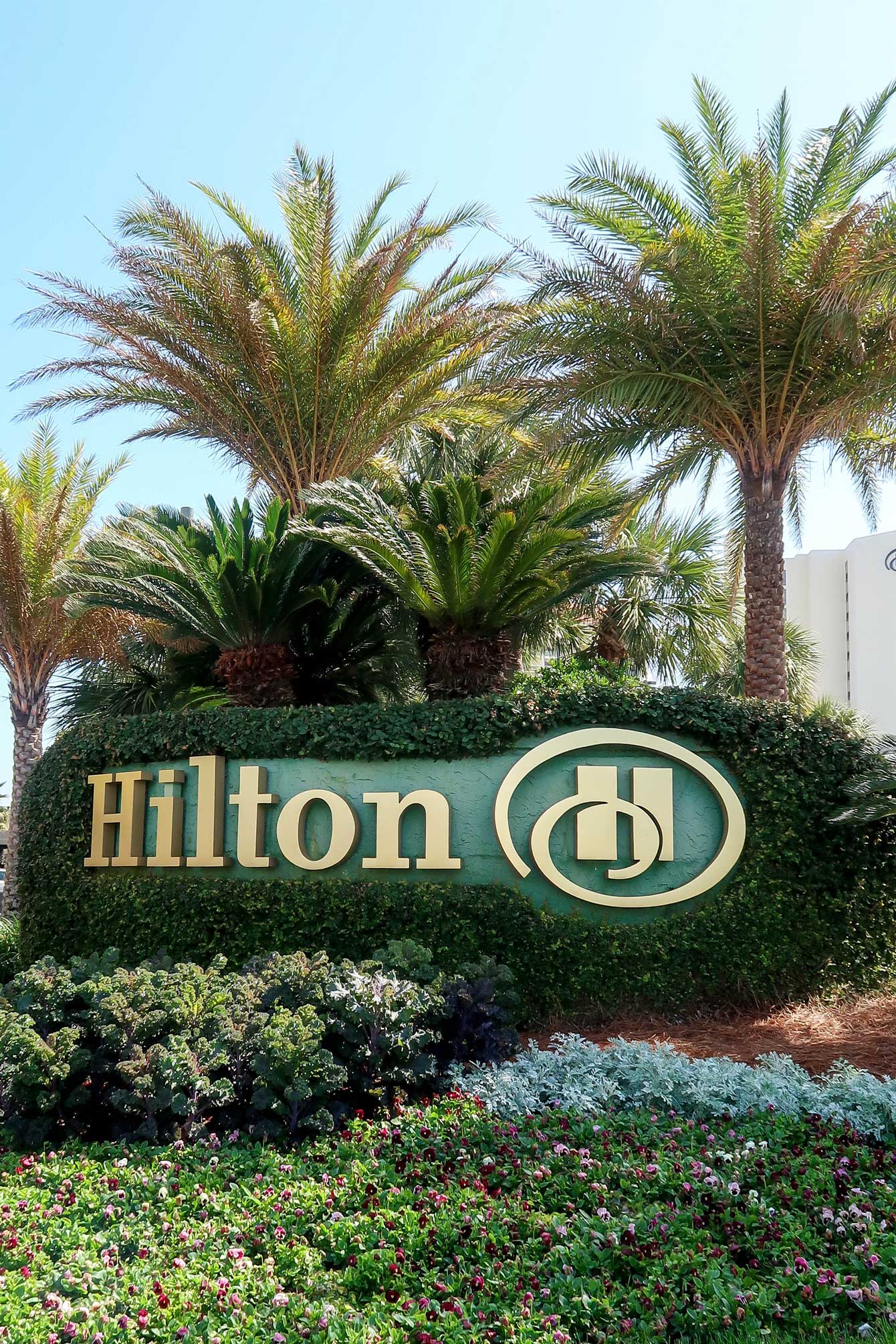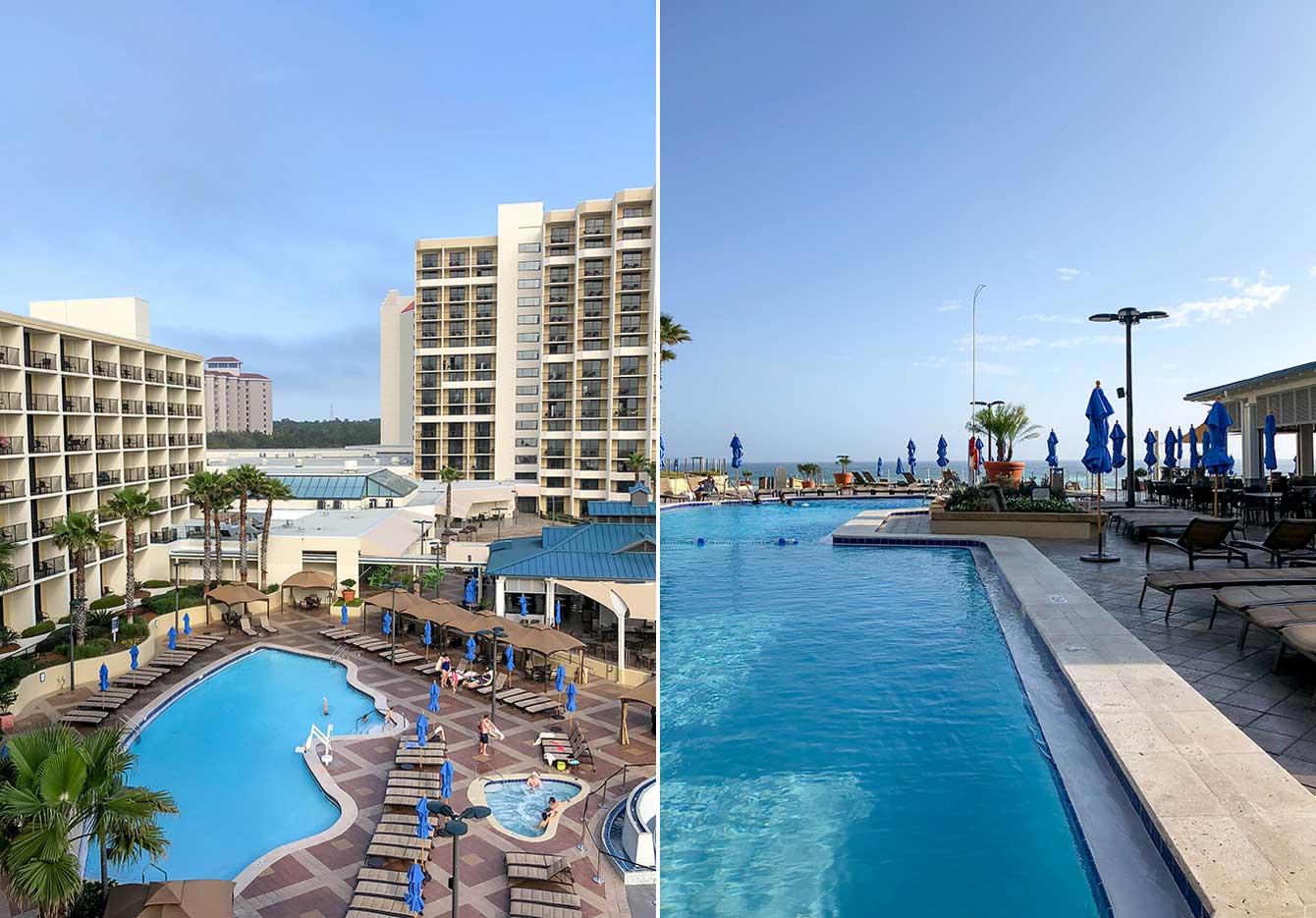 Admittedly, I'm a little over-the-top when it comes to researching travel. I review every inch of a hotel or resort prior to reserving anything – from the food to the activities, pools to beach, even amenities and the bed's linen thread count (like I said – over-the-top, lol)!
I never once questioned a stay at Hilton Sandestin Beach. One look at their website and TripAdvisor reviews, and I knew it was the perfect fit for me. After receiving the invite for a stay, I reached out to my friend, Kit from The Kittchen to join me.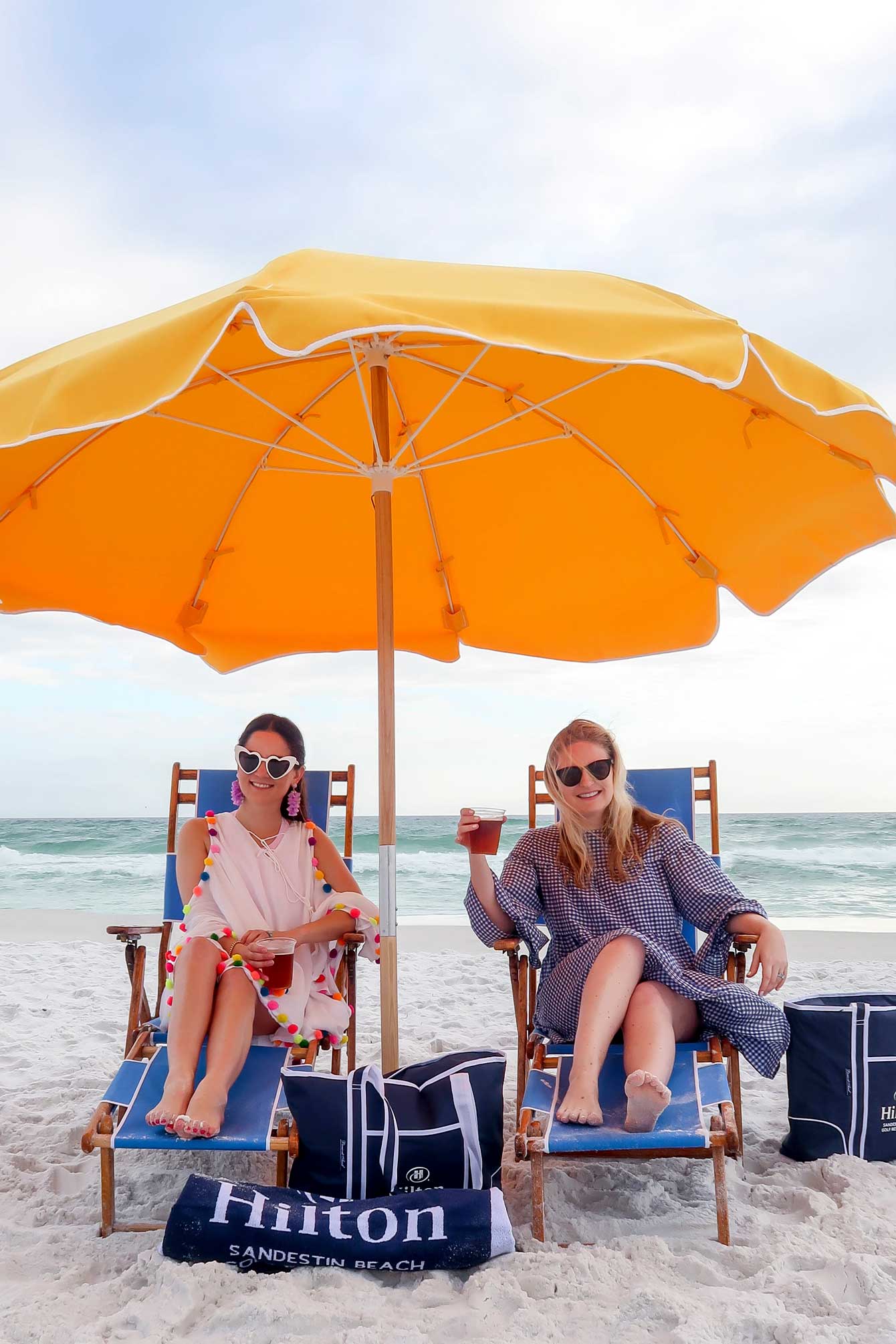 Kit is the type of friend who's game for anything, and she's such a positive force in my life. Are you following her blog? Trust me, her recipes are SO good. I'm not a cook, and she's inspiring me to try (and that's half the battle)! We also have great candid conversations, and the type of friends who speak truth to one another – even when we don't want to hear it.
Anyway, if you're considering a trip to Hilton Sandestin Beach, I thought it would be helpful to give you more background about the property, restaurants, spa and salon offerings and beyond.
WHERE IS HILTON SANDESTIN BEACH?
Hilton Sandestin is located in Miramar Beach, Florida by the Gulf of Mexico, which is only a short 38-minute drive (24 miles) from Northwest Florida Regional Airport (airport code is VPS), or about a $55 taxi ride. The drive is very scenic too – especially the bridges with views of the water.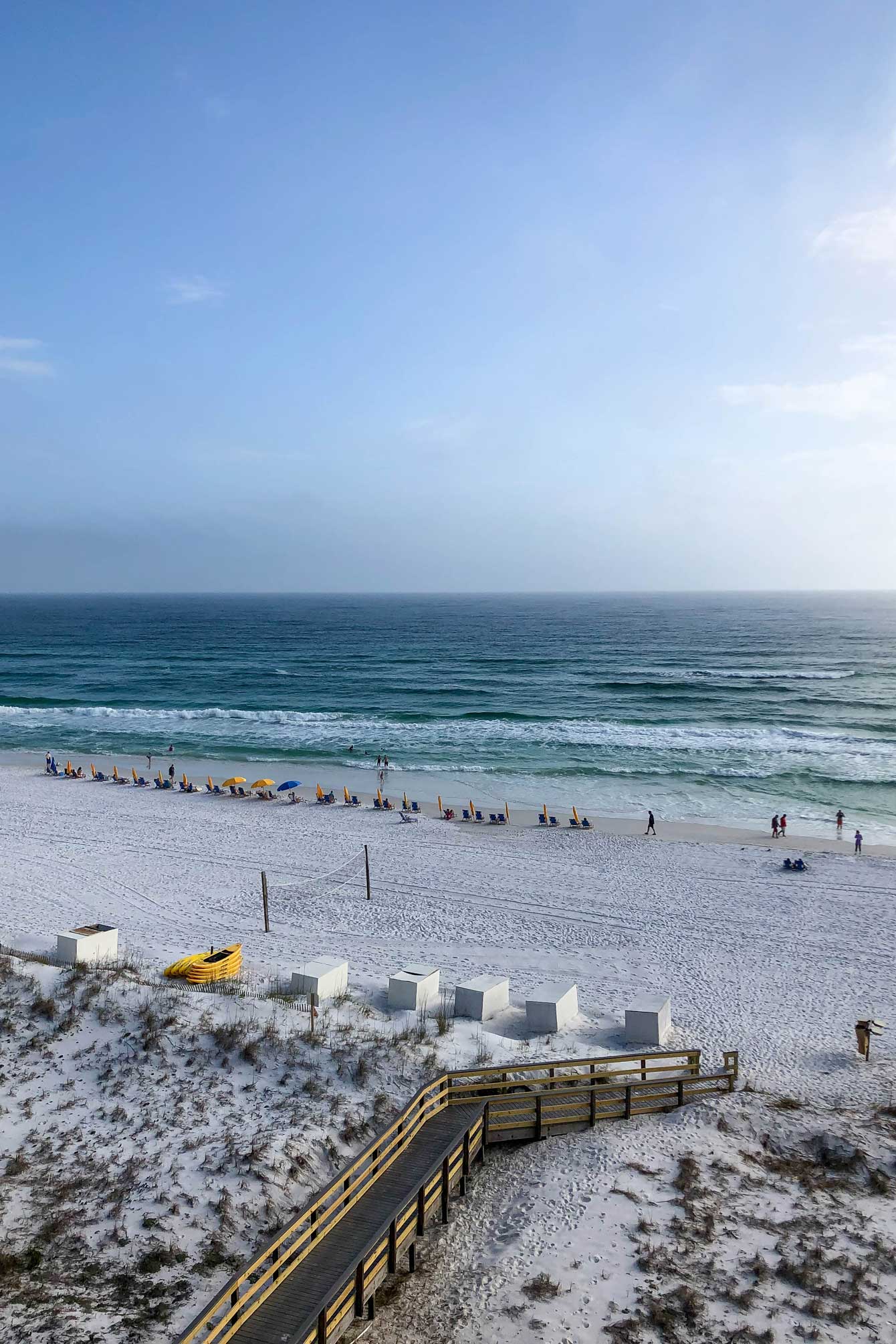 Kit and I couldn't find direct flights from Chicago, but we found quick and affordable options through Houston. I'm used to short layovers, and we didn't find the connection to be confusing or stressful in any way (or at least nothing a cocktail couldn't fix, lol)!
The hotel was kind enough to arrange transportation for us to the hotel, and we had the sweetest driver who gave us a full guided tour of the area prior to checking into the hotel. The company was called C2 Transportation – I definitely recommend them!
WHAT IS THE WEATHER LIKE AT HILTON SANDESTIN?
The weather is positively gorgeous! In fact, the area is known to have 340 days of sunshine every year. 340! Isn't that crazy?!
The average temperature is about 75 degrees, so I decided to pack swimsuit, cover-ups, light dresses, flip flops for the day, and jeans, wedges and thicker sweaters for night.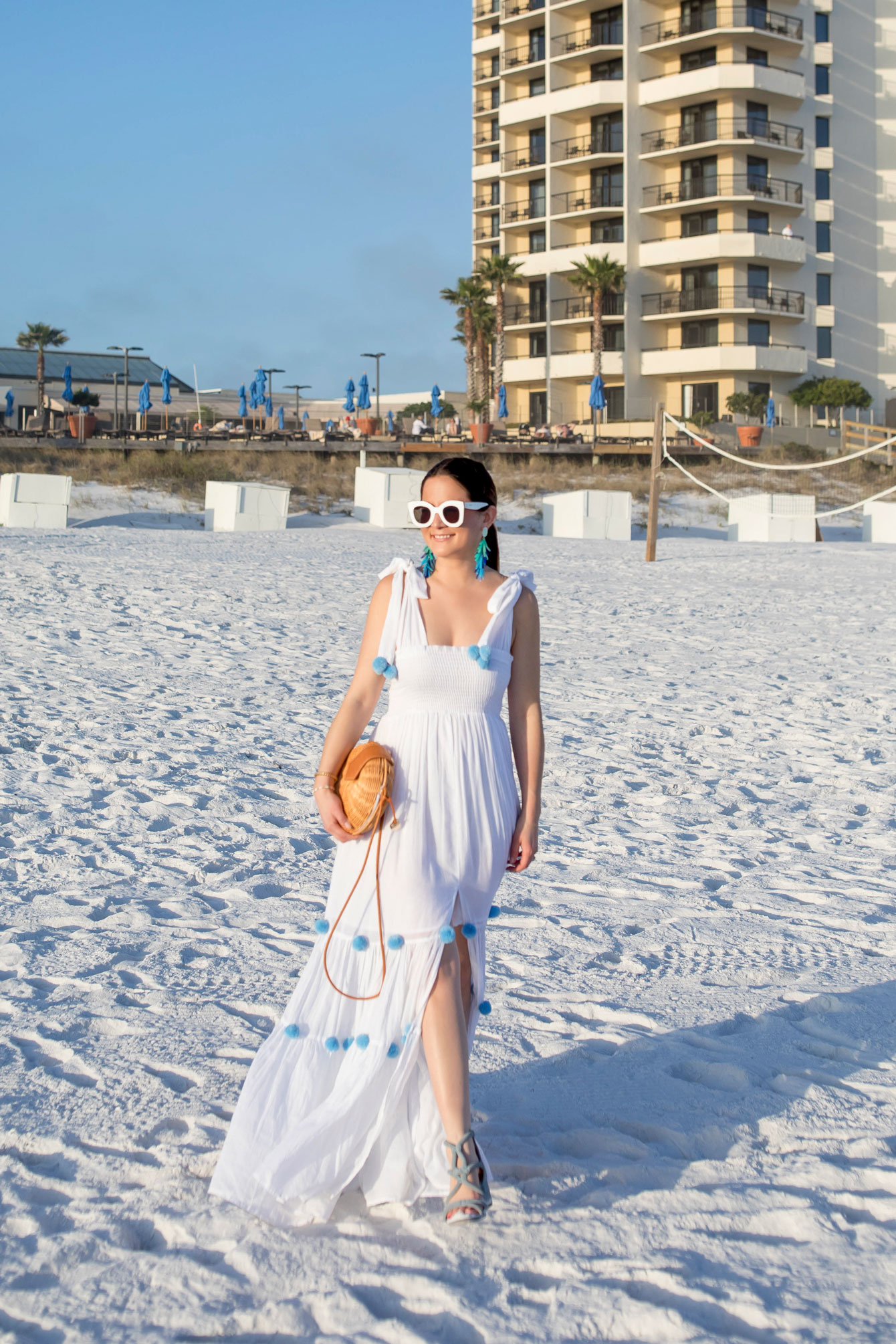 Dress // Bag // Shoes // Earrings // Sunglasses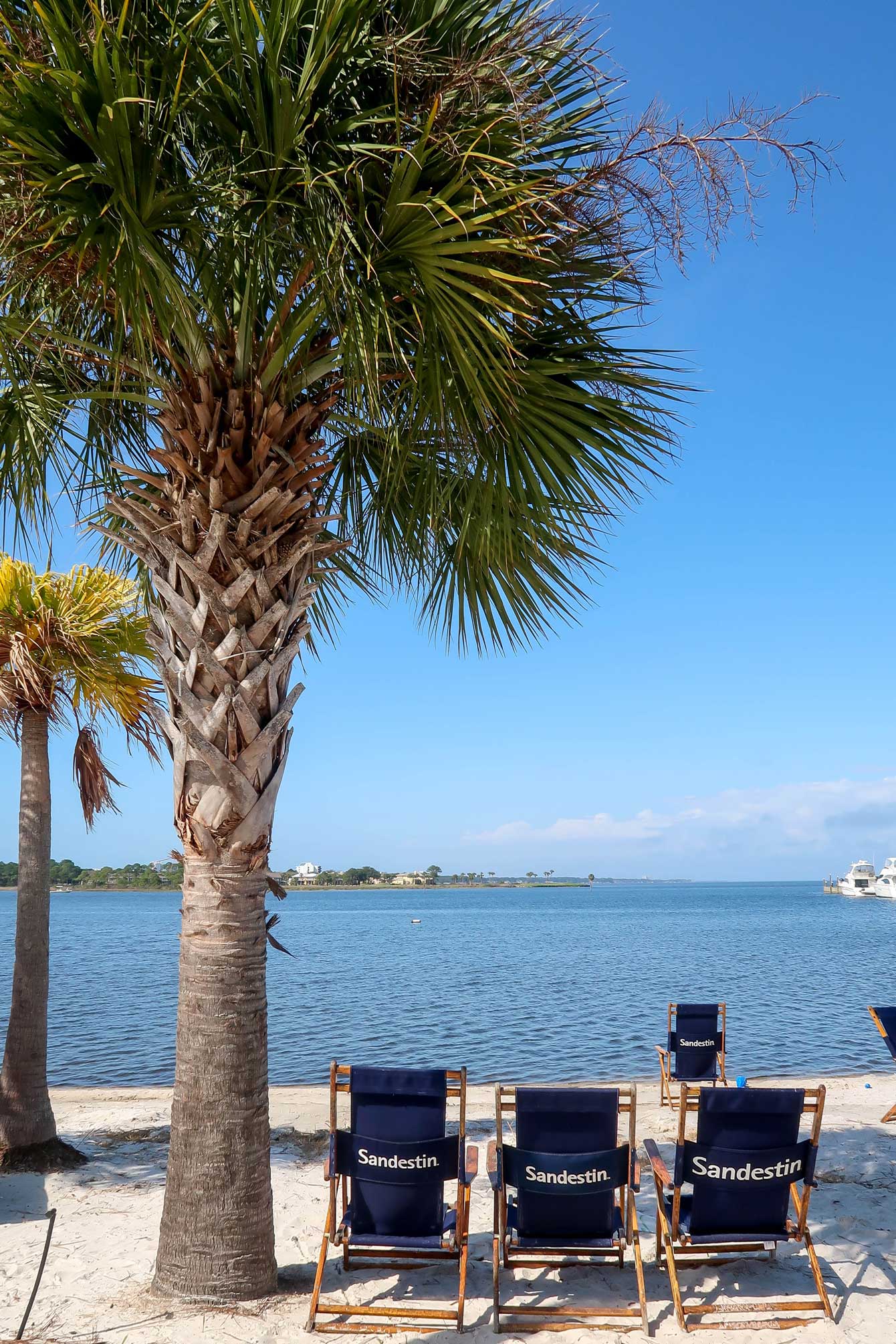 WHEN WAS HILTON SANDESTIN BUILT?

Hilton Sandestin Beach opened in 1984, and has always been one of the best beachfront hotels in Florida. In fact, I met a family in the elevator who had been coming to the property for nearly 28 years! It's easy to see why it's a family tradition for so many – the hotel feels so modern and fresh yet very historic.
WHAT IS THE HOTEL LIKE?
Hilton Sandestin Beach is the most breathtaking beachfront hotel! In fact, the hotel has the largest beachfront in Northwest Florida, and the sand is SO soft and beautiful (bright white). If you want a break from the beach, the hotel also features three pools (two outdoor, one indoor) and two whirlpools.
One of my favorite parts of the trip was actually hanging on the beach. The hotel offers guests a set of beach chairs, umbrella and beach towel for a nominal fee (I think $40 per day). We spent time on the beach every day – soaking up the sun, drinking beers and chatting about life. The water is crystal blue, and again – the sand is seriously SO soft.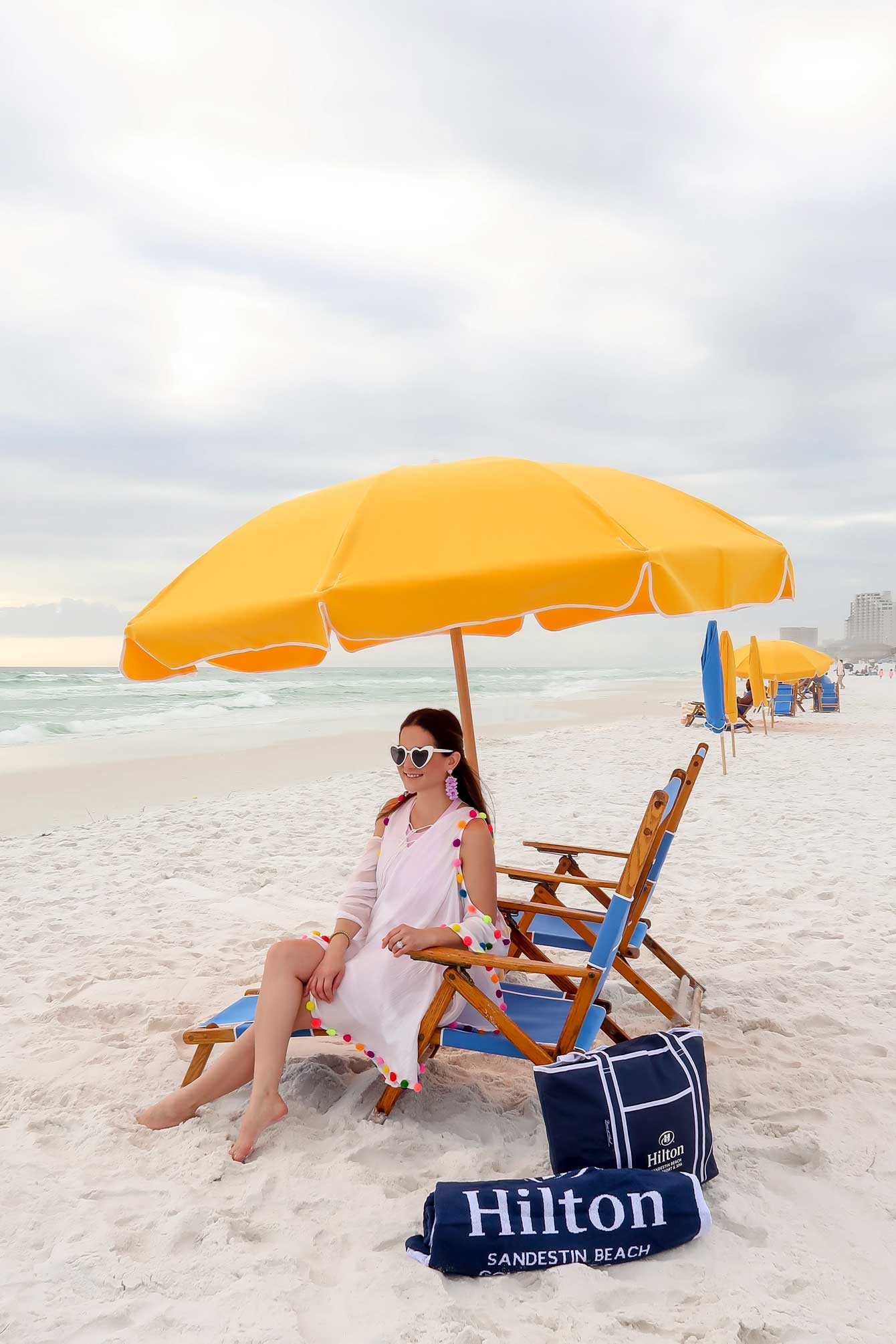 The interior design of the hotel features bold pops of color and modern touches, especially in the main guest areas and lobby. We had the chance to tour the property, and I was amazed at the amount of event space (perfect for weddings or corporate events) – think 40,000 sq. ft. of indoor event space and 20,000 sq. ft. of outdoor event space. Wowza!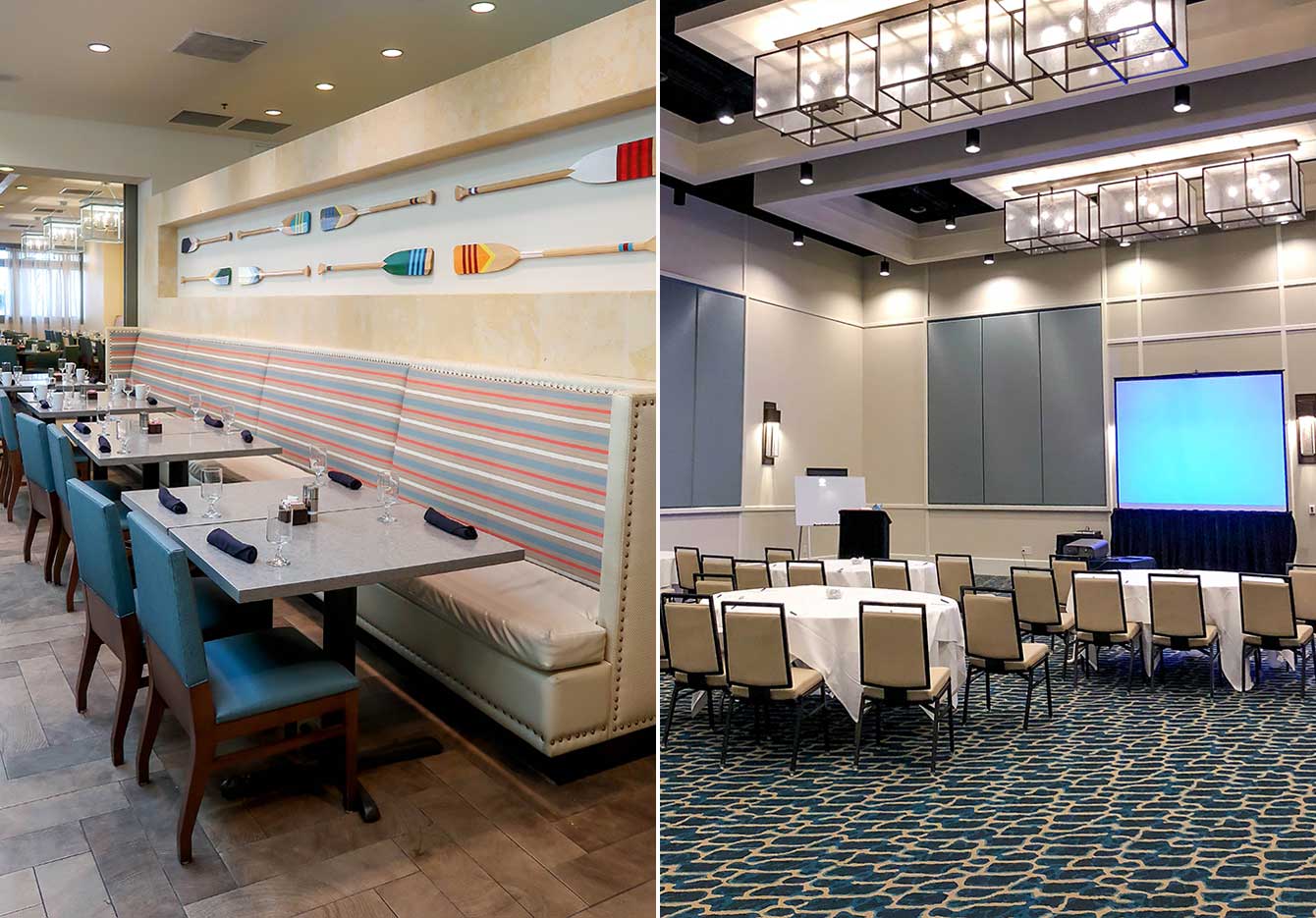 THE ROOMS + SUITES
During our tour, we also had the opportunity to see different room types. Let me just say – there's not a bad room anywhere! Hilton Sandestin Beach is very easy to navigate, and it everything feels very centrally located no matter where you stay.
There are two separate building – the Spa Tower and Emerald Tower, and you truly can't go wrong with either. Kit and I stayed in the Spa Tower, and we each had private balconies that overlooked Florida's Emerald Coast. I LOVED the bold striped headboard, and pretty coral hues throughout.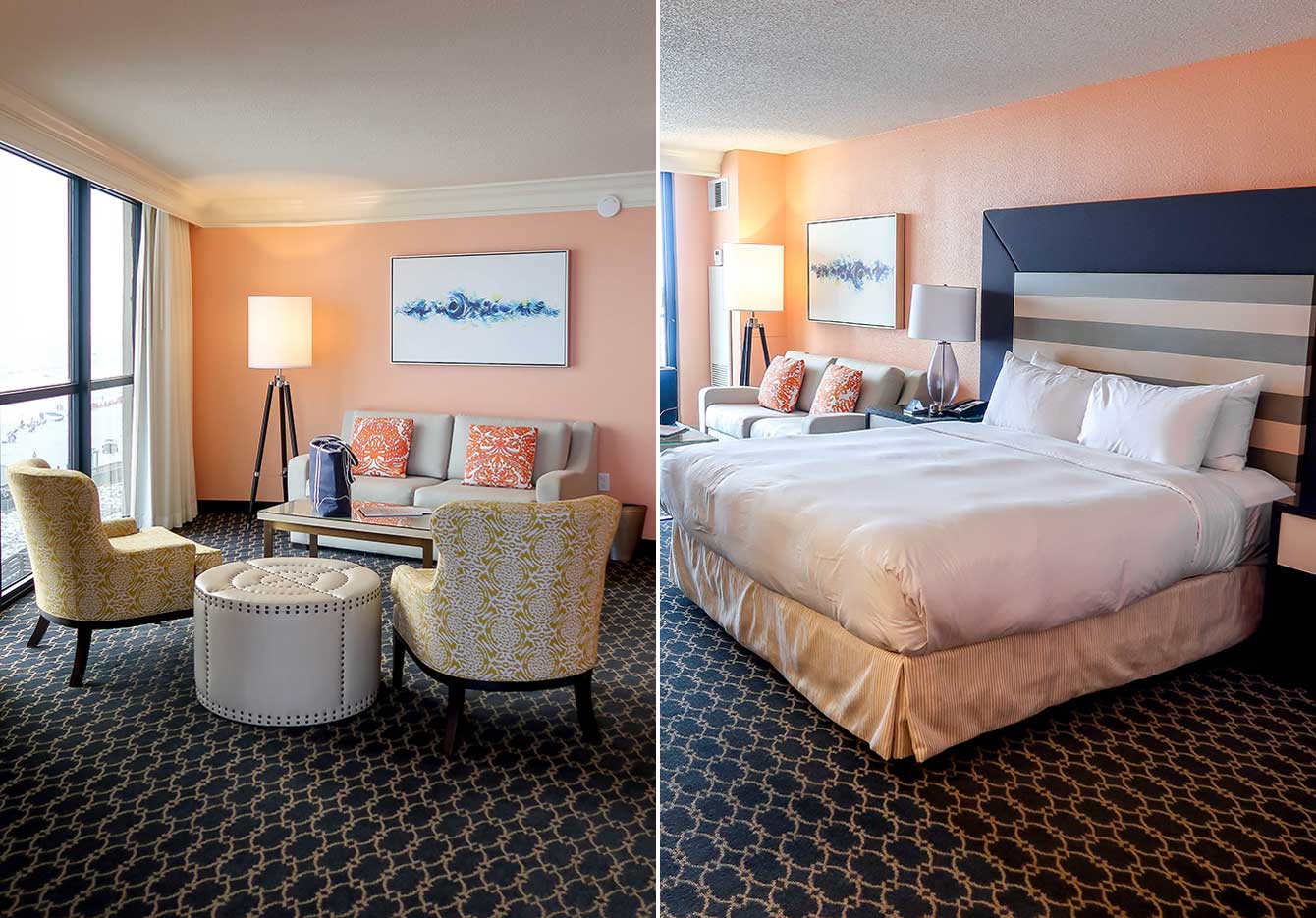 I also love they have several family-friendly room options, including their Deluxe Junior Suites and Family Parlor Suites. Both room types feature BUNK BEDS for kids, along with a media center so they can watch TV. Brilliant!
THE FOOD + RESTAURANT OPTIONS
Hilton Sandestin Beach has seven different food options ranging from fine to casual dining options. There's never have a reason to leave the resort (you truly have everything at your fingertips). Plus, they also offer in-room dining for breakfast, lunch, dinner and late-night snacks. Here's an overview of all of the restaurant and dining options:
SANDCASTLES RESTUARANT & LODGE
Every morning, Kit and I ate breakfast at Sandcastles Restaurant, which is centrally located right next to the hotel lobby. They serve an amazing American buffet – think eggs, bacons, hash browns, pastries, cereal, waffle and omelette stations. We left every morning completely stuffed and ready to take on the day.
Sandcastles also serves lunch and dinner – think salads, sandwiches, steaks, pastas and more. From what I heard, there's also an extensive kids menu (perfect for families). I really like the casual, warm atmosphere, and the service was fantastic!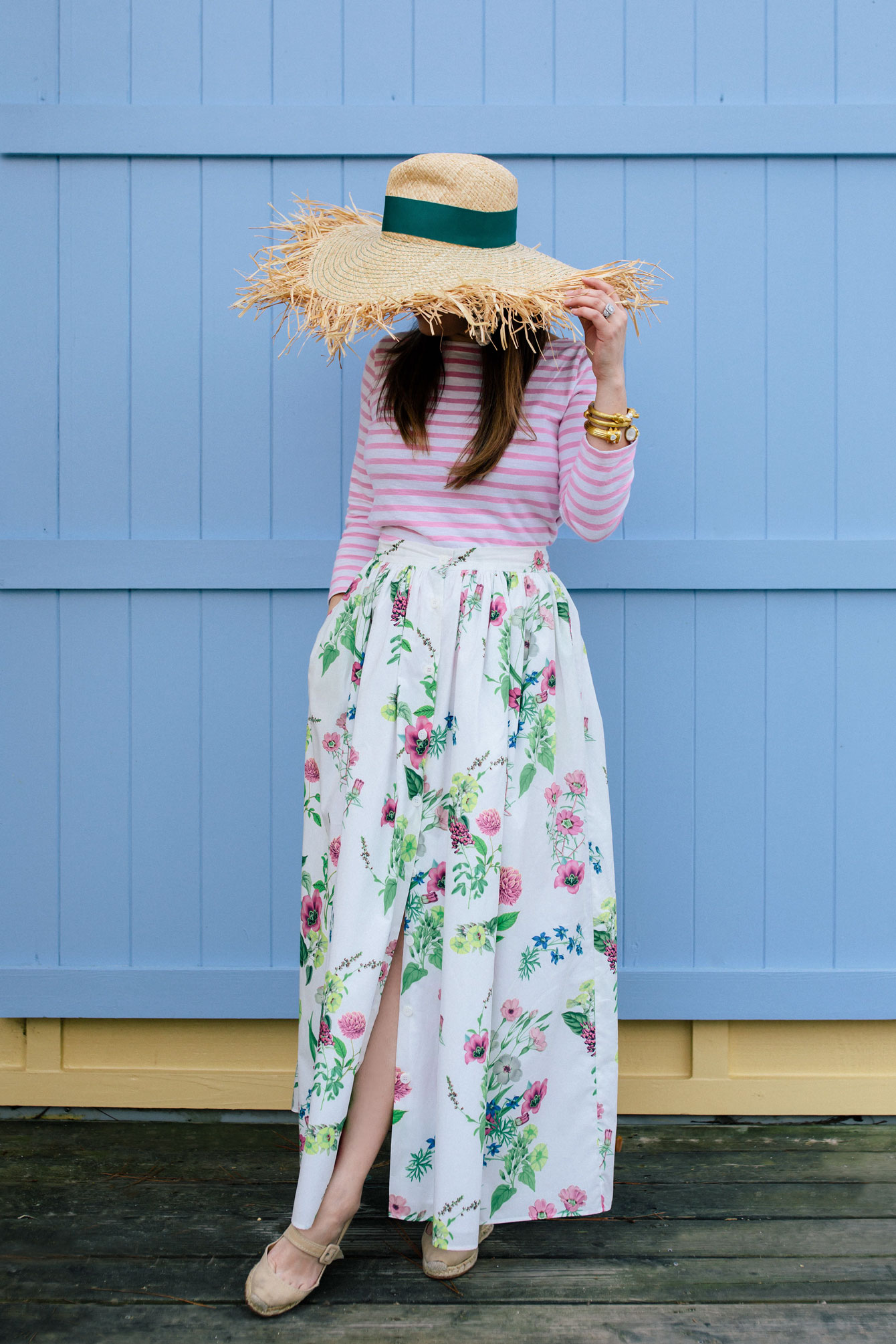 THE COFFEE SHOP
If you're in a rush or the idea of a full breakfast buffet seems like too much, The Coffee Shop is for you. It's an easy solution for grab and go options – Starbucks coffee, freshly-baked pastries, cookies, soft drinks and other small snacks.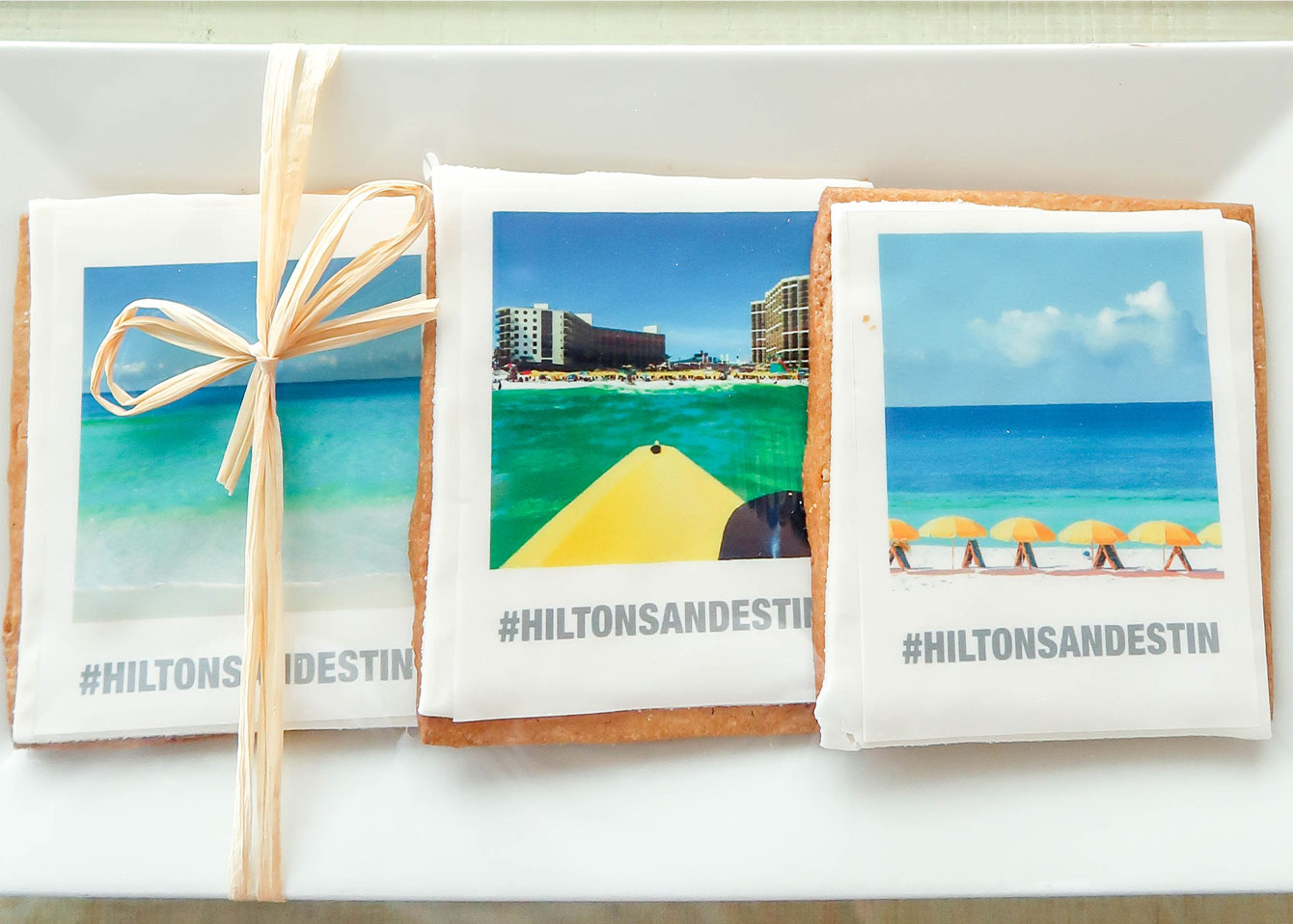 HADASHI SUSHI BAR
Who doesn't love sushi, right? Japanese food is one of my favorite cuisines, so I was thrilled to see this restaurant as a dining option!The menu includes freshly prepared sushi, nigiri and other traditional Japanese fare.
Kit and I enjoyed dinner there on Saturday night, and it was HOPPING. I'm surprised we even got a table. If you plan on eating at Hadashi, I highly recommend calling in for a reservation!
PICNIX POOLSIDE MARKET
We never ate here, but I can see why the hotel offers it as an option for guests. The market is located right next to both outdoor pools, and offers easy grab and go options, especially for lunch (e.g. sandwiches, wraps, salads, pizzas). I heard they can even make you a quick picnic for the beach. Love that!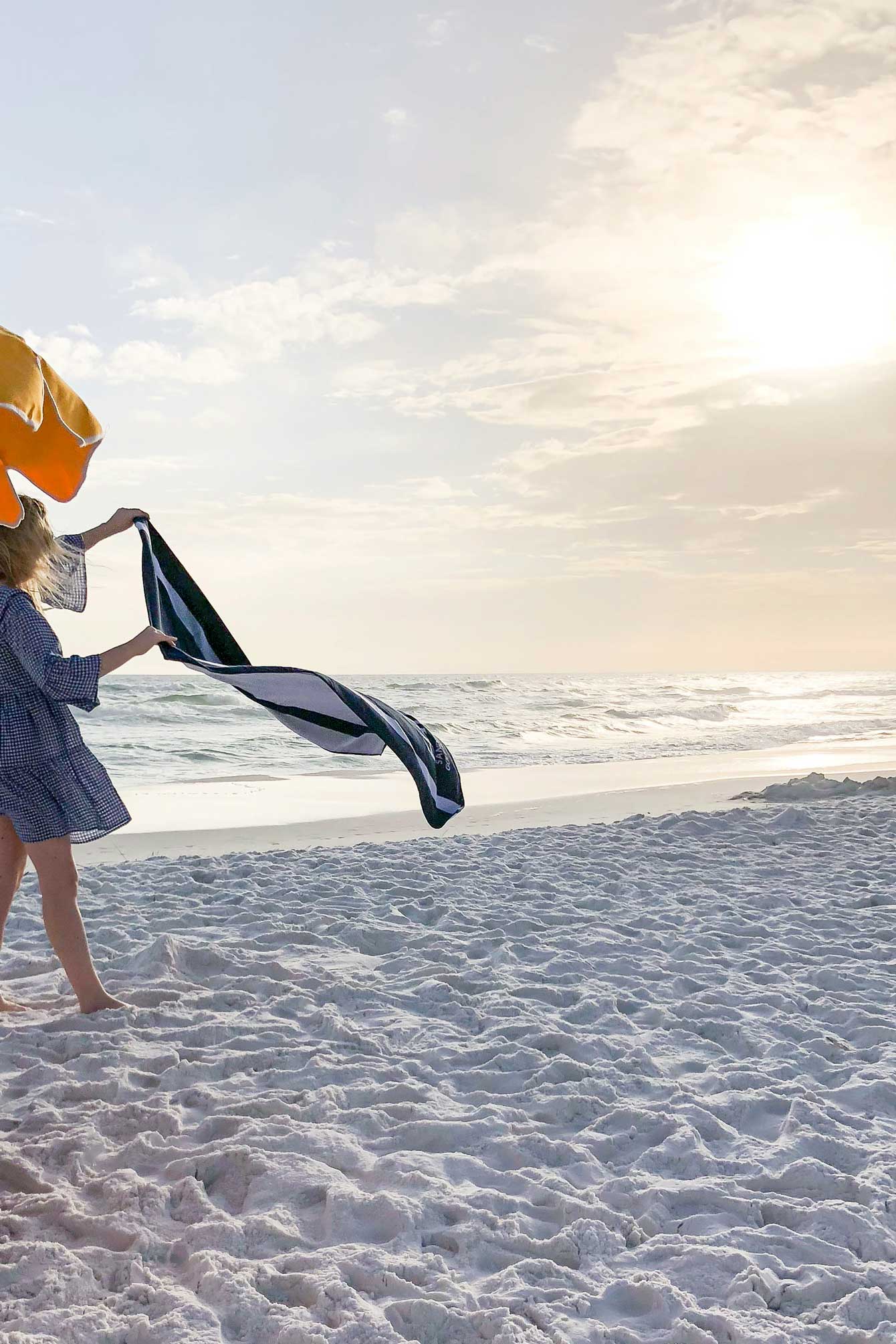 THE SANDBAR
Sandbar officially opens its doors for the season starting March 1st, so Kit and I never experienced it (we stayed a few weeks too early). However, we heard a lot about the restaurant from our tour guide, and it seems like the perfect spot for lunch or a poolside cocktail.
SEAGAR'S PRIME STEAKS & SEAFOOD
Sadly, Kit and I also didn't get a chance to eat here either since our stay was so short. From what I've read, it's Destin's only – and Northwest Florida's first – AAA Four-Diamond steakhouse. Plus, they have an extensive award-winning wine list. I definitely want to check out this restaurant the next time I'm there!
SERENITY BY THE SEA SPA + SALON
Serenity by the sea Spa is the hotel's full-service and world-class salon, spa and state-of-the-art fitness center. It's often been referred to as the "best kept secret of the Emerald Coast." I can see why!
The spa is full of amazing amenities and treatments to suit your needs – from facials to massages, manicures and pedicures to beautiful private lounge areas for men and women. There's a heated whirlpool, sauna, steam room and a variety of relaxation rooms.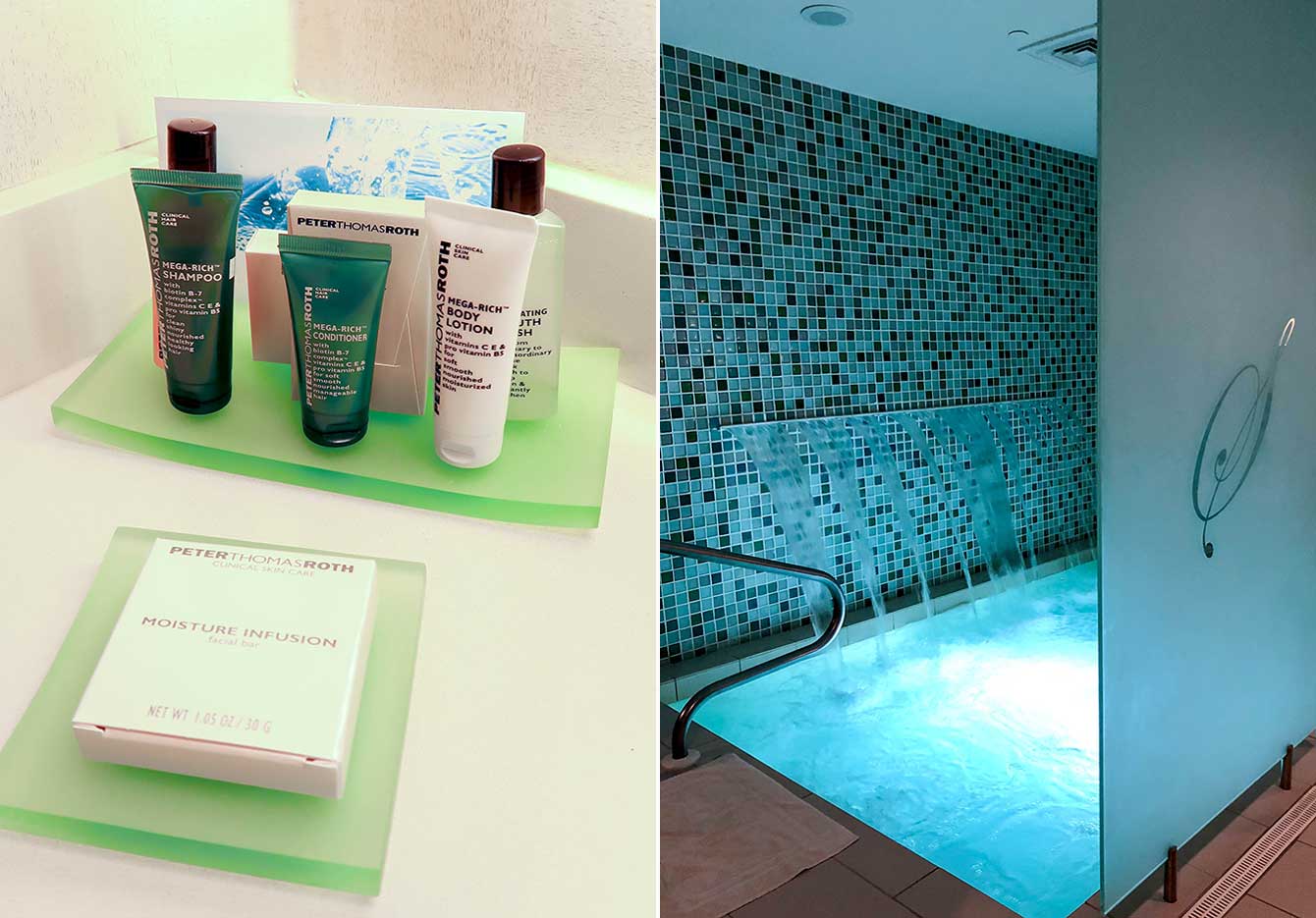 I booked a 50-minute Serenity by Design massage from Lenny, who is a genius! If you book a trip to Hilton Sandestin, call the spa immediately and try to get a time slot with him. It was the best massage I've ever had in my entire life. No joke. View the entire spa menu here.
They also have a special gift shop attached to the spa with a variety of products to bring home. Wellness and relaxation is a huge part of the Hilton Sandestin Beach experience, and the shop gives you the chance to bring a sliver of it home with you.
If fitness is more your thing, their gym is available 24-hours for hotel guests, and features everything you need for a great workout – think free weights, low-impact treadmills and elliptical fitness cross-trainers with individual TVs.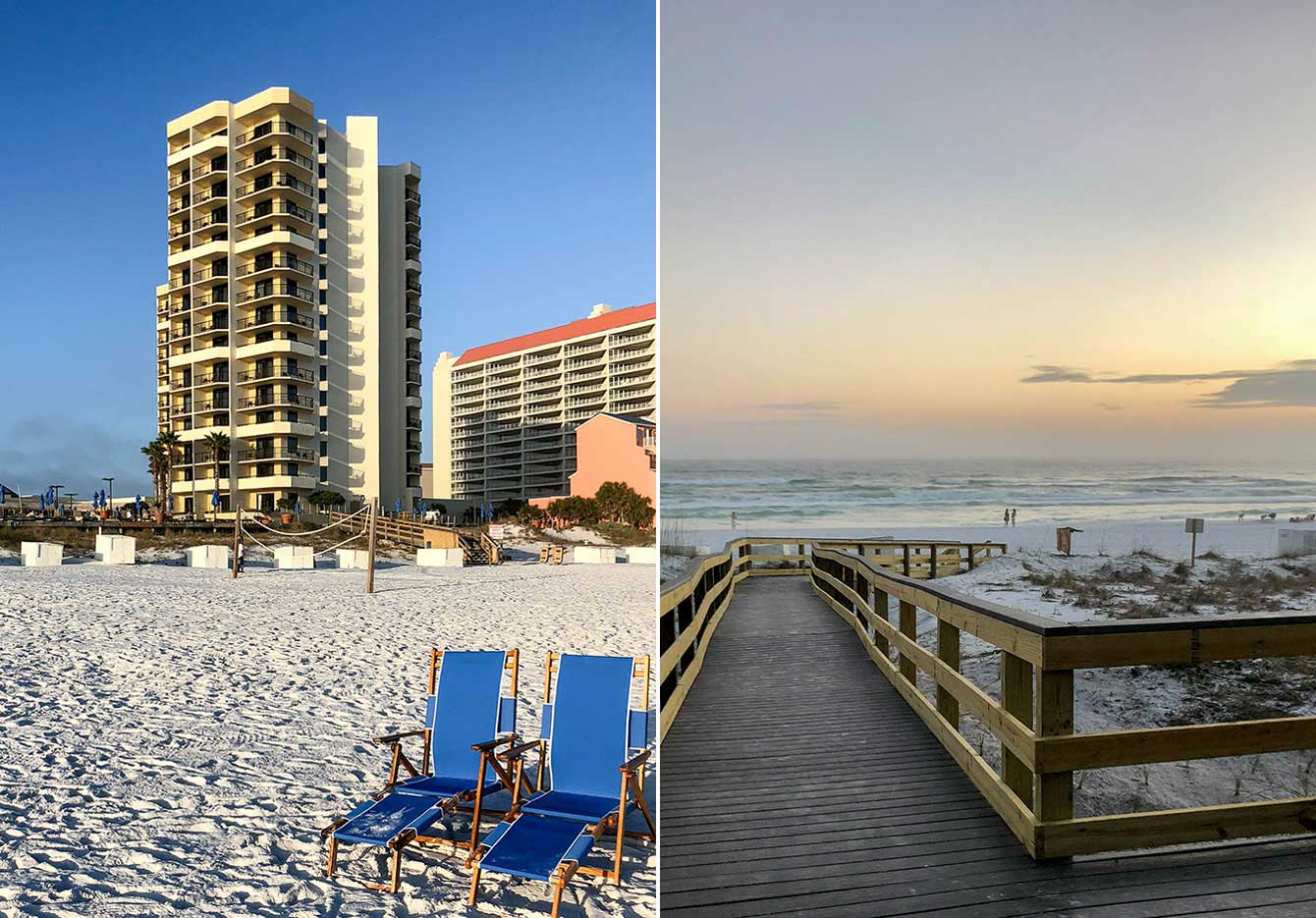 THE GOLF COURSES
The hotel has access to four championship golf courses in the area (or 72 holes total), including The Links Golf Club, Baytowne Golf Club, Raven Golf Club, and Burnt Pine Golf Club at Sandestin. For a fun family activity, Dunes Putting Golf Course is an ideal option for a fun afternoon or just to brush up on your skills. Kit and I didn't have the chance to golf, but they all look perfectly manicured and beautiful!
WHAT TO DO (ACTIVITIES + EXCURSIONS)
Kit and I were only at the hotel for a few days, so we tried to cram in as many activities as possible. Hilton Sandestin Beach makes it SO easy to get around and explore. One of my favorite amenities for hotel guests is a complimentary tram that takes you from the property to other destinations in the area.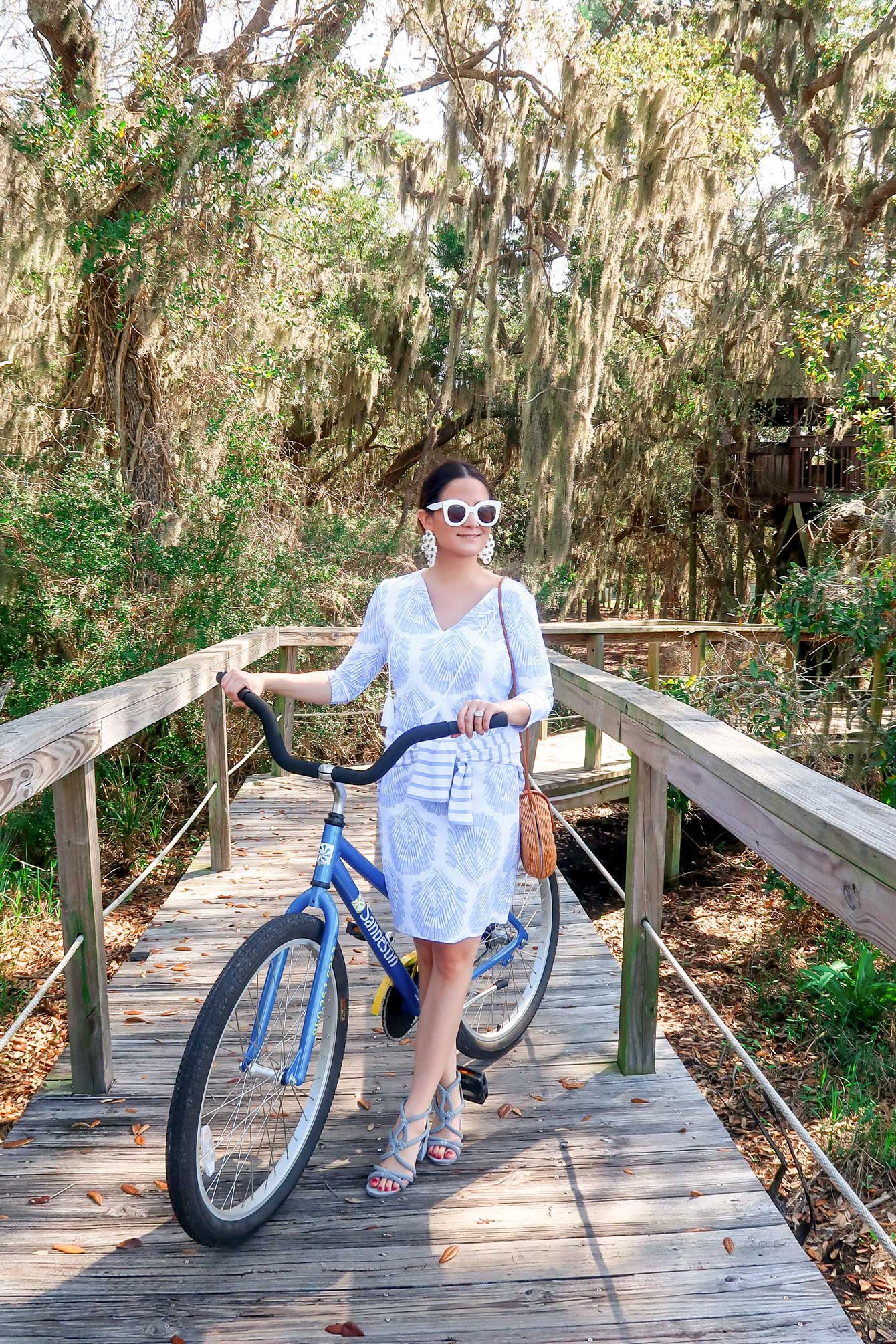 THE VILLAGE AT BAYTOWNE WHARF AT SANDESTIN
On the first night, we took the tram to The Village at Baytowne Wharf at Sandestin for drinks, music and live entertainment. We immediately fell in love with the experience! In fact, Baytowne is perfect for whole family – there's a cute carousel and other adventure activities for kids, shopping, dining – basically everything you need for a fun afternoon or night on the town.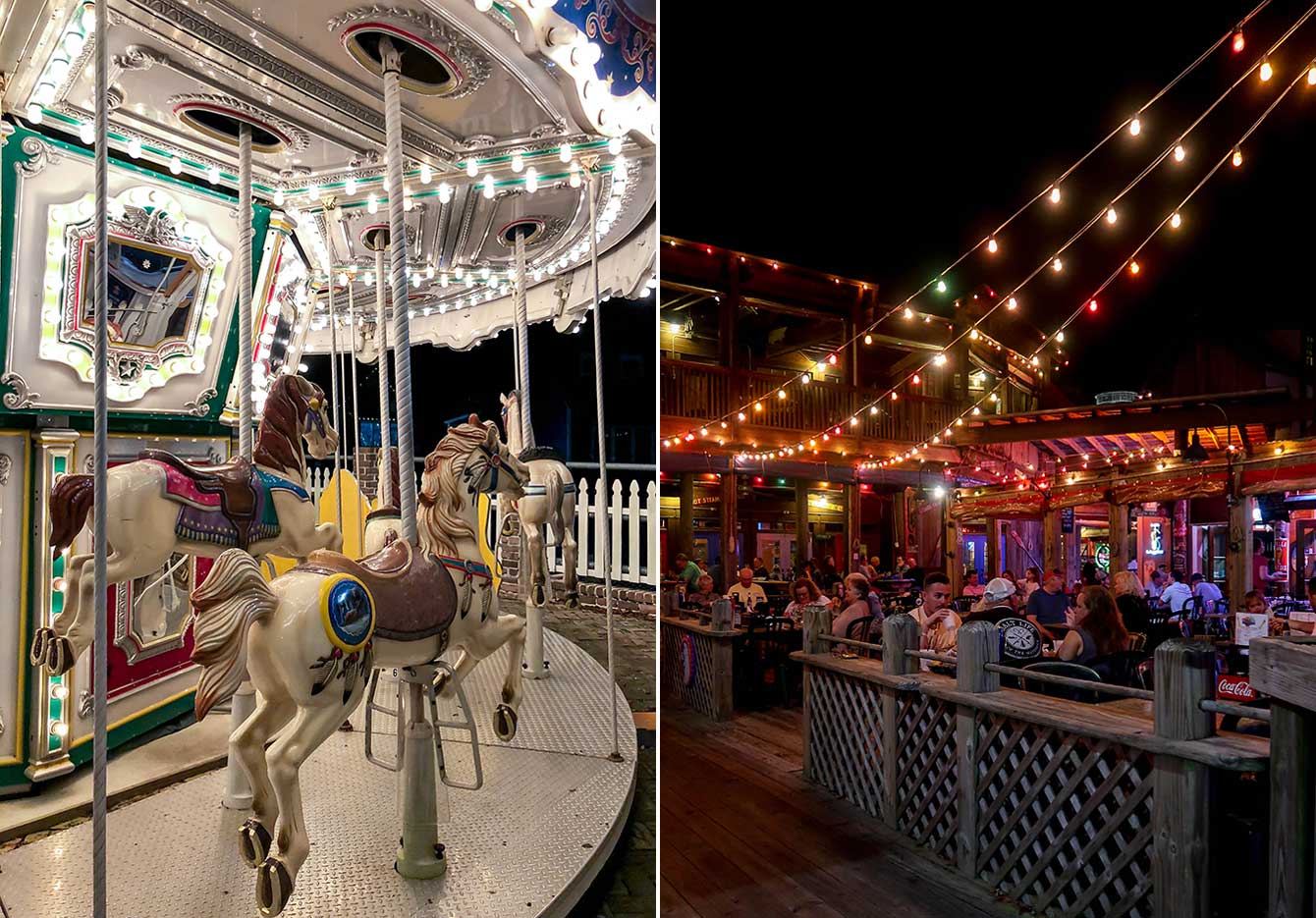 There are 20+ fine dining restaurant to more casual eateries, boutiques, pubs and even nightclubs. My personal favorite spot was Hammerheads Bar & Grille, a more casual bar and restaurant with fun live music.
I've also heard they host countless outdoor festivals, concerts and events throughout the year. You can find their calendar of events here.
SILVER SANDS PREMIUM OUTLETS
We also swung by Simon Malls' Silver Sands Premium Outlets, a gorgeous outdoor shopping complex featuring 110 designer and name-brand outlet stores, including kate spade new york, Vera Bradley, J.Crew, Armani Outlet, among others.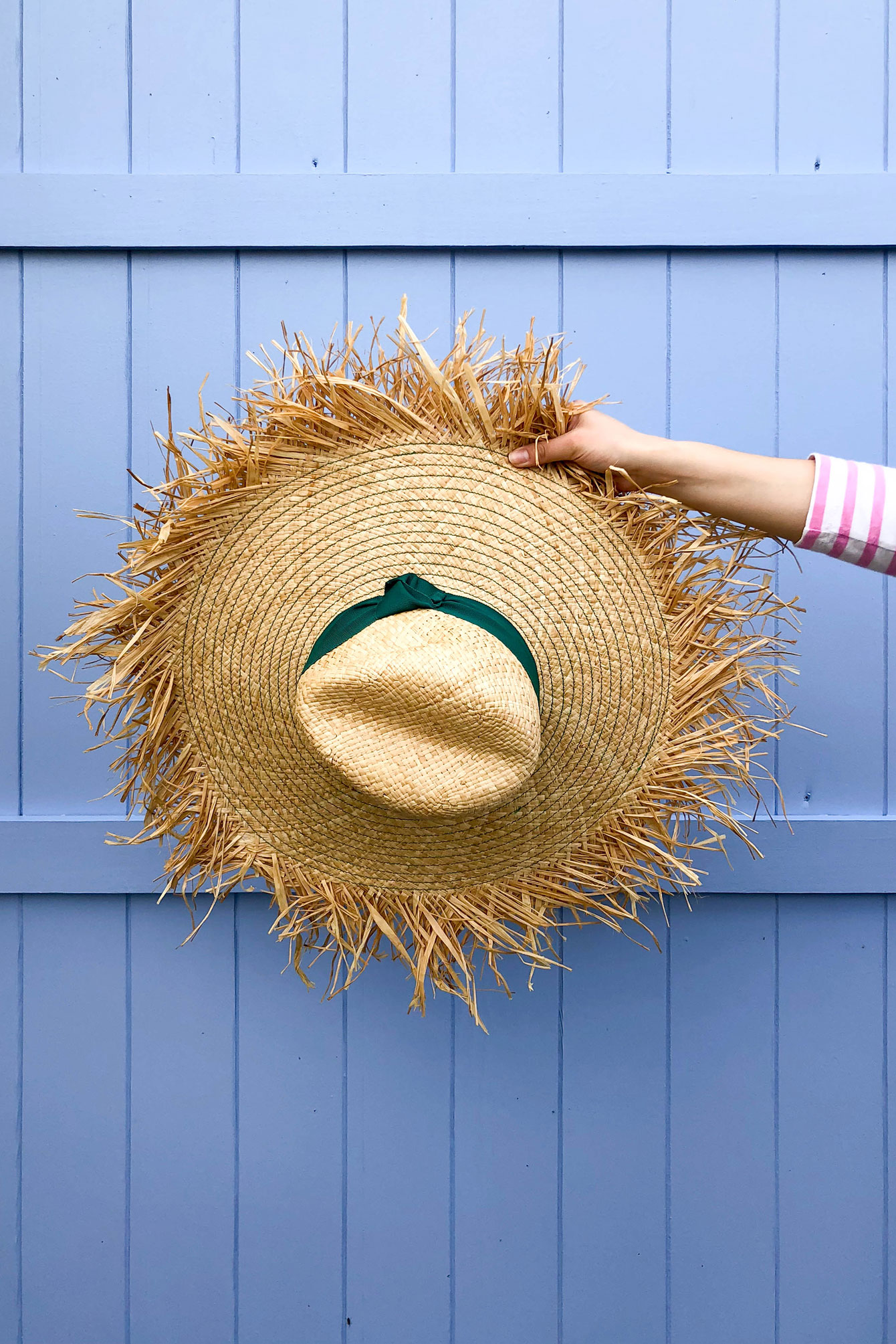 I picked up a pair of Tory Burch stripe sandals from Saks Fifth Avenue Off 5th for under $100. Total steal (not to mention the perfect addition to my wardrobe for beach vacations).
The center also includes other dining and entertainment options, and plenty of stores for the entire family – men, women, children, etc. I also highly recommend stopping by their Information Center to pick-up their "Complimentary Savings Passport," which is filled with coupons for various stores. An easy way to save some money!
THE BAYTOWNE MARINA
On the last morning of our trip, Kit and I took the tram to The Baytowne Marina. It's such a cute spot for biking, hiking and watching the boats and yachts depart from the dock. There's also a small charming restaurant, Marina Bar & Grille, which serves breakfast, lunch with gorgeous views of Choctawhatchee Bay.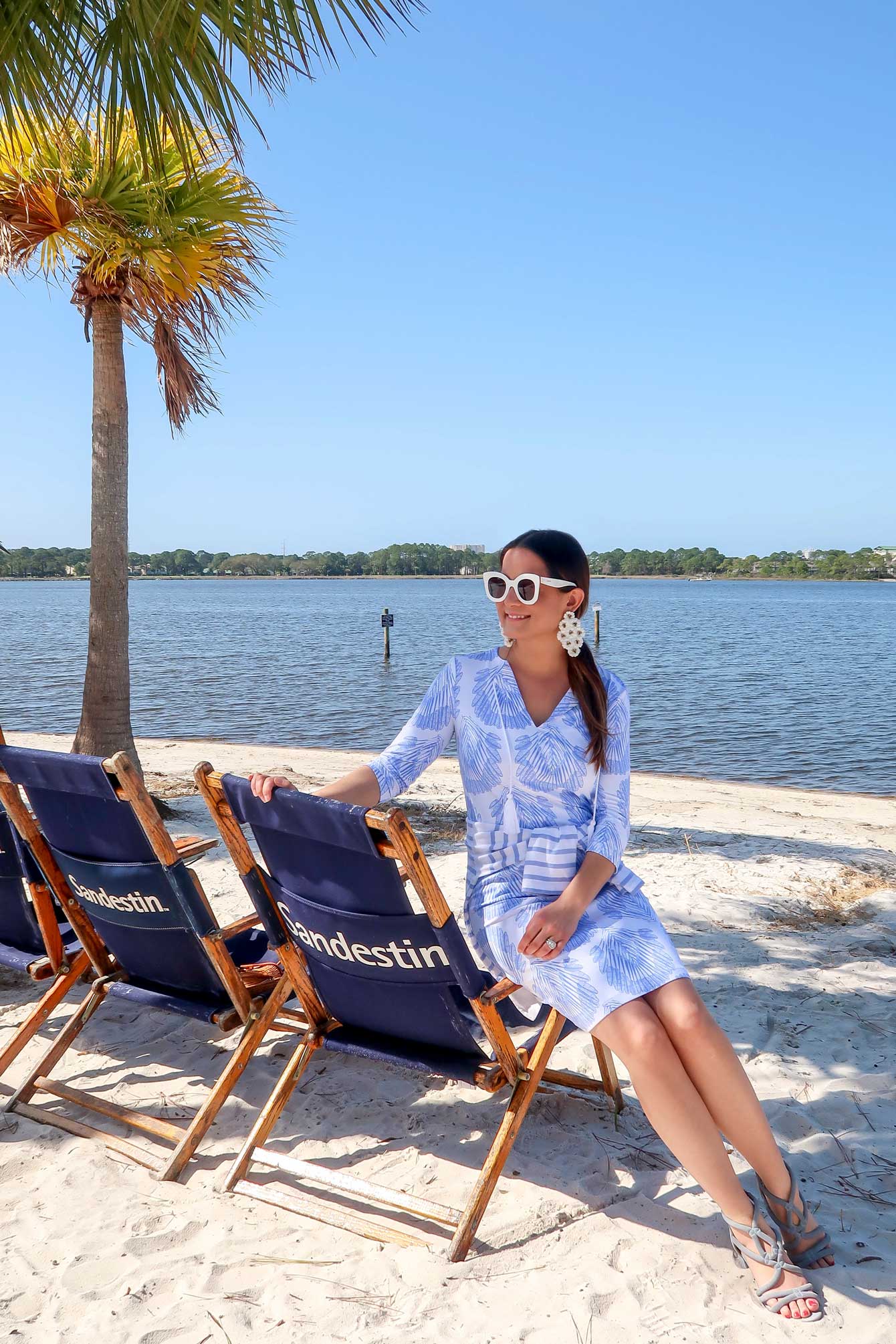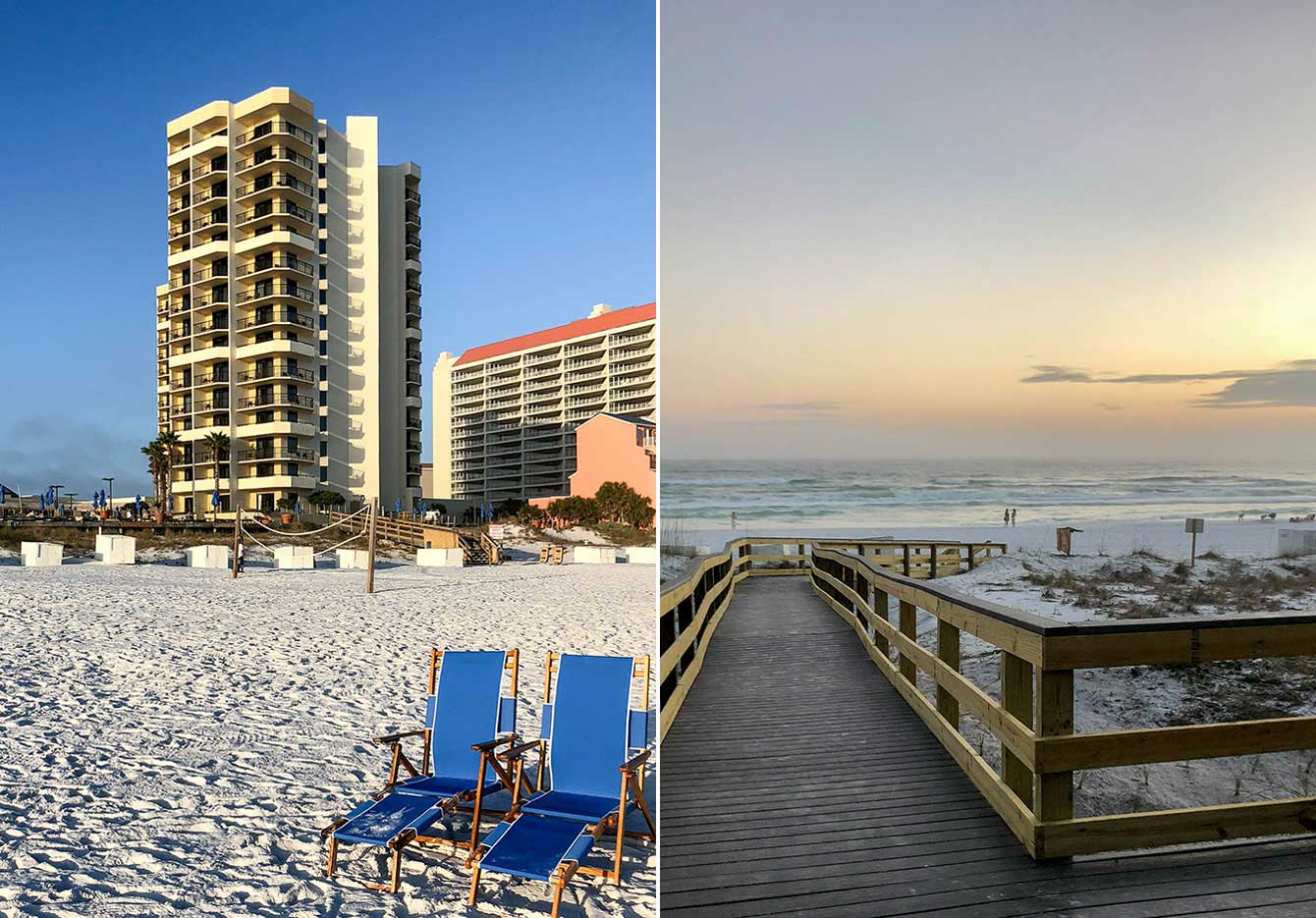 HILTON HONORS PERKS
Are you a Hilton Honors member? I found out that you can e-check in to the hotel and pre select your room with the Hilton Honors app. Not a member? You can sign up for the program here.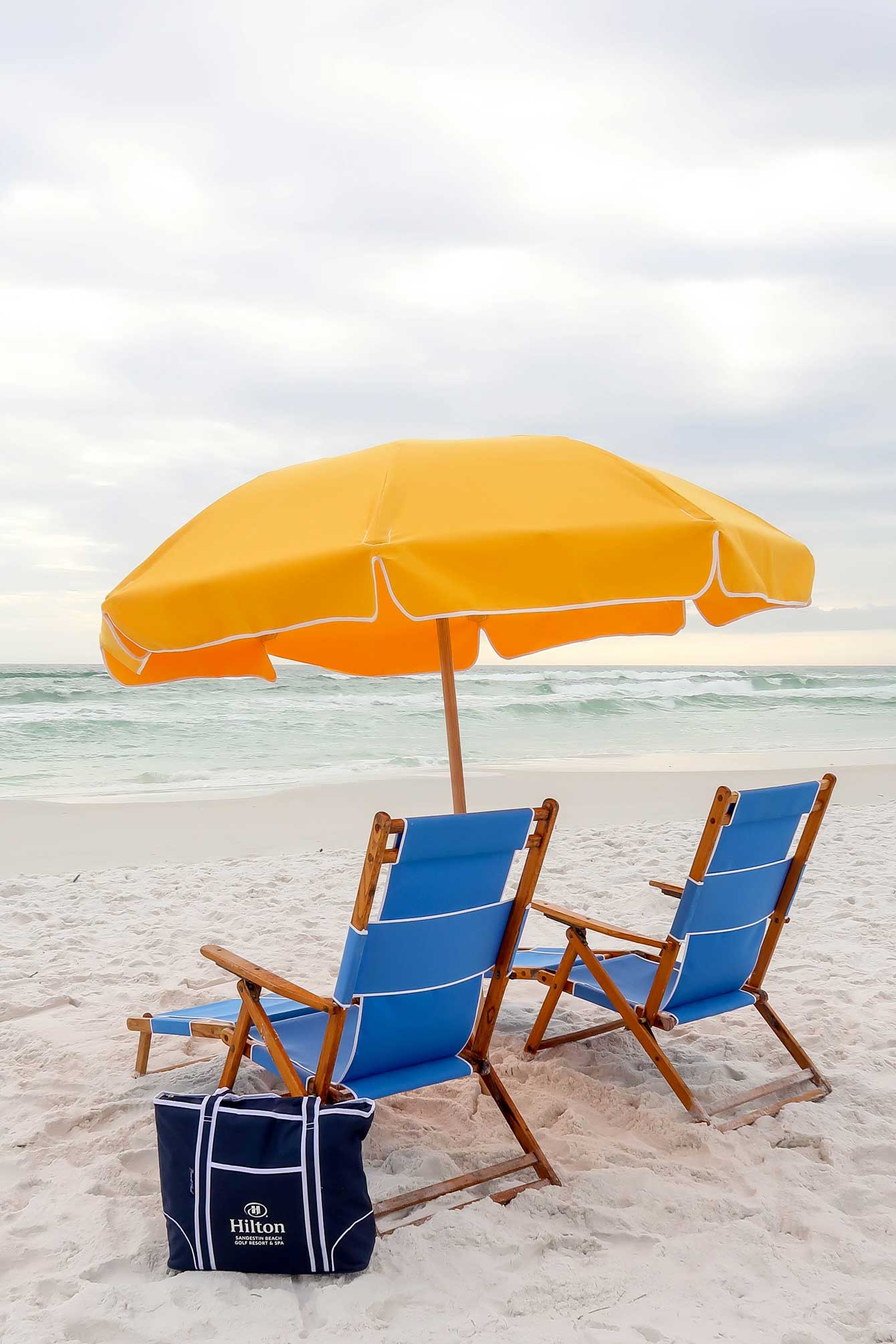 INTERESTED IN BOOKING YOUR TRIP?
Thinking about booking a beach vacay or girlfriend getaway? I highly recommend Hilton Sandestin Beach Golf & Resort. Feel free to make your reservations here.
Lastly, you can watch my full video of Hilton Sandestin on my YouTube channel here. Thank you again to Hilton Sandestin Beach Golf & Resort for an amazing stay!
Never miss a post – follow along on Bloglovin'!