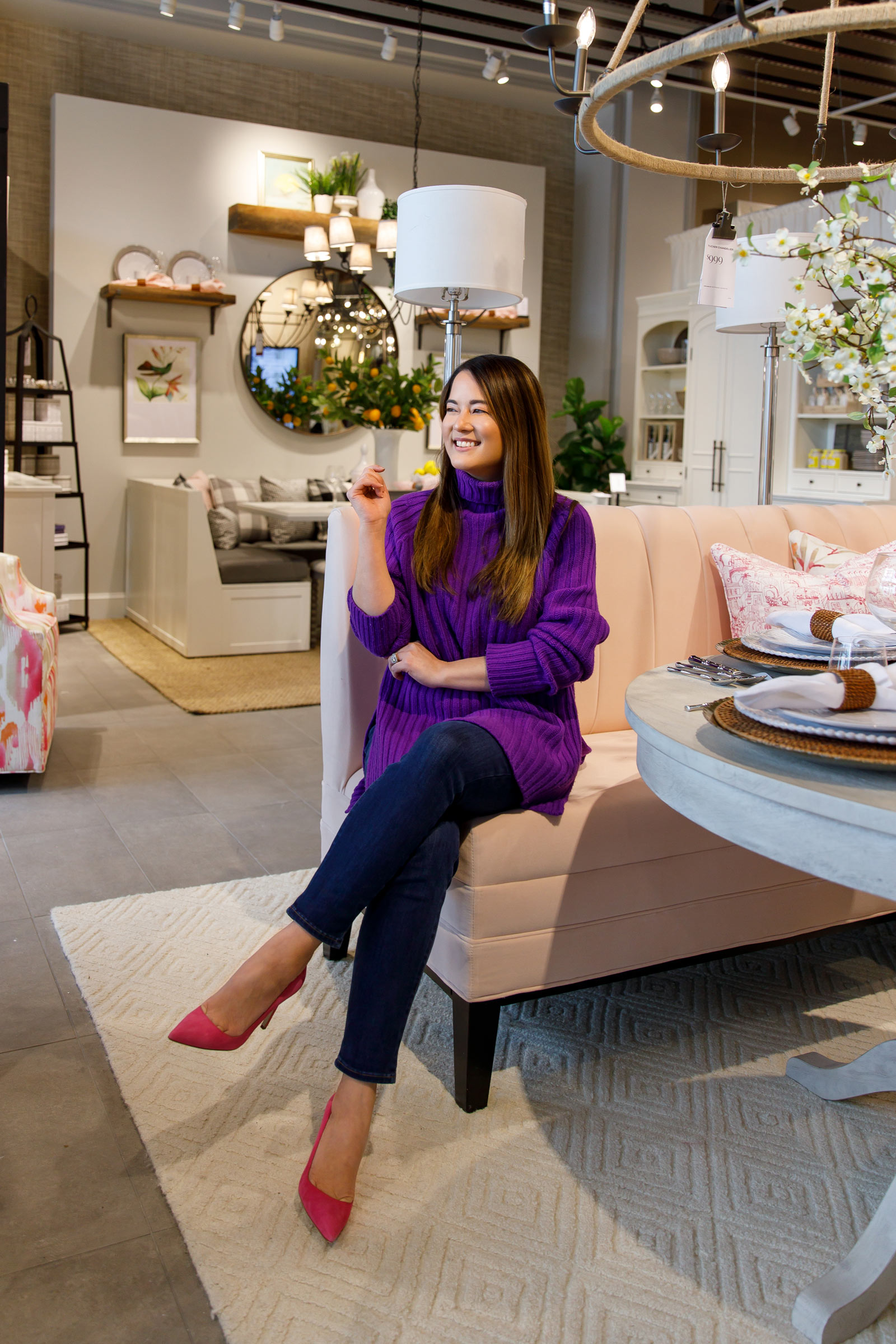 As most of you know, we've been working hard on the redesign of two spaces in our home – the living and dining rooms! I'm beyond delighted to finally announce our brand partner for both spaces – Ballard Designs. I've been familiar with Ballard for more than 15 years, and I can't image a better design partner to bring these rooms to life!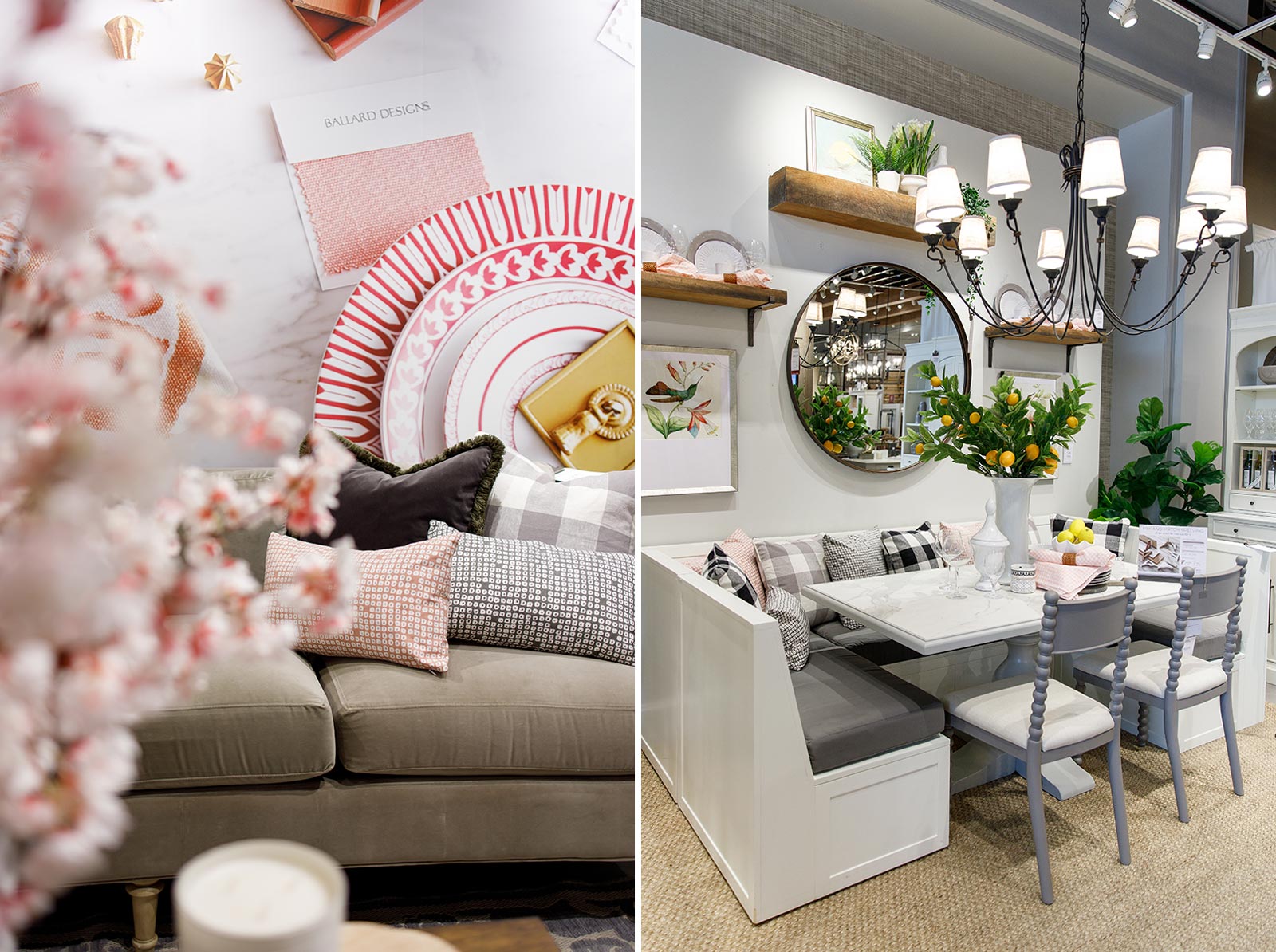 Our living and dining rooms are important as we plan to spend a lot of time in both spaces. Plus, when the pandemic calms down, we will be doing a lot of entertaining with friends and family. They also happen to be the first rooms that guests see when they enter the home, so we wanted to give a great first impression. A "WOW" factor, if you will. I think we've achieved that, and I'm excited to share the room reveal soon!
Before diving into the unveiling, I wanted to walk through the design process of how we got to the final result.
Living and Dining Room "Before" Photos
When we purchased our home, the rooms was VERY neutral. It was like a builder's dream of beiges, tans, whites, and grays everywhere. Not very "me!" At the same time, it gave us a wonderful blank canvas to work with.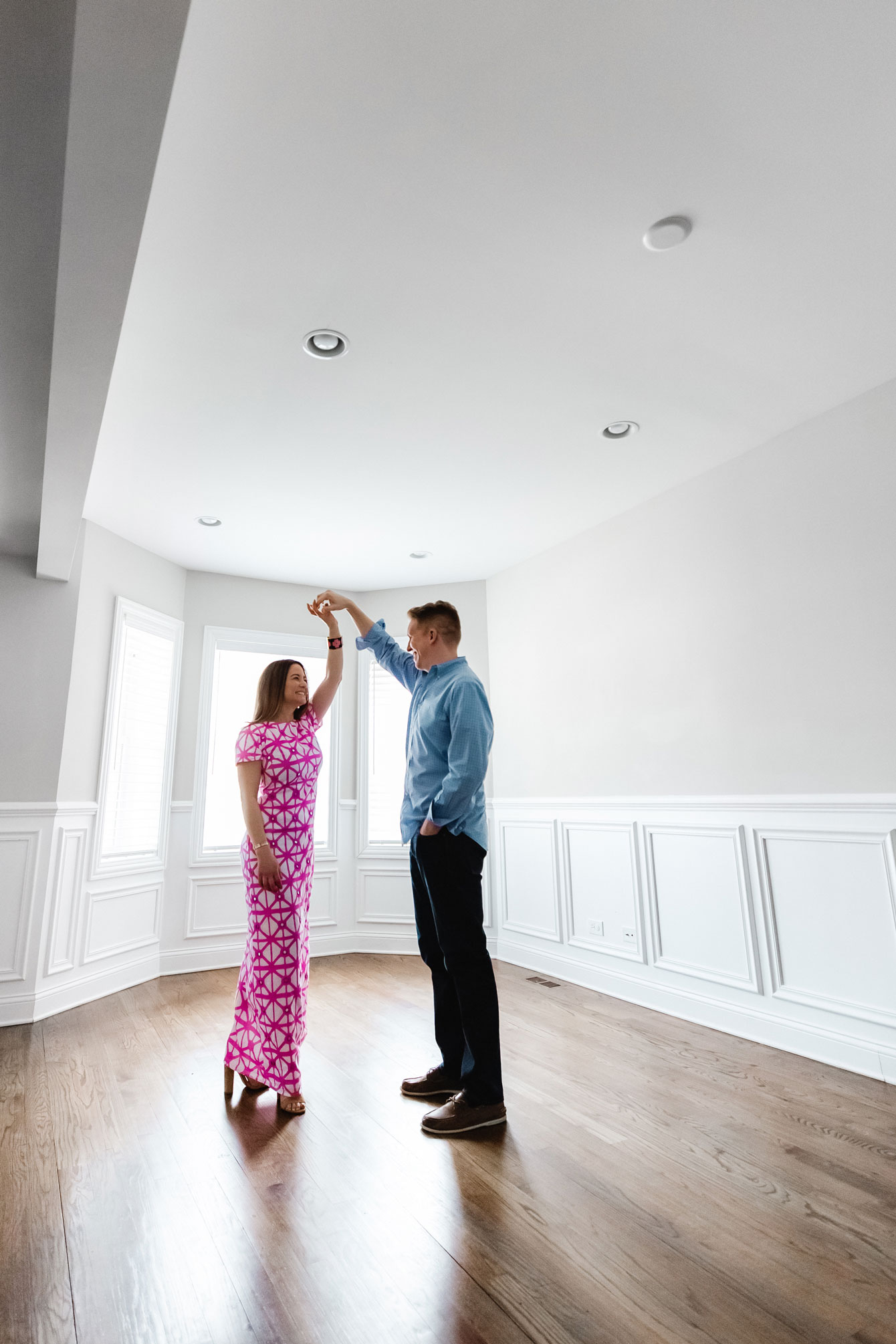 The previous owners had installed wainscoting, and I am SO thankful they did! I'm a sucker for trim details in a home, especially when it comes to complimenting it with wallpaper. We also went in and added crown molding after we moved in, and it turned out so well!
Why We Picked Ballard Designs
As I mentioned above, I've been familiar with Ballard for more than a decade. One of my former bosses had one of their custom chairs in her office, and I love how the brand offers a wide array of personalization options from fabrics to wood colors and more.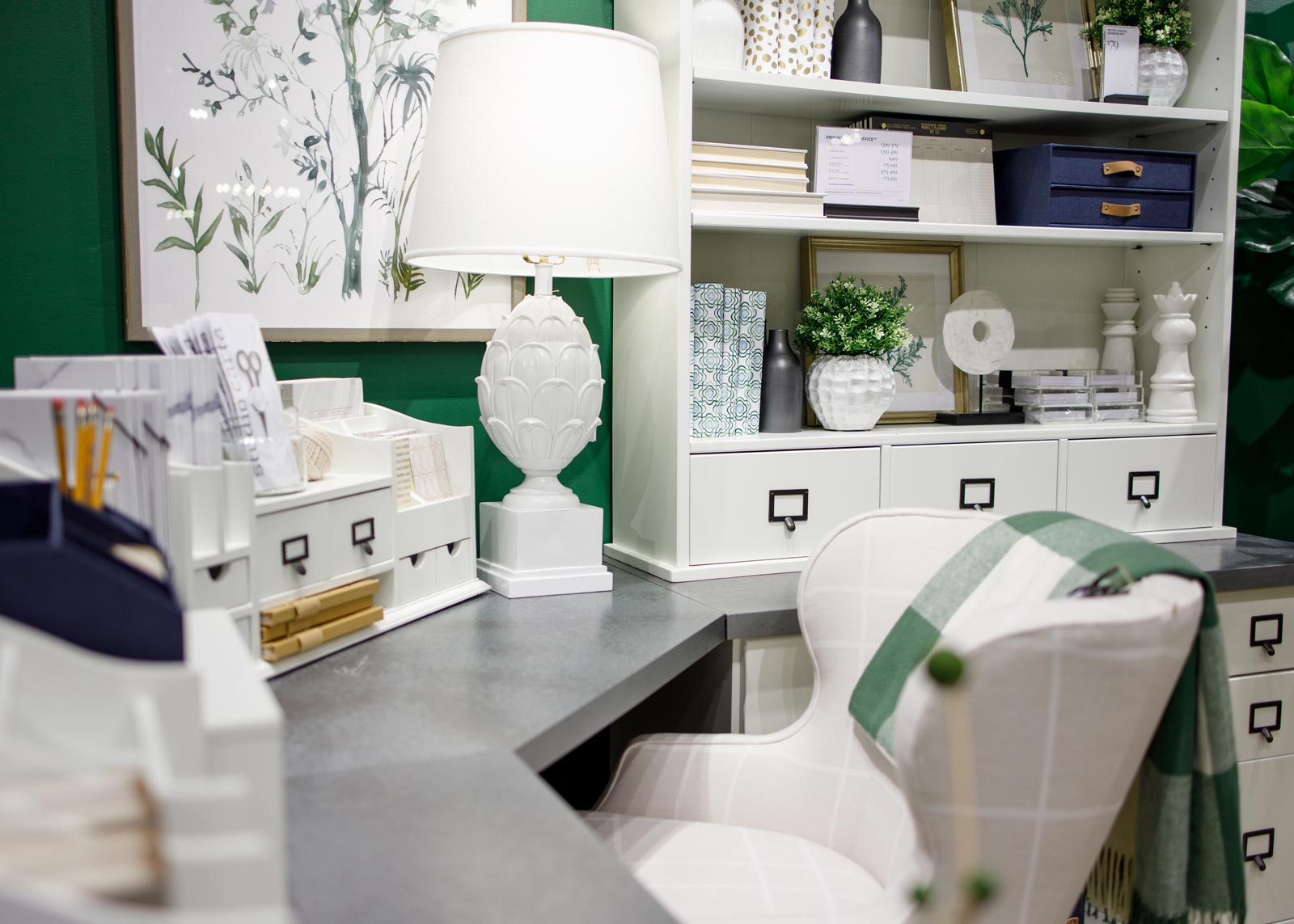 Over the years, I started to get their catalogs and immediately fell in love with the depth and breadth of product and customization options. When it came time to pick a partner for the living and dining rooms, the answer was simple – Ballard!
Ballard Designs Solutions
Prior to the pandemic, Bob, Amelia (our interior designer) and I visited Ballard's showroom in nearby Oakbrook. This trip was extremely helpful, as we got to touch, feel, and see the products (and meet their team!). Best of all, we scheduled an appointment to meet with Jean from Ballard's Design Solutions team.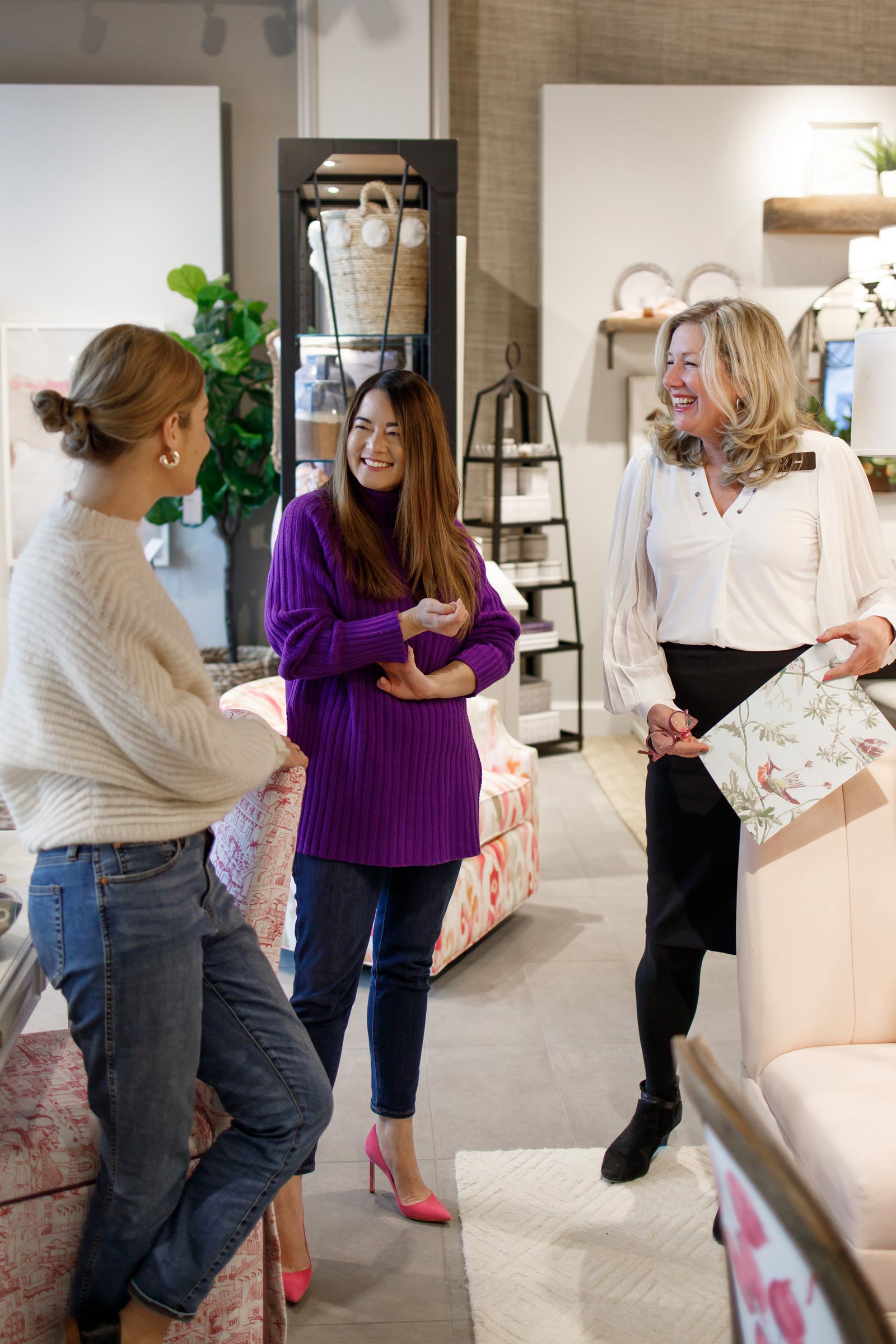 The Designs Solutions service is completely free for customers, and I highly recommend trying it. In fact, I'd even tap them just to help with accessorizing other spaces in our home now that I'm familiar with the service. When possible, Ballard's Design Solutions team meets with you in the store to show you around, discuss what you're looking for, and starts space planning. Jean even offered to come to our home to see the space in-person. Love that!
Plus, Ballard Designs also offers free virtual appointments, in case your nearest store is further than you'd like to drive. I love how flexible they are as a company!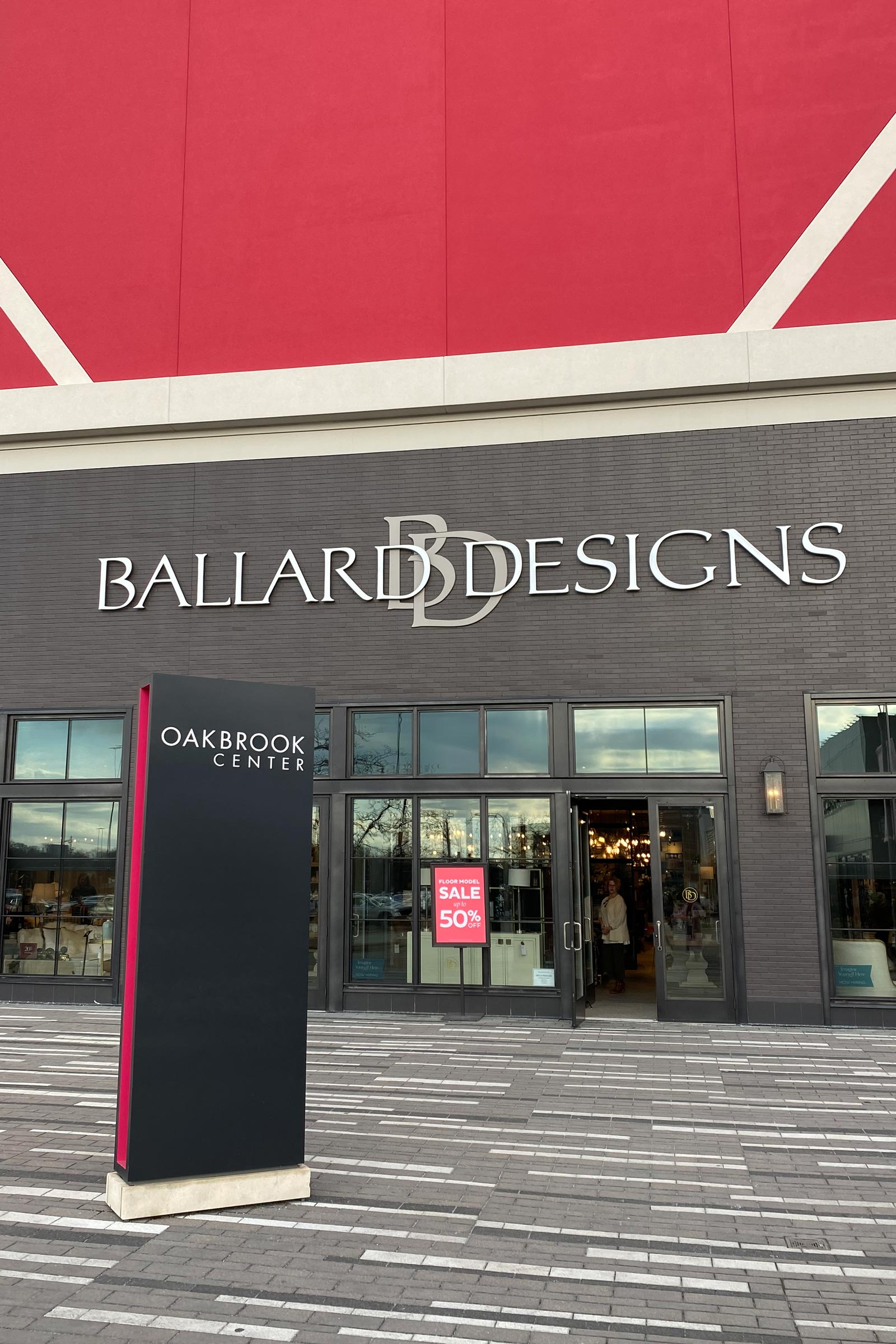 During our consultation, Jean explained that many members of the Design Solutions team are former/current interior designers and decorators. I was really impressed with her passion for great design and finding solutions for decorating dilemmas!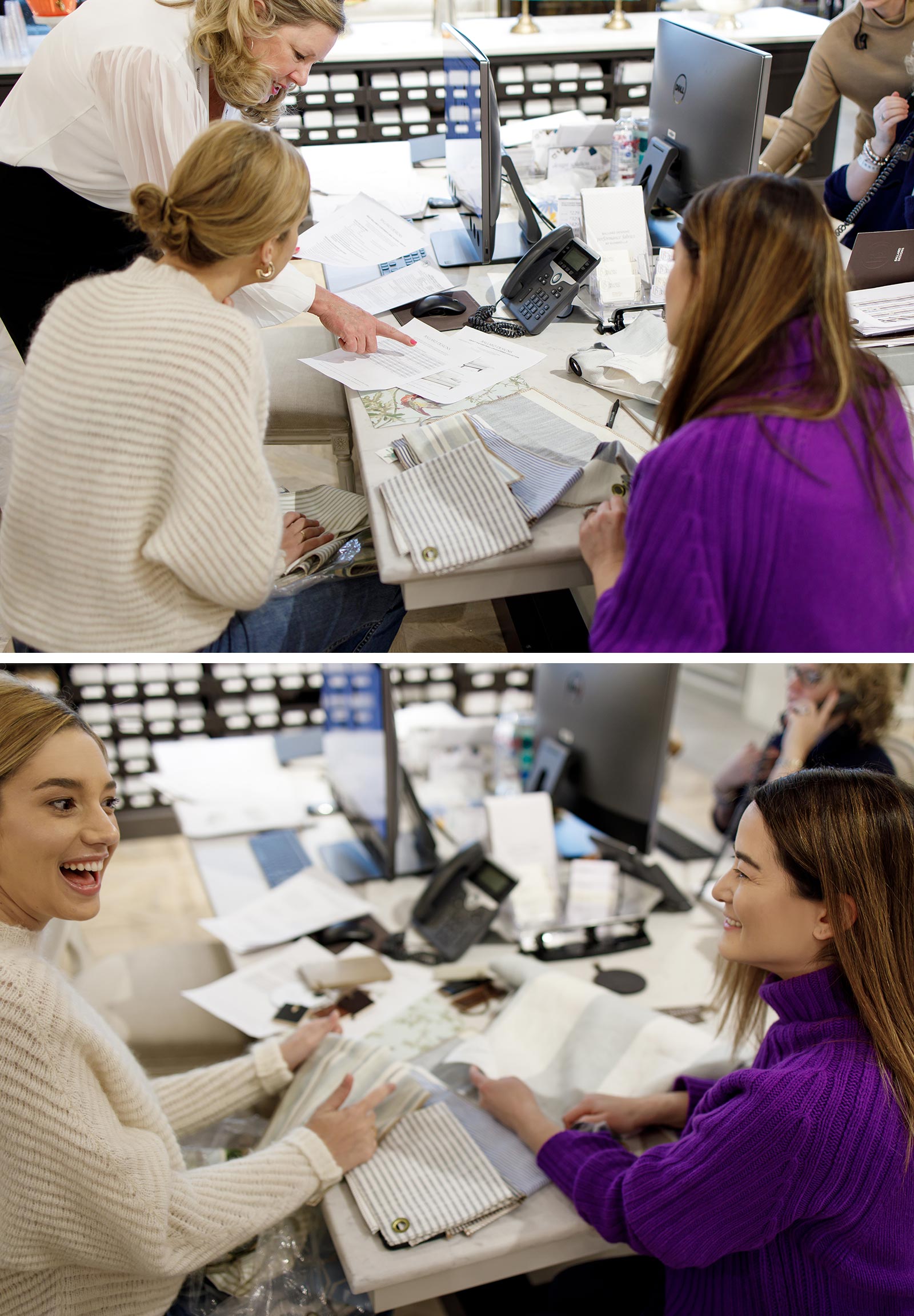 They work with customers from start to finish, and they're completely open to collaborating with your interior designer! At first, I was a bit nervous about bringing Amelia to our first Design Solutions meeting, but they welcomed her with open arms. Jean said they enjoy working with interior designers because that means there are even more great design minds in the room!
Our Design Consultation
During our design consultation, we went through the space planning that Amelia pulled together. We also brought along several fabrics and samples that we loved in case we wanted to personalize some pieces. Jean walked us around the store, showed us some of the pieces we had selected from the website that we loved, and highlighted a few additional items that we hadn't thought about before.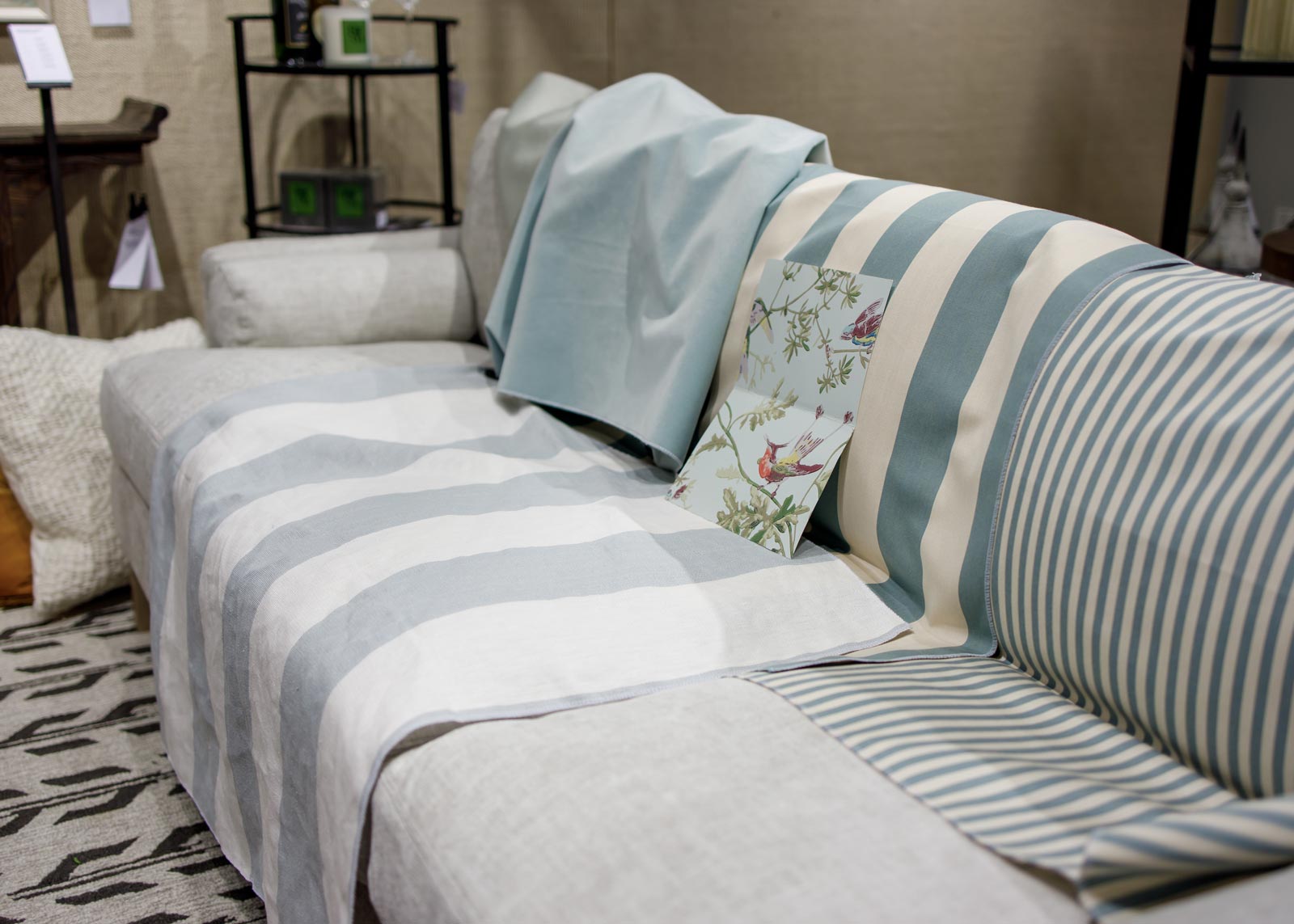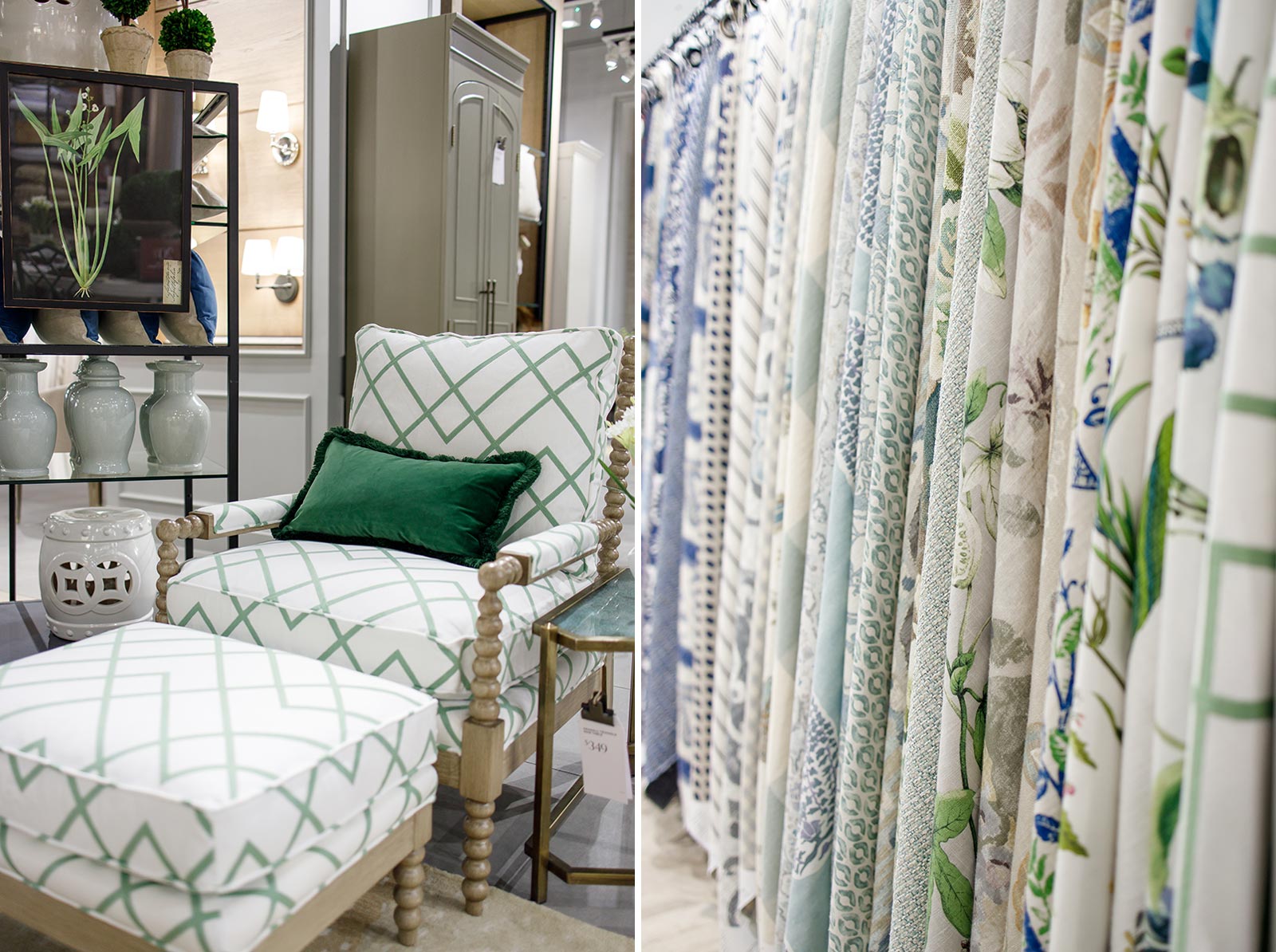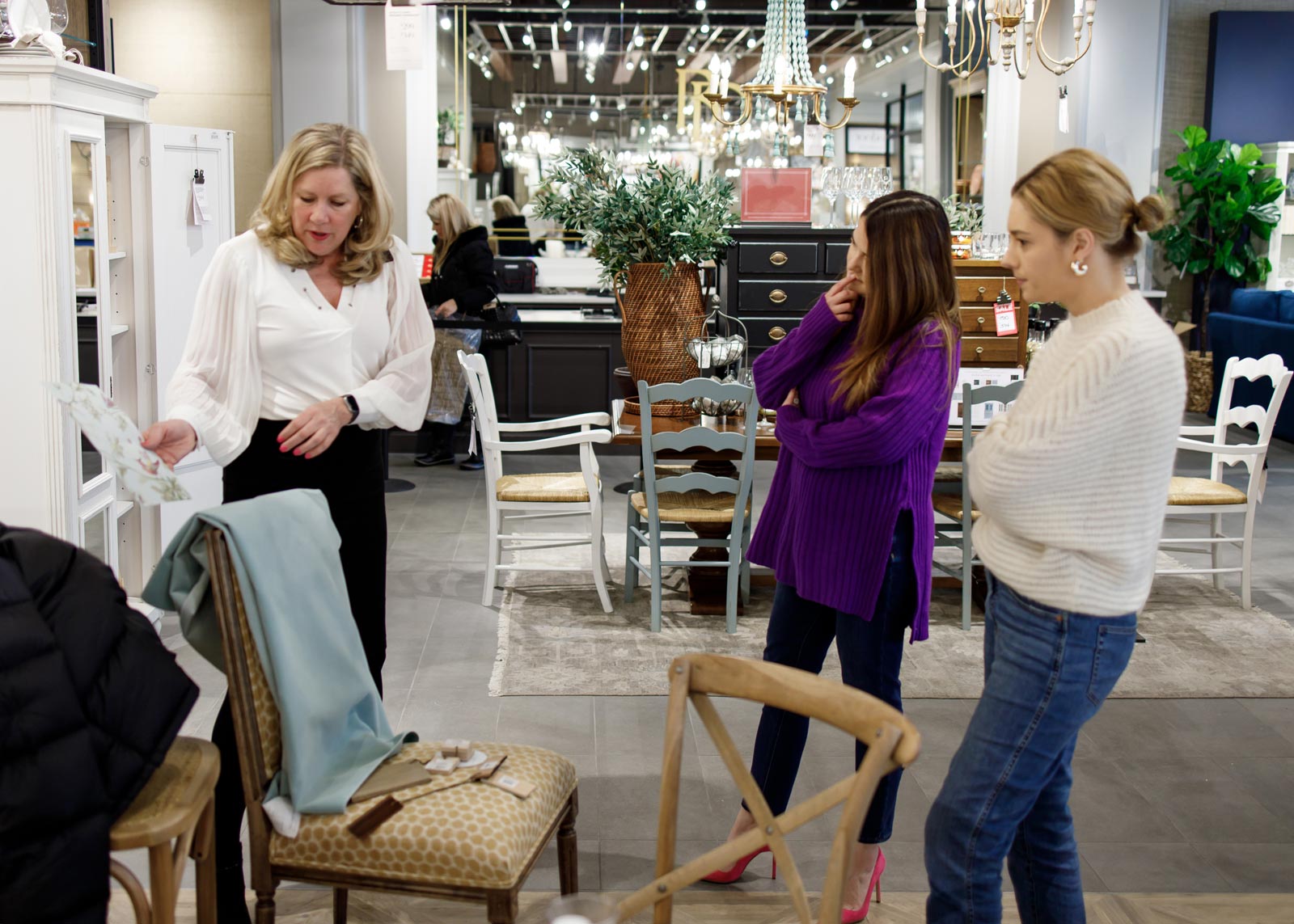 From there, we went through fabric, trim, and finish selections for our sofa, chairs, and ottoman. Both Amelia and Jean really kept me on track in terms of making thoughtful design decisions! I tend to struggle with being overwhelmed when I see TOO many options, so I was thankful they helped narrow things down (especially the wood finishes we selected).
About Ballard Designers
For those of you who aren't familiar with the company, Ballard Designs was founded in 1983, and they're headquartered in Atlanta. They originally started as a catalog company and have since grown to have brick and mortar stores and a gorgeous website.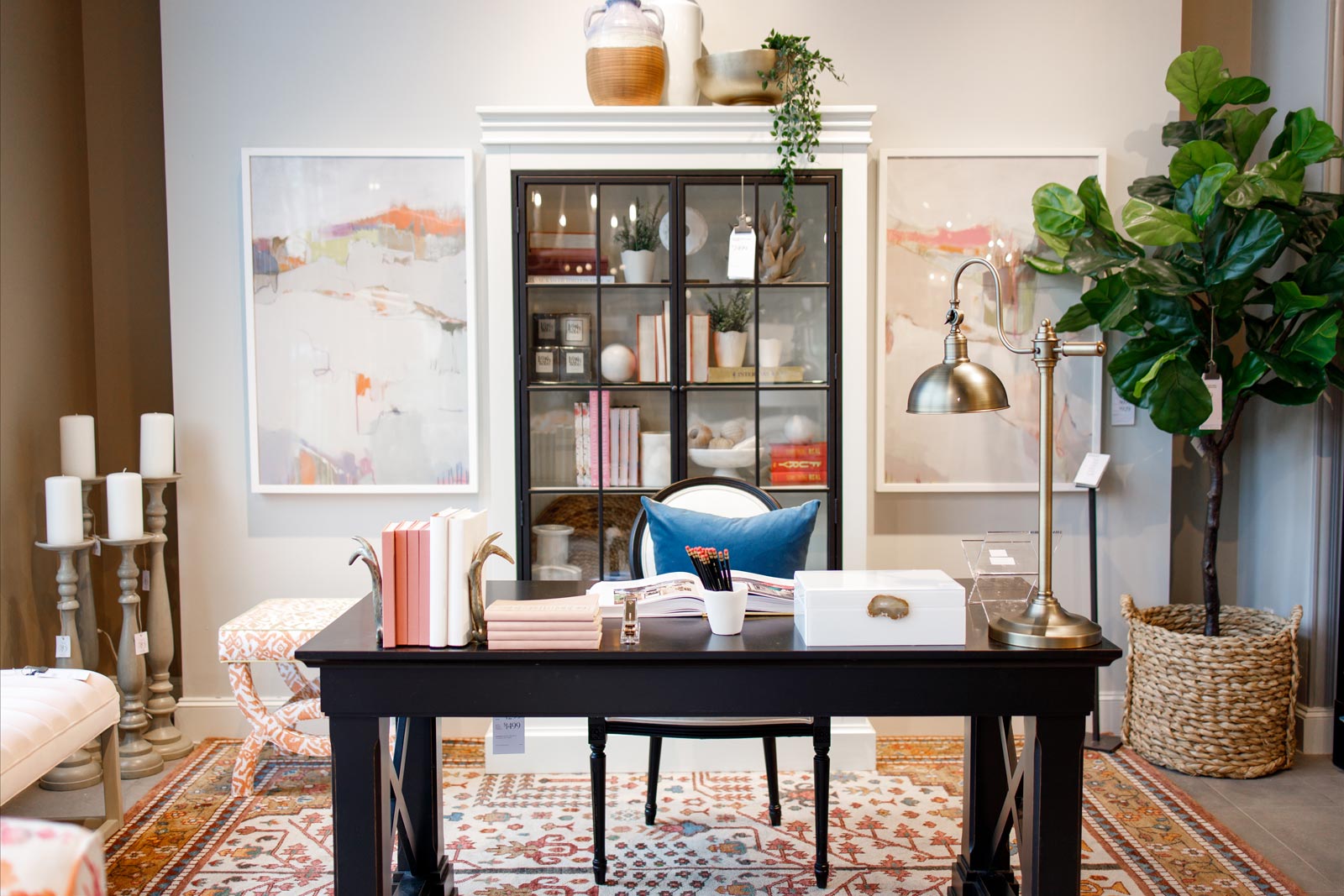 They currently have 14 store locations, with several more on the way, including Nashville and Houston. I especially love their tagline, "Unleash your inner designer." Ballard truly gives the control of the design to the customer. In fact, they have more than 550+ frames that can be personalized out of more than 400 different fabrics. They also have allow customers to provide their own fabrics and materials, which is what we chose to do for a few items.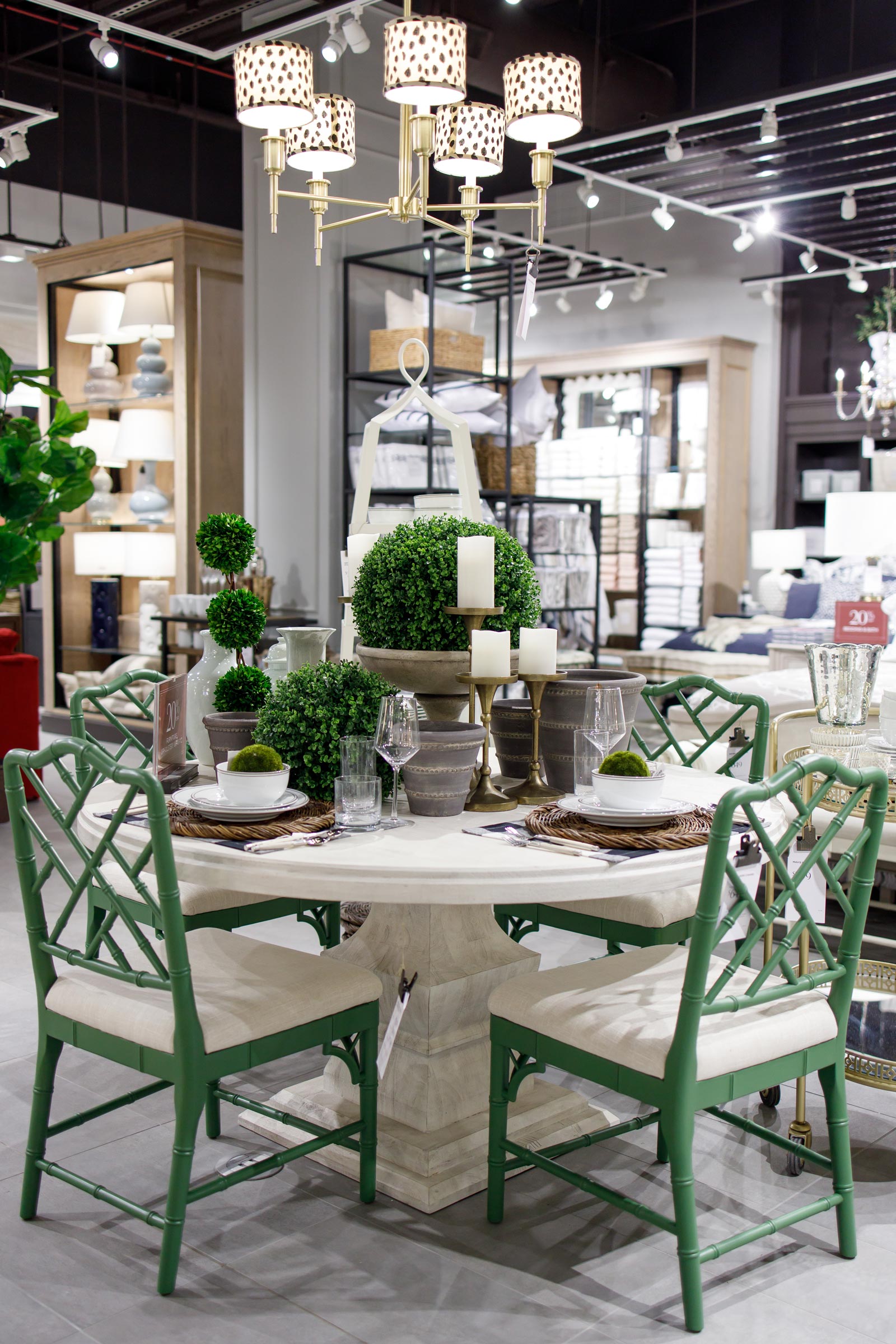 The process is so seamless! You pick the frame you want, then the fabric, finish details and trims, and voila – your piece is set!
Learn More About Ballard Designs
Ready to schedule your Design Solutions appointment? Click here to set-up a time that works best for you. Again, these meetings are free, and it's a great way to receive fantastic design advice for any space in your home.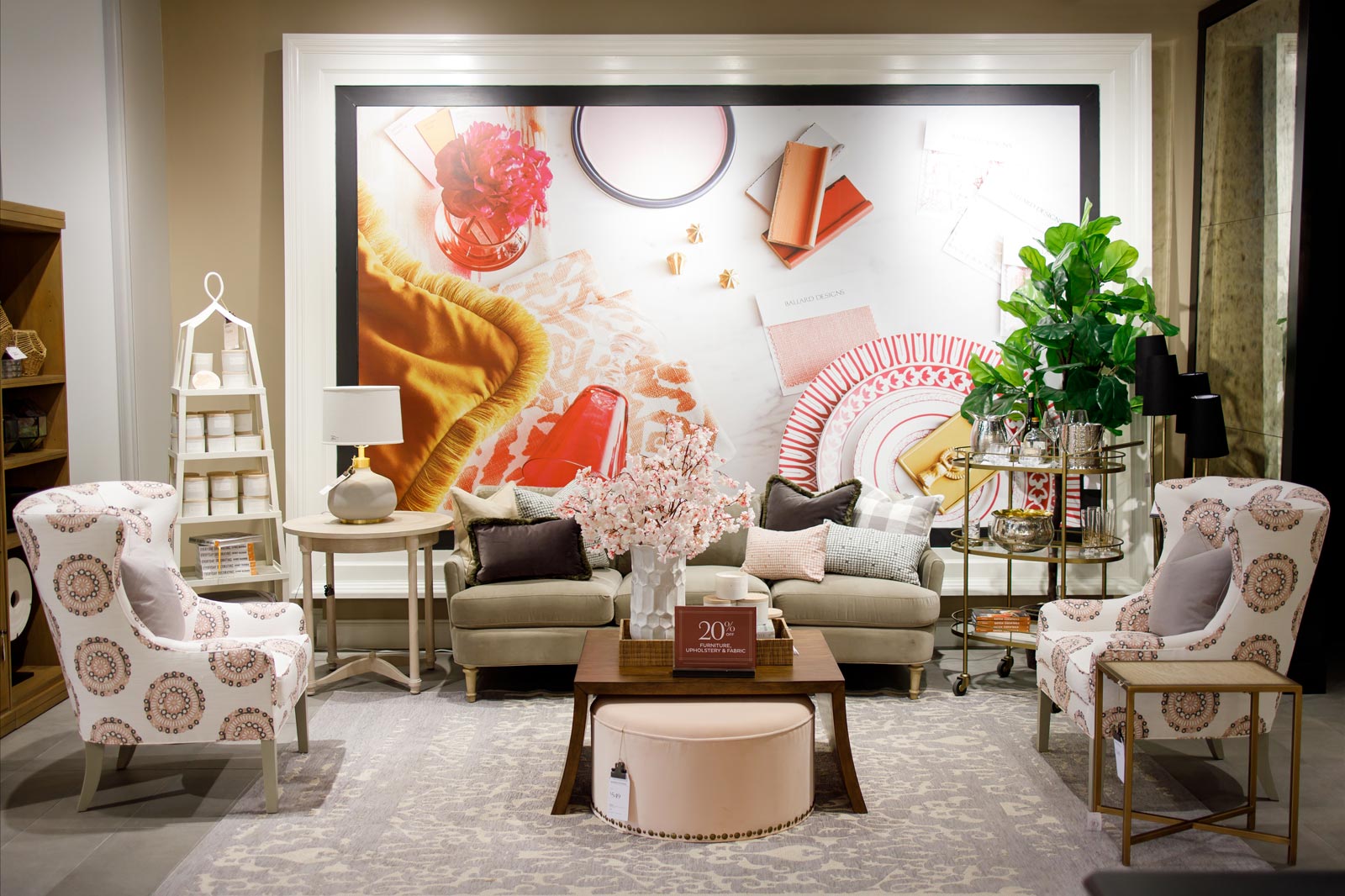 Be sure to checkout Ballard Designs' blog, How to Decorate, for more design inspiration and ideas. They also have a fantastic podcast that discusses all things decorating. Last but not least, be sure to visit their Instagram page for beautiful rooms and designs.
This post was created in collaboration with Ballard Designs. Partnerships like these make Style Charade possible.