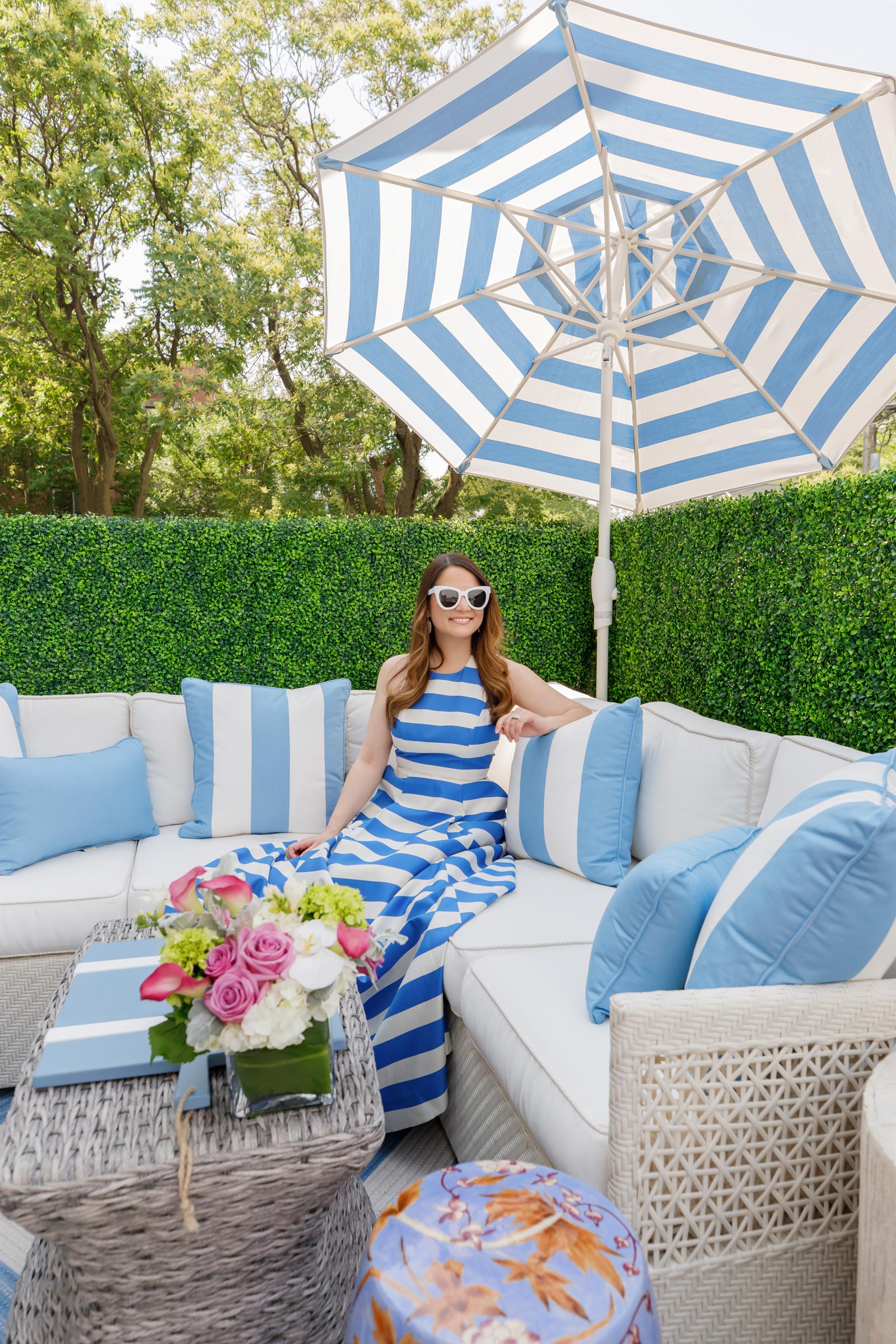 With Chicago's temperatures heating up, we're beyond excited to reveal this space in partnership with Frontgate! Looking for city outdoor patio inspiration? I hope this post sparks new ideas for your home!
It's no secret social distancing is a priority this summer. Therefore, Bob and I wanted the exterior of our home to feel comfy and chic. This also happens to be our first home with a decently sized patio for a city lot.
In the past, we've had TINY front porches or nothing at all. Since we're spending so much time at home, this patio space has given us a chance to get outdoors and enjoy some fresh air. In fact, we've been spending a lot of nights lounging on these pieces. Earlier this week, fireflies were dancing in the sky as we sat outdoors with glasses rosé; it was a slice of heaven!

City Outdoor Patio Inspiration
Like most major cities, Chicago home lots are quite narrow. In fact, most city blocks have buildings immediately next to one another (AKA no privacy). The first step was finding a way to make our space feel secluded yet stylish. We decided to add faux boxwood around the patio to create a pop of green and texture. I love this version from Frontgate that comes in 4′, 5′ or 7′ height options.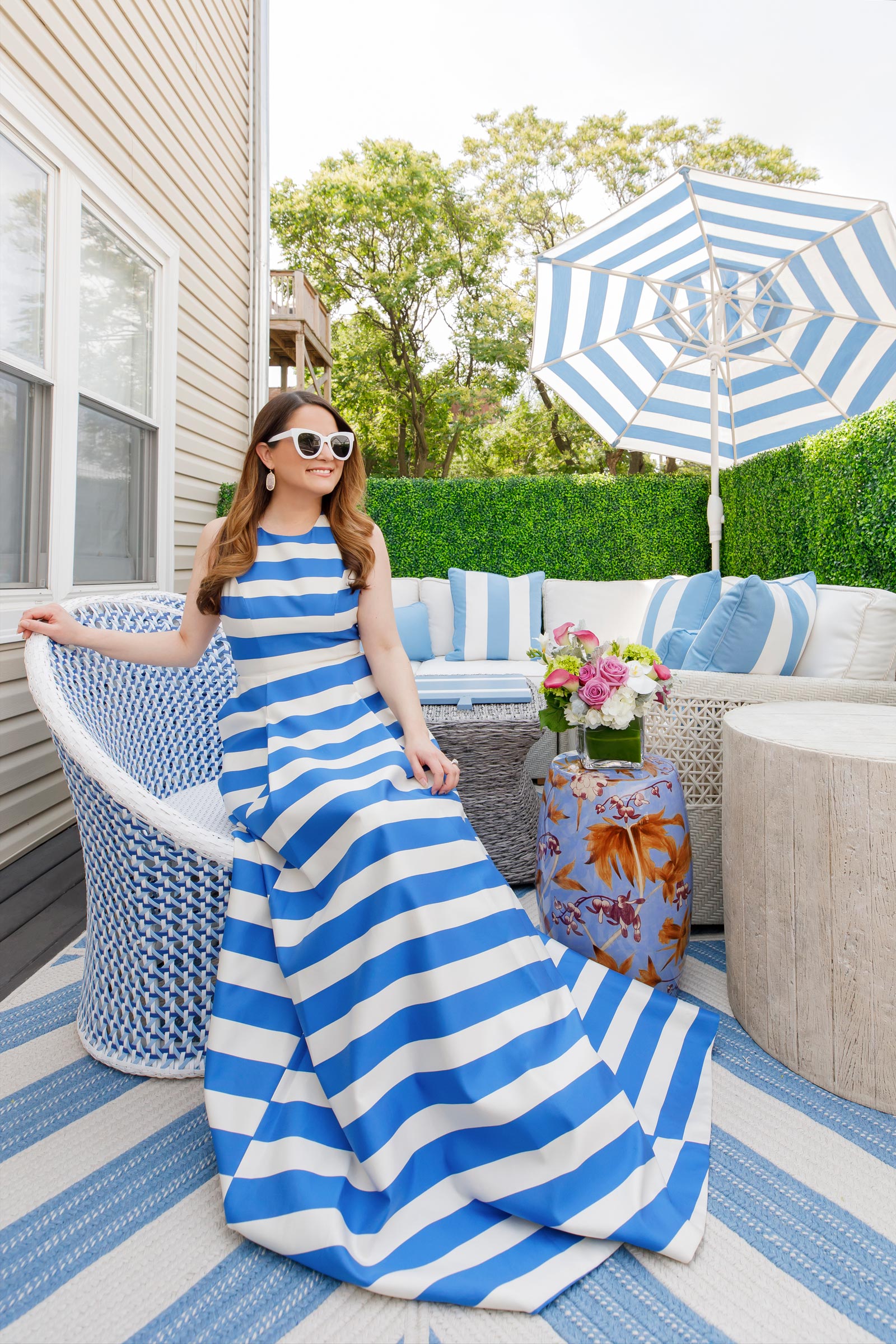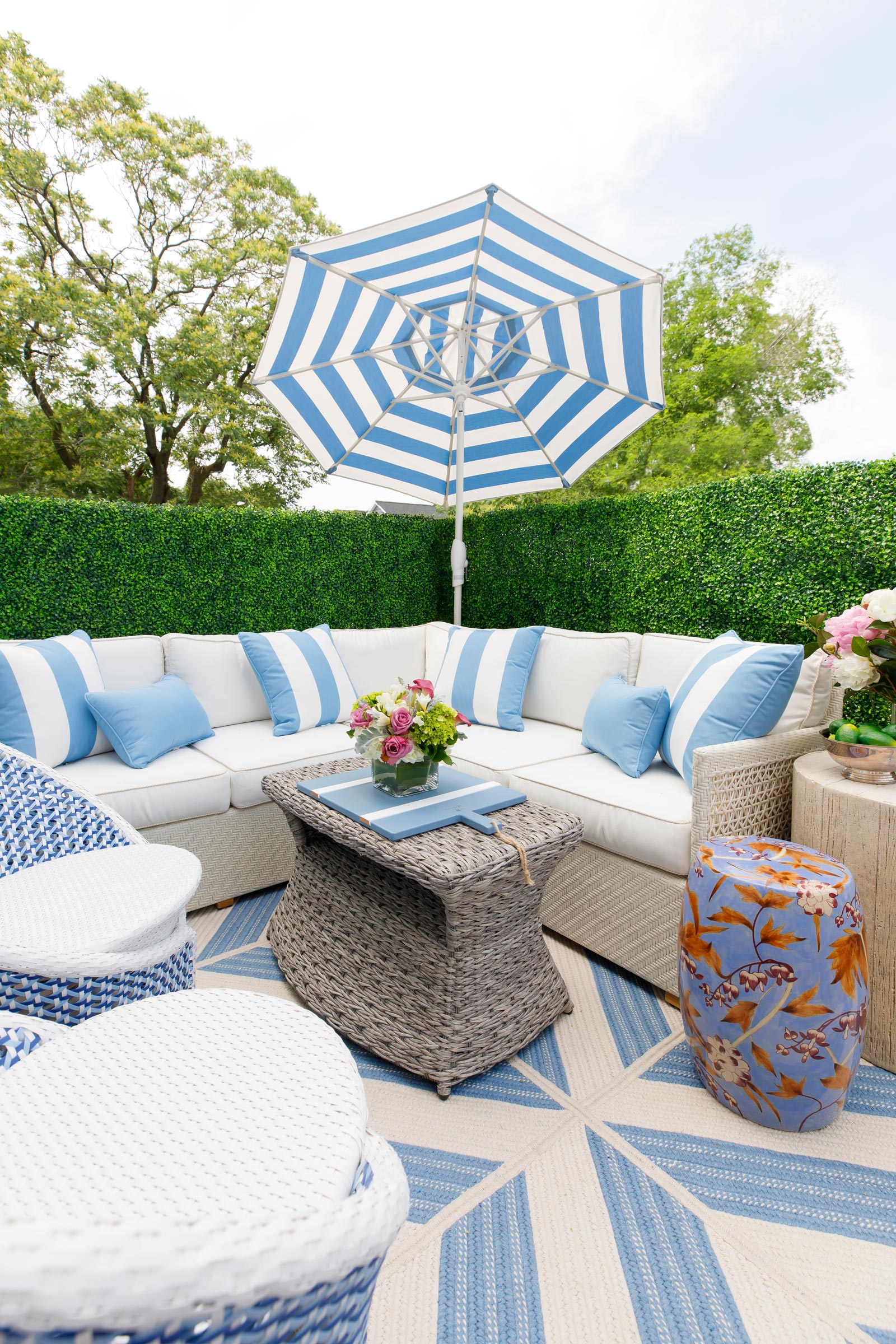 Design-wise, I wanted to transition the beautiful blue striped wallpaper from the family room into our outdoor space. Sure, it's a bit "matchy-matchy," but that doesn't bother me one bit! Haha! When our back window is open, the two spaces feel like one.
We were especially inspired by Frontgate's Market Stripe Umbrella. In my opinion, Frontgate has one of the best selections of outdoor umbrellas on the Internet. Plus, the quality is IMPECCABLE. I've been super impressed. The key to any outdoor umbrella is to have a sturdy, weighted base. We opted for the Belmont Umbrella base in white. It comes in a bunch of colors – I love the black and brown versions, too.
Outdoor Sectional Sofa
After measuring our patio, we opted for Frontgate's Cadence Modular Sectional in snow. While they have SO MANY phenomenal outdoor collections, the Cadence topped the list thanks to the deep seated style, all-weather wicker with a corrosion-resistant frame, and the fact it's designed for slightly smaller spaces. As you know, at times, Chicago's weather is no joke, so we needed something that could withstand the seasons.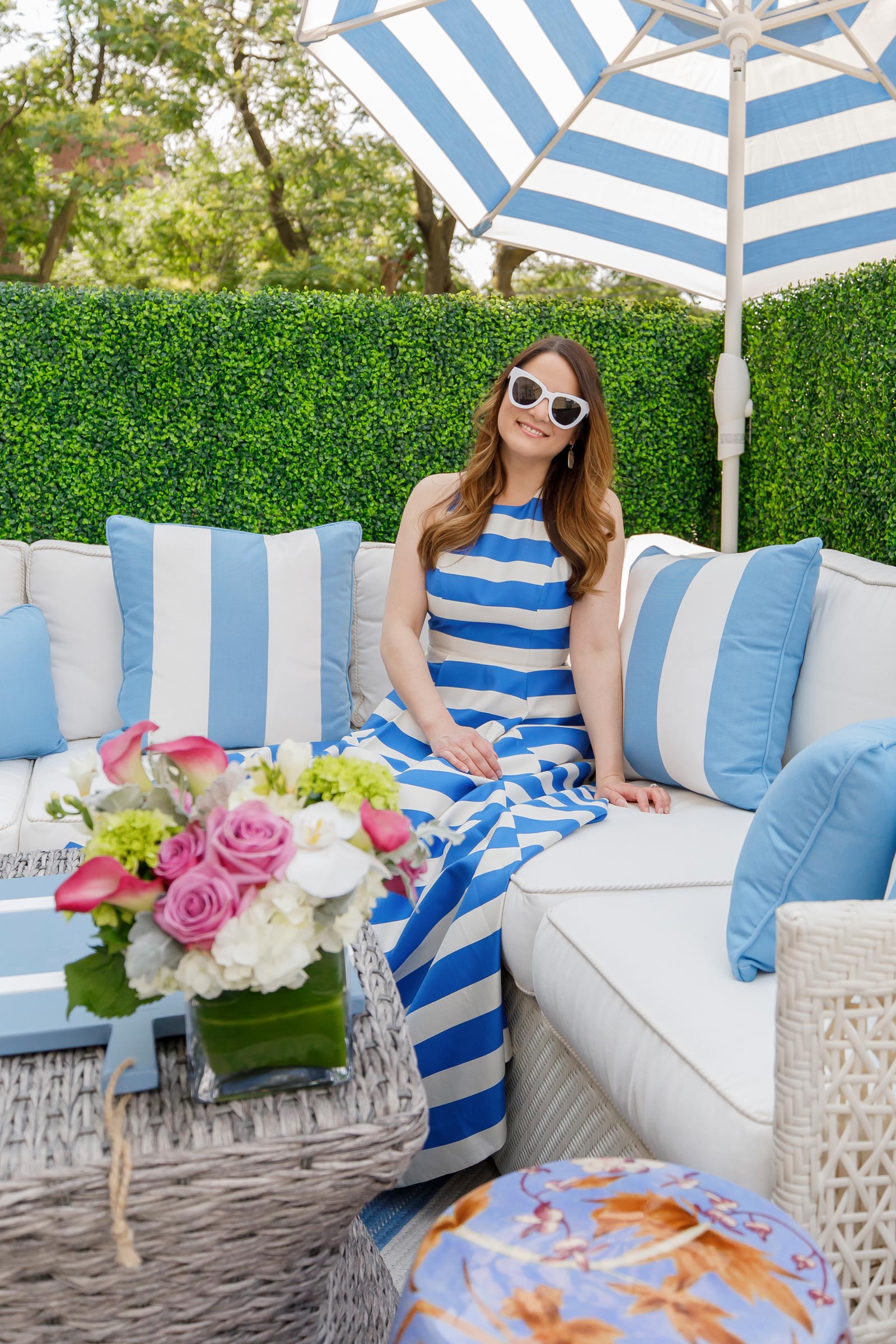 The Cadence collection comes in a variety of options, such as the 3-piece loveseat set, the sofa, and beyond. I also love the selection of fabrics. We chose the white snow fabric since it's stocked and ships quickly! But definitely checkout their other options including sunbrella styles, stripes, patterns, and beyond.
Outdoor Decorative Pillows
I'm a bit of a decorative pillow fanatic! To match our umbrella, we opted for these stunning striped square pillows and solid lumbar pillows. One of my favorite aspects of Frontgate's outdoor pillow selection is that you can customize the trim. We chose a simple piping, but they also offer fringe, cording, and boxed options. I had so much fun playing around on the website to visualize the options!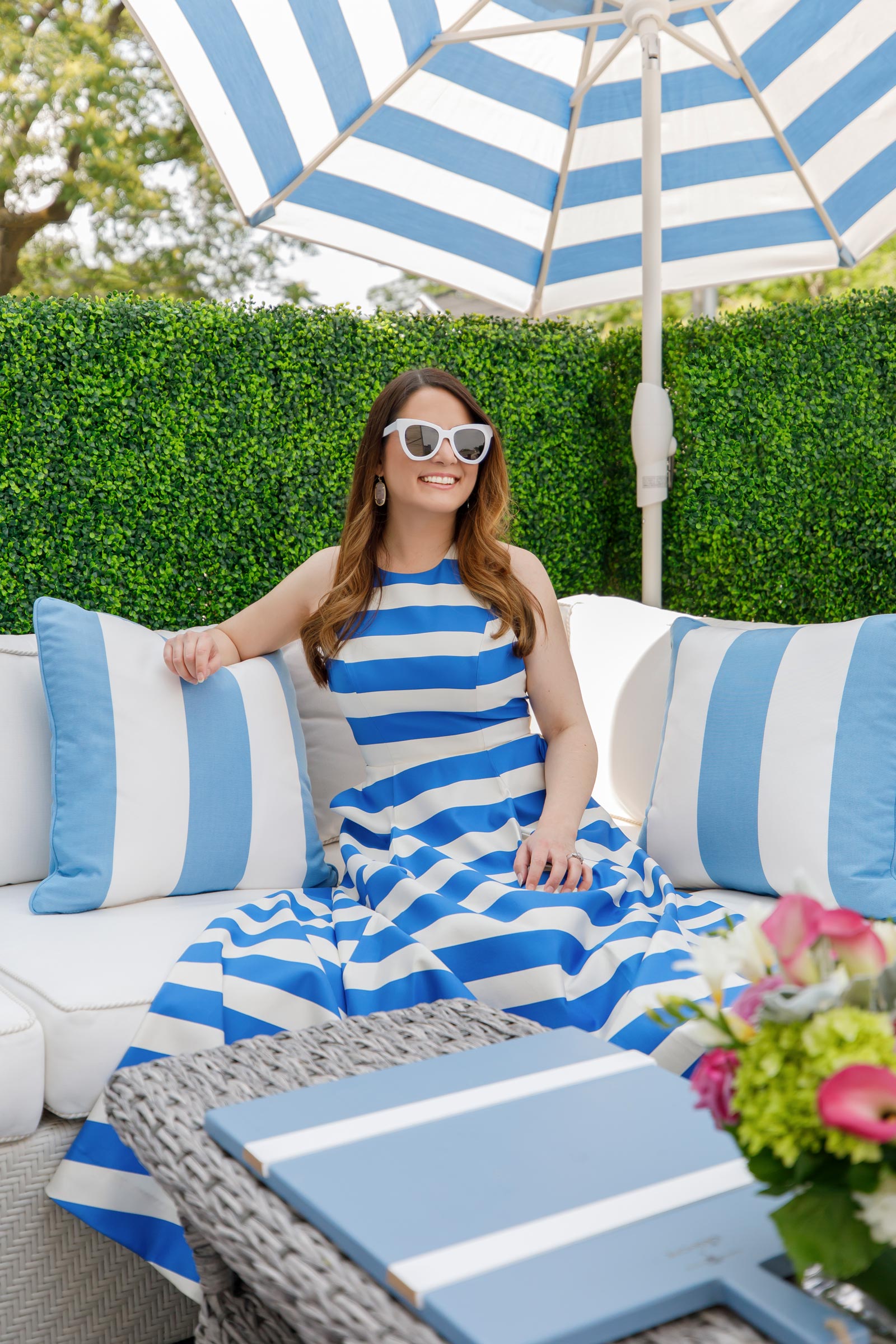 City Outdoor Patio Inspiration Rugs
Since our family room reveal, I've come to value rugs within a space. Beyond grounding the room, rugs add texture, add color and boost vibrance. I wanted an outdoor rug that we adored. This sunbrella indoor/outdoor diamond rug by Frontgate was an easy choice! Beyond completing the existing umbrella and accent pillows, this rug is fade, stain and mildew resistant. Sign me up!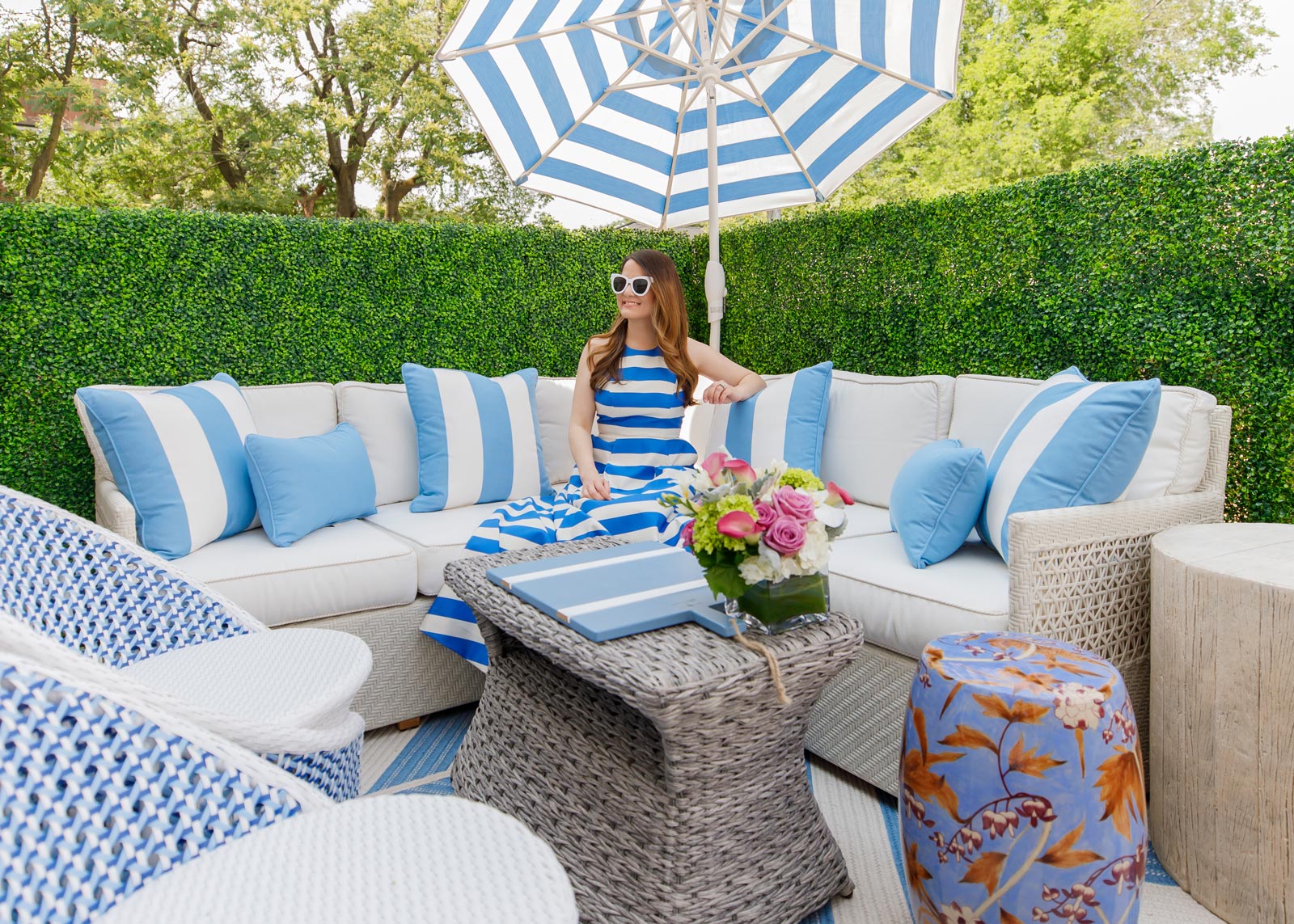 Outdoor Accent Tables
For some reason, outdoor tables always conjure images of ugly old 1980's furniture for me. Haha! Well, let's just say design has come a LONG way since then. Case in point, this beautiful barrel wood side table. Amelia, our interior design, taught me awhile ago that you always want to play with textures.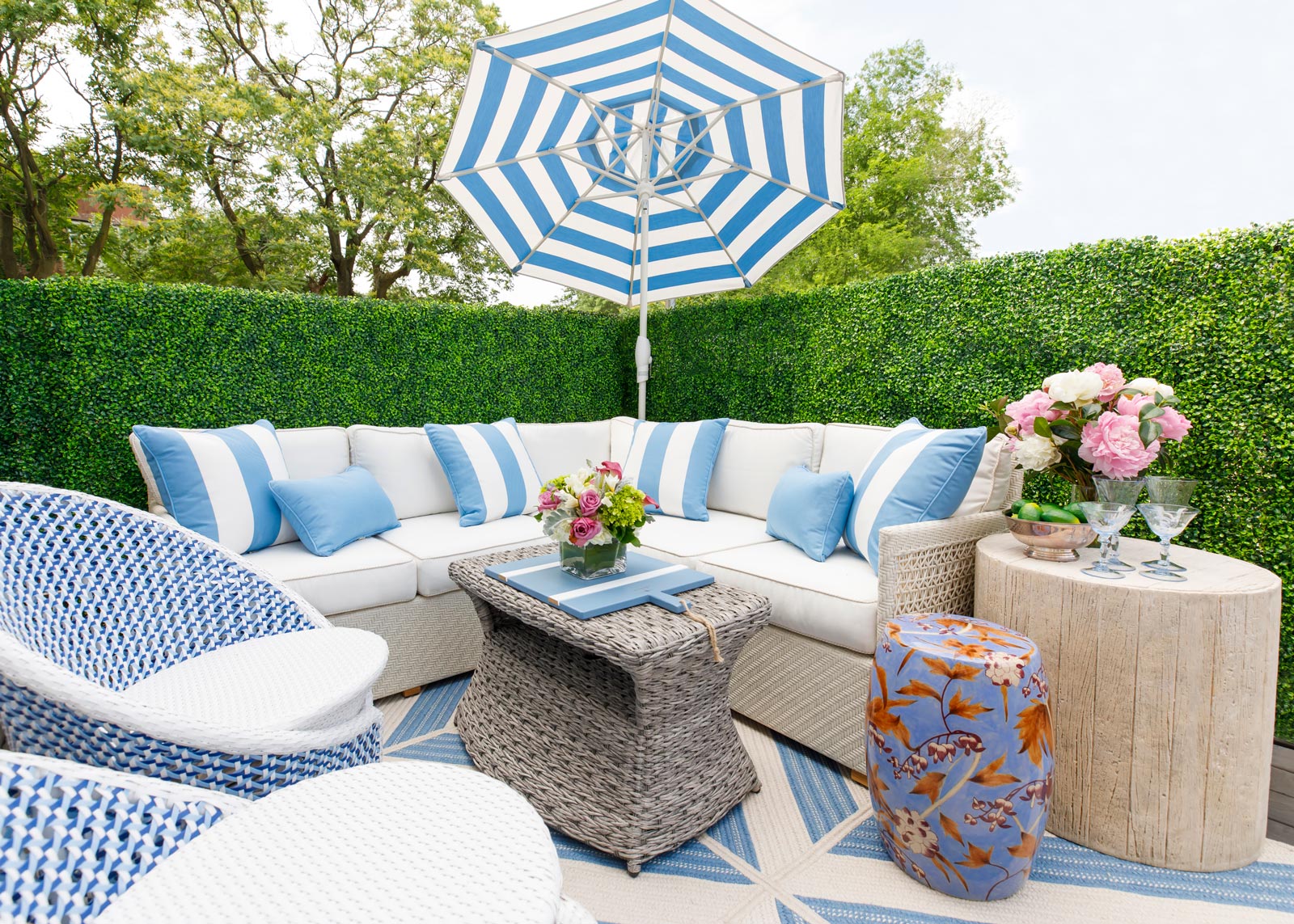 Matchy-matchy furniture is fine, but you should add items that add warmth and add that unexpected element. This table was the perfect solution! It feels completely natural in an outdoor space while adding a different feel.
The same can be said true of this GORGEOUS Linguard accent stool. The pop of orange is a stylish surprise and adds a different print in the mix. I'm seriously obsessed with this piece and it's incredibly sturdy!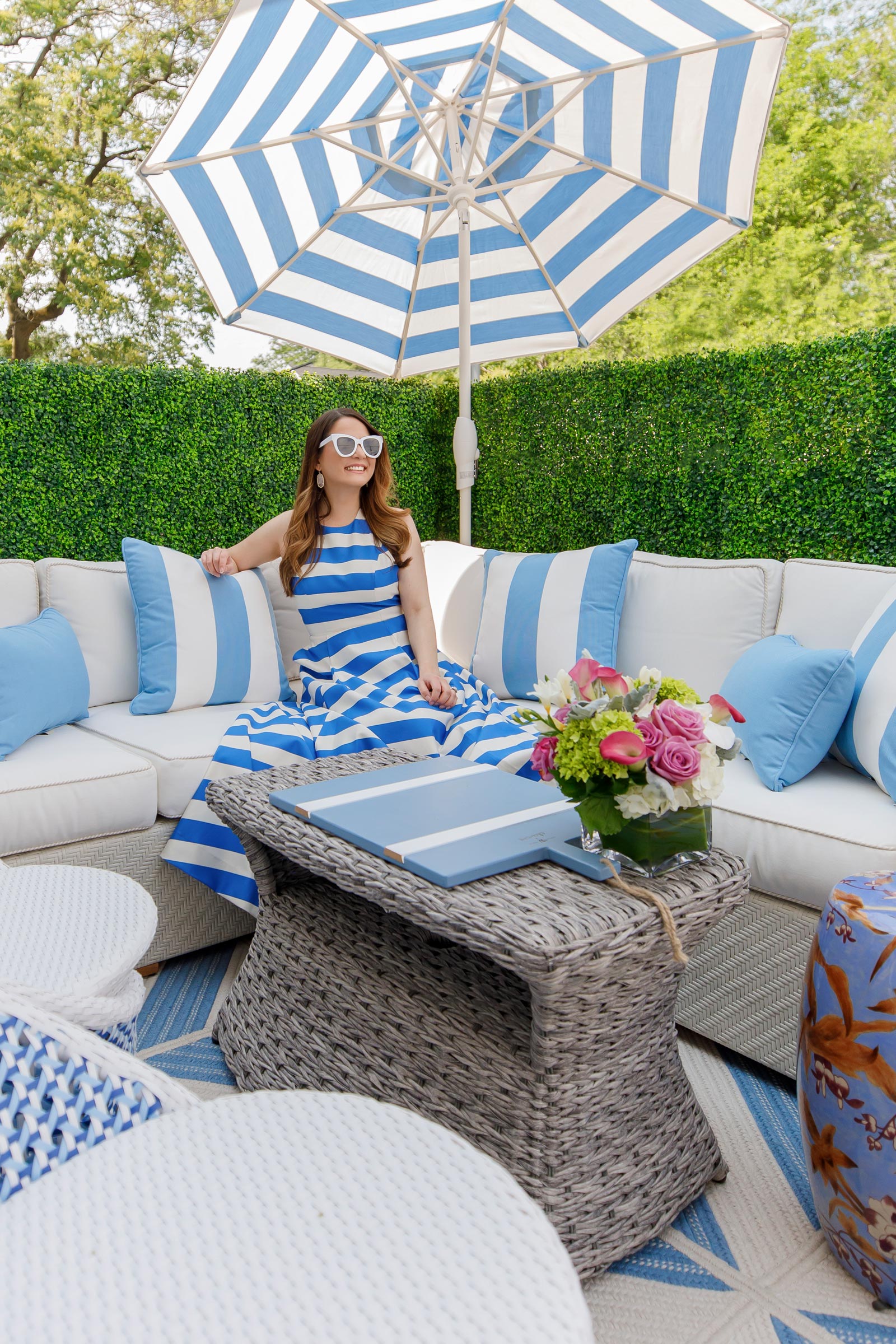 Accent Chairs
Similar to the accent tables, we wanted to add unexpected accent chairs in the mix. Sure, we could have done an entire set of Cadence, but since we have a smaller space, we wanted to add layers of prints and patters. These marvelous Maxen Swivel Chairs were the answer! Yes, they swivel 360 degrees! Most outdoor furniture tends to just say in one place. I love you can lounge in these seats with ease and they're incredibly durable.

Frontgate's Customer Service
Friends, Frontgate has the BEST customer team. After a full year of redesigning countless spaces in our home, I can truly say we're experts on the good, bad, and ugly of home company customer service experiences.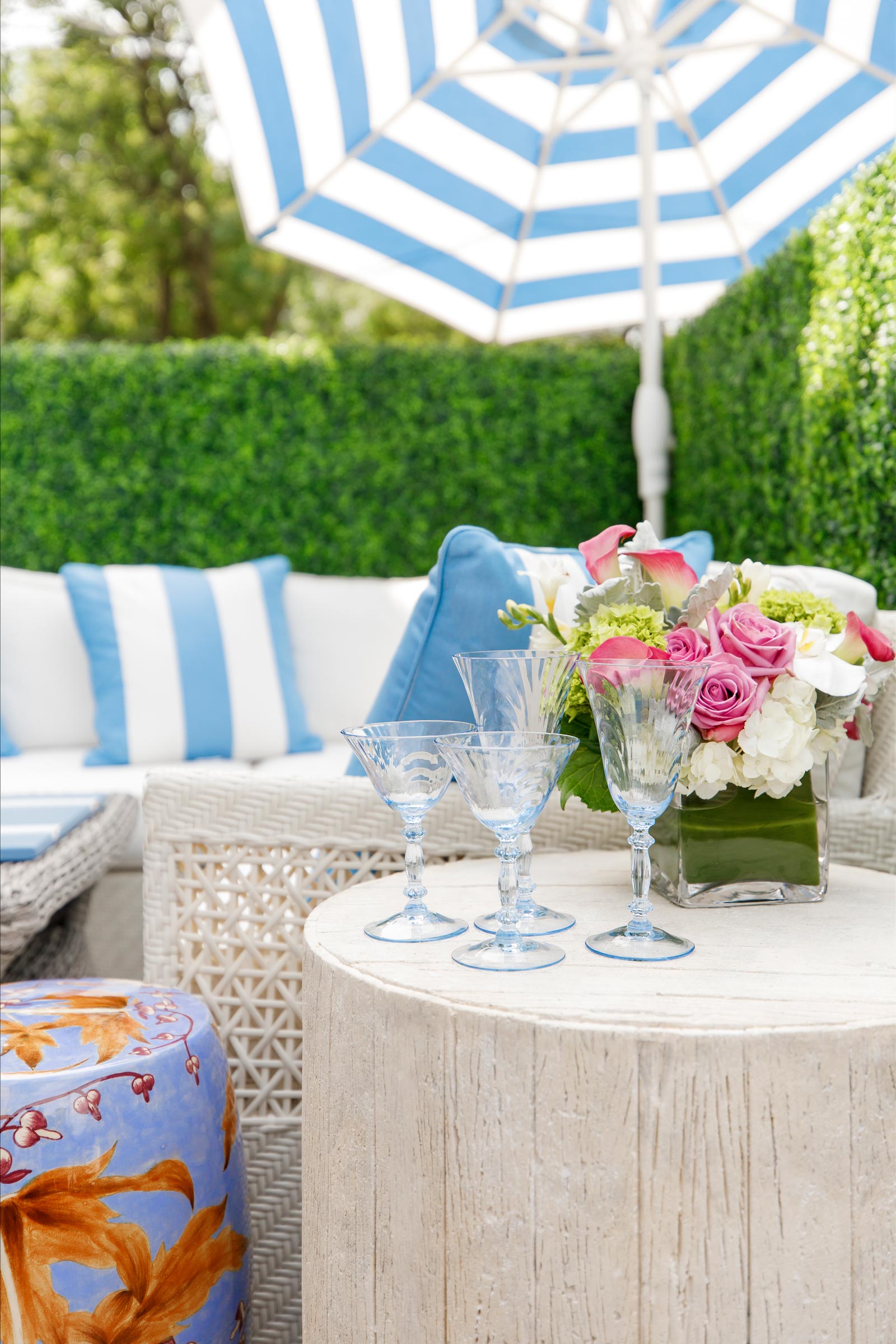 Frontgate easily tops the list of one of the best of all time. We have had a flawless experience with them throughout this entire process. The shipping is FAST for drop ship pieces, the quality of each item is superb, and the fabrics are durable yet chic. I kept waiting for an issue to arise, but time after time – they rose to the occasion (and still do).

With the pandemic, some of the shipments might take more time due to manufacturing and production facilities being closed for a period of time. This is true across the board at all home companies we've purchased from and worked with. Thankfully, we only have a few pieces that are backordered.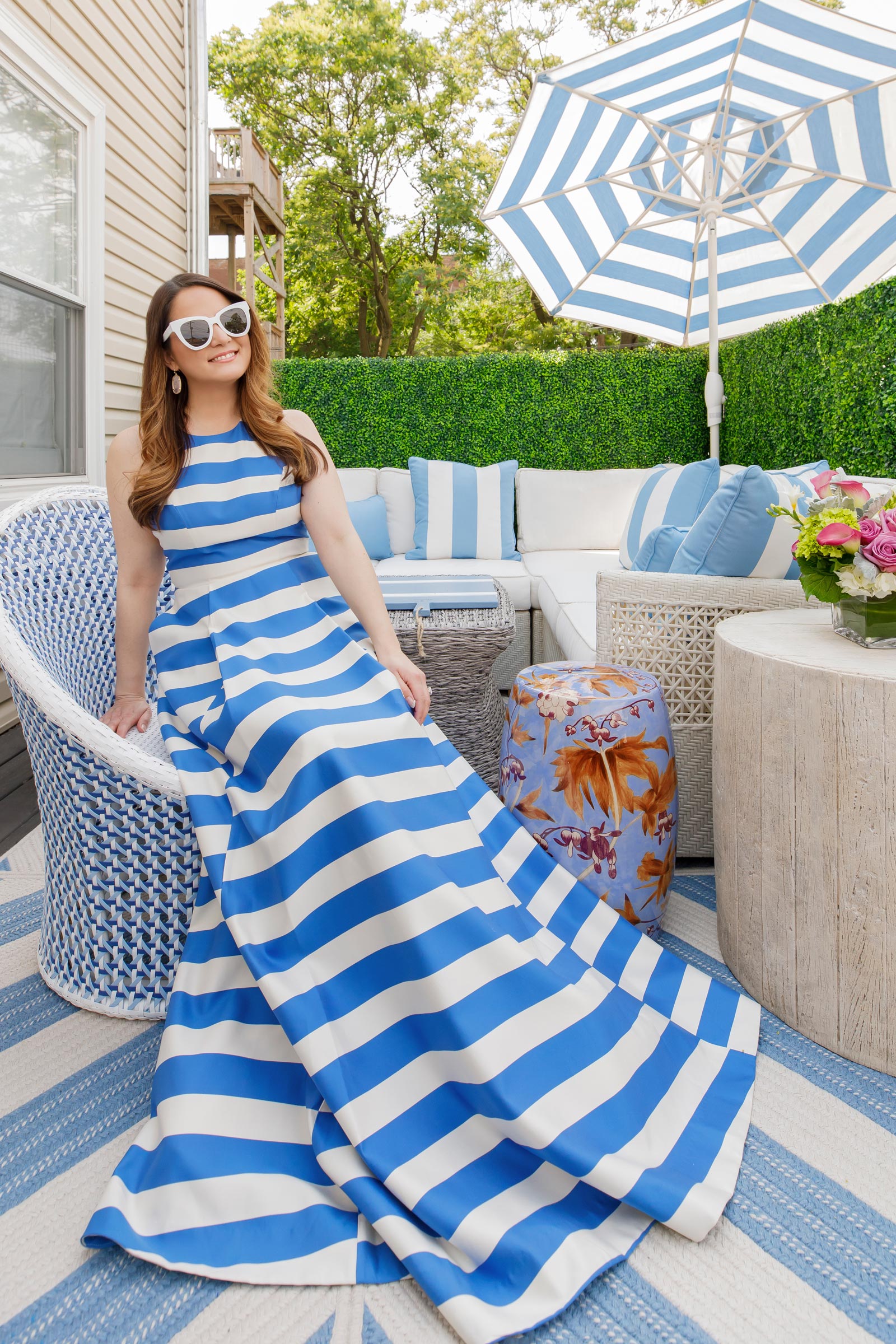 However, most items have shipped quickly. The nice thing is they give you dates on the site for each product so you know if it's available immediately. For those items we're waiting on, they've clearly communicated expected ship dates.
What's Your City Outdoor Inspiration?
How are you designing your outdoor space this season? I highly recommend checking out Frontgate's gorgeous selection of outdoor furniture, accessories, and beyond. You won't regret it!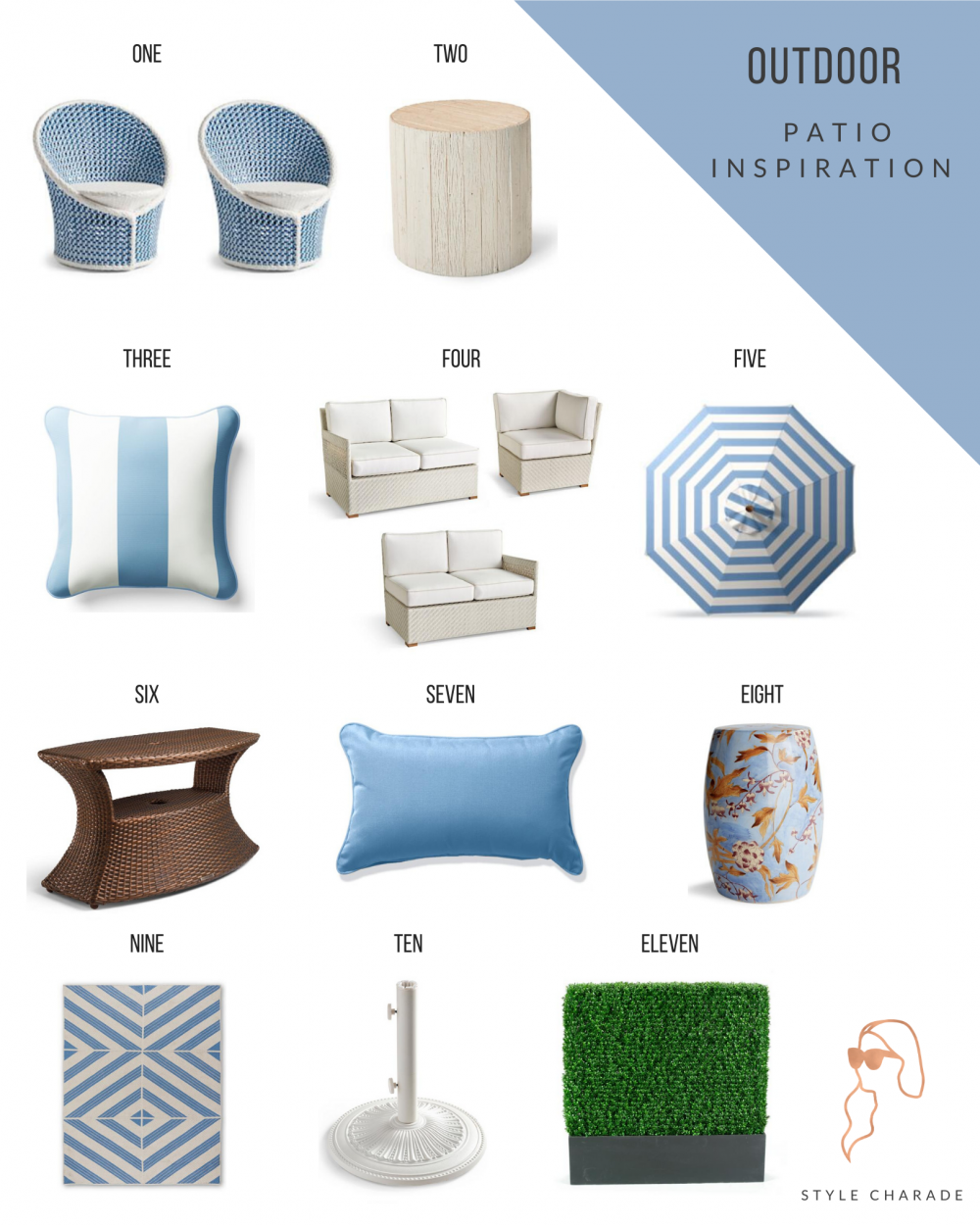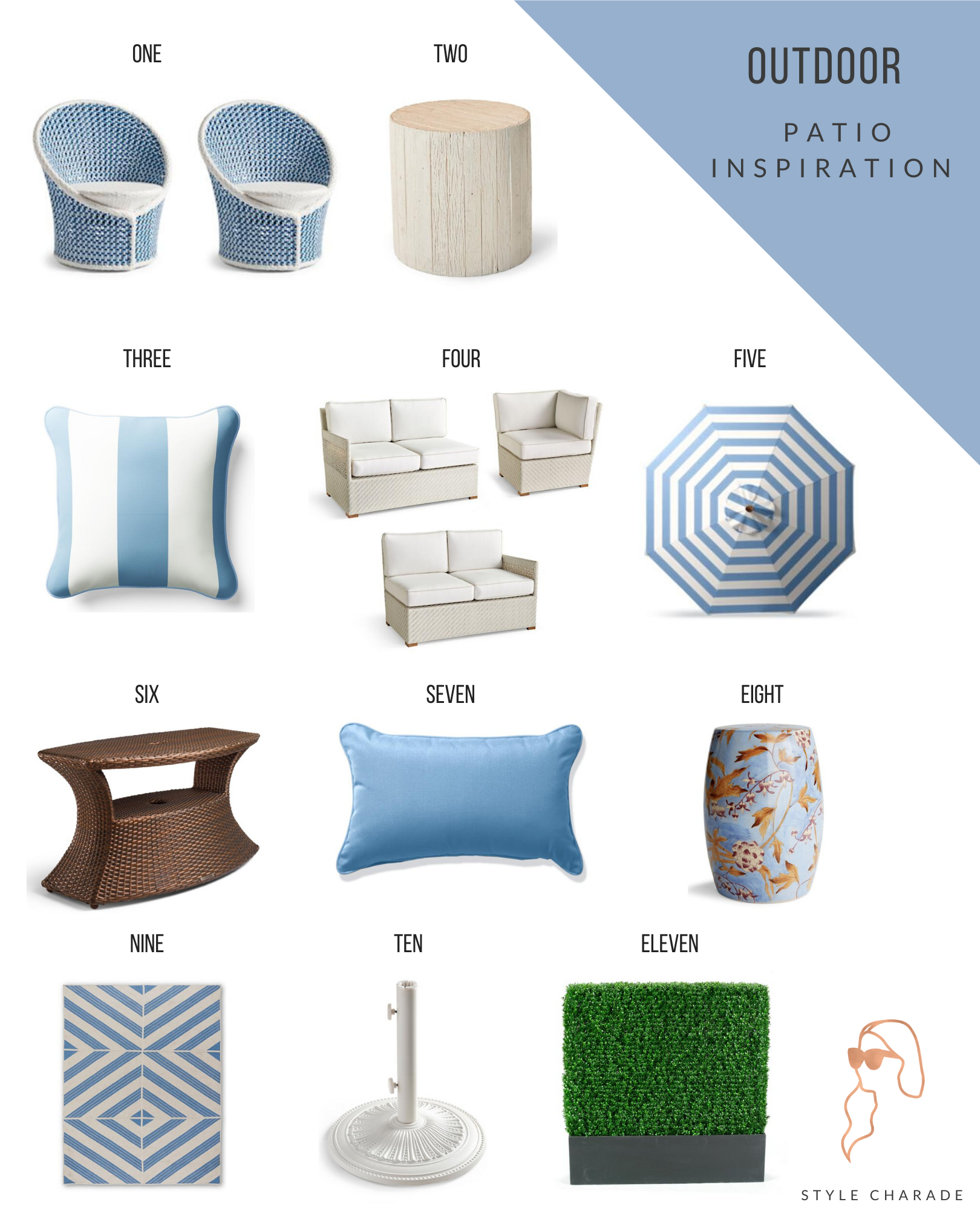 one // two // three // four // five
six // seven // eight // nine // ten // eleven
Thank you to the team at Frontgate for partnering on this blog post. They generously gifted select pieces for our patio. Partnerships like these make Style Charade possible!
Follow Style Charade on Bloglovin'!