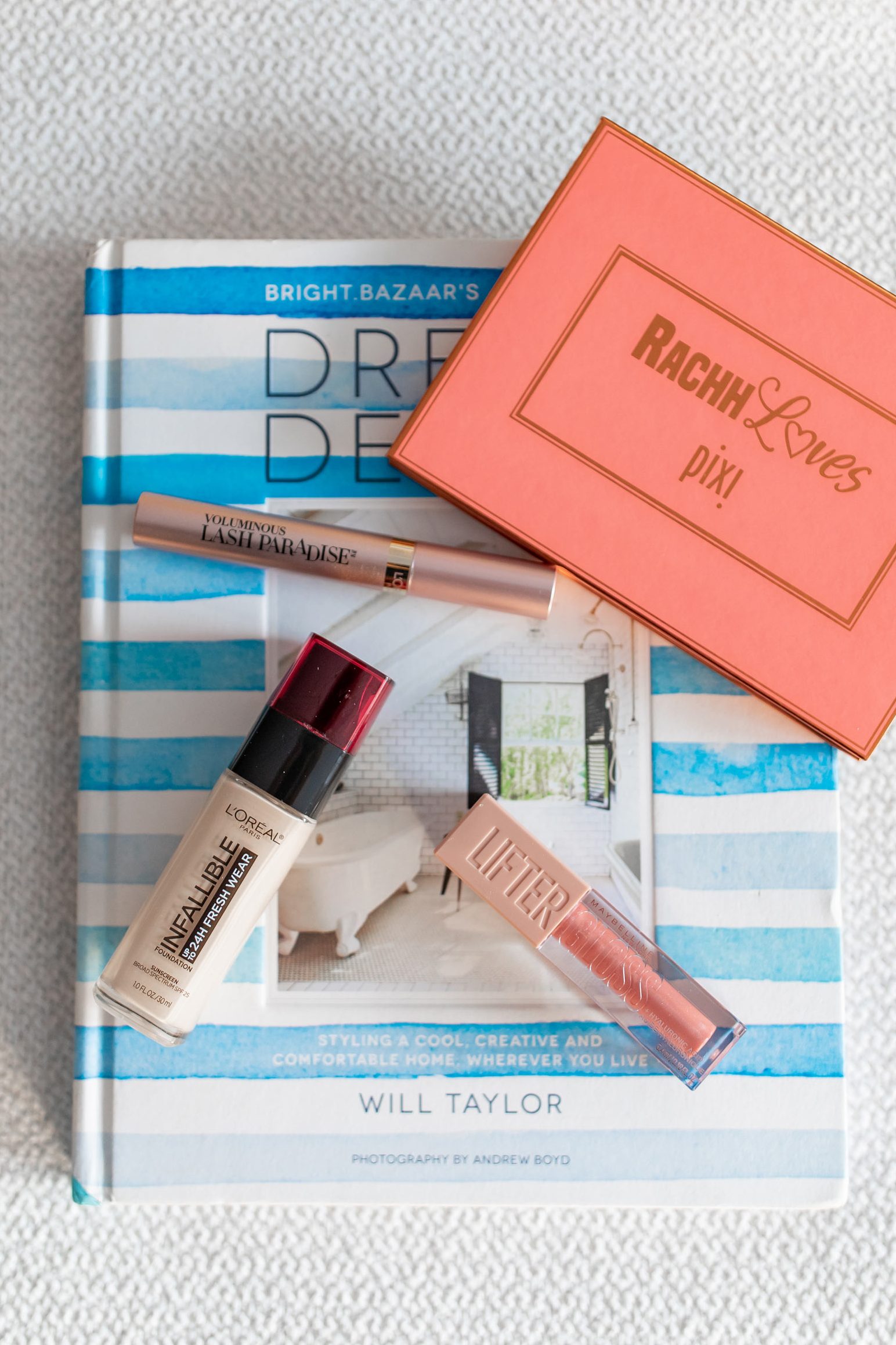 During the pandemic, I've been looking for ways to be more fiscally conservative. Thankfully, we've curbed spending in countless aspects of our life. We're not traveling, we're cooking almost all our meals, and I'm rarely shopping. Well, kind of. 🙂 One easy transition to save money has been incorporating more drugstore makeup products into my routine. After doing this beauty experiment, I wanted to share some of the most surprising and best drugstore makeup must-haves that have completely floored me.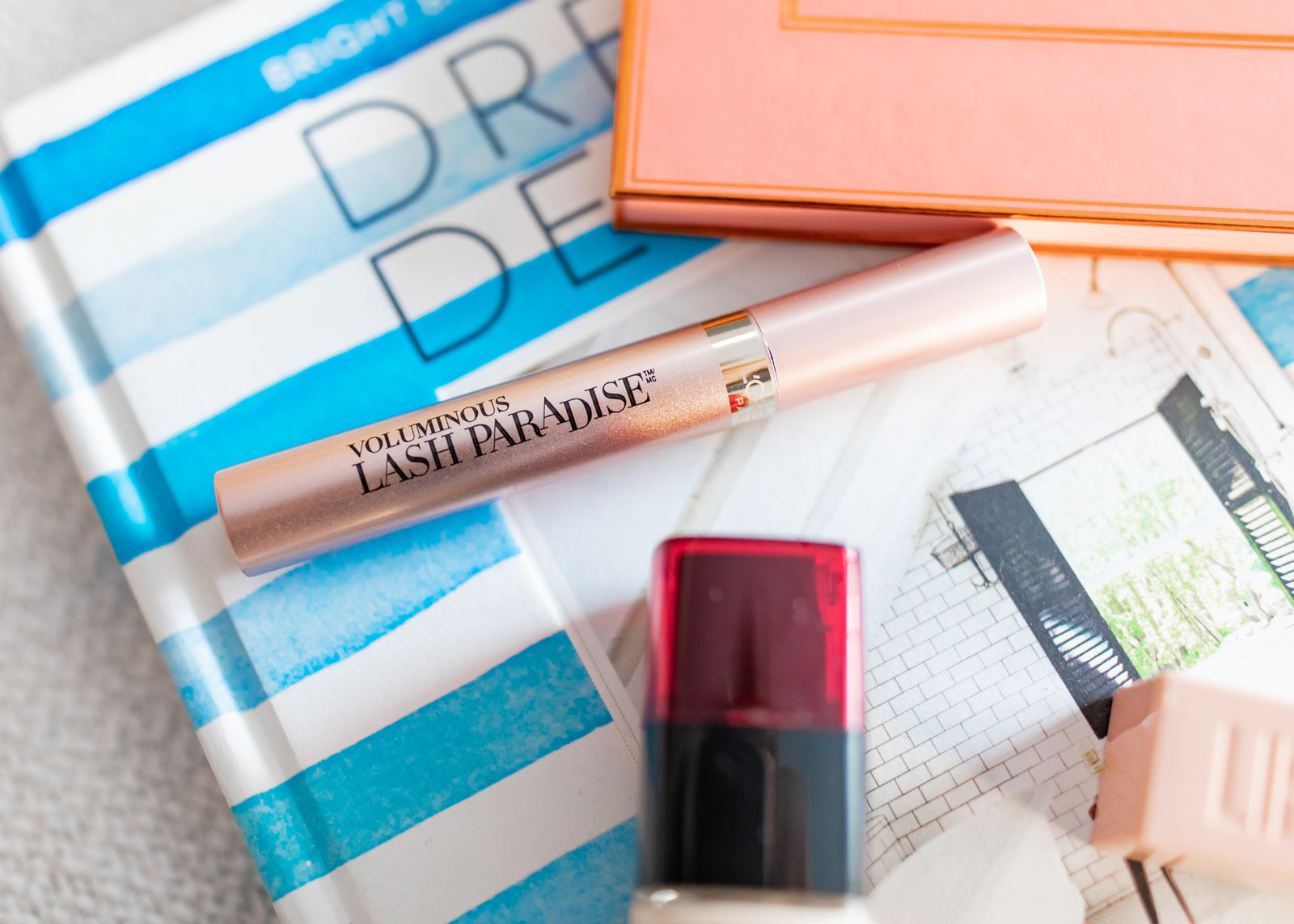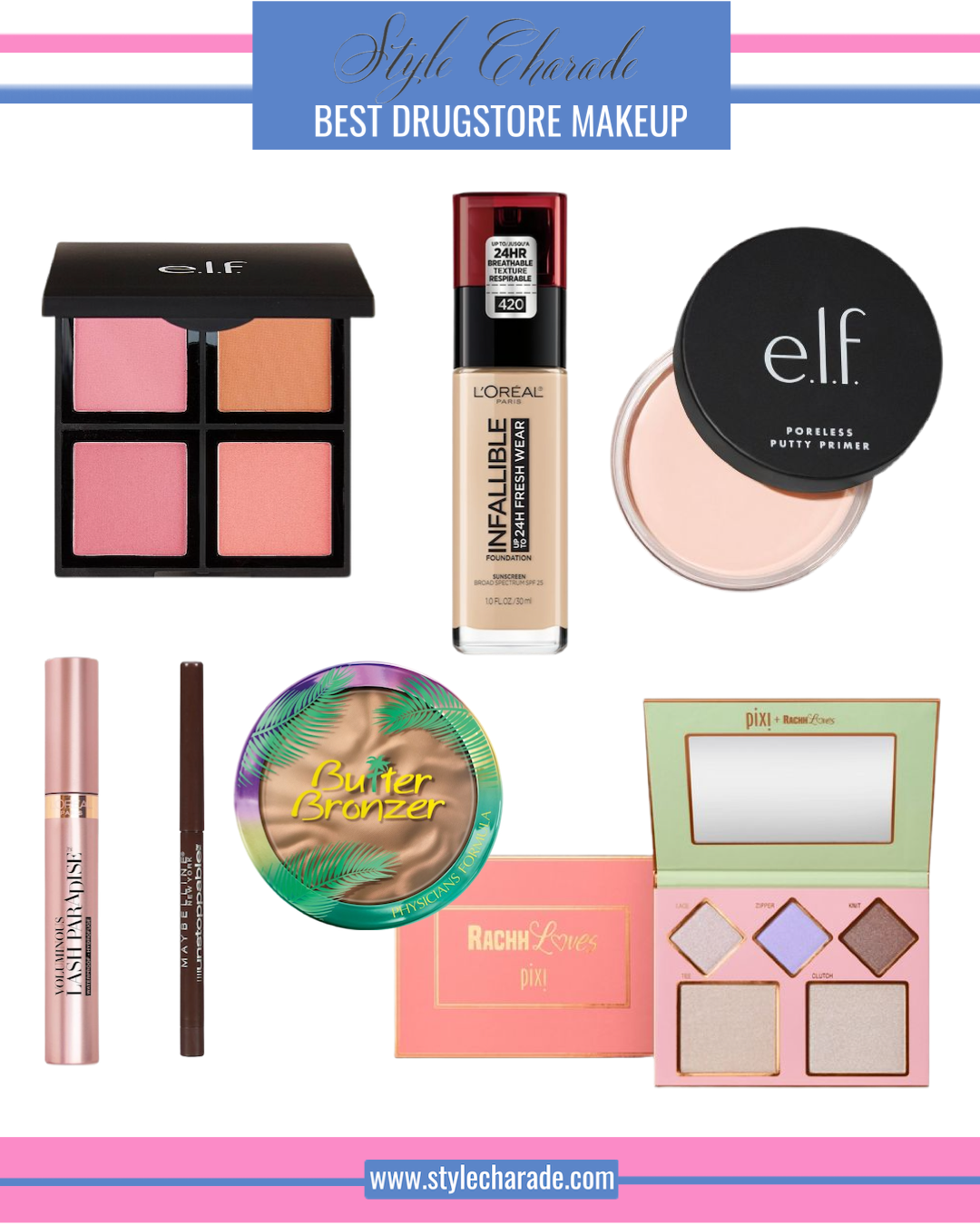 My Makeup Journey
Even though I've been safely social distancing since March, I still enjoy putting on makeup every morning. Foundation, blush, bronzer and mascara just make me feel better. Plus, I truly enjoy my morning and nightly skincare regimens and my daily makeup application routine. Makeup is a simple springboard to feel ready for the day.
At the same time, I have very sensitive and oily skin. I breakout at the drop of the hat. Furthermore, I suffer from adult acne and acne scarring. Therefore, new products make me very wary since my skin tends to freak out whenever I use a different product from the norm. If you fall in the same boat, I get it! And it's even more why I take these blog post recommendations seriously. We can't afford to have major breakouts!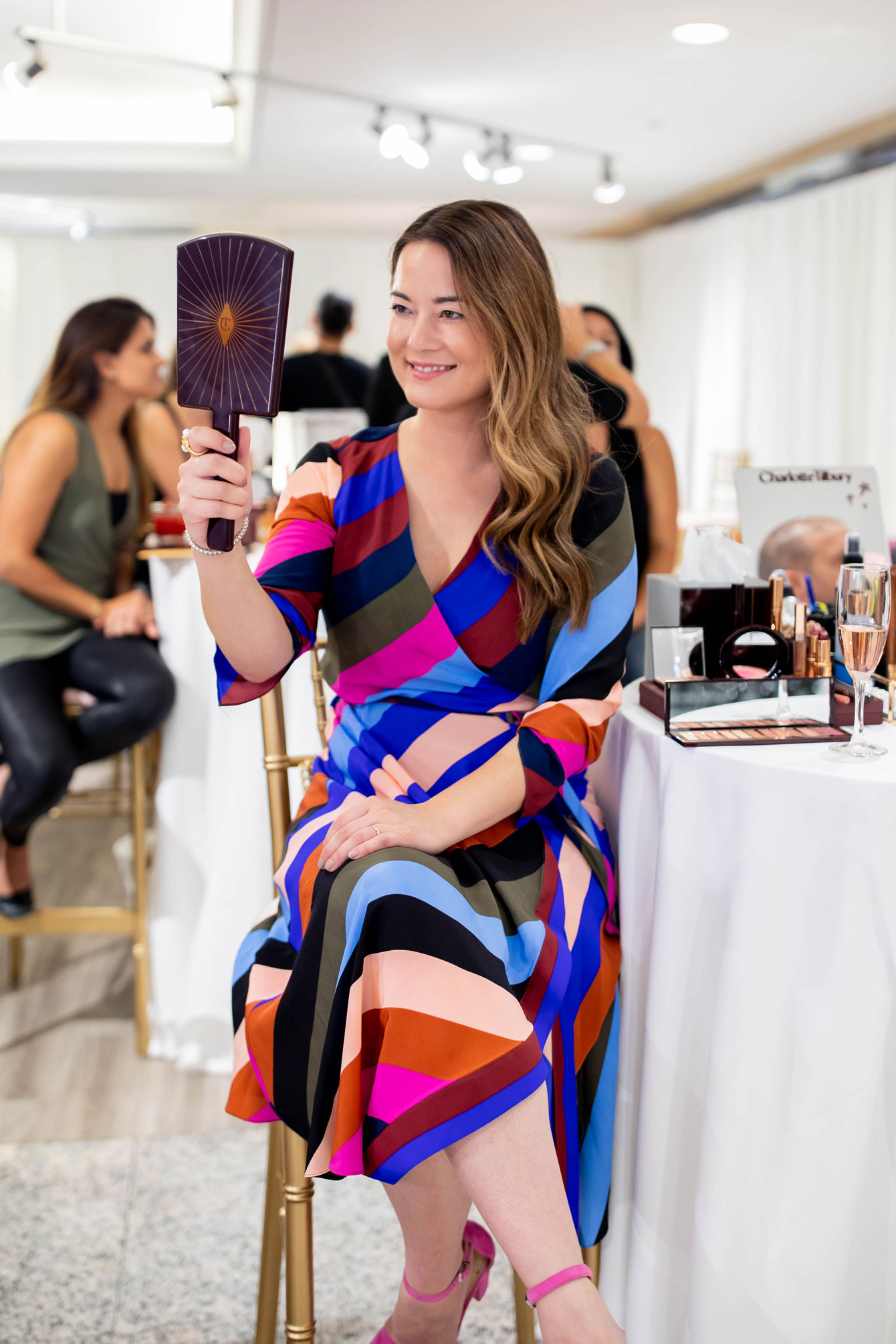 Best Drugstore Makeup
Don't get me wrong, I LOVE prestige makeup. In fact, the photo above was taken last year at the most amazing Charlotte Tilbury event. I still use a ton of her products and other prestige brands.
However, since the pandemic, I've tried to become more cost conscience. Therefore, I've spent the past several months doing a ton of research to find affordable alternates to some categories of makeup. Generally, I wanted to find best-in-class items that could compete (or beat) their luxury counterparts.
To be honest, I don't trust "best of beauty" awards. After working in PR for nearly two decades, I know the awards tend to be 99.9% advertisers of magazines and media groups. In other words, huge beauty companies pay for ads in the magazine or outlets, and it's an unwritten (and sometimes written) rule they get top billing in the awards. Furthermore, it's hard to trust beauty reviews on websites since many companies fake their pages and reviews altogether. Check out this NY Mag article for more on the topic.
So, how do I vet my drugstore product selections? Well…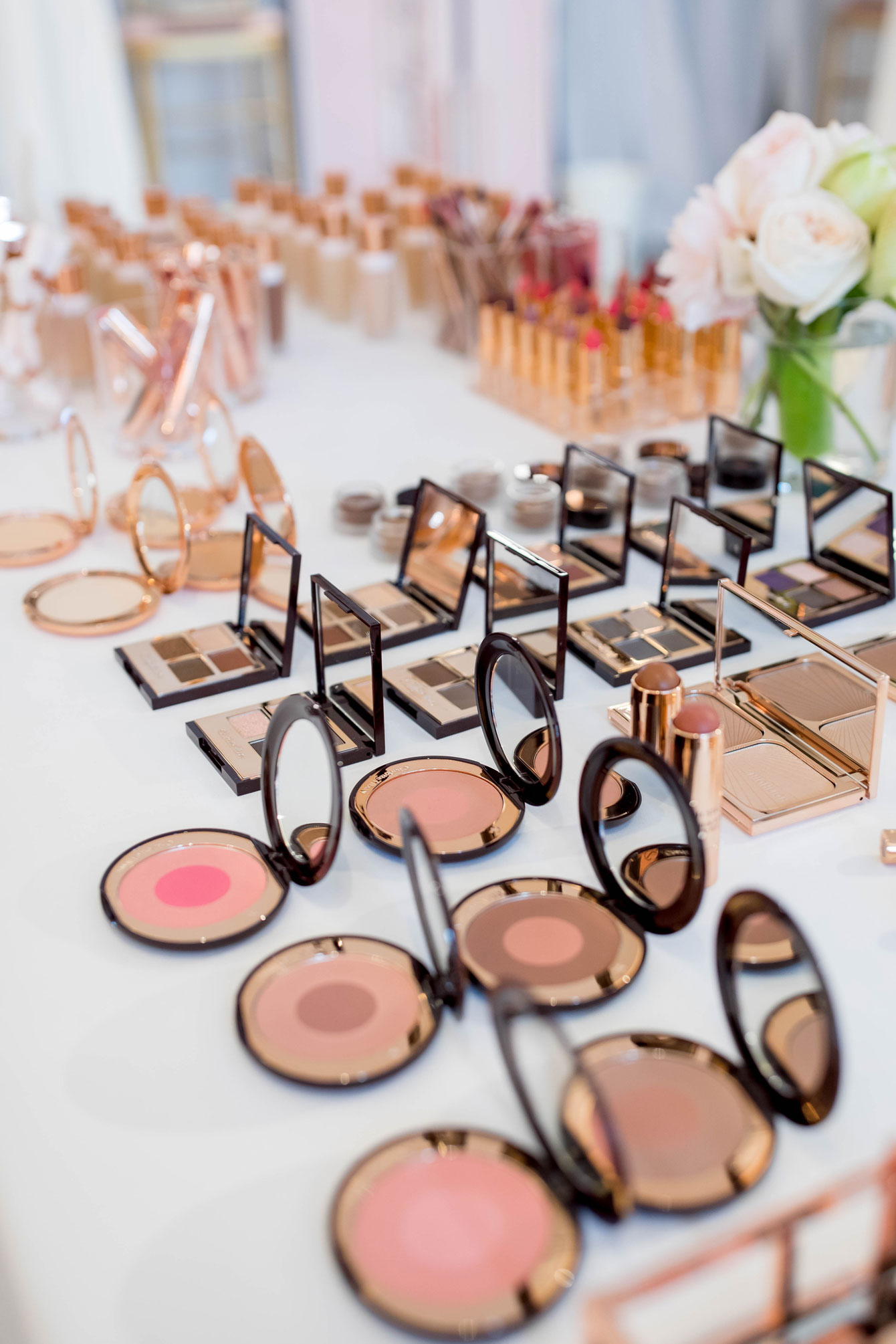 Beauty YouTubers
Yes! My starting point was beauty YouTubers. Specifically, there are two drugstore beauty vloggers I fully trust when it comes to affordable finds. My favorites are Allie Glines and Taylor Wynn. I also adore Michele Wang, but she specializes in luxury beauty brands (still worth a follow, though!).
Allie and Taylor speak their minds. They don't give perfect ratings of brands or products, they are transparent about PR gifting, and they stick with certain items because they work.
In particular, Allie has been doing a lot of posts about playing with makeup she already owns and loves. One of her recent videos, Makeup I Always Get Compliments On, is a personal favorite. Another, Full Face of NOTHING New, is another great example of items that she just adores.
In terms of Taylor, she is the queen of foundations. Her Foundation Friday series have been happening forever, and she goes to great lengths to showcase what she thinks about a product (i.e. flash and wear tests, indoor/outdoor videos, etc.). Overall, I trust Taylor implicitly when it comes to her foundation feedback.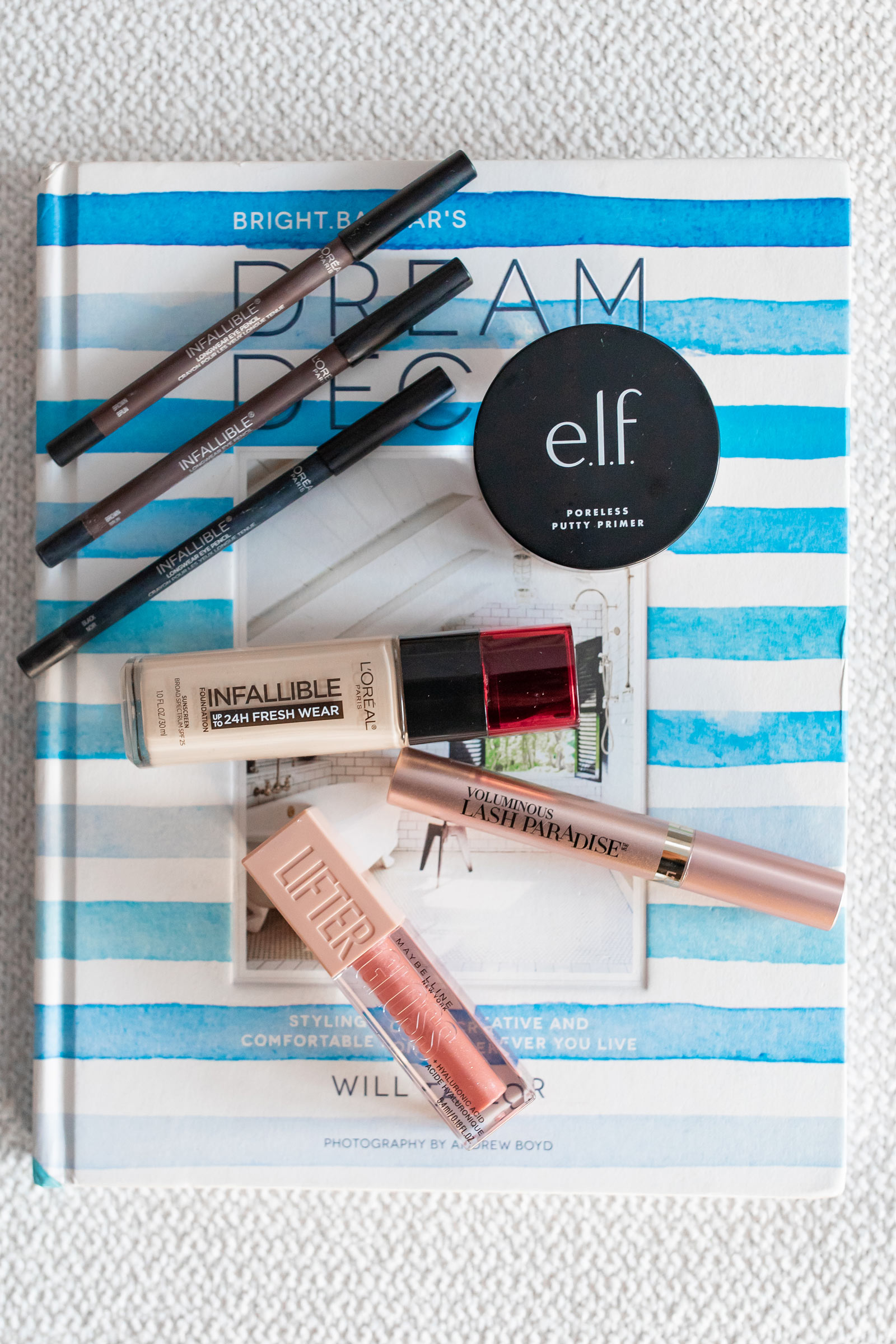 Best Drugstore Beauty Products
Without further ado, here are my current drugstore makeup must-haves! Keep in mind, I've been using these items for months, and in many cases – years. As such, I can truly attest to the quality and caliber of each item.
As always, it's important to evaluate your skin type. I have combination skin that airs more on the oily side. In some cases, theses products won't work as well on you. Therefore, I hope this feedback gives you some great background on what to use.
E.l.f Poreless Putty Primer
The best dupe I've found for Tatcha's Silk Canvas Primer? Elf's Poreless Putty Primer. For $8, the primer smoothes out the skin and creates the perfect canvas for foundation and other makeup products. Keep in mind, Elf has three different primers, so be sure to purchase the right one.
L'Oreal Paris Infallible 24 Hr Fresh Wear Foundation
If you buy one thing from this list, start with this foundation. It's full coverage, long-wearing, long-lasting, completely buildable, and it melts into the skin. Since I have oily skin, I love the matte finish.
It doesn't oxidize or crease easily, and the product really looks like your skin, but better. Additionally, this foundation is transfer-resistant (talk about helpful when it comes to wearing face masks!).
UPDATE: I am still using this foundation in 2021. The formula is so fabulous, and I consistently incorporate it into my makeup routine. I've found it especially pairs nicely when I use the E.l.f. Poreless Putty Primer beforehand – especially in my t-zone and the center of my face.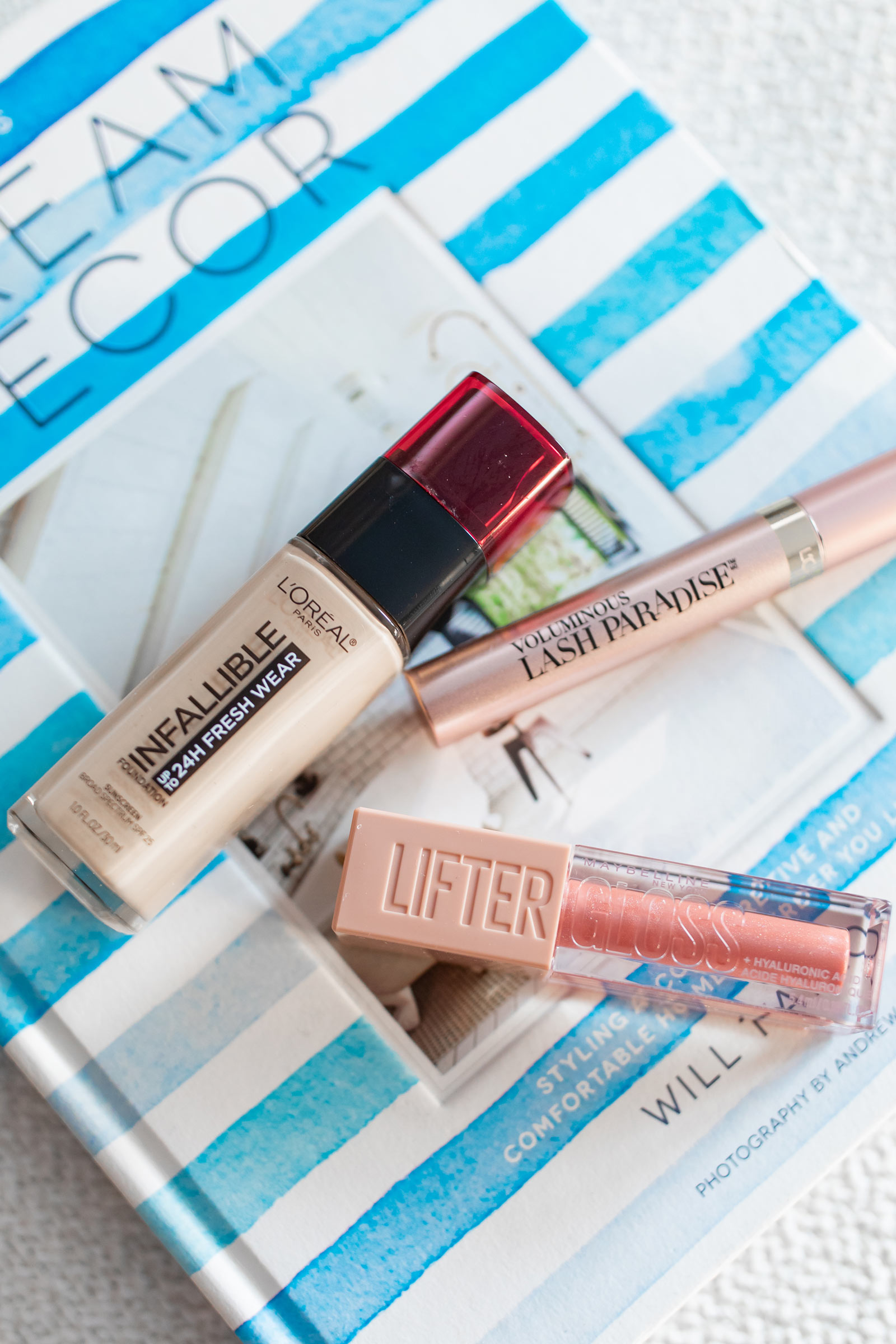 After applying the foundation over primer, it feels breathable and lightweight. Best of all, for me, it covers my acne scars and blemishes. Pro tip: apply the foundation with a brush (I use this one). Again, the product buildable, so you can add more as needed. After it's applied, I use a beautyblender to pat everything in and to make sure there aren't any brush stroke marks. Last, I apply a translucent power to set the foundation in place.
I wear the shade 420 True Beige, and the foundation retails for $11.99 for 1 fluid ounce (which is standard for most liquid foundations). Compared with my other favorite foundation, this is a steal! Highly, highly recommended.
Physicians Formula Butter Bronzer
"Like butter." That's what came to mind to describe this bronzer, haha! During the year, bronzer is an easy way to add a soft glow to your skin. Physicians Formula Butter Bronzer has nearly impeccable customer ratings – and for good reason! Thankfully, it's only $14, and a little goes a long way!
L'Oreal Paris Voluminous Lash Paradise
Mascara makes me happy! 🙂 And this one is positively perfect! Meet L'Oreal Paris Voluminous Lash Paradise. Overall, the mascara doesn't flake and creates great volume. Unlike other mascaras, you can also use it on both your top and bottom lashes. Additionally, it does a great job of lengthening individual lashes in a wonderful way.
Like all mascaras, please wait a few days before judging the final result! Upon the first two applications, the mascara is "good." However, after a few days of the bottle being open, the formula dries out only slightly, which makes it the perfect consistency! This happens to all mascaras, and it's truly the test of whether it's great or not.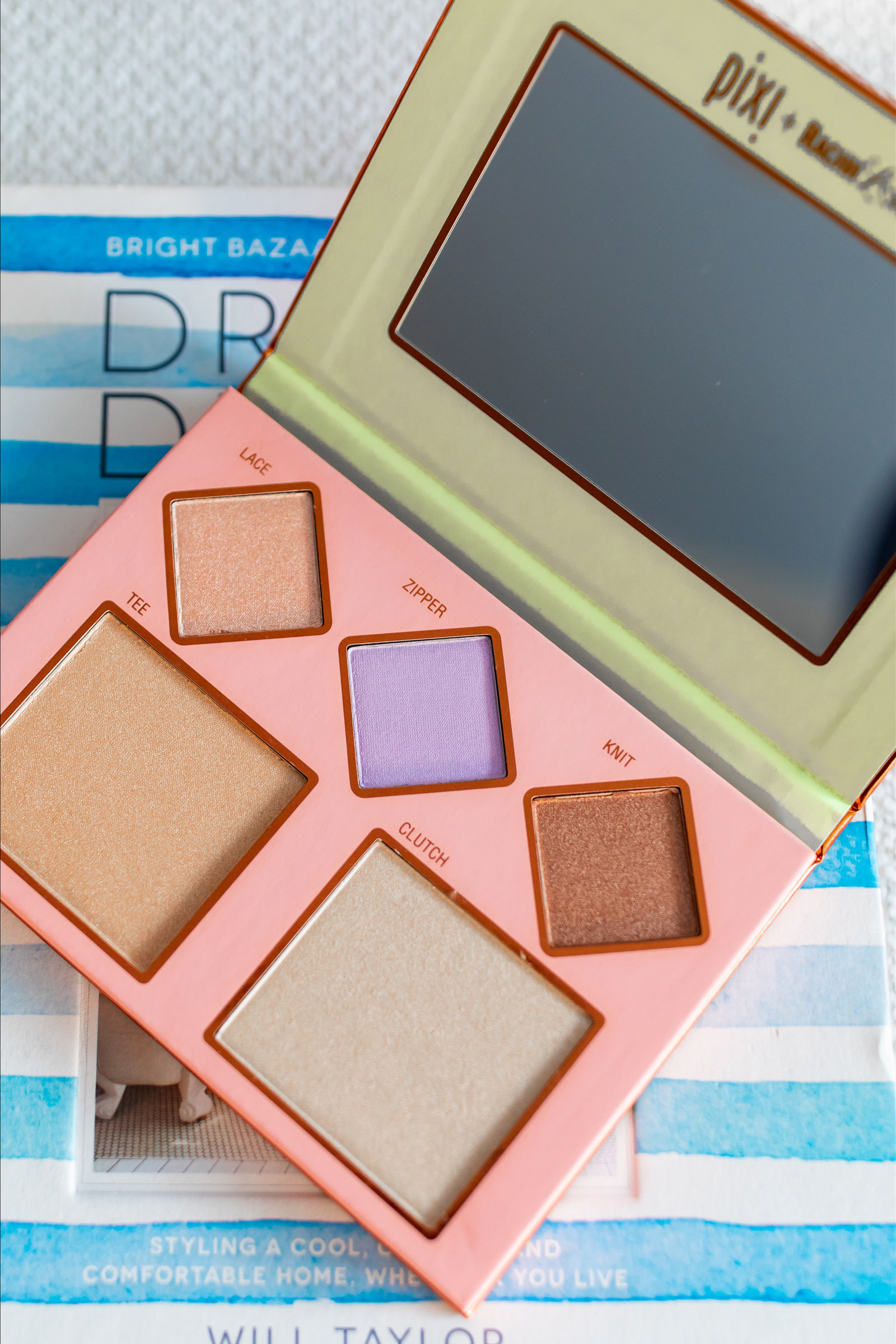 Pixi + Rachh Loves Highlighter Palette
2020 has been the year of highlighter! In fact, I strongly believe highlighter has been my ultimate secret weapon to look presentable on Zoom. When I'm not using this highlighter in champagne pop, I love the Pixi + Rachh Loves palette. It retails for only $24, and includes a great array of colors for your eyes and cheeks. A little goes a long way, and I love it can be used on cheeks, eyes, etc.
E.L.F. Blush Palette
In the past, I've struggled to find a blush that works with my skin tone. Plus, blush is the first thing to go in terms of staying on my face throughout the day. This blush palette has been incredibly versatile for all seasons. I truly believe the shades work for all year, and the price is perfect!
Maybelline Unstoppable Eyeliner
Eyeliner is incredibly underrated. When I'm looking to make my eyes pop, I reach for Maybelline's Unstoppable Eyeliner in Onyx (black) and Espresso (dark brown). For daytime, I opt for Espresso for a lighter look. For night, I love the dark black hue of the Onyx.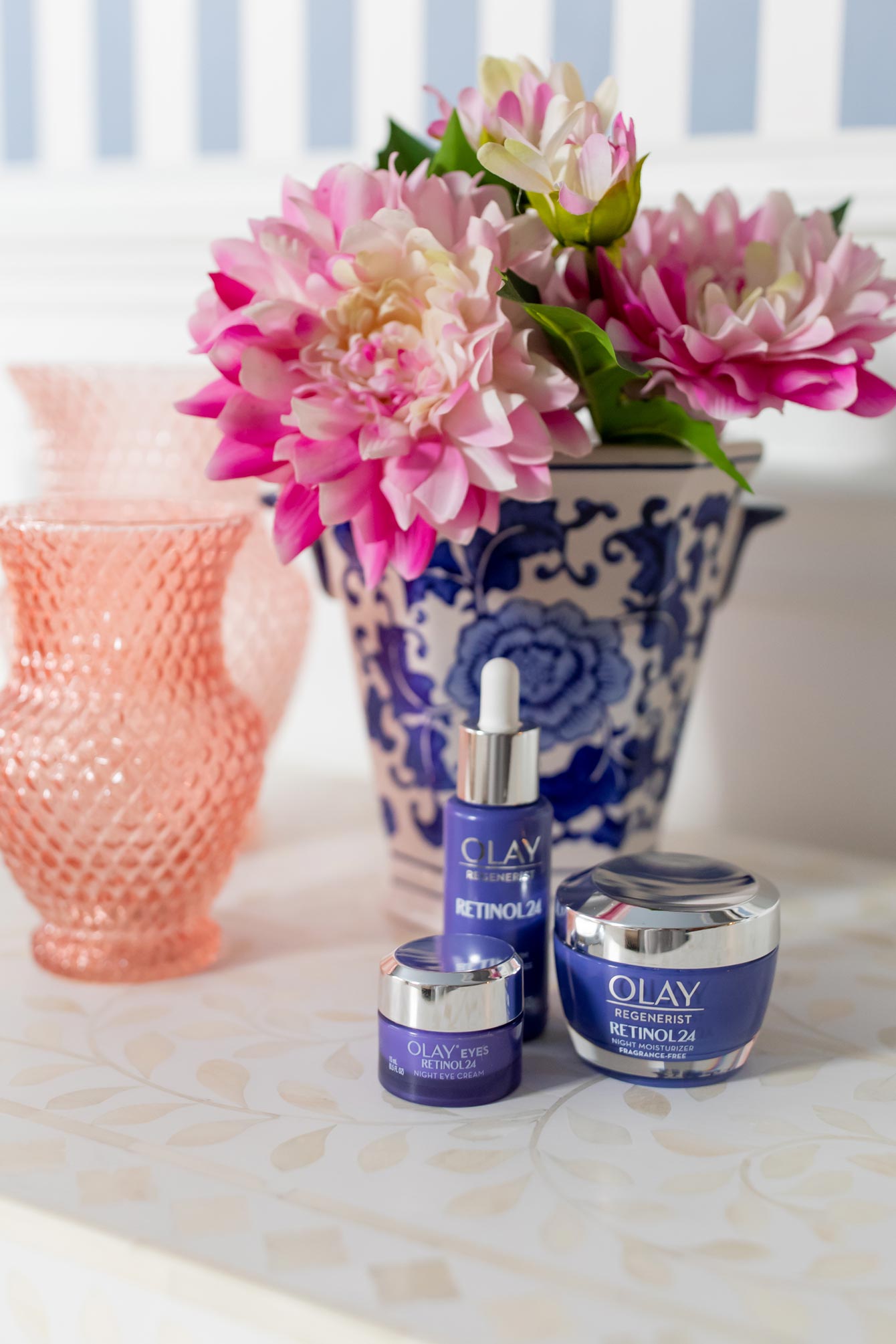 Honorable Mentions
Maybelline Lifter Gloss in Moon
Overall, this gloss almost made my top list but it's a newer product in the market. I've heard amazing things about all of the shades, but my all-time fave is Moon (the perfect pink). It reminds me so much of Fenty's Fussy Gloss in Fussy but has a bit more metallic sheen to it (plus hyaluronic acid). Best of all, it retails under $7. Fenty retails for $19, so it's a big cost savings. So good! Formula-wise, it's not too sticky and it stays on for a decent period of time.
Olay Retinol 24
In addition to beauty items, I wanted to share one of my top drugstore skincare finds – the Olay Retinol 24 collection. More than a year ago, I did a detailed review and four-week test of the serum and moisturizer, and eye cream . To my surprise, I genuinely love these products, and I still incorporate them into my nighttime routine.
In Closing
What are your go-to drugstore beauty brands? I'd love to hear more about what you've been loving these days! Drop them in the comments below! Also, let me know if you end up trying any of these products out. I'm confident that you'll love them as much as me!