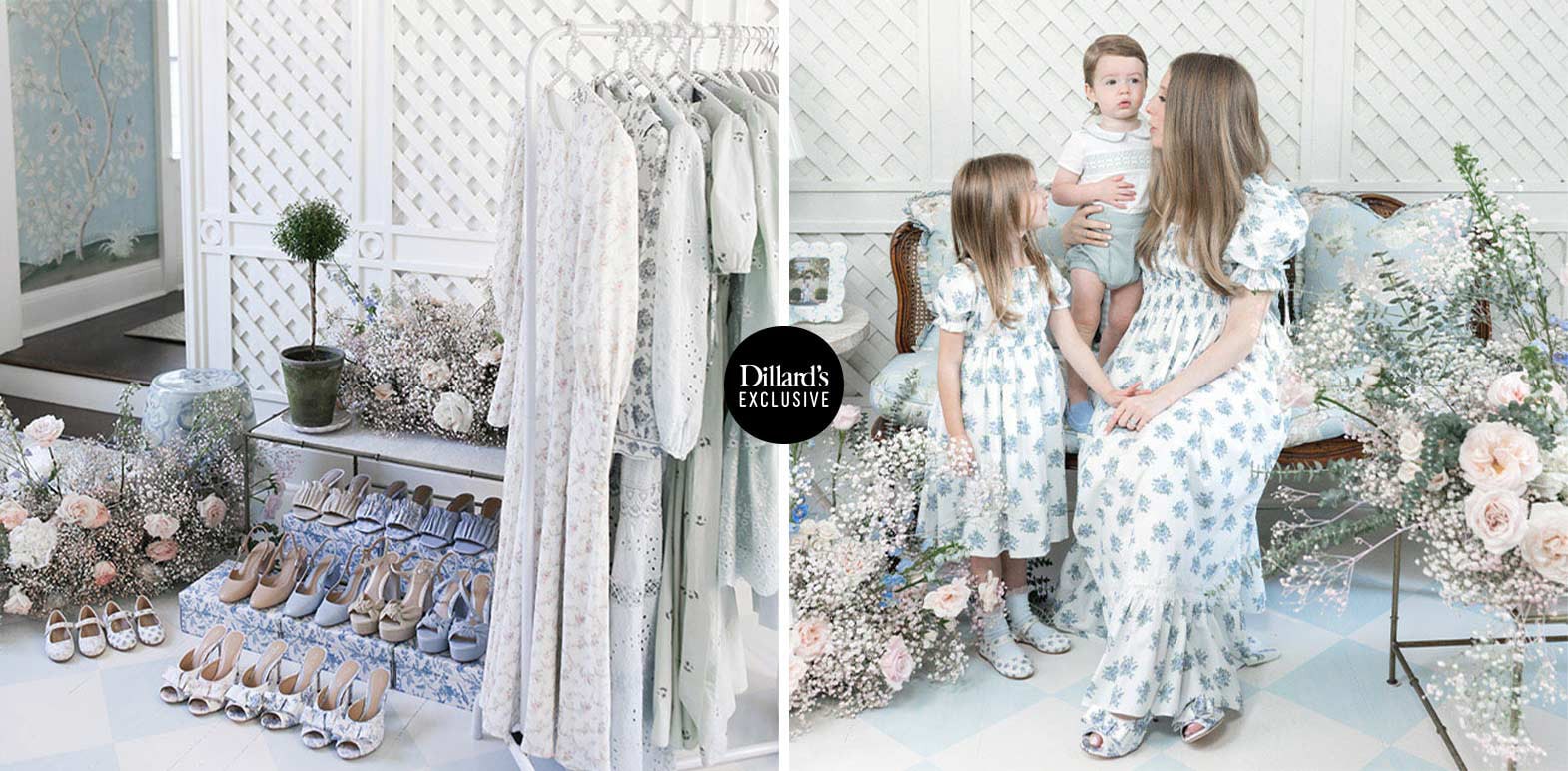 On the heels of the Antonio Melani x Nicola Bathie launch, the brand is releasing a fabulous new collection just in time for spring! Get ready to shop the Antonio Melani x Born on Fifth Dillards Collection – a capsule line of women's apparel, shoes and accessories, kids apparel and accessories, mommy & me matching outfits, swim, and tabletop. Today, I'm so excited to share a preview with you of all of the items so you can make a list of your favorite items and get ready for the big launch on Monday, January 31st on Dillards.com.
Furthermore, I'm sharing fit and size guide tips, along with details on the price points. Remember, you don't need to buy everything! You don't even need to buy anything. However, if you're on the hunt for some fabulous spring styles for your closet or home – the Antonio Melani Born on Fifth Dillards collection will likely be for you.
Born on Fifth Dillards Collection
This marks the second collection for Antonio Melani with Born on Fifth via Dillards. Last year, their debut collaboration launched, and it's exciting to see it come to life yet again! The items are going to be on pre-order and they'll ship once they're ready. They'll definitely be worth the wait. But what can you expect? Here are the main stats.
Born on Fifth Dillards Dresses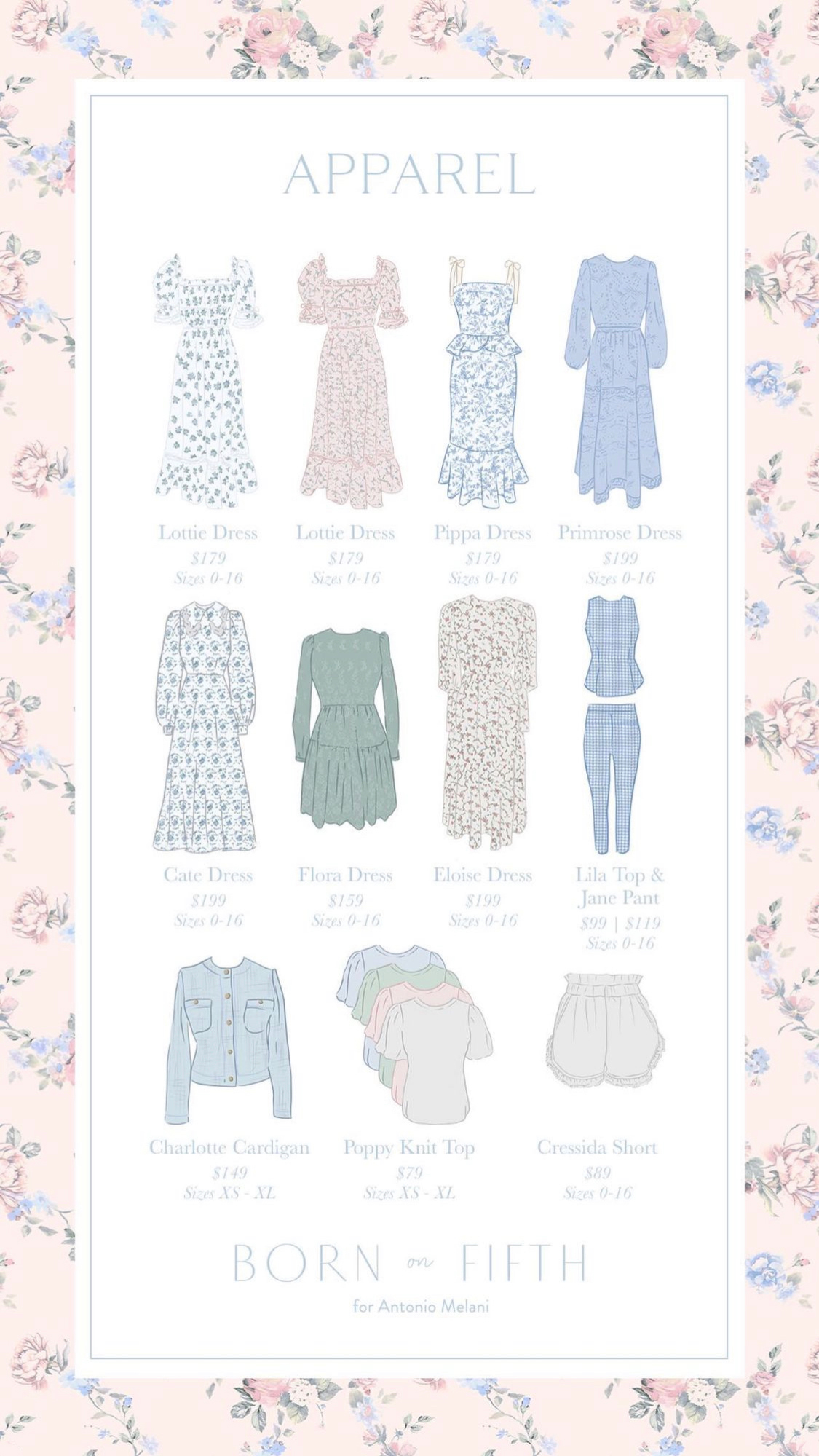 The collection includes seven total dresses, including two with matching mommy & me options. I especially love the Primrose ($199), Lottie ($179) and Pippa Dresses ($179) which are the stars of the show in my humble opinion. The Lottie Dress is a midi length with puff sleeves and ruffle hemline. It comes in two different print options, and the blue and white is my favorite. On the other hand, the Pippa Dress has a peplum waist, bow straps and the most beautiful print.
Every detail of the dress designs are fabulous. I love the feminine details! In terms of sizes, all of the dresses are available in sizes 0-16.

Born on Fifth Dillards Women's Separates
Additionally, there are several stunning separates, including the beautiful blue Charlotte Cardigan ($149), Poppy Knit Top in four colors ($79), the Cresida Shorts ($89), and Lila Top ($99 and Jane Pant in blue gingham ($119). I love how the pieces can mix and match together, and the Cardigan is a wonderful layering piece.
Additionally, I adore the Poppy Knit Top pairs well with the Cressida Short. These are items that would be ideal for a casual weekday outfit or to pick for a spring break vacation.
Antonio Melani Born on Fifth Swim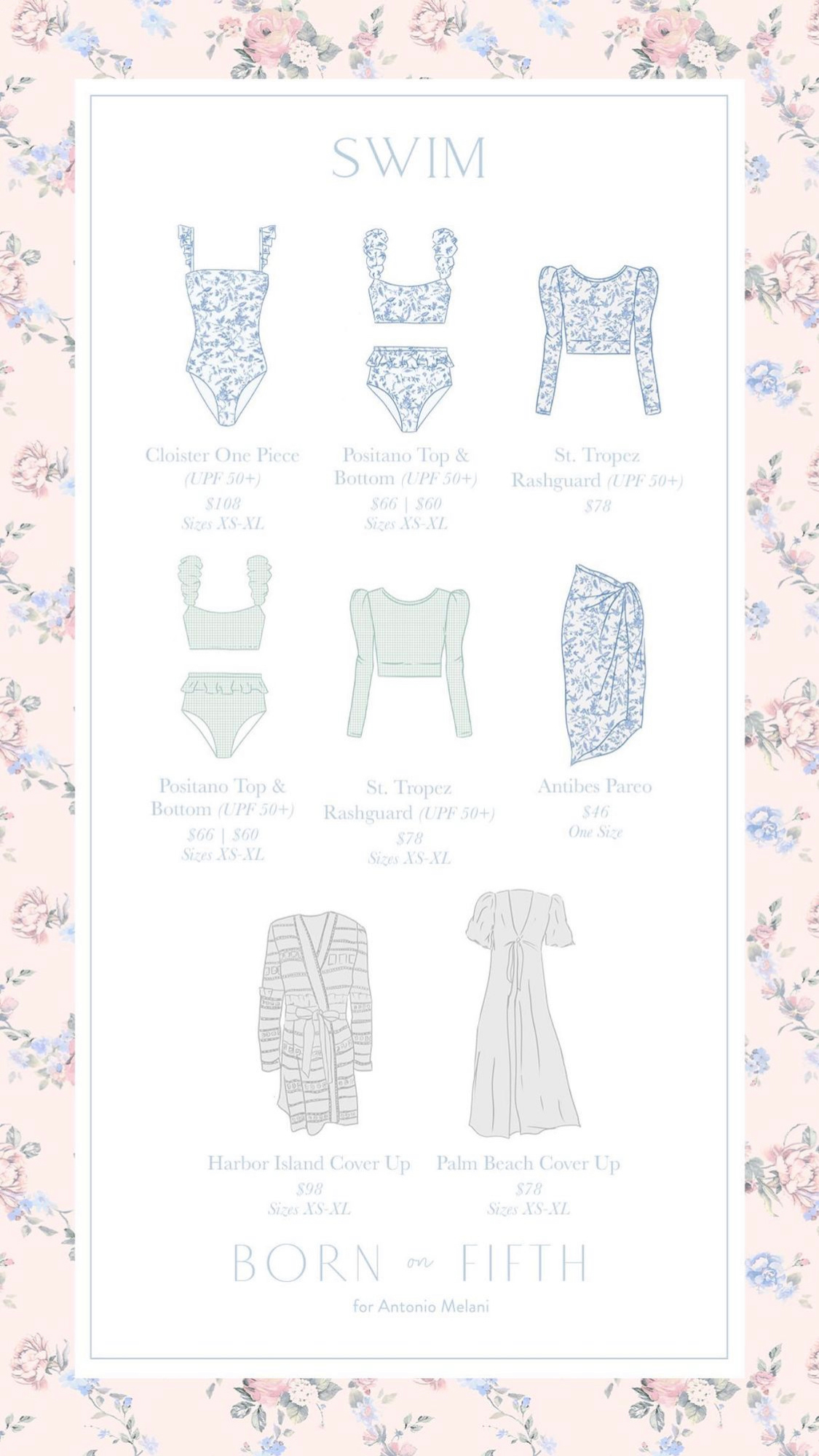 Okay, so in terms of swim, the collection includes two beach cover-ups ($78-$98) and six women's swimsuits, including one rash guard ($78). Most of the swim pieces are made out of fabric with UPF 50+, which is helpful to protect you from the sun. All swim styles will be available in sizes XS-XL.
A few of the swim styles remind me of Agua de Agua Bendita (ADAB), particularly the Antibes Pareo ($46), Cloister One Piece ($108) and Positano Top ($66) & Bottom ($60). However, the price points are much better than ADAB, where you'll pay double, if not triple, the price. The print is a similar vibe, and I also own ADAB's Lavanda floral print pareo and Ajonjoli swimsuit, so it definitely echoes that aesthetic.

Tabletop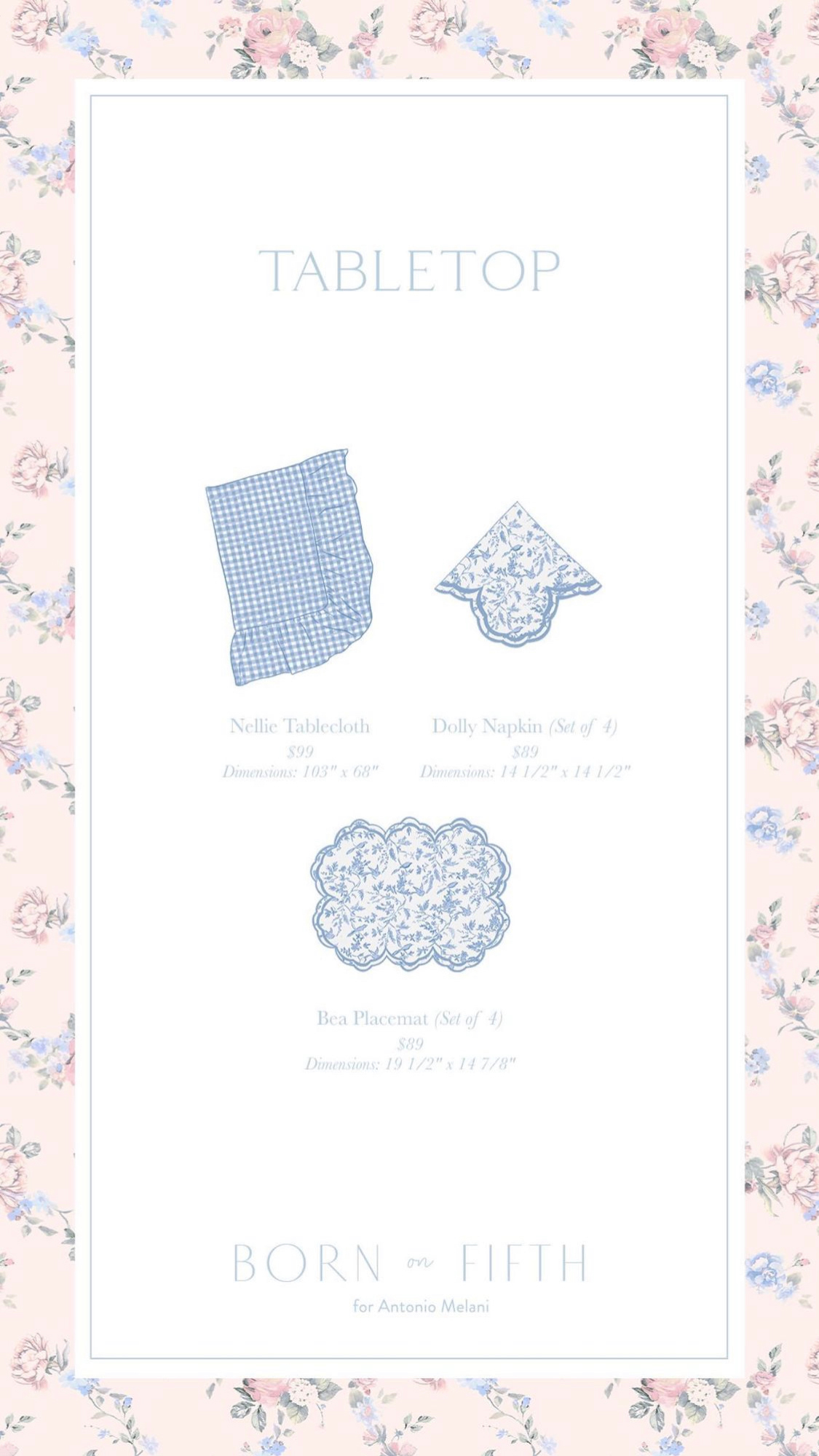 If you follow @BornonFifth, you'll know that founder, Emily, is incredible with interiors. She has a fantastic eye, and I'm so excited to see some home pieces are included in the mix. Check out the 103″ x 68″ Nellie Tabletop in blue gingham ($99), Dolly Napkin ($89 for a set of four), and the Bea Placements ($89 for a set of four). I personally love these items for our home, and I definitely plan to add all three to my cart for spring entertaining.

Antonio Melani Shoes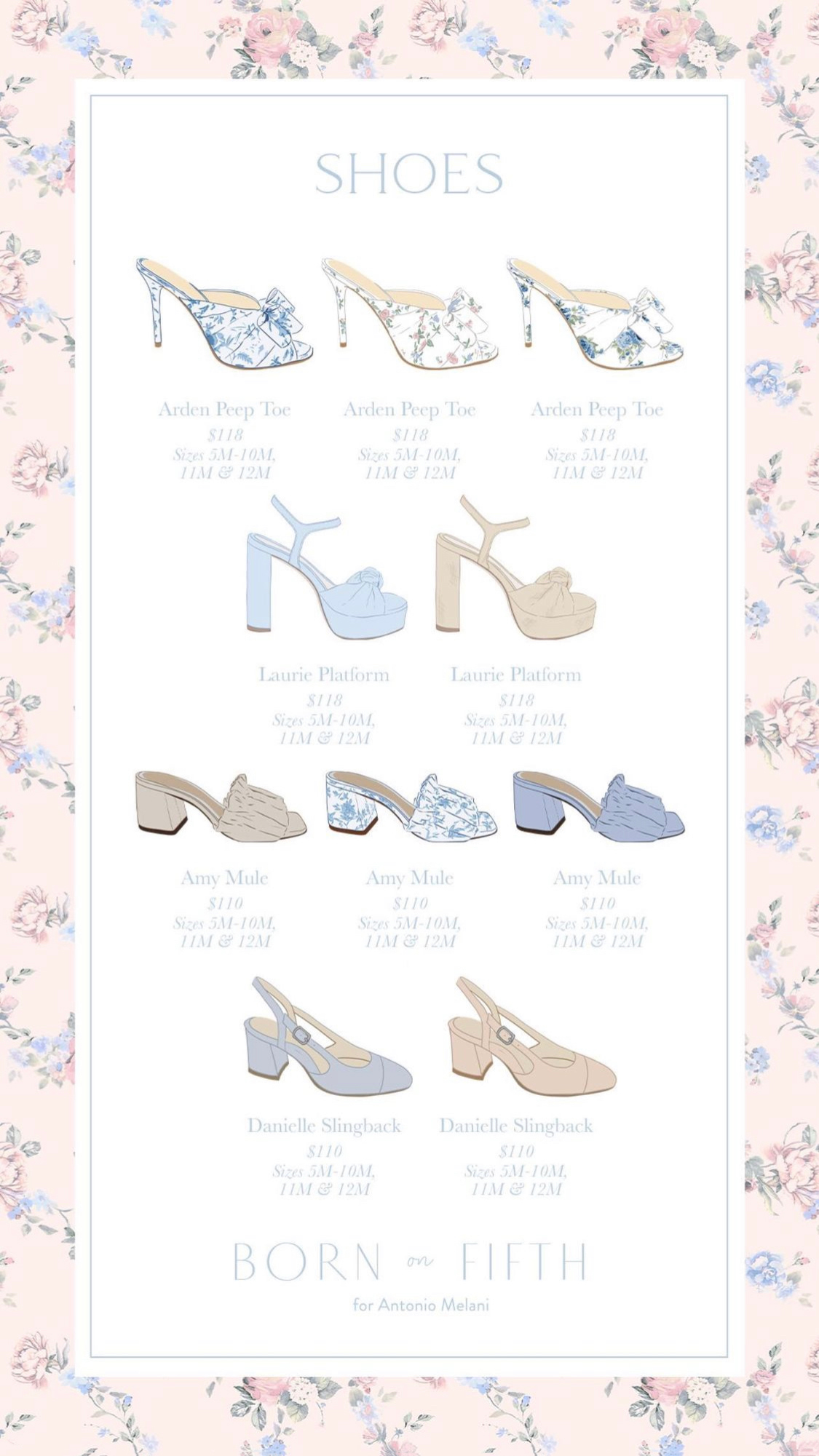 For the past two seasons, I've kept an eye on the Antonio Melani shoe collection debuts. I'm extremely impressed with the timeless yet trendy options from the brand. You'll find everything from pumps to sandals, espadrilles to booties. For the Antonio Melani x Born on Fifth Collection, they're releasing 10 total options, including peep toe and platform heels, slingbacks, and mules.
My favorite style is the Arden Peep Toe heels ($118 each and available in sizes 5M-10M, 11M & 12M). There are three print options, and I especially adore the blue and white floral. Also, don't overlook the Amy Mules ($110). The block heels will make them super comfortable, and the ruffle detail on front is divine. The Danielle Slingbacks ($110 each) are great for anyone who really loves that silhouette. Lastly, the Laurie Plaforms ($118 each) come in blue or tan.
Again, all shoes will be available in sizes 5M-10M, 11M-12M. I'm also linking to Antonio Melani's size guide here so you can check out their other shoe styles.

Born on Fifth Dillards Accessories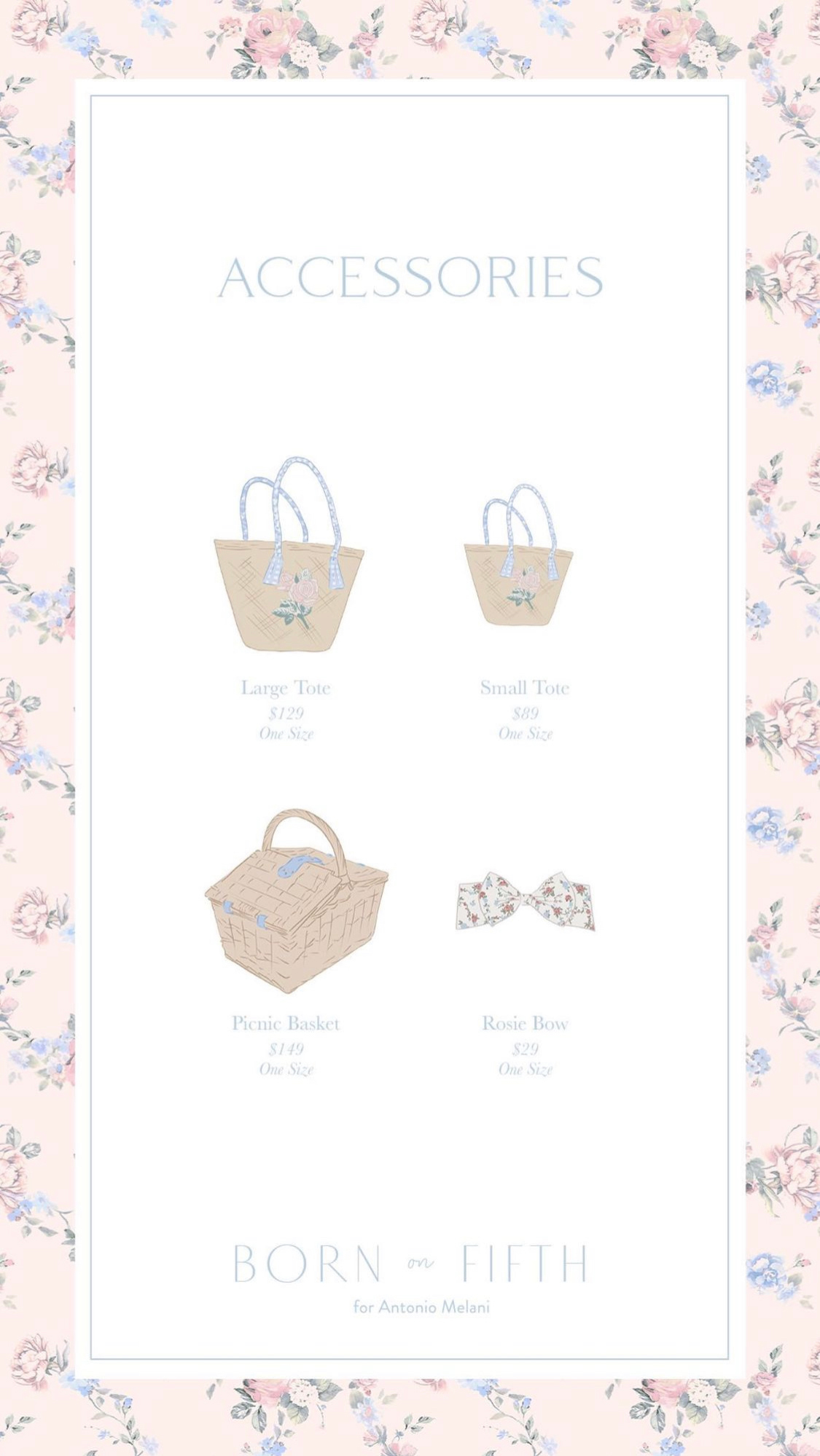 It wouldn't be a true Born on Fifth collection with all things accessories. Think wicker tote bags, a picnic basket and a beautiful floral hair bow ($29). The handbags scream spring! I love the fact her wicker tote bags come in two sizes – a large Tote ($129) and small tote ($89. Each features a beautiful pink flower on front.
Looking for a dose of whimsy? Enter the picnic basket ($149). I love previews of this style! It's so fun. Bob and I already own two of our own, so I won't be adding this to cart. However, if you're on the hunt for a stylish option – this one is it.

Born on Fifth Kids Collection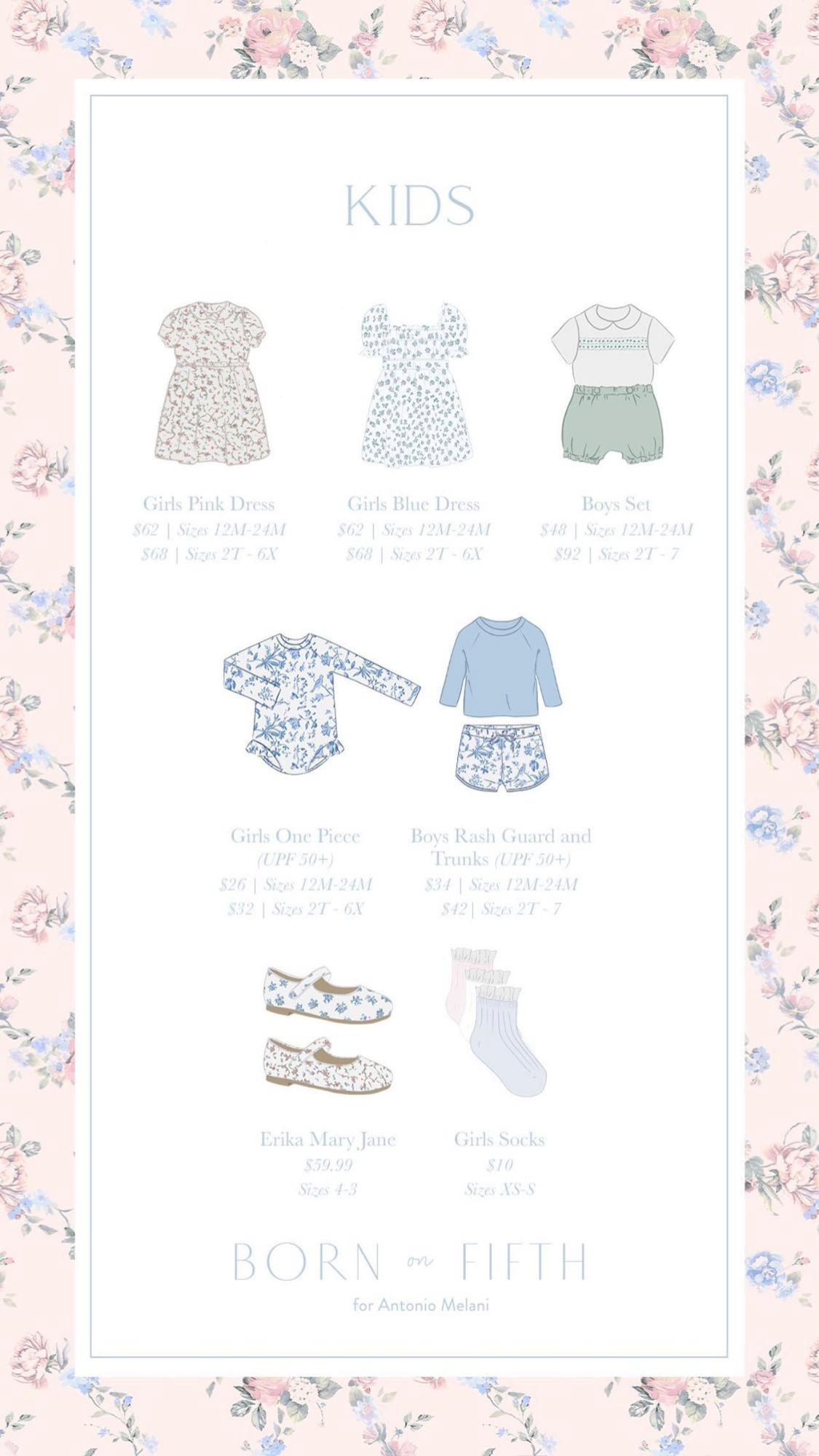 Last but not certainly least, the Antonio Melani Born on Fifth Collection includes apparel and accessories for kids, including Mommy & Me options. As a child of a mom who constantly dressed me in matching Laura Ashley outfits to her, I understand the appeal of matchy-matchy looks!
The Mommy & Me styles include the Lottie Dress for mom ($179, sizes 0-16) and matching Girls Blue Dress ($62 for sizes 12M-24M and $68 for sizes 2T-6X). There's also a matching Erika Mary-Jane for girls ($59.99 for size 4-3). Truly darling!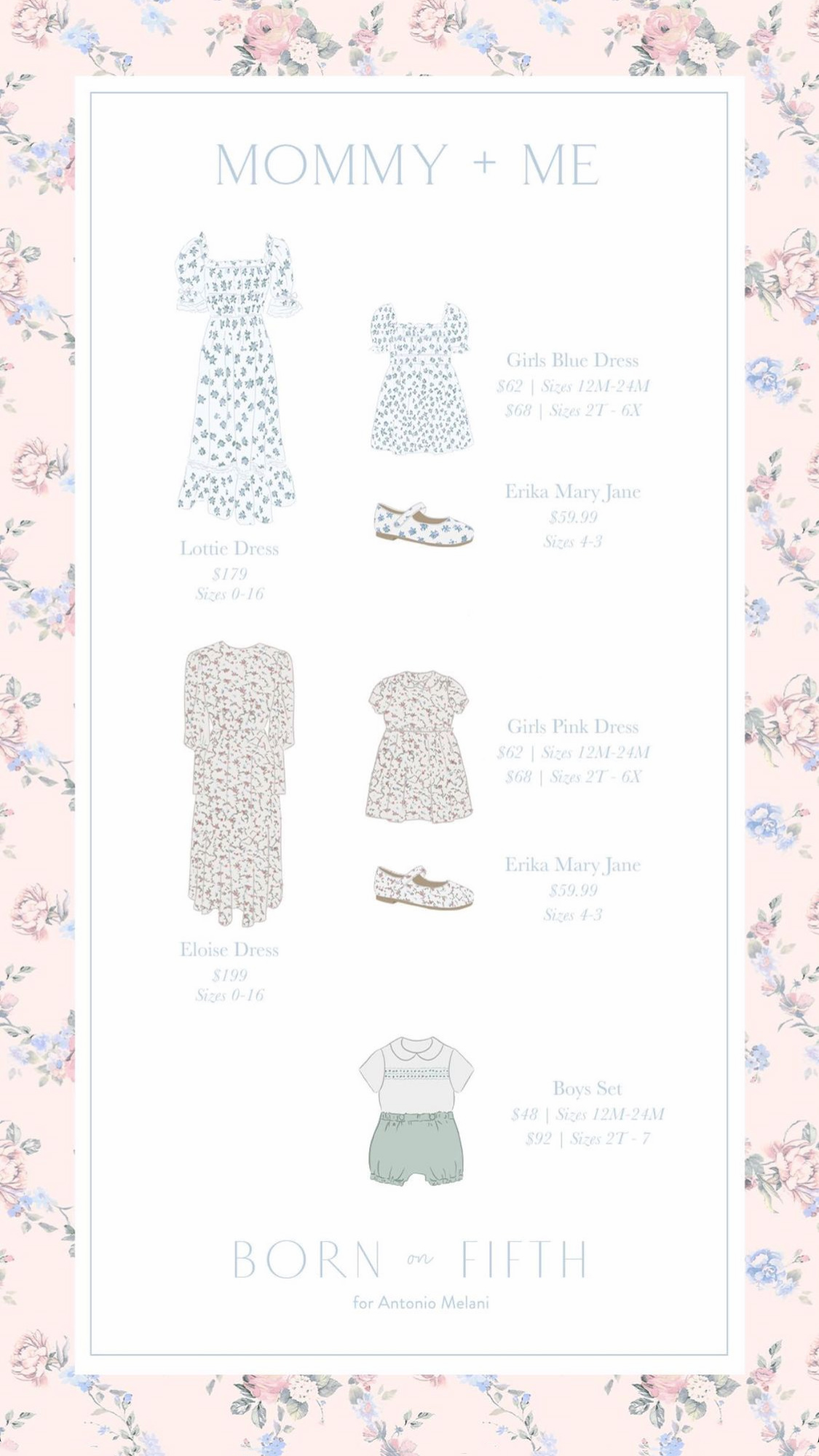 The Eloise Dress for women ($199, sizes 0-16) also has a matching Girls Pink Dress ($62 for sizes 12M-24M and $68 for sizes 2T-6X), along with matching Erika Mary-Jane for girls ($59.99 for size 4-3).
Don't worry! The boys haven't been forgotten. There's a delightful Boys Set ($48 for sizes 12M-24M, and $92 for sizes 2T-7).
Finally, the Antonio Melani x Born on Fifth line includes two swimsuits for kids, including a Girls One Piece ($26, sizes 12M-24M or $32 for sizes 2T-6X) and Boys Rash Guard and Trunks ($34 for sizes 12M-24M or $42 for sizes 2T-7).

What is Born on Fifth?
Emily Hertz, founder of Born on Fifth, is an Atlanta-based blogger who highlights fashion, home, and kids style inspiration. She also has an inspiration Instagram account, @BowsandBlue, where she shares various inspirations for the brand. Over the years, I've had the pleasure of following her account, and she definitely has a signature style. Rooted in grandmillennial prints, patterns and, hues, she always celebrates floral prints and especially blue hues.
Whenever her Instagram posts come across my feed, I can immediately tell it's all things Emily. From the way she edits her photos to the interior design of her spaces, it's clear she has a definitive point of view.
When Does the Antonio Melani Born on Fifth Collection Launch?
Set your alarms! The Antonio Melani x Born on Fifth Dillards collection officially launches on Monday, January 31 at 10 AM CST // 11 AM EST on Dillards.com.
Size Guide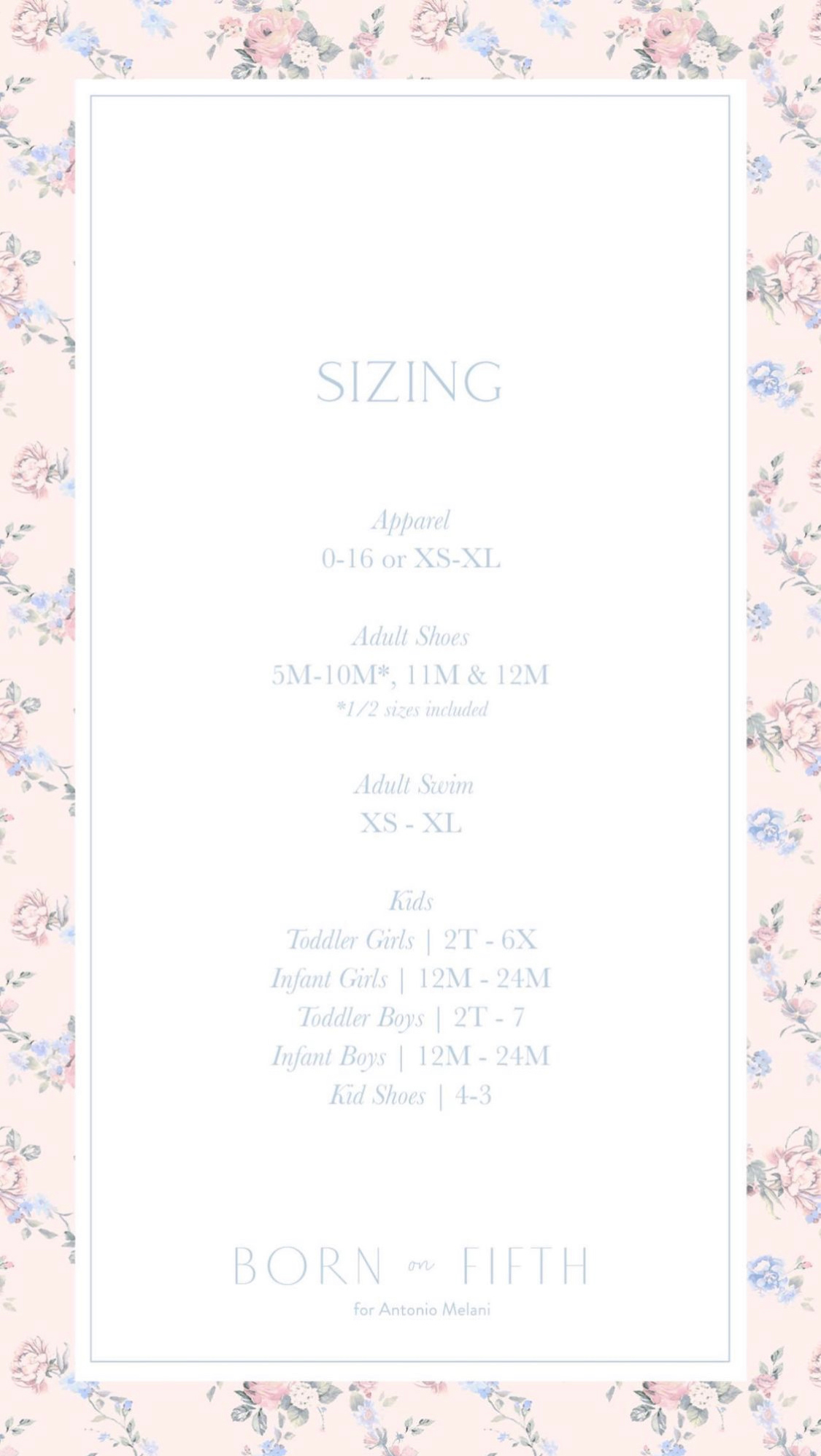 Thankfully, Emily of Born of Fifth shared these graphics and size guide on her Instagram channel. Therefore, I'm sharing it directly with you to see what designer and manufacturer recommend. Since I own a few pieces from Antonio Melani, I can say that everything (and I mean everything) fits true to size. The only caveat is if you're between sizes and/or if you're planning to buy a more fitted item, like the Pippa Dress. In that case, it may be helpful to try a size up.
Who is Antonio Melani?
Are you familiar with Antonio Melani? While Born on Fifth designed the collection, Antonio Melani produced and manufactured the pieces. Plus, if this line is anything like Nicola Bathie's collection (like this dress), the items will be impeccable! Based on my research, Antonio Melani is Dillard's largest ladies' apparel brand.
In 2001, the line was launched to highlight footwear and later extended to other categories including apparel and handbags. Best of all, I love the mission of the brand. Antonio Melani is to meant to be a highly curated collection that evokes sophistication through tailoring. At the same time, they want to keep everything current through styling and attitude.
It's easy to see how the line is designed to meet the needs of the modern woman. As a workfluencer, my career and social schedule can get hectic, and I love this line is created to support my closet. Beyond being sold on Dillards.com, it's also sold at the 248 Dillard's locations around the country. See the entire store location list here.