Happy Friday! I'm beyond excited to announce that I'm hosting an Eliza J Spring 2019 Shopping Event at Nordstrom Michigan Avenue in Chicago next Saturday, March 23 from 2-4 PM! Join me to shop Eliza J's Spring 2019 collection of day and evening dresses, jumpsuits, separates, and beyond.
There will be a DJ, digital sketch artists, and even a special gift with purchase! I've been working with the brand to dream up a wonderful event (and yes, even a mural, obvi).
This is the first in-store shopping event I've ever agreed to host, if you can believe it! Therefore, I truly hope to see you there!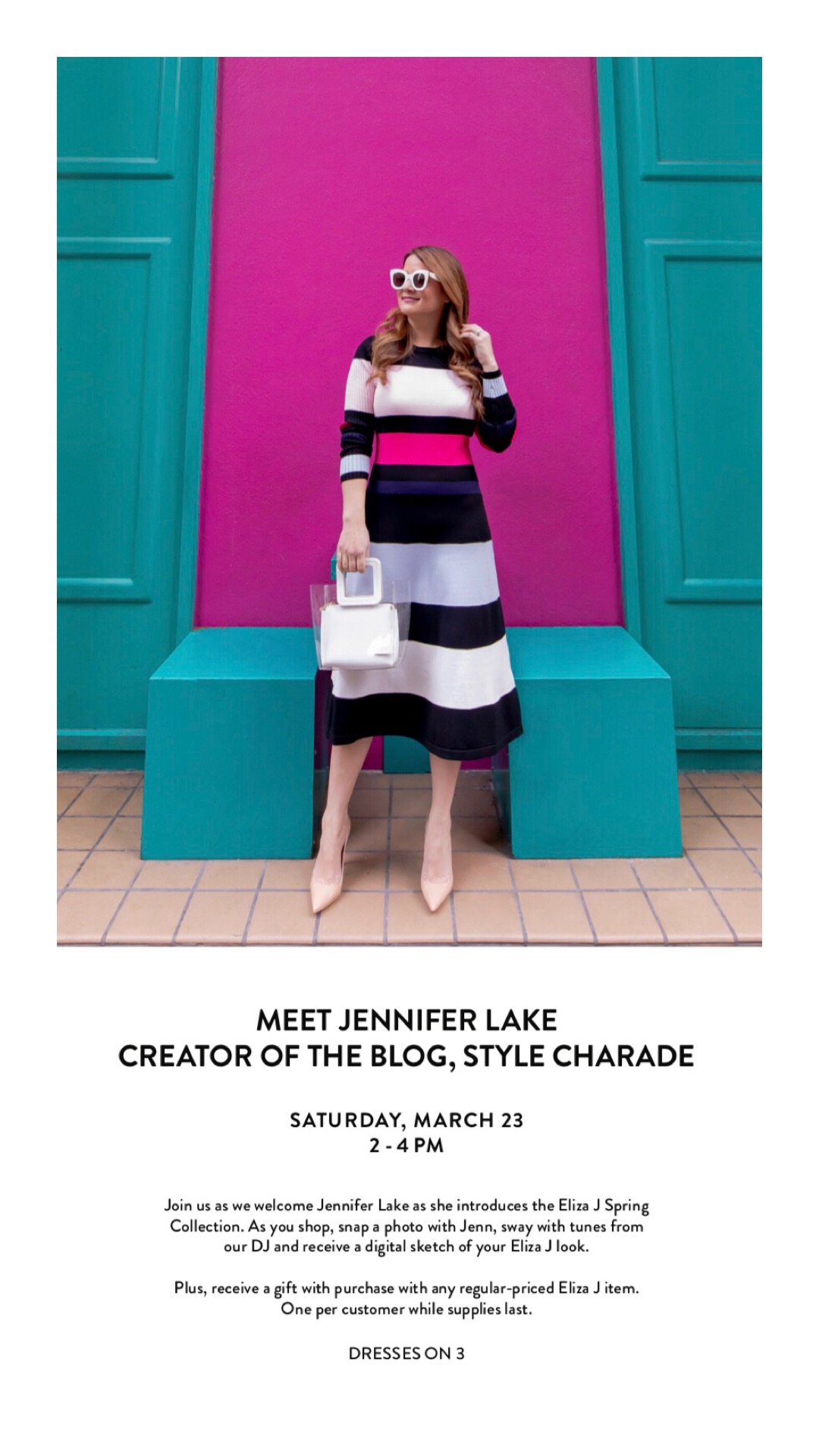 In My Shopping Cart
It's no secret I'm a huge fan of palm prints (these styles are still personal faves). This headband is a great addition to my closet (and only $13).
Eliza always does a gorgeous jumpsuit. This version is also exceptional!
How cute is this clear floral bag? Adore the chic handle. I'm also loving this novelty bag by the brand.
OBSESSED with this tiered dress. The fabric, the print, everything. If the Veuve Clicquot Polo Classic was taking place this weekend, several styles from this brand would be a major contender!
Um, Marissa Webb…. this dress is giving me LIFE.
Great white button down shirts are hard to find (seriously). Especially at this price point, and love the fabric choice here.
I've never been into Golden Goose sneakers. But this color combo may have changed my mind.
Major congrats to Three Floor for their launch at Neiman Marcus! If you want to see a major blast from the past, here's me wearing my first Three Floor dress many years ago for the Gilt City Chicago Lollapalooza rooftop pool party. I still own it, if you can believe it!
How fabulous is this black and white midi dress?
Some of My Favorite Links Around the Web
Bookmark alert! Allie shares her favorite NYC photo locations.
I had the pleasure of meeting Jules at SXSW, and THRILLED to be introduced to her gorgeous blog and content.
Additionally, I met Lestraundra, who is incredibly talented. Add her podcast to your must-listen list, and bookmark her blog
As someone who buys Janie and Jack for my niece all of the time, I'm so happy Gap, Inc. acquired the brand to keep them going. How cute is this floral dress and matching blazer? Plus, she totally needs these white sunnies, right?
Bob has spent his entire career in the college admissions process (he's currently a high school college counselor), and it's been fascinating to watch his industry rocked with scandal. His feedback on the subject? "This is an incredibly important conversation that needs to be had in the industry. I'm happy to see positive moves in the right direction." I wish he would do a blog post!
I love Krystal's travel posts, and her Spain guide is no different.
Some people just have a signature hue that I always associated with them. This post is definitely Grace's color.
This puffy pastry recipe looks beyond delish from Kit!
Huge thanks to Carrie for including me in her pink wall guide!
Recently on Style Charade
A visit to the wndr Museum in Chicago for a glam photo shoot for Monica Vinader's colorful and chic Siren collection.
Caught in the midi with this beautiful navy blue dress.
Florals for spring? Groundbreaking. But in all seriousness, this Emilia Wickstead dress is just beyond!
The ultimate collaboration! Loving the Draper James x M.Gemi shoe collection.
Follow Style Charade on Bloglovin'!