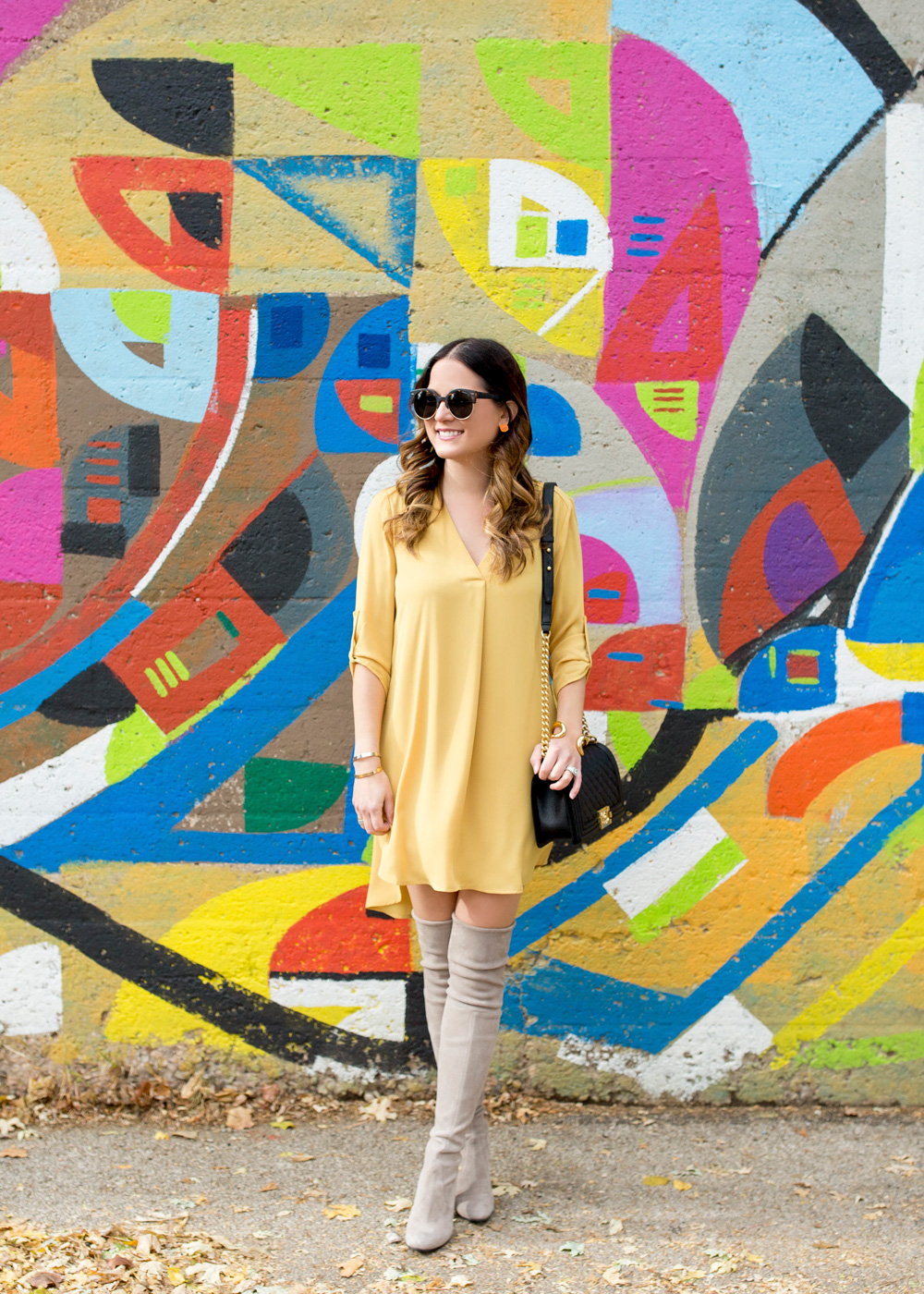 Dress: Lush Yellow Shift Dress {only $29!} // Shoes: Stuart Weitzman Highland Boots
Purse: Chanel Medium Boy Bag {similar} // Eyewear: Round Tortoise Sunglasses
Jewelry: Giles and Brother Cortina Cuff {last worn here}

Do you know your personality type? In case you're unfamiliar, the Myers Briggs Type Indicator (MBTI) is the largest personality assessment test in the world. I mentioned MBTI on Style Charade's Facebook page, and I was so excited to hear your wonderful feedback.
Growing up, my dad stressed the importance of understanding the results and how I'm wired – my strengths, areas of growth, and how to leverage those attributes in life. Our family jokes that in kindergarten I went up to my teacher and said, "my Myers Briggs is an ENFP." To which she replied, "WHAT? How do you know that?" Haha.
The letter that I've struggled with over the years is "P" (Perceiving). As a "P," I like to explore all options before making a decision, whereas a "J" (the opposite) likes to be decisive. In my career, I've had to learn how to be more "J" and less "P." When it comes to online shopping, I'm 100% a "J." I'm VERY decisive and can tell within seconds if love something. For example, this week I featured three dresses that I bought immediately upon seeing them: This pink pleated dress for only $91, this beautiful teal look from LOFT, and this amazing $29 shift dress from Nordstrom Rack
What are some of your recent decisive fashion purchases?
This season, I was so excited to toast to the holidays with Absolut Elyx, the world's first true luxury vodka hand crafted in copper stills. What does that mean? It results in pure vodka with a silky texture and taste (sold at ReserveBar). For those who know me, I love a dirty martini for special occasions (extra dirty with blue cheese olives, of course). When Absolut approached me at the end of summer about this collaboration, it was an easy "yes" since I'm a huge fan of the brand. Plus, have you seen their super cute pineapple copper vessels?
Finally, here are a few recent things that make me happy:
Can we talk about this sequin dress? Under $100. Obsessed!
This plaid shirt. I bought it a couple of weeks ago, and I can't wait to wear it!
After work drinks with Blair of The Fox & She.
Sarah Jessica Parker's new fragrance, Stash. I've worn the same perfume since high school, and I finally decided to test a new one. Stash does not disappoint – definitely check it out!
Grace Atwood of The Stripe. She's one of my favorite daily blog reads.
Add some sparkle with this pleated metallic skirt.
Mural by Justus Roe – see all of my favorite colorful walls and street art in my Wall Charades Chicago Wall Guide
Never miss a post – follow along on Bloglovin'!