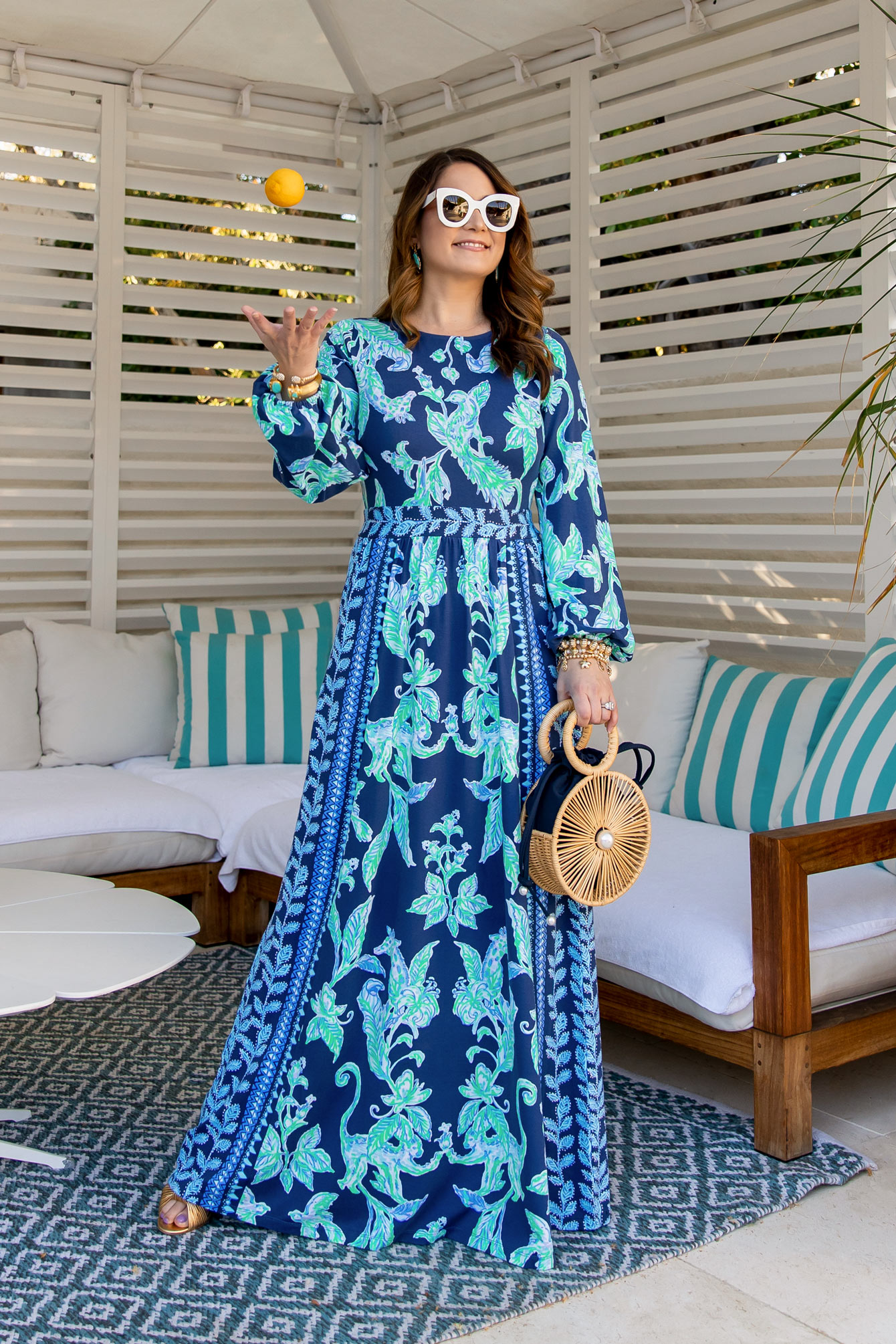 Dress: Lilly Pulitzer Micole Maxi Dress | Jewelry: Lilly Pulitzer Moonlight Earrings | Jewelry: Lilly Pulitzer Bracelet Set | Cuff: Lilly Pulitzer Pineapple Cuff | Bag: Pamela Munson Marguerite Bag | Shoes: Loeffler Randall Coco Sandals

Over the next months, I'm delighted to announce I'll be partnering with Lilly Pulitzer for their #BeTheSunshine campaign! Today, I'm kicking things off with this lovely Lilly Pulitzer Micole Maxi. Talk about sunny Palm Springs vibes!
As a part of the #BeTheSunshine campaign, I'll be highlighting my favorite pieces from their seasonal collections. Furthermore, I'll also be sharing the stories from the brand. I originally planned to talk about several fond Lilly memories of mine – our Nantucket trip, the prints, the colors, the list goes on and on. With all that's happening in the world, my plan changed.
Lilly Pulitzer Micole Maxi
To me, the best way to #BeTheSunshine is to "share" its rays with you. I spoke with the team at Lilly Pulitzer, and we agreed to spread bright and positive cheer with a few Lilly care packages. I'd love for invite you to nominate loved ones who need a little extra sunshine. Maybe it's a cousin who works in healthcare, a friend who's lost a job, or even a neighbor who needs a spark of joy.
️Head to the bottom of this post to nominate someone in your life. We're going to start with a handful of #BeTheSunshine care packages, and it's my hope to expand it even further, so be sure to join in on this effort! Lilly Pulitzer herself had a true love for life. I hope to continue her legacy and embrace her beautiful spirit #BeTheSunshine.