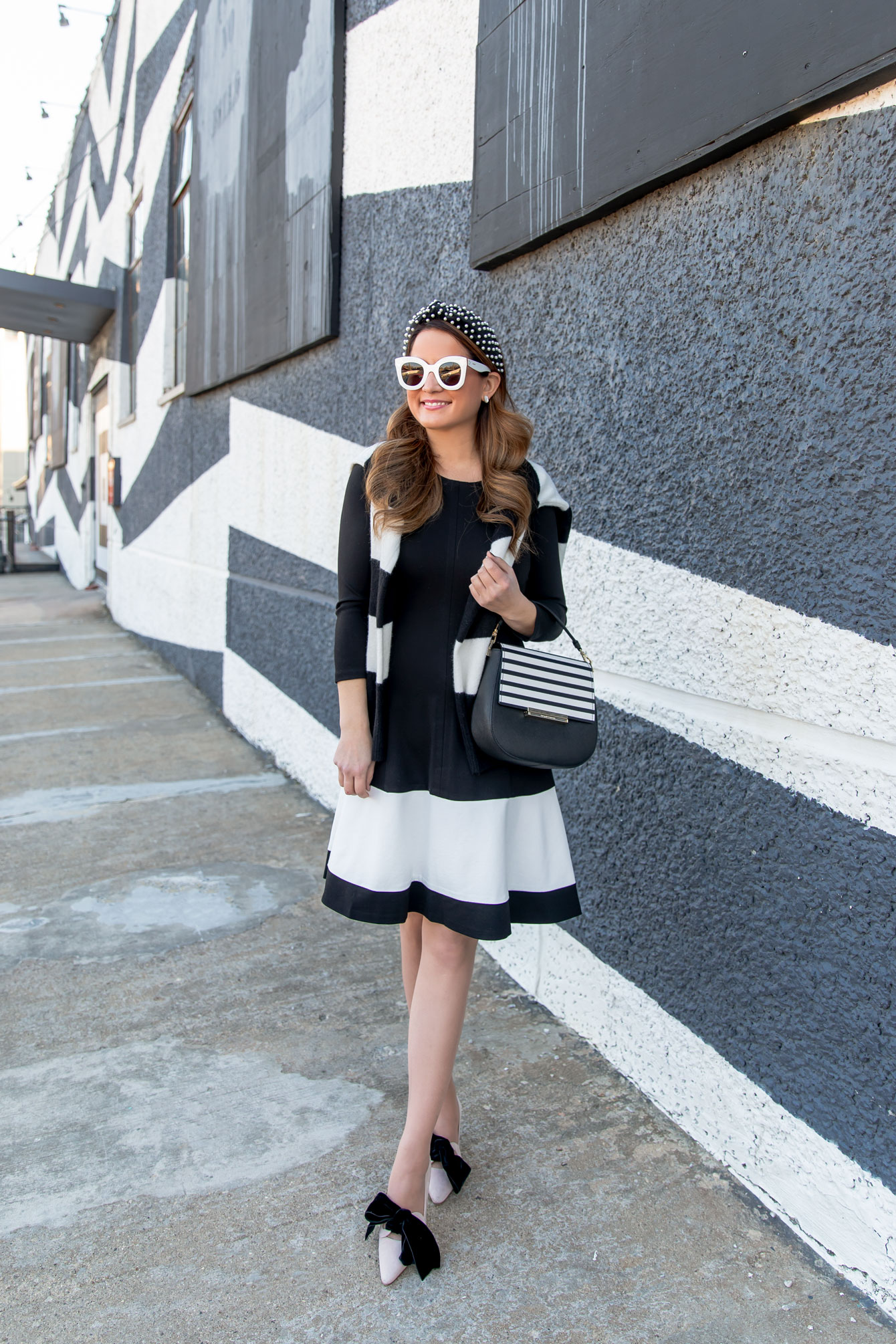 Dress: Eliza J Black and White Contrast Stripe Dress {c/o} {fits true to size}
Bag: kate spade new york Byrdie Bag with Stripe Flap {c/o} {also worn in this post}
Shoes: Manolo Blahnik Serba Bow Pumps // Sweater: Halogen x Atlantic-Pacific Stripe Sweater
Headband: Lele Sadoughi Pearl Headband {last worn in this post} // Eyewear: Céline Sunglasses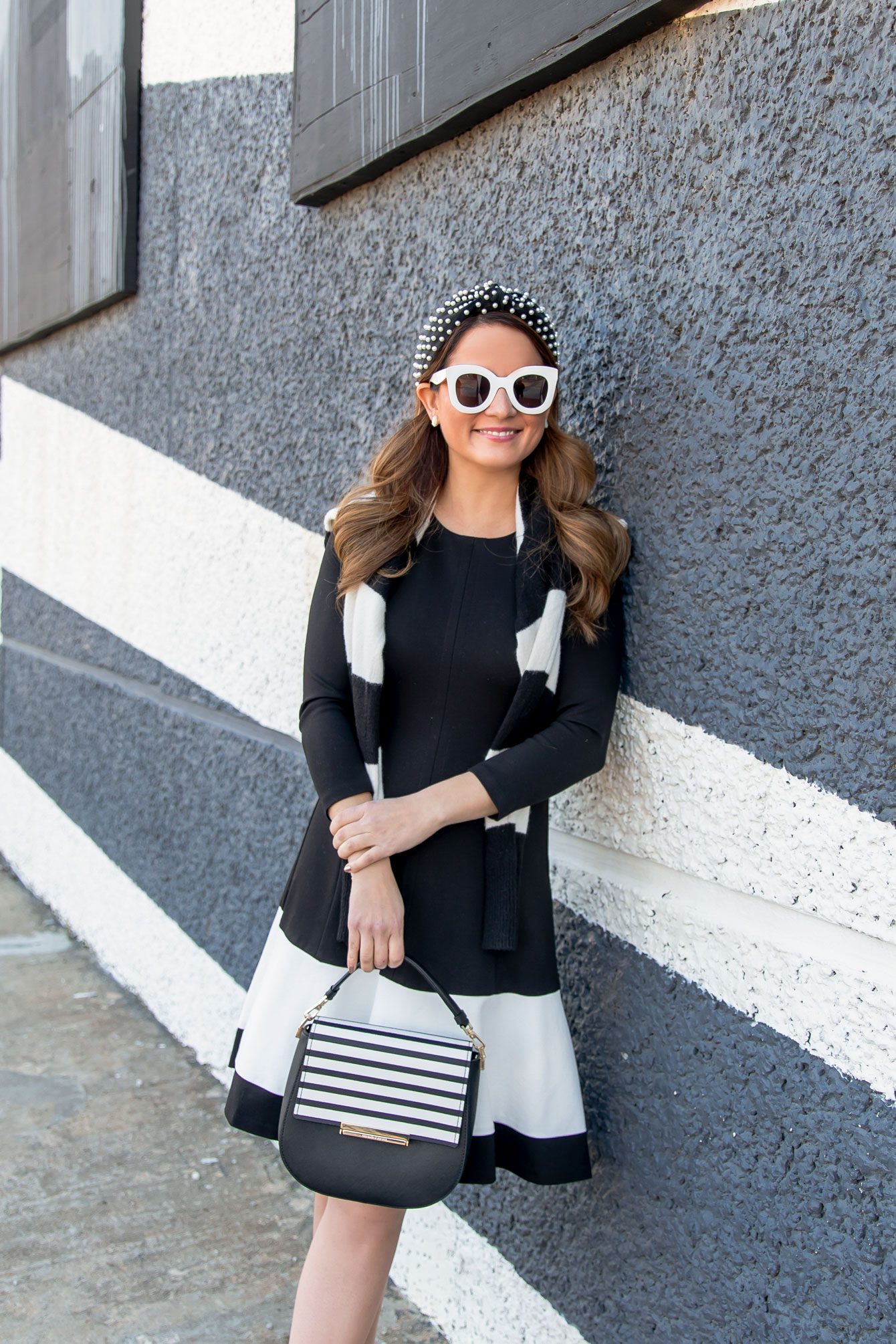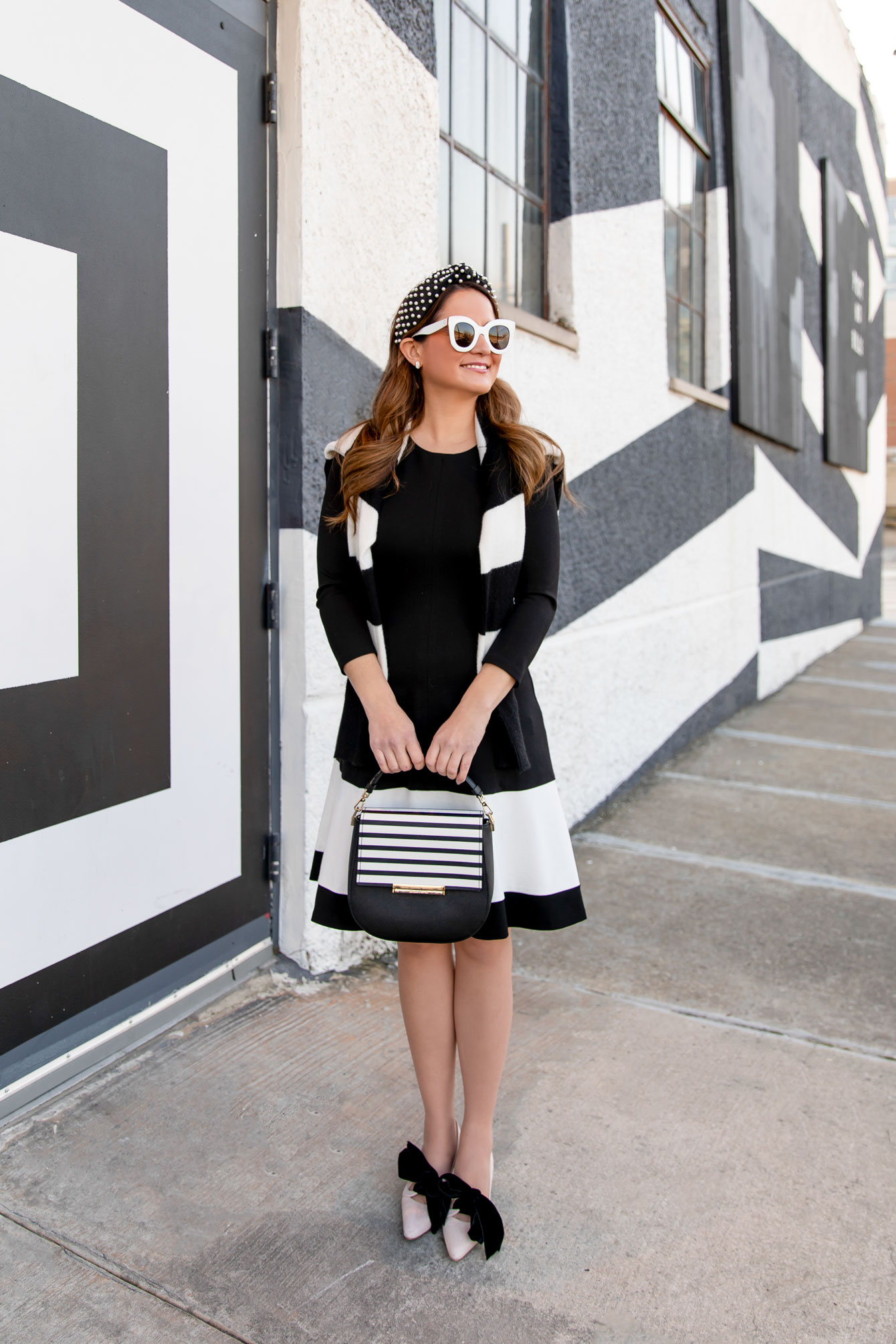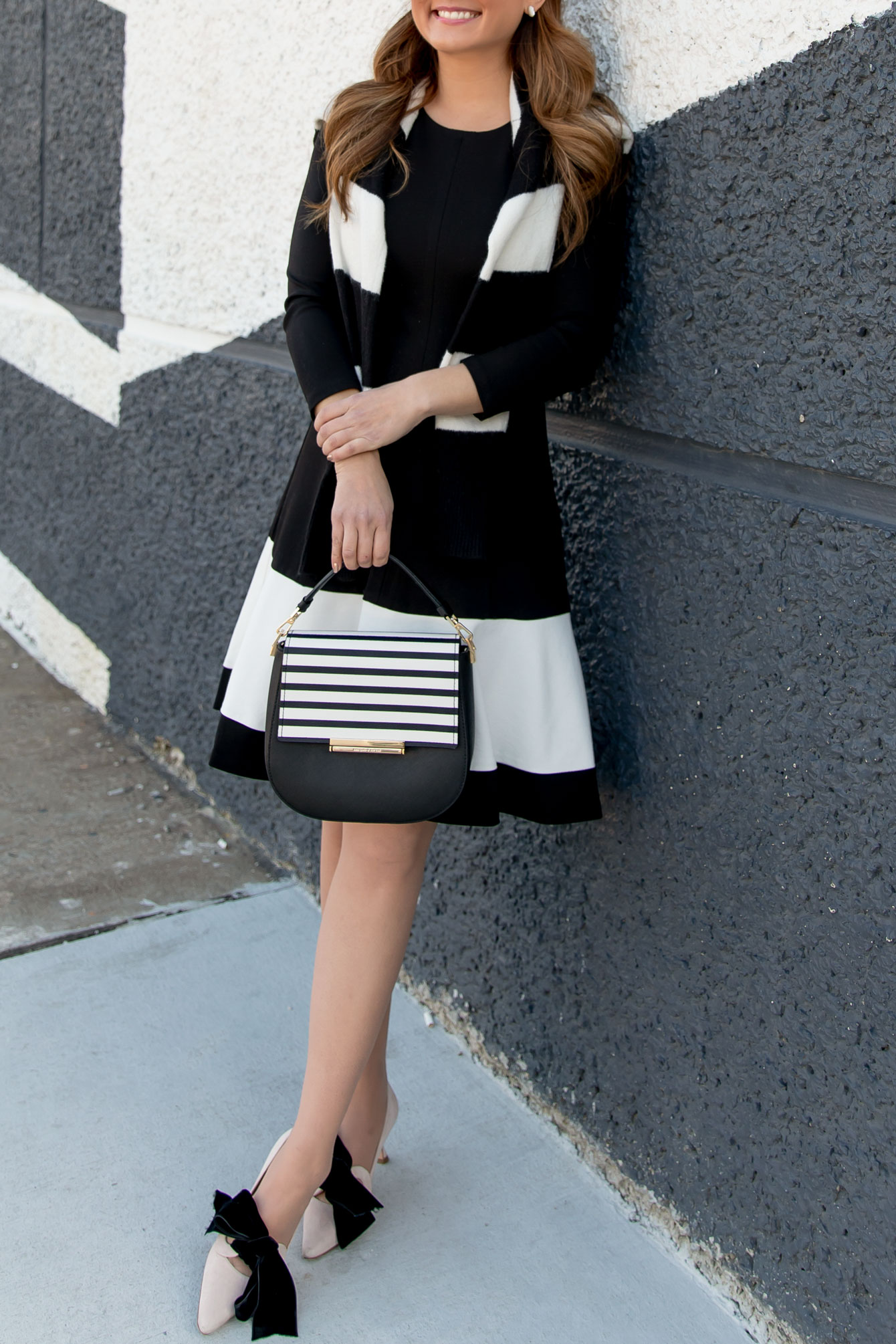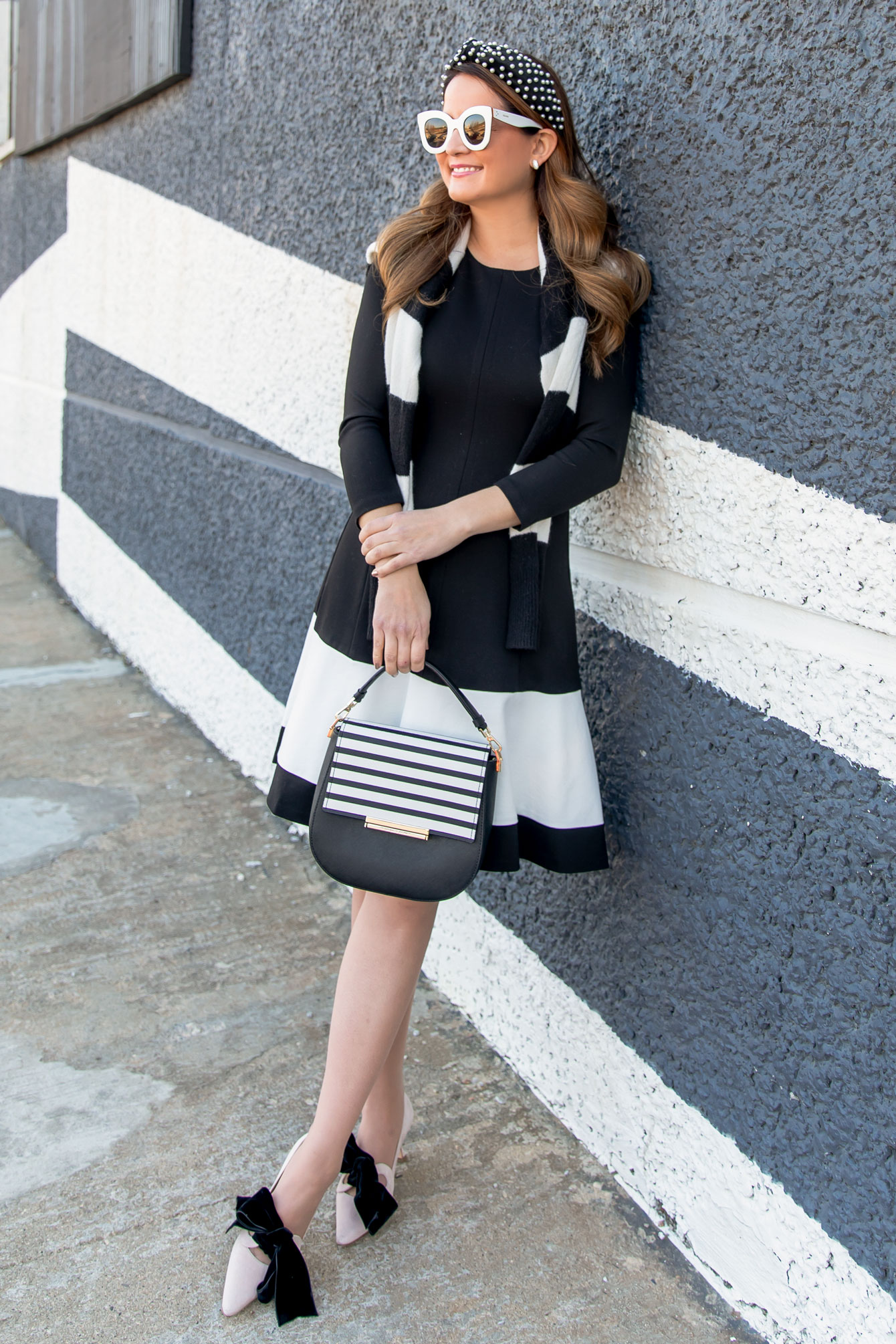 Dress: Eliza J Black and White Contrast Stripe Dress {c/o} {fits true to size}
Bag: kate spade new york Byrdie Bag with Stripe Flap {c/o} {also worn in this post}
Shoes: Manolo Blahnik Serba Bow Pumps // Sweater: Halogen x Atlantic-Pacific Stripe Sweater
Headband: Lele Sadoughi Pearl Headband {last worn in this post} // Eyewear: Céline Sunglasses

In My Shopping Cart
I'm really loving these wicker bags. Perfect for resort!
Did you know I worked with this brand on the launch of their largest retail store in North America? Always love seeing what they unveil, like this fabulous sweater.
This leopard skirt is ideal for special occasions + work (plus it's 40% off)
How cozy is this winter coat?!
I've been wearing this $60 necklace on repeat. LOVE. IT.
Officially OBSESSED with these cardigans. I own nearly every style from the company, and I bring their blankets with me on road trips.
I recently purchased this affordable layered necklace, and I'm truly surprised by the quality!
Excuse me while I wear this trench coat every day this spring.
I've worn this boot so much over the years that the heel finally cracked! Definitely buying a new pair to help me survive winter!
Some of my Favorite Links from Around the Web
On the hunt for a new book or two? Grace has you covered for sure!
The perfect layered look on Ranti – beyond chic!
This emerald eyelet maxi dress is so amazing on Blair!
In love with this ice blue hue on Merritt – and her perfectly contrasted bag.
Sam and Kyle look so adorable in their elopement photos!
Such a cute 2018 roundup by Carrie!
How great is Will's dining room winter makeover?!
In case you're wondering, Jean, Nick, and Nori are the cutest!!!
Ummmm, Rachel's new home is goals.
Loving Ashley's print mixing!
Recently on Style Charade
The colorful resort dress I'm taking with me on every vacation this year
A bold pink Carolina Herrera ball skirt in New York City
More about our winter travel plans (or lack thereof, lol)
Find all of my favorite murals, street art, and colorful walls in my Chicago Wall Charades Guide!
Follow Style Charade on Bloglovin'!